Expert Fantasy Football Mock Draft: 12 Team- PPR (May 2023)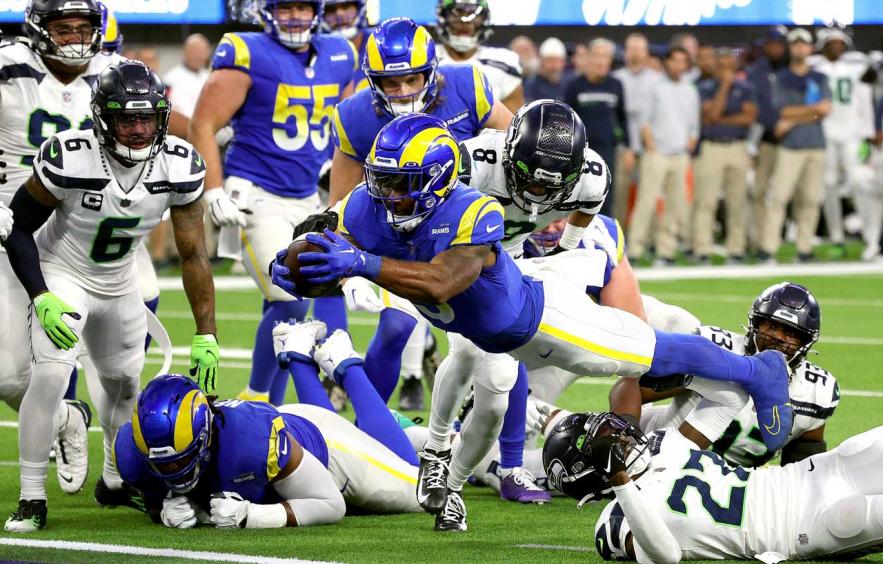 Harry How/Getty Images
If you stumbled upon this mock article like the participants of this mock draft you too are a fantasy football degenerate - the only explanation for a mock draft in May. But in all seriousness, with the NFL draft just wrapping up, rookie camps are in full swing, and before we know it OTAs and training camp will begin. It is never too soon to freshen up on player average draft position (ADP) and prepare for the 2023 NFL season. For those about to mock…we salute you. At least I think that is how that AC/DC song goes.
---
More 2023 Mock Drafts: Expert Half-PPR | Dynasty SuperFlex Rookie
---
League Setup
Roster Settings:
1QB/2RB/2WR/TE/2FLEX/DEF + 5 Bench Spots
(14 rounds - Snake Draft)
Scoring: Point Per Reception (PPR)
Draft participants in order:
Rookie Fever
Rookies are always going to get steamed up draft boards because of the Pandora's Box effect they possess, especially in a mock draft such as this one - less than a month post-NFL draft. As Nick Penicoff put it at the conclusion of our mock: "Rookie fever is in full swing." And although this might seem like a negative, Nick points out that there is some data to support the intrigue for the newbies…as long as you select the right one.
"Over the last five years, a rookie running back has finished as an RB1 in just four out of five seasons. On the other hand, we have seen 12 RB2 finishes from rookies in that span. Given the data we have, there is a good chance either Bijan or Gibbs will finish as an RB1 and the other finishes as an RB2, so I don't think the hype is getting too far."
"Regarding the WRs, we have seen what Jaxon Smith Njigba can do with other NFL talent on the roster at Ohio State, as he led the team in receptions and yards in 2021, with Chris Olave and Garrett Wilson not far behind him. Jordan Addison couldn't have gone to a better spot, as he will rarely have to line-up against the opposing team's best defensive back.
Bo McBrayer prefers to throw darts at rookie RBs later in the draft and selected a trio between Rounds 9-14. Per Bo: "I typically try to fill my entire bench with handcuff RBs to hoard them...rookie RBs also tend to hit stride in the fantasy playoffs." Looking back over the past five seasons on average, one RB inside the top-10 from Week 14 onward was a rookie. Grabbing as many as possible increases your chances of rostering a league winner down the stretch.
ADP Outliers - Risers
With any fantasy football draft, you are going to have managers who reach on specific players, especially in a group like this where everyone has been tapped in all off-season. Below are players that went way ahead of their average draft position (ADP) according to 4for4's very own multi-site ADP tracker.
Jahmyr Gibbs
2.12-RB8 / Consensus 4.01-RB15
As mentioned above, when managers are going to swing for the fence and possibly reach on a player, it's likely to be a rookie. Kelly Singh selected Jahmyr Gibbs a full round ahead of his ADP. As many know, a target is worth 2.5 fantasy points compared to a single carry, therefore. in a PPR format Gibbs, who profiles as a receiving RB, makes a lot of sense.
Cam Akers
4.08-RB18/ Consensus 6.04-RB23
Cam Akers is not a rookie but he was positively impacted by the NFL draft. Los Angeles did not invest any substantial draft capital into an RB, only selecting Zach Evans in the sixth round. This could be a vote of confidence for Akers since LA let Darrell Henderson walk this offseason despite Akers' mediocre play in 2022 following his Achilles Tendon repair.
Anthony Richardson
8.04-QB10/ Consensus 10.08-QB18
To be fair, I may have really reached when selecting Anthony Richardson, but I want QBs who carry immense upside the way rushing QBs do. It's possible I would have to find another option for QB for the first half of the season, so Richardon's consensus ADP makes sense. Lamar Jackson finished as the QB6, his rookie year from Week 13-17 when he was the starter, and parlayed that into finishing as the #1 QB overall the next season. I believe A-Rich could do something very similar in 2023.
Devon Achane
9.05-RB35/ Consensus 11.07-RB42
Yes, another rookie. Rob Sullivan selected the former Aggie for the two main reasons anyone selects a player in fantasy football: their skillset and team.
"First off I love the talent, secondly I am a huge fan of his opportunity in Miami. The offense is built on speed and Achane runs like A-train. Mike McDaniel is a creative play caller that I feel will get the ball into Achane's hands in space. He has RB2 upside and should pop off a few RB1 weeks. I was thrilled he was there for me in the middle of the ninth round."
ADP Outliers - Fallers
What comes up must come down. Whether it be positional preferences, injuries, or recent news, every draft has a group of players who go way below their ADP. Here are notable players that went way later than they normally do.
Joe Mixon
4.08-RB18/ Consensus 6.04-RB23
A popular faller in most drafts, not just this one is Bengal's RB Joe Mixon, dropping in drafts due to off-field concerns. Aaron Stewart from PlayerProfiler thinks the fade has gone too far.
"I like to follow the actions of NFL teams. Despite off the field issues and being a potential cap casualty this offseason, the Cincinnati Bengals lost Samaje Perine and only added fifth-round rookie Chase Brown to the backfield…the message is clear from Cincinnati: Joe Mixon is our lead back for the 2023 season.
Aaron also points out that per PlayerProfiler, he's been top-8 among RBs in opportunity share every season since 2018.
No one doubts that Mixon's actions have been troubling but it is odd to see him go much later than other RBs coming off injury such as Breece Hall. Despite coming off ACL reconstruction Hall went three rounds ahead of Mixon and it is not like that was just one team's opinion. At the conclusion of the draft, Aaron Larson told me he was all set to pick Breece at the 3.11 before he was sniped by Chase Vernon.
Terry McLaurin
4.08-RB18/ Consensus 6.04-RB23
One of the more slept-on players every year is Terry McLaurin. Although McLaurin has never finished inside the top-12 he's also never been outside the top 30 either. Chalk:
"I feel like he's been a productive WR ever since his rookie year and has WR1 upside even though Washington is trash [every year."
Alvin Kamara
8.06-RB31 / Consensus 7.05-RB28
Another RB whose off-field issues are tanking his value is Alvin Kamara. Despite avoiding any suspension last season, it would appear punishment in 2023 is imminent. Chalk picked the Saints' RB in the 8th round, and should Kamara has a minimal suspension or even avoid it completely, Sam Wagman thinks that selection could give Chalk the best team in the mock draft.
Tight End Landscape
Every season it appears that unlike other positions where the tier breaks vary between individuals and companies, there are clear and precise tier breaks at TE. This season is no different. During this mock, only two tight ends were selected in the first two rounds: Travis Kelce in the first and Mark Andrews at the end of the second. The consensus is that those are the big dawgs followed by a tier break of Kyle Pitts, T.J. Hockenson, and George Kittle in whatever order you prefer, then a massive hodge-podge of everyone else. Don't take my word for it. Here's what RotoHeat's Rob Sullivan had to say on the matter:
"When the 5th TE came off the board in Round 6, I decided to wait on the position. Knowing the most wouldn't add a second TE in a 14 round draft I knew I could wait. Grabbing [Dalton] Schultz in the 11th round enabled me to add RBs and WRs depth and grab a serviceable TE that very well may lead his team in targets in 2023."
My recommendation, barring any major news breaks or injuries, if I missed out on picking Kelce or Andrews I would aim for Kittle four rounds later or swing for the upside of Pitts and Hockenson. Otherwise, you're likely better off just waiting till the end of your draft.
Running Back Marketplace
Last year when I wrote a similar 4for4 Mock Draft article 13 RBs were selected in the first two rounds. This aligned with the consensus ADP per Fantasy Football Calculator of on average 14 RBs going in Rounds 1 and 2 of 12-team leagues. In this mock draft, I found it interesting that only nine RBs were selected. And although the drop-off from 14 to nine does not sound substantial during this mock it was like a giant game of chicken on who was going to select running backs. No one wanted to take them early. In fact, only two teams went RB-RB to start the draft - something that was commonplace nearly two years prior.
Sure this mock draft is a small sample, it could be very different come August and vary between each individual league. However, everyone in this mock draft is heavily involved and invested in fantasy football. For them, there is no true "offseason." Over the past four seasons on average eight of the top-24 skill position scorers have been RBs. The data suggest that WRs are safer assets with higher ceilings.

Wrapping It Up
Rookie hype is a real thing. If you have your personal favorites, familiarize yourself with their ADP and prepare to reach a round or two early to secure them.
Before your draft, know the ADP trends for players. Who is falling/rising?
There remains a "Big-2" at TE, followed by a smaller trio. After that, you're better off waiting
Robust RB builds are becoming a thing of the past and maybe not the most efficient way to build your fantasy roster