Expert Fantasy Football Mock Draft Recap: 12-Team Half-PPR (May 2023)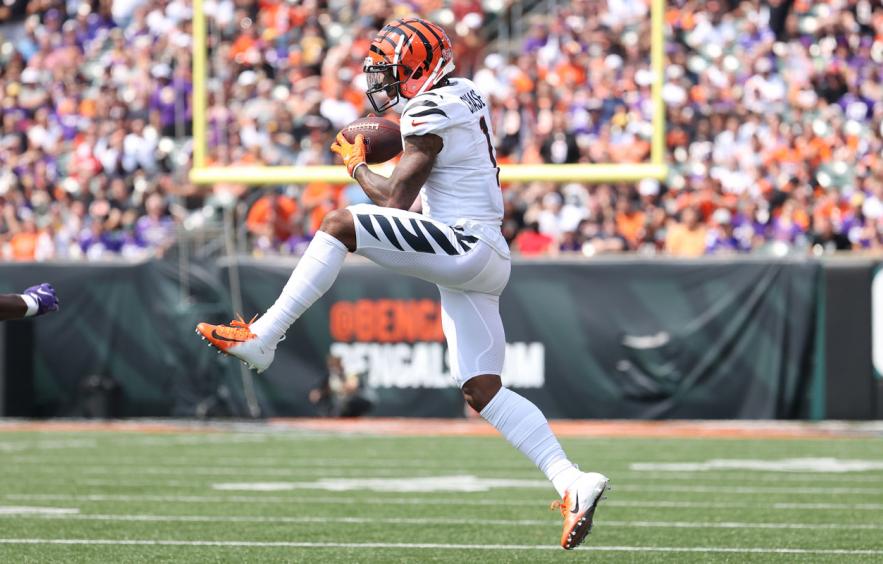 Andy Lyons/Getty Images
We know it's early days, but getting an idea of where fantasy industry members are valuing certain players can be advantageous even in May. I rounded up 11 other people from various sites to conduct a 12-team redraft mock in order to get an idea of how the fantasy community is perceiving player values.
All ADP will be from 4for4's Underdog tool with rankings from our Never-too-Early ranks. The full draft board will be posted at the bottom of the article, but you can jump to it here.
Roster Settings: 1QB, 2RB, 3WR, 1TE, 2 FLEX (RB/WR/TE), 6 Bench Spots
Scoring of Note: Half-PPR
Draft Participants in Order:
Sal Stefanile - 4for4/@SalPal2
Scott Fish - Fantasy Cares/@ScottFish24
John Bosch - Fantasy Cares/@JohnBoschFF
Shane Manila - DLF/@ShaneIsTheWorst
Andy Behrens - Yahoo/@andybehrens
Brandon Niles - 4for4/@2guysbrandon
Chris Allen - Fantasy Life/@ChrisAllenFFWX
TJ Hernandez - 4for4/@TJHernandez
Andy Molitor - Betsperts/@AndyMSFW
John Daigle - 4for4/@notJDaigle
Jennifer Eakins - 4for4/@JenEakinsNFL
Justin Edwards - 4for4/@Justin_Redwards
Rounds 1-3

Takeaways
The early RB vs. WR debate seems to be evening out in 2023, despite having to start one more WR in this league on a weekly basis. There were 15 RBs drafted in the first three rounds, while 16 WRs came off the board. Five teams left these rounds with at least two rushers and only three of us didn't select an RB at all to start this draft.
The scarcity at the TE position did not cause any panic for this crowd, as only two were selected, as opposed to three within the first 36 picks last season. One change we're starting to see in 2023 is managers deciding to pay up for QB which has been a no-go within the industry in recent years. The elite tier at the top provided over 100 more fantasy points throughout the course of the 2022 season, or close to seven points per contest, which can be more significant than the difference between a WR or RB you'd get for the same opportunity cost in the third round.
Biggest Reaches
Bijan Robinson (1.04), Deebo Samuel (2.12)
The 21-year-old was already a first-rounder before the NFL Draft, but now that we know he's a Falcon some managers are paying way up for a guy who hasn't taken a professional snap. Manila grabbed Robinson with the fourth overall pick in this mock and his reasoning was:
Rookie running backs produce in fantasy football, and the first rookie running back in the NFL Draft generally sees monster volume as a rookie. Bijan Robinson joins an Atlanta Falcons offense whose 32.9 rushing attempts per game ranked second in rushing attempts per game in 2022 and brings a receiving skill set that no other Falcons running back can match (even Cordarrelle Patterson). Outside of CMC no other running back has a better combination of skills and talent than Robinson, and regardless of his rookie status, he has the upside to be the RB1.
My preference is to go with a proven fantasy asset that early in the draft, but I understand the fervor surrounding the talented back.
Deebo Samuel as a second-round selection feels too rich for his projections in 2023. With Christian McCaffrey in town to cut into his rushing equity, Samuel ended last season as the WR36 in half-PPR points per contest. With his QB situation still not fully solidified, it's tough to see the 49er WR living up to this draft spot.
Best Values
Jaylen Waddle (3.05), DK Metcalf (3.09)
Last season Waddle was the WR7 overall and WR12 in half-PPR points per game, and that was with QB Tua Tagovailoa on the shelf for four contests. He's leaving boards as WR11 in Underdog drafts at pick 2.07 and Behrens got him almost a full round later at spot No. 29.
Biggest Surprise
Jahmyr Gibbs coming off the board at 3.02 was a bit of a surprise to me but I understand Fish's excitement given the NFL Draft capital spent by the Lions. The rookie's Underdog ADP currently sits at 4.02 as RB13, and he's 4for4's RB17. I asked about the full round prematurity of the selection and here's what Fish had to say:
With Gibbs, I admittedly probably should have taken [Dalvin] Cook or [Tony] Pollard, but If [Duece] Vaughn takes more of a pass-catching role and Cook is indeed a post-June 1 trade there are more questions. I'll take the best RB, best RB pass catcher, on a high-scoring offense with a lot of good matchups. If he can take half the rushing attempts, [D'Andre] Swift's pass-catching, and even half of [Jamaal] William's touchdowns he should easily return the third round value.
Rounds 4-7

Takeaways
The earlier QB trend continued, as five more signal callers were selected in these next four rounds. The WR position dominated this mid-to-late single-digit period with 24 drafted to just 14 RBs. Five teams snagged their TE here, not wanting to roll the dice on those later-round gambles.
Biggest Reaches
George Kittle, (4.02) Jamaal Williams (7.08)
Yes, I took Kittle a bit early but it was a panic click with ADP that I wasn't used to. I don't normally pay up for a TE not named Travis Kelce, but I was still shaken from being sniped on Jalen Hurts and the 30-second clock got me. Kittle plays with his hair on fire which scares me when it comes to injury risk, but if healthy could pan out as a fourth-rounder.
Jamaal Williams' potential in the Saints offense with Alvin Kamara's status still in question due to off-field issues is decent, however, they also drafted Kendre Miller to further cloud the RB room. Williams' 17-TD performance from last year is unsustainable and a seventh-round price tag seems a bit steep given the situation in New Orleans. The 28-year-old's current ADP is 11.02 as RB40.
Best Values
Chris Olave (4.03) Christian Watson (6.01)
Both of these wideouts should be the WR1 on their respective teams this season and were drafted at discounted prices in this particular mock. Olave has been the 12th WR to leave Underdog boards at pick 2.10 and Daigle snagged him in the fourth round as WR17. The Saints pass-catcher ended last season as a borderline fantasy WR2 (WR25) and with Derek Carr now under center, his deep-ball potential elevates Olave's ceiling.
Watson's rookie performance was admirable and his competition for targets in Green Bay consists of an inconsistent Romeo Doubs, two rookie TEs, and another rookie WR in Jayden Reed. Edwards getting the sophomore at the start of the sixth could pay off handsomely.
Biggest Surprise
There were no major surprises in these four rounds but it has been interesting to see how far Mike Evans is falling this season. All the 29-year-old does is put up 1,000+ yard seasons as a professional, with nine straight since entering the NFL in 2014. His QB situation certainly took a hit with Tom Brady calling it a career, but Evans has survived poor QB play before. Coming off a WR14 campaign in half-PPR points per game, his ADP has dipped down to WR34 at pick 6.10, and Hernandez selected him at 6.05 here.
Round 8 -11

Takeaways
These four rounds were evenly split between WR and RB depth, with 19 of each drafted among the 48 picks. Several teams went heavy in either direction, with both Bosch and Daigle loading up on RBs, and Manila and Molitor taking three WRs of the four selections.
Biggest Reaches
Michael Mayer (11.01)
Rookie TEs are rarely fruitful in the fantasy football realm, and despite Mayer's favorable landing spot, it's tough to justify drafting him before proven assets like Dalton Schultz, Chigoziem Okonkwo, or Pat Freiermuth. Mayer projects as a fantasy TE2 at best and was the 10th selected at his position in this mock. Stefanile did also draft Kyle Pitts in the fifth round so he presumably could cut bait quickly if there's no production from Mayer.
Biggest Values
Jordan Addison (8.06), Jaxon Smith-Njigba (8.10), Jakobi Meyers (11.07)
A trio of receivers all fell on this draft board and were scooped up significantly past their current ADP.
The Vikings have 143 total targets available from last year (107 at WR) and as their likely WR2 and third in the pecking order after Justin Jefferson and T.J. Hockenson, Addison boasts fantasy WR2 potential for the price of a WR4. He was the 43rd wideout taken in this mock, and with an Underdog ADP of 7.04 (WR36), Allen got some legitimate value with the selection. He also nabbed Jakobi Meyers a few rounds later, who should slide in as the Raiders No. 2 behind Davante Adams and fell nearly a full round here.
Bosch got a great deal on another rookie WR in JSN, who slid nearly three full rounds in this mock from his current 5.11 draft spot in Underdog's half-PPR best ball contests. Landing in Seattle, the 21-year-old should immediately man the slot and be a fruitful fantasy asset in the short to intermediate parts of the field. JSN is being selected as WR29 and Bosch scored him as WR46 in this redraft mock. His thoughts on the pick:
On teams where I go early QB and TE (like this one with Mark Andrews in 2nd and Josh Allen in 3rd) I just fire at WR and RB the rest of the draft. Usually, I would go just about every other alternating the positions but when I was able to add JSN as my fourth receiver it gave me a strong enough WR room to fire repeatedly at hitting on RB. JSN was the last in the tier of WRs that would allow that type of strategy rest of draft
Biggest Surprise
Seeing Anthony Richardson get drafted before solidified veterans like Dak Prescott or Tua Tagovailoa was a bit surprising to me. I see that Fish did draft a backup in Aaron Rodgers with his last pick as insurance in case the selection doesn't pan out which is smart, however, in a single-QB league, I'd elect for a sure-fire fantasy starter there in the ninth round and gamble a little later in the draft. He had this to say about the pick:
In one QB, especially that one, I felt I could get a safe starter late and even cobble together QBs streaming if Richardson doesn't start right away or doesn't hit. Steichen just came from an offense with Jalen Hurts and likely knows how to utilize Richardson's abilities. He was my highest ranked QB at the time and his upside is tremendous. I wasn't in love with the options at other positions given what my team had, and swung for the fence.
Rounds 12-15

Takeaways
There were still some enticing players on the board in these final rounds, and since we went with no kicker or defense for this particular mock, there were players drafted that likely will be left for the waiver wire in traditional redraft leagues. As we get closer to the season when training camps get underway, some of these players may lose value or fall off as depth charts solidify.
Best Values
Jonathan Mingo (14.08), Aaron Rodgers (15.02), Juwan Johnson (15.10)
When I asked Behrens about scoring Mingo who was taken 18 positional spots and nearly two full rounds later than his ADP, the Yahoo analyst's response was :
I couldn't buy a rookie in this draft for the longest time. From Bijan in the first to Roschon in the tenth, I just kept missing. Finally, in the end game, I scooped up a few first-year players who landed in great spots. Mingo should see the field immediately given the current state of Carolina's receiving corps, and he can expect plenty of layup targets.
Rookie Costs
Quarterback: Anthony Richardson (QB9, 8.11)
Running Backs: Bijan Robinson (RB2, 1.04), Jahymr Gibbs (RB11, 3.02), Zach Charbonnet (RB39, 9.11), Devon Achane (RB41, 10.0), Roschon Johnson (RB46, 10.11), Tajae Spears (RB47, 11.3), Tank Bigsby (RB48, 11.09), Kendre Miller RB51, 12.08), Zach Evans (RB58, 13.11), Chase Brown (RB59, 14.03), Israel Abanikanda (RB62, 14.11)
Wide Receivers: Jordan Addison (WR43, 8.06), Jaxon Smith-Njigba (WR46, 8.10), Zay Flowers (WR47, 9.01), Quinton Johnston (WR50, 9.09), Jalin Hyatt (WR51, 10.04), Josh Downs (WR65, 13.02), Jonathan Mingo ( WR74, 14.08), Marvin Mims (WR79, 15.03), Rashee Rice (WR80, 15.05)
Tight Ends: Michael Mayer (TE10, 11.01), Dalton Kincaid (TE15, 14.02)
Final Draft Board

Bottom Line
There were 64 total RBs drafted and 84 WRs.
Fifteen QBs were selected in this mock with just three teams drafting a backup.
Five of the 12 teams decided to draft more than one tight end, leaving the total number selected at 17.
The longest any team waited to draft an RB was 6.02, while the furthest any manager waited to select a WR was 6.07.
QB selection appears to be trending earlier this season, but there is still plenty of value at the position later in drafts in a single-QB format.
This early in the spring/summer there is plenty of value on draft boards at every position while the hype machine is still churning with no on-field action.