Fantasy Football Team Names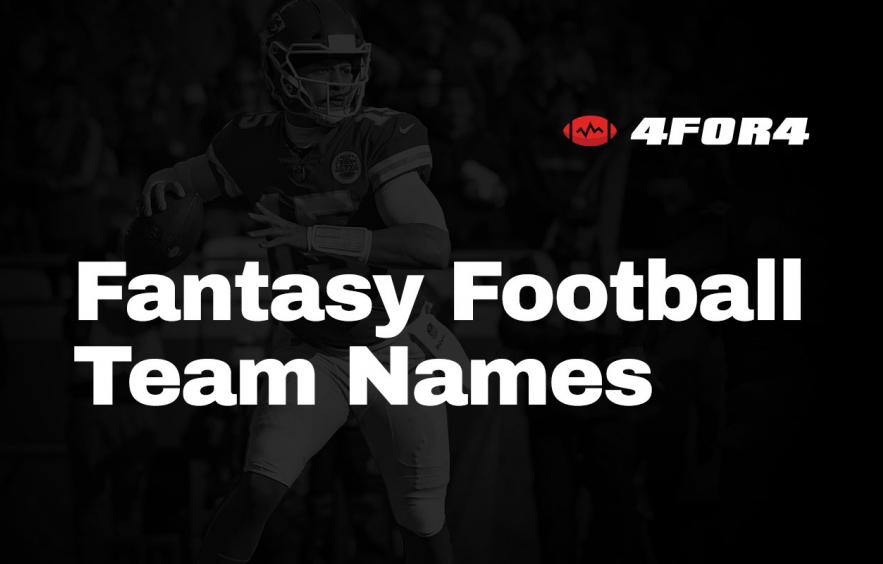 It's officially summertime, when travel and swimming and thoughts of the beach or mountains take over your mind. Pretty soon, NFL training camps will be starting, too, as will the unofficial start of fantasy football season, then 4for4.com will be more of a hotspot to get every little tidbit of information that will make your draft day selections a piece of cake.
Create or join a 2020 Yahoo Fantasy Football League for free today
The fact is, though, until your draft day rolls around, there isn't a whole lot you can control about your fantasy Football Team at this point in the offseason. The one thing you can control is probably something that may not have even crossed your mind yet. However, thinking about it now may just save you some headache and stress when the time comes to make one of the biggest fantasy football decisions of the season—your team name.
Now maybe in this day and age of pandemics and quarantines, you haven't had a lot to do but sit home and think of fantasy names so if that's the case, hopefully, you have a good one all ready to go. If not, our list should be able to at least get you started.
Why You Should Think of a Name Now
Okay, maybe I'm being dramatic. But, if you're one of those owners who love to come up with something clever instead of Team Bill or The Crushers, you know exactly what I'm talking about.
Thinking up a gutsy, funny, or clever name in this very moment can definitely save you some headaches a few weeks from now when you really feel put on the spot. Waiting until the day you sign up for your account and staring blankly at the name section wondering what to fill in can be stressful—and we all have enough stress in our lives. Checking out the clever names your opponents have already decided on doesn't help, and can really make you panic.
What Makes a Good Fantasy Team Name?
My personal goal for a team name is one that will draw comments, laughter and even awe from friends and league-mates. Something newsworthy and topical is also good, and sometimes it doesn't even have to be football related. Using a player name is also a good choice, but you may not know who you have rostered yet.
A good team name is up to each owner, and even the type of owners in your league. For me, I like vile, disgusting and perverted — something my wife would cringe at. In fact, I still use a team name with Woodhead in it. While I probably shouldn't share those here, hopefully, this article will give you a good head start as far as choosing something that will get you noticed—or at least get your mind churning to come up with your own. Then it's just a matter of backing it up on the proverbial fantasy football field beginning in September, which shouldn't be a problem since you subscribed to 4for4.
Are There Rules When it Comes to Fantasy Names?
When I was approached a few years ago about coming up with some fantasy names for an article, I was told to "keep it PG-13." For me, that's a challenge. I don't want to say I'm a pervert or immature... but I kind of am. Other than not being able to share those in this article, I have a couple of simple, unwritten rules I like to follow for team names:
I'd maybe be considerate of your league-mates. Maybe. If someone is a pastor or reverend maybe stay away from certain themes. Females in your league? Maybe shy away from certain topics. Kids? That can really reduce your choices. But just at least be aware.
Try to come up with something different year-to-year. I know it's not always easy, but reusing your team name from the year before makes you seem lazy. Sure, I still use Woodhead as one of my team names, but that's just hilarious. So anything with Johnson, Wood or Peterson is an exception to this rule.
While it's not always great to use the same team name, steal someone else's, or even recycle from other years, I will say I'd much rather see that than "Scott's Team" or "Team Scott." What an embarrassment.
A bunch of the names below came from Internet searches, others were names I've seen in various leagues I play in, and others revolve around certain topics that just sparked in my mind.
We would love to hear some of your favorite, (printable) names and we can even add them to our list as the season goes on. You can email them to me at scott@4for4.com. I'll also update the list throughout the year with my own and ones that get sent to me.
Alcohol-Themed Names
This is probably one of my favorite topics.
Film/TV-Themed Names
Movies and TV shows are an endless possibility for funny names just between one-liners and titles. This list could go on and on, so I tried to narrow it down to the more clever and popular ones.
Music-Themed Names
This is another endless possibility between titles and lyrics.
Random Names with No Theme Whatsoever
Here are a bunch of random names that cover a wide range of topics.
Again, we would love to hear some of your favorite, (printable) names and we can even add them to our list as the season goes on. You can email them to me at scott@4for4.com.