2023 Dynasty SuperFlex Rookie Mock Draft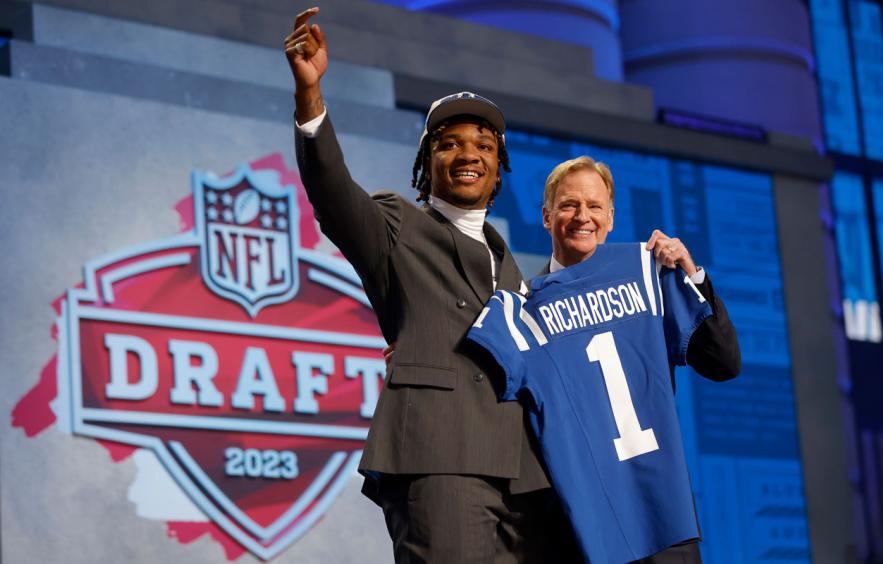 David Eulitt/Getty Images
The NFL Draft is officially behind us, and that means one thing for many of you in Dynasty leagues; your rookie draft is either about to kick off or will kick off very shortly. To give you an idea of current values and the ranges where you may find some of these new faces, I gathered 11 other friends and 4for4 teammates to run through a three-round rookie draft with SuperFlex settings.
---
More Mock Drafts and Dynasty Rankings: Rookie Rankings & Tiers | 12-team Expert Half-PPR Mock |
---
Thoughts on player values, strategies, and general payer evaluation will follow each pick. The mock rookie draft assumes a SuperFlex quarterback league with half-PPR scoring but no tight end premium scoring. The full grid of the draft is at the bottom of the article.
Participants in Order:
1. Andrew Fleischer (4for4)
2. Tab Bamford (Bleacher Nation)
3. Peter Lawrence (DLF)
4. Matthew Price (DLF)
5. Nick Muzzillo (DLF)
6. Andrew Hall (Dynasty Junkies)
7. Kevin Zatloukal (4for4)
8. Mike Faiella (DLF)
9. Shane Manila (DLF)
10. Justin Edwards (4for4)
11. John Daigle (4for4)
12. Brandon Niles (4for4)
Round 1
*Pre-draft average draft position pulled from Dynasty League Football
1.01- QB
Anthony Richardson

,

Colts

Running backs of Bijan Robinson's caliber typically rule the top of rookie drafts —even in SuperFlex leagues— but Anthony Richardson offers league-winning upside at a position that typically has a much longer shelf life. The biggest and most obvious knock on Richardson is his inexperience (13 games in his college career) and his inaccuracy (53.8% completion percentage). That can be enough to scare people off of taking him with such a premium pick, but the upside he offers is off the charts, particularly for teams who "earned" the 1.01 the old-fashioned way; by having a terrible team.

Richardson has a literal 10.0 out of 10 in terms of his RAS scoring, with the absolute best athletic testing of any of the 916 quarterbacks who have tested since 1987. There could be a bit of a wait if the team allows newly-signed Gardner Minshew to operate under a familiar Shane Steichen offense. Still, Richardson could start producing early in 2023 with a Konami Code upside that could rival Josh Allen down the line.
1.02 - RB
Bijan Robinson

,

Falcons

The Falcons have used their third-straight premium first-round pick on a skill position player, as they seem to be determined to run the offense through passable quarterback play and shiny toys. The team's win/loss record means nothing to us here in Fantasyland, so Bijan Robinson's landing spot will suit us just fine. Robinson enters the league with lofty expectations and the kinds of player comparables that make mouths water; Saquon Barkley, Marshawn Lynch, and Edgerrin James.

If he performs anywhere near those levels, he will instantly be worth more than just a single top-three pick, making him a pick that could immediately return value, even if you need to trade him away before your team is able to compete.
1.03 - RB
Jahmyr Gibbs

,

Lions

We can turn our noses in the air all we want about the Lions spending the 12th-overall pick on a running back when they already had David Montgomery and (since-traded) D'Andre Swift on the roster, but there's no question that Gibbs has playmaking ability, and now, high real-life draft capital. Jahmyr Gibbs led all running backs over the last three seasons with 25 receptions of 15-plus yards and forced 39 missed tackles on receptions.

On the negative side, Gibbs ranked 91st out of 107 draft-eligible running backs in pass-blocking grade and 42nd if we cut the sample size down to 50. That could become an issue, in addition to some worries about how often he is going to be used in early-down rushing situations, with his relative lack of experience while running the ball in gap or power schemes. I'm a little lower on him than consensus, but my opinion won't matter if Detroit is going to force the ball on him in the receiving game.
1.04 - WR
Jaxon Smith-Njigba

,

Seahawks

Jaxson Smith-Njigba may have had a higher immediate upside had he landed somewhere else, but being a part of possibly the best wide receiver trio in the NFL for 2023 shouldn't hurt him all too much. Smith-Njigba's 2022 may have been cut short by injury, but his stellar 2021 season was enough to show how incredible he may be at the next level. His 4.01 yards per route run was higher than both teammates Garrett Wilson and Chris Olave, both of whom are on the short list of receivers who may deliver some huge fantasy numbers here in the 2023 season.

JSN has all the tools to be a PPR monster, but we may have to be patient for immediate output, with both DK Metcalf and Tyler Lockett manning the station in front of him. Not to mention a loaded backfield with Ken Walker and fresh-faced Zach Charbonnet. Regardless, taking a receiver with a top-10 future upside here is nothing to sneeze at.
1.05 - QB
Bryce Young

,

Panthers

The Panthers traded two first-round picks, two second-round picks, and long-time receiver D.J. Moore for the first-overall pick and, inevitably, Bryce Young, so it's quite obvious, they are not concerned about his size. The current Carolina offensive weapons are admittedly lacking, but the addition of second-round pick Jonathan Mingo should help give the aging group of Adam Thielen, D.J. Chark, Damiere Byrd, and Hayden Hurst a kick in the pants.

The team will have plenty of time to build on Young's future, and his play-making ability in and out of the pocket should help him maximize his options, while his ability to add fantasy points with his legs will help him contribute to our fake teams from the start.
1.06 - QB
C.J. Stroud

,

Texans

Stroud finds himself in a similar situation as the number one overall pick from this year's draft in that he doesn't have a lot of juice in his skill position group at the moment. The team moved on from Brandin Cooks and added a plethora of average-to-above-average players in the offseason, including Robert Woods, Dalton Schultz, Noah Brown, and rookie Tank Dell and Xavier Hutchinson. They will join a team already rostering Nico Collins and John Metchie, presenting a skill position group that might not be as good as some of the ones Stroud played with in college.

Over Stroud's collegiate career, he threw the ball to what may turn out to be five different first-round picks, including current NFL receivers Garrett Wilson, Chris Olave, and Jaxon Smith-Njigba. We will find out quickly who was elevating whom.
1.07 - WR
Jordan Addison

,

Vikings

The Vikings wasted no time replacing Adam Theilen with a fresh face, taking former Biletnikoff Award winner Jordan Addison 23rd overall. Addison should start racking up fantasy points right away, with an inside-outside versatility despite his slender 175-pound frame, leaning heavily on his pro-ready route running. Addison will never be the team's WR1 as long as Justin Jefferson remains a top-three receiver in the league, but the former Pitt Panther and USC Trojan should be a high-floor option out of the gate, particularly if we're looking at full-PPR leagues.
1.08 - WR
Quentin Johnston

,

Chargers

Many had pegged the Chargers with taking Jordan Addison at the 21st-overall pick due to their lack of speed, the inevitable age cliff that the 31-year-old Keenan Allen is sitting on the precipice of. Instead, the team went with 6'3", 208-pound Quentin Johnston, who came out of the combine with a 41st-percentile 40-yard dash and a 14th-percentile agility score. Due to this and his need to continue working on his route-running and hand (not body) catching, Johnston may be a bit of a project in his initial season. However, his future ceiling could be incredible, particularly if he forces his way into the team's second receiving option down the road.

For now, he's stuck behind Allen, Mike Williams, Austin Ekeler, and maybe even Josh Palmer.
1.09 - WR
Zay Flowers

,

Ravens

So we get the first three receivers to come off the board here back-to-back-to-back. Of the three, the landing spot for Zay Flowers may be the most tricky to pinpoint when considering immediate fantasy output; there are just so many variables to consider. To begin with, we have the recent signing of Odell Beckham, who hasn't played football since the 2021 Super Bowl, and the presumptive return of Rashod Bateman, who missed most of the 2022 season. If both of those players are ready to play, it may be difficult to find a consistent role for Flowers on a team that has run a league-low 37% rate of 11 personnel since 2019. Add to that a neutral-script passing rate that is the sixth-lowest across the NFL during the same time frame.

Flowers may have been a focal point of an offense had he landed elsewhere, but that seems unlikely, given the way the Ravens typically opt to move the ball.
1.10 - RB
Devon Achane

,

Dolphins

Devon Achane was going to have issues earning fantasy points if he were selected by a team with a more typical power running scheme at the next level, but his selection by Miami alleviates those concerns. The Dolphins spread the defense out horizontally and use speed to kill, the exact area of the field where Achane thrives. On almost any other team, he may have been pigeonholed as a special teams guy and found himself deep down the RB rotation. Here in Miami, he could carve out a role that finds him 10 touches a game, and with his explosiveness, that may be all he needs in the short term.
1.11 - QB
Will Levis

,

Titans

The slide down the real NFL Draft board correlates here as Will Levis falls to the end of the first round. Rumors are rightfully already swirling that Ryan Tannehill could be on the trade block, but as it stands, head coach Mike Vrabel has labeled Levis the team's QB3 behind Malik Willis. Ryan Tannehill is 34 years old and posted career lows (with Tennessee) with 211 yards passing, 13 touchdowns, and a 49.1 quarterback rating. Quarterbacks are incredibly valuable in SF leagues, and the gap between Levis and the next available QB is broad.
1.12 - TE
Dalton Kincaid

,

Bills

Our first tight end finally comes off the board. This class of TEs was vaulted for how they would come into the league and make an immediate impact on our fantasy teams, but many of the landing spots crushed those dreams. This is not one of those spots. While on the surface, it would seem that Dawson Knox is theoretically blocking Dalton Kincaid's path to the field, the rookie can easily be utilized out of the slot. Kincaid lined up in the slot on 55% of his routes during his final year of collegiate play, the fifth-highest mark among 46 qualifying draft-eligible tight ends.

There's an argument to be made for Kincaid to go a few picks higher than this, even more so in TE premium leagues.
Round 2
2.01 - RB
Zach Charbonnet

,

Seahawks

The landing spot for Zach Charbonnet with the Seahawks felt like it let the air out of the Dynasty balloon at first, but when you stop and think about it, it's not quite as bad as it seems on its face. Charbonnet can take an entire series from teammate Ken Walker throughout the course of a game and would be an absolute 1v1 replacement should anything happen to the sophomore running back. He would also be an upgrade in the passing game. While Walker finished 46th/49 qualifying running backs in yards per route run during his rookie season, Charbonnet finished 7th/34 draft-eligible running backs last season while converting 44 targets into 37 receptions and 320 yards.
2.02 - TE
Michael Mayer

,

Raiders

Our second tight off the board, and a good bet to fill in for a majority of the vacated Darren Waller snaps, Notre Dame's Michael Mayer, finds a home in Las Vegas and here at the beginning of the second round. Mayer became the school's all-time reception leader at the position and was used all over the formation, including tons of time operating out of the slot. While the opportunity for fantasy production is there in spades, his ceiling is unlikely to match YAC monster Waller's, as Mayer finished 26th/46 qualifying draft-eligible tight ends in YAC/reception (4.9), despite ranking 13th in yards per reception (12.1).

Unlike Dalton Kincaid, Mayer may need some receiving depth —Davante Adams, Jakobi Meyers, Josh Jacobs, Hunter Renfrow— to clear out in front of him before he makes a sizable impact. Regardless, he is paired for the long haul with Josh McDaniels, who has plenty of history with propelling tight end prospects to greatness.
2.03 - QB
Hendon Hooker

,

Lions

This may be the first pick I am really not on board with, but in a SuperFlex league, you just can't stress how valuable the quarterback position is. Hendon Hooker is 25 years old, tore his ACL in November, and operated in a hurry-up, gimmicky offense that will be difficult to translate into NFL success. A player like Hooker is exactly the reason you have to take your own league setup into consideration when drafting rookies at this time every year. Leagues with short benches and no Taxi squads need not apply, but deeper leagues will push Hooker up draft boards, as the payoff would be huge if he continues his development and turns into success in Years 2 or 3.
2.04 - RB
Kendre Miller

,

Saints

Kendre Miller has a well-rounded skillset that could be put to good use if Alvin Kamara eventually misses time due to his legal troubles. Behind Kamara, Jamaal Williams is practically the only thing keeping Miller from an extensive role right off the bat. Williams had a fantastic fantasy season last year, but it was predicated almost entirely on goal-line touchdowns, while he had a miserable 0.61 yards per route run and only 16 targets through 17 games.

If Kamara pushes his suspension back even further (or it never happens), Miller will be immediately thrust into running back purgatory.
2.05 - WR
Josh Downs

,

Colts

A nearly pure-slot receiver, Josh Downs will sit behind Michael Pittman and Alec Pierce for the foreseeable future as the team's WR3. While it's possible that he can have a lot of long-term growth with hopeful franchise signal caller Anthony Richardson, we're going to have to wait and see exactly what kind of offense that is going to entail. With high-end comps of Josh Allen to Richardson, can Downs be his Cole Beasley?
2.06 - WR
Rashee Rice

,

Chiefs

There's certainly no reason to overthink this pick, as we are forever searching for the next great thing to come out of (or into) Kansas City. Rashee Rice proved that he can be a high-target player in his final college season, absorbing an astonishing 156 targets and a 96-1,344-10 line, good enough for a 96th-percentile 33.2% college target share.
2.07 - WR
Jayden Reed

,

Packers

The Packers started the draft with edge rusher Lukas Van Ness but spent the next three picks bolstering the supporting cast of new QB1 Jordan Love, TEs Luke Musgrave and Tucker Kraft, and wide receiver Jayden Reed with the 50th overall pick. Reed can operate at all levels of the field and should be able to push sophomore Romeo Doubs for playing time right off the bat.
2.08 - WR
Marvin Mims

,

Broncos

The rumor mill had the Broncos shopping Jerry Jeudy and/or Courtland Sutton at some point in this offseason, but here we are in May, and they're both sitting on that depth chart, which makes this landing spot a little less sweet. The offseason isn't over yet, and one of them may be on the move if it's not even current WR3 K.J. Hamler suiting up in different colors by the time August rolls around. If Russell Wilson can find it in him to return to his mid-career form, Marvin Mims could end up being a very intriguing deep threat in a Sean Payton offense.
2.09 - TE
Sam LaPorta

,

Lions

Sam LaPorta joins the NFL ranks in a long line of tight ends to come from Iowa in recent memory. LaPorta led the entire team in receptions by 18 in 2021 and by 24 in 2022, operating as a rare TE focal point of a collegiate offense. The Lions' 34th overall pick, he'll have a chance to usurp both James Mitchell and Brock Wright as the team's main pass-catching tight end, but his 2023 fantasy production should be considered minimal.
2.10 - RB
Roschon Johnson

,

Bears

In an interesting turn of events, former Texas Longhorn Roschon Johnson may have an easier path to starting time in the NFL than he did in college. Stuck behind teammate Bijan Robinson for years, he now finds himself in a backfield with only veteran D'Onta Foreman and Khalil Herbert to beat out. Johnson very likely has the best three-down skills of the trio and led the country in forced missed tackle rate in his final year of college. His ceiling is capped by Justin Fields' legs, but he may make the team think twice about spending much future draft capital at the position, opening up long-term value.
2.11 - WR
Jonathan Mingo

,

Panthers

The Panthers took Jonathan Mingo with their 39th overall pick and give him a chance to make a long-lasting impression with first-overall selection Bryce Young. Carolina did what they could in free agency to surround their franchise quarterback with plenty of receiving options, but even they had to understand that D.J. Moore, Adam Thielen, Hayden Hurst, and unproven Terrace Marshall were just not going to get the job done. Mingo could be an honorary recipient of the post-bye rookie bump in 2023 while also holding the upside to potentially mind-meld with Bryce Young for the long haul. Probably my favorite pick of the second round.
2.12 - TE
Luke Schoonmaker

,

Cowboys

The Cowboys wasted no time filling the hole they had by letting Dalton Schultz walk in free agency, grabbing Michigan's Luke Schoonmaker with the 58th overall pick. Schoonmaker should translate as a high-floor catch-and-fall guy who stereotypes as a Dallas Cowboys tight end perfectly.

Round 3
3.01 - WR
Jalin Hyatt

,

Giants

Former Tennessee wideout Jalin Hyatt fell in the NFL Draft to the 73rd overall pick and, in turn, fell nearly an entire round of ADP, from the beginning of the second round to here at the 3.01. Hyatt had an explosive 1,200+ yard final year, taking advantage of his one and only season with full-time starter snaps. In 2022, 85% of his snaps came from the slot. The Giant's 2022 second-round selection Wan'Dale Robinson operated in the slot on 81% of his snaps, while newly acquired Parris Campbell saw an 82% snap rate out of the slot with the Colts last season. Where exactly the team plans to line these guys up shall be seen.

In the meantime, expectations should be low.
3.02 - TE
Luke Musgrave

,

Packers

Luke Musgrave adds another weapon for the hopeful ascension of Jordan Love. The Packers did lose Robert Tonyan but also added Tucker Kraft in the round following Musgrave and still have 2020 third-rounder Josiah Deguara on the squad.
3.03 - RB
Tyjae Spears

,

Titans

Year after year, it seems like a roster spot behind Derrick Henry will work as a high-upside opportunity, but the Big Dog keeps rolling. Tyjae Spears operates as more of a change-of-pace back, though, which could help him see the field whether or not Henry is with the team and/or healthy. The acceleration of Spears in his final collegiate year saw him average an astonishing 6.9 yards per carry and 21 carries of 15+ yards on his way to 1,586 yards on the ground.
3.04 - WR
Cedric Tillman

,

Browns

Cedric Tillman should most likely operate as a vertical X-receiver who can win with contested catches at the next level. A big wide receiver with an equally large catch radius, Tillman should rotate as the team's WR3 and operate in the red zone, but will likely take a seat behind each of Donovan Peoples-Jones, Amari Cooper, and Elijah Moore in most other situations.
3.05 - RB
Tank Bigsby

,

Jaguars

One of the sneakiest landing spots in the NFL Draft, former Auburn Tiger Tank Bigsby only needs to beat out JaMycal Hasty and D'Ernest Johnson to earn extended playing time behind Travis Etienne, who missed the entirety of 2021 with a Lisfranc injury. Bigsby won an SEC Freshman of the Year award in his first college season before going on to accrue nearly 3,000 rushing yards and 25 total touchdowns in his career.
3.06 - RB
Chase Brown

,

Bengals

Though Chase Brown is almost assuredly a complimentary piece at the next level —as his fifth-round draft capital hints at— if Joe Mixon and the Bengals were to part ways for any number of reasons, Brown could be in for a heightened workload. He would have only a pair of former sixth-round picks to beat out for extended playing time; Trayveon Williams and Chris Evans.
3.07 - WR
Tank Dell

,

Texans

Tank Dell is one of the smallest wide receivers in recent memory, yet was one of the most productive college receivers over the last two seasons, racking up over 2,600 yards and 29 touchdowns. At 5'8", 165 pounds, you have to wonder how often the Texans want him to be on the field and whether or not he can lock in the full-time slot role with C.J. Stroud at the helm.
3.08 - QB
Stetson Bennett

,

Rams

In a world where Hendon Hooker is coming off the board at the beginning of the second round, sign me up for Stetson Bennett here near the end of the third. The NFL Draft capital may not be terribly close, but their odds of performing at the next level are probabilistically similar.
3.09 - TE
Darnell Washington

,

Steelers

Back-to-back Georgia Bulldogs here. Darnell Washington was being mocked as high as the mid-20s to offensive powerhouses such as the Cincinnati Bengals but ended up in Pittsburgh behind Pat Freiermuth, going in the third round. Washington should still see the field plenty, but if the majority of those snaps are as an inline tight end in the run game, it doesn't do much for his fantasy outlook.
3.10 - WR
Tyler Scott

,

Bears

If this were deeper than a three-round draft, you could just wait on Tyler Scott, but I like my explosive elite speed guys, so I've been aiming for Scott at the end of the third through rookie drafts so far. The former Bearcat has been clocked as low as a 4.29 40-yard dash and finished last season 13th/48 qualifying draft-eligible receivers in contested catch rate despite his slight frame.
3.11 - RB
Israel Abanikanda

,

Jets

Israel Abanikanda was a pre-draft analyst favorite, but his landing spot put a bit of a damper on him, resulting in a pretty large drop in ADP. He is currently slotted on the Jets behind Breece Hall and Michael Carter but proved he can carry the load with his 46.5% college dominator rating (97th percentile) and has plenty of time to grow, as he just turn 20 years old last Fall.
3.12 - WR
Michael Wilson

,

Cardinals

Rounding out the final pick here, we have Michael Wilson, who profiles as a possession-type receiver, ala Juju Smith-Schuster. The Cardinals have plenty of space for someone to provide consistency in that area, particularly if they end up moving on from DeAndre Hopkins before the season kicks off.
Final Grid: