SBFFC Satellite Draft Review #2: Values and Reaches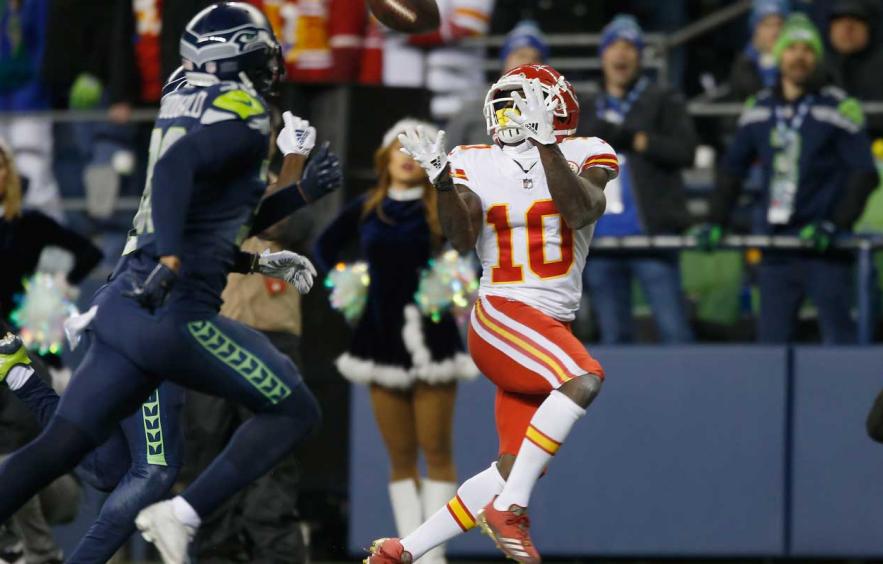 Otto Greule Jr/Getty Images
With the NFLPA agreeing to the testing protocol it's easy to be optimistic about a full season happening. Fantasy drafts will continue to pop off leading up to the season including a live draft in Kentucky called The SBFFC. For those of you who don't know what the SBFFC is or the format you can find out more information here.
As I noted in my first draft review here's a quick rundown of the league:
The SBFFC is a similar tournament to the FFPC and NFFC but is hosted in Kentucky and is a $200 entry to their main event. It's a 12-team PPR league with a tournament-style prize pool. I attended the draft last year and will be attending again this year along with fellow 4for4 writer, Chris Allen. There are a few quirks that I personally enjoy that are important towards roster construction and how to strategize.
Drafts include a third-round reversal. This means:
Round 1 draft order: Team 1–Team 12
Round 2 draft order: Team 12–Team 1
Round 3 draft order: Team 12–Team 1
Round 4 draft order: Team 1–Team 12
It gives an advantage to those picking at the end of the first round and makes it harder for those who get an early pick. I think it's a fun twist when considering you get to bid on the right to choose your draft position using FAAB (Free agent acquisition budget). Before the draft, the commissioner will have auction-style bidding for the right to choose your draft position. This means that the person who wins the first bid has the right to choose any draft pick. After they choose their draft pick, the commissioner re-opens up bidding for the next-highest bidder. It continues from there until the draft is full. It's a fun twist that allows you to enter your draft with specific planning on not only acquiring your favorite draft slot but going and grabbing "your guys".
Just like the fantasy draft afterward, It's always interesting to see how players strategize differently with bidding on their draft picks. Some will bid up to half of their available FAAB in order to get a top-three pick. Others will literally wait until the very end and use no FAAB, saving it all for the season. I can't say with certainty that either strategy is right but I fall somewhere in between.
Here's how the FAAB Bidding wound up from this specific draft:
1st - Run CMC $475
2nd - Dick's Dynasty $400
3rd - MidMoMonster 2 $350
4th - Chris Allen 4for4 $225
5th - Beermoney 80 $100
6th - Vegas Bound $25
7th - BG Gridiron $200
8th - Jason Steube $0
9th - SSL $1
10th - Mean Machine $300
11th - Rocket $100
12th - Cajun Mafia $35
I didn't participate in this specific draft but Chris Allen did. I'll be breaking down this draft by the most notable picks in terms of where the player was selected vs their multi-site ADP.
Here's the full draft board:
WR
Tyreek Hill

,

Chiefs

; Pick 1.07

It isn't all that surprising to see Tyreek Hill go in the first round but seeing him go as the WR2 just one pick after Michael Thomas was interesting. Davante Adams seems to be the consensus WR2 in most drafts but wasn't taken until WR4, behind Thomas, Hill, and DeAndre Hopkins. The case for Hill is fairly obvious as a high-upside wideout but the question many drafters will face is whether the opportunity cost of drafting Hill in this spot instead of a running back is too high. In the drafts I've done, running backs face a steep drop-off in floor and upside towards the end of Round 3 while legitimate WR1 candidates are still lingering in the late fifth and early sixth rounds. I personally like a lot of my builds where I take at least one running back in the first two rounds but to each their own.
WR
DeAndre Hopkins

,

Cardinals

; Pick 1.09

A lot of what I talked about in Hill's section can be echoed here in terms of opportunity cost. Hopkins is also a bit riskier to me than Adams, Hill, or Thomas. I get a lot of 2019 Odell Beckham vibes from this situation. The most important factor is that he's changing teams and quarterbacks. Kyler Murray projects to take a step forward this season but that's part of the issue—projecting things like this is a dangerous game. The Browns offense was projected to light the league on fire with Baker Mayfield and OBJ leading the way. They fell far short of the mark. Is Hopkins talented? Yes. Is Kyler Murray talented? Yes. It makes sense on paper, but it doesn't always work out that way in real life. Also, In Kliff Kingsbury's offense that features lots of four WR sets, it might be tough for Hopkins to attract as much target volume as he did in years past with the Texans. The upside is high but the floor is dangerously low for Hopkins.
WR
Cooper Kupp

,

Rams

; Pick 2.11

Kupp was the WR2 overall for the first nine weeks of the 2019 season but midway through the season, the Rams offense changed course. In Weeks 1-9 they utilized 11 personnel (3 WR sets) on 80% of their snaps and 12 personnel on just 11% of their snaps. In Weeks 10-17 they utilized 11 personnel (3 WRs on the field) 67% of the time and 12 personnel 30% of the time. This decreased Kupp's usage in the slot and from Week 10-17 he was the WR42. What are the Rams going to do this season? I'm not sure anyone really knows and even if we do, there's a chance we see a midseason change in order to switch things up (H/T Noah Ruddell for bringing this up). I'm fine with taking a stab at either Kupp or Robert Woods in the fourth round but the late second and even early third round is tough.
RB
Alexander Mattison

,

Vikings

; Pick 6.03

Mattison was selected by the same team that drafted Dalvin Cook at 1.03. It was a pure handcuff maneuver in fear of Cook's holdout threats coming to fruition. The viability of a handcuff has been widely debated throughout the years in the fantasy community. A lot of the anti-cuffers note that oftentimes the player you select as the handcuff isn't useable until too late in the season and you end up dropping him or he ends up sharing a lot of work with other backups. All of that is valid but shouldn't be applied broadly as each situation needs context. It's a reasonable strategy in regular season-long drafts with no tournament-style prize pools and a deep bench. The sixth round is a bit early but if you are that confident in the Vikings backfield producing and Mattison being a 1-1 replacement for Cook in the case of him continuing to hold out, the pick could pan out. It's worth noting the actual SBFFC is a tournament-style, top-heavy season-long league where the value of handcuffs might lose some luster.
WR
D.J. Chark

,

Jaguars

; Pick 6.04

Chark's aggregate ADP at 4for4 is only 59th but in the two $1,900 Main Event Draft's I've participated in, Chark has gone at 4.09 and 5.07. Especially considering those drafts are tight end premium which forces tight ends even higher, Chris Allen got a steal at 6.04 in this one. Chark broke out in his second season as the Jaguars clear No. 1 wideout. He went over 1000 yards despite only playing in 15 games. With the Jaguars boasting the lowest win total on the board (4.5) they figure to face plenty of negative game script. Gardner Minshew targeted him on 22% of his throws last season (in games Chark played) and figures to remain the started through thick and thin next season. Chark is a slam-dunk pick in the sixth round.
RB
Antonio Gibson

, Team Names; Pick 7.10

Antonio Gibson has so much upside, but at 7.10 that might already be baked into that price. Gibson only had 77 career collegiate touches (no, not a typo) but made the most of them. He averaged 19 yards per reception and 11.2 yards per carry on the ground in addition to 14 total touchdowns. In reality, most of his lack of collegiate production is irrelevant when projecting Gibson's production in 2020. New head coach Ron Rivera has likened Gibson to fantasy stud Christian McCaffery and plans to use him in the passing game. With pass-catching deficient running back's Adrian Peterson and Derrius Guice on the depth chart in front of him, it adds up. I think Gibson's floor is a Chris Thompson-light role. His ceiling is massive if he starts to get more touches or is frequently running routes on early downs.

With the SBFFC about a month away, I'll have another article written up prior to the live draft in Kentucky. If you are interested in participating and potentially drafting against Chris Allen and me, check out SBFFC's website.