SBFFC Satellite Draft Review: Values and Reaches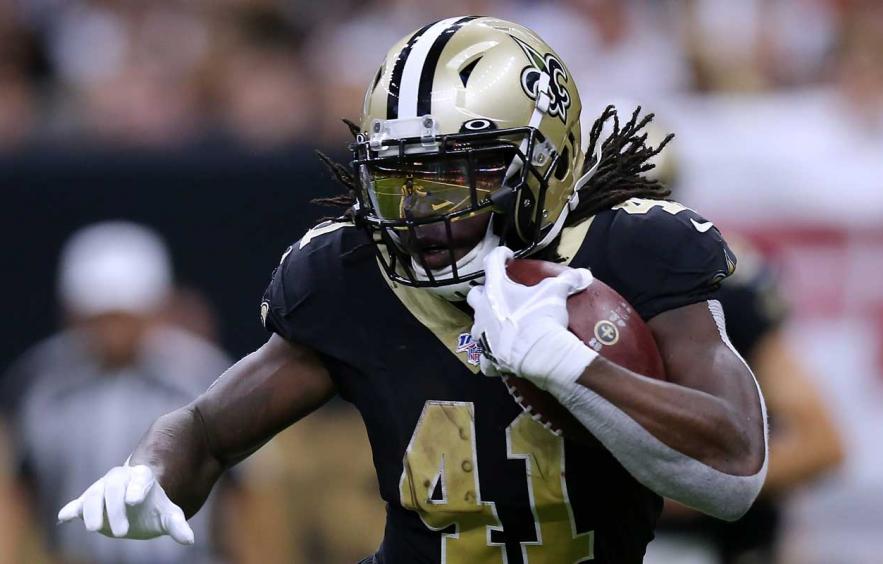 Jonathan Bachman/Getty Images
Last Saturday I participated in a satellite draft which will award the winner a free entry into the Southern Bluegrass Fantasy Football Championships (SBFFC).
For those of you who don't know what the SBFFC is or the format you can find out more information here.
It's a similar tournament to the FFPC and NFFC but is hosted in Kentucky and is a $200 entry to their main event. It's a 12-team PPR league with a tournament-style prize pool. I attended the draft last year and will be attending again this year along with fellow 4for4 writer, Chris Allen.Before I break down the draft, there are a few quirks that I personally enjoy that are important towards roster construction and how to strategize.
Drafts include a third-round reversal. This means:
Round 1 draft order: Team 1–Team 12
Round 2 draft order: Team 12–Team 1
Round 3 draft order: Team 12–Team 1
Round 4 draft order: Team 1–Team 12
It gives an advantage to those picking at the end of the first round and makes it harder for those who get an early pick. I think it's a fun twist when considering you get to bid on the right to choose your draft position using FAAB (Free agent acquisition budget). Before the draft, the commissioner will have auction-style bidding for the right to choose your draft position. This means that the person who wins the first bid has the right to choose any draft pick. After they choose their draft pick, the commissioner re-opens up bidding for the next-highest bidder. It continues from there until the draft is full. It's a fun twist that allows you to enter your draft with specific planning on not only acquiring your favorite draft slot but going and grabbing "your guys."
Like the fantasy draft afterward, It's always interesting to see how players strategize differently with bidding on their draft picks. Some will bid up to half of their available FAAB in order to get a top-three pick. Others will literally wait until the very end and use no FAAB, saving it all for the season. I can't say with certainty that either strategy is right but I fall somewhere in between. I usually give myself a range of picks I want to choose from and then let the first few bids go down without making a peep.
So in this draft with the fourth pick, I was eyeing one of CMC-Barkley-Zeke-Kamara. I know some people have the big-three this year but I really like Kamara to bounce-back and was fine with any of them. After the first three picks were selected by higher bidders, I got the pick I wanted for $85 less in FAAB than pick No. 3 went for ($275). Here's the rest of the FAAB bidding results:
| | | |
| --- | --- | --- |
| Pick | Team | FAAB Paid |
| 1 | Phoenix Rocket | $250 |
| 2 | Midnight Rider | $220 |
| 3 | Vegas Vacation 2020 | $275 |
| 4 | 4for4 | $190 |
| 5 | Hawk | $150 |
| 6 | Football Guy | $0 |
| 7 | When I Move You Move | $10 |
| 8 | Southern Kryptonite | $20 |
| 9 | Jaylethal | $100 |
| 10 | PPR univeRsity | $290 |
| 11 | Jason Stuebe | $100 |
| 12 | KNIGHT TIME | $190 |
I'll be writing a handful of other pieces prior to the SBFFC main event on this concept but thought it was worth briefly discussing here. On to the draft.
Here's how the draft board shook out: (remember the third round reversal, so George Kittle was the first pick of the third round):
Rather than diving into just my strategy for each pick, I want to look at the most interesting picks early in the draft according to ADP.
RB LeVeon Bell,
Jets

; Pick 2.07

According to 4for4's ADP, Bell is coming off the board as the RB19. He went as the RB13 here. In most drafts, he goes in the late third or early fourth round so I think this was a bit of a reach. The Jets also signed ageless Frank Gore who will surely play a role with scatterbrained head coach Adam Gase still calling the shots. The offense is far from efficient and will have to take a big step forward for Bell to pay off at this pick.
TE
Travis Kelce

,

Chiefs

; Pick 2.08

I know I just said I wasn't going to talk about my own picks but this one is tough to skip over. Kelce outscored the next closest tight end (Kittle) by over 30 points last year and is still tied to the best quarterback in the NFL. He's also finished as the TE1 in PPR for three consecutive seasons. Grabbing him in the late second round felt like stealing.
WR
Calvin Ridley

,

Falcons

; Pick 3.02

Ridley went off the board at WR7 here. His ADP is WR16. The hype train is moving full speed ahead and WR7 seems a little rich considering Julio was selected as the WR5. I'm not saying it's impossible to support two top-seven fantasy wideouts but the quarterback has to either essentially only target those players or has to have a near-historic season himself. Ryan went as the QB9 so I'm not sure this draft appropriately adjusted his perceived value based on his pass-catchers' ADP.
QB
Lamar Jackson

,

Ravens

; Pick 4.03

I'm not a big advocate of taking a quarterback in the first five rounds but both Mahomes and Lamar Jackson have proven to be legitimate difference-makers at the position. Jackson went nearly two rounds below Mahomes in this draft, a disparity that doesn't make much sense. Jackson consistently goes towards the back end of the second round and by August it wouldn't shock me to see him going in the late first round. In the fourth round, "Vegas Vacation 2020" pulled off a big-time selection.
WR
Kenny Golladay

,

Lions

; Pick 4.08

I don't love Kenny Golladay at his WR7 ADP but at 4.08 as the WR18? Count me in. This was a massive steal for "Southern Kryptonite" who paired Golladay with Julio Jones, Michael Thomas, and Leonard Fournette. Golladay has a pretty wide range of outcomes with Stafford being one hit away from calling it a day but his upside is extremely high. There's a chance this team has three top-five fantasy wideouts when it's all said and done.
RB
Alexander Mattison

,

Vikings

; Pick 5.01

This owner drafted Cook in the first round so I can't blame him too much but in the fifth round, it was probably a bit early to grab Mattison. Even with some holdout concerns from Cook, he has little leverage. Mattison would pay-off big time if Cook goes down or decides to hold out but in all likelihood, Mattison will spend the majority of the season on this fantasy owners' bench. It'll be interesting to see where Mattison's ADP winds up as the offseason continues.

Beyond those picks, not too many players strayed far from their ADP's in the early rounds. As I noted before, be sure to stay tuned for more content on the SBFFC throughout the offseason and if you have any questions about my specific strategy in this draft feel free to shoot me a message on twitter @ConnorAllenNFL.

If you are interested in playing in the SBFFC Main event down in Kentucky, register here.