Finding Values in Underdog Fantasy ADP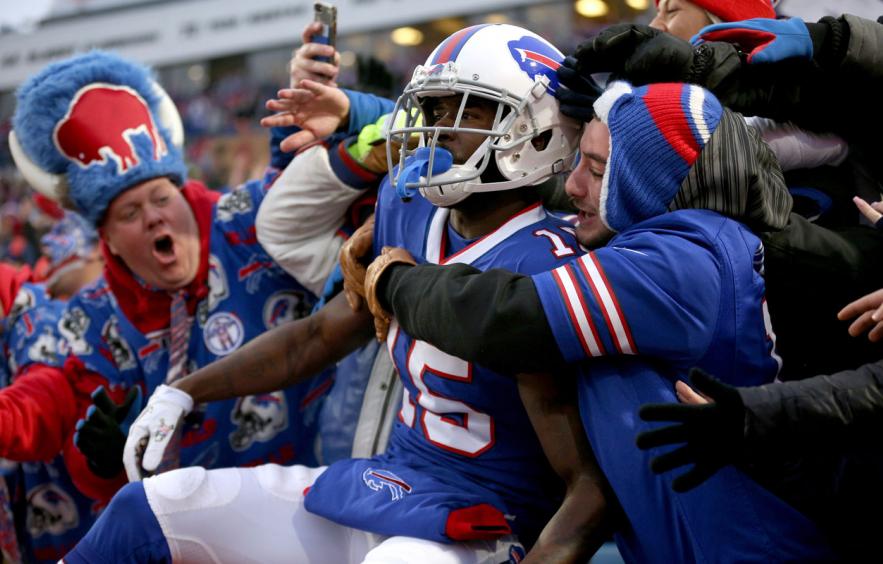 Bryan M. Bennett/Getty Images
Underdog Fantasy is a best ball site fresh off the presses for the 2020 season with a very familiar interface for long time BB players. Underdog uses typical half-PPR scoring, single quarterback rosters with no defenses or kickers, with 18 rounds of fun in both slow (four-hour timers) and fast (30-second clock) drafts available.
The crew here at 4for4 have been taking our shots at their Best Ball Mania contest, which features over 43,000 $25 entries and one million dollars in possible winnings. Because of my greed (and for your benefit too, I guess), I decided to comb through our half-PPR rankings to see what kind of discrepancies I could find between them and the current average draft position at Underdog. Below is a position-by-position breakdown of some players you can get at a value in your bid to obtain a piece of that $1M prize pool. At the end of the article, I've provided full tables of half-PPR rankings by position and the corresponding difference in Underdog ADP.
Click here to get started in any Underdog league.
Quarterbacks
Ryan Tannehill

,

Titans

(6 spots higher in rankings versus ADP)

Is Ryan Tannehill now the most efficient quarterback in the league? Not a chance. But there is a chance that Tannehill took to the Titans offensive scheme better than he had at any point in his career with the Miami Dolphins. In his 10 starts at the helm last season, Tannehill notched a QB1 performance six times and was the overall QB3 over that stretch. All the while Tennessee only passed the ball 56.9% of the time in neutral game script (seventh-fewest), meaning we could see some more volume out of this passing offense in 2020.

Tannehill is coming off the Underdog board as the QB21, leaving plenty of room to exceed his draft slot, even if the Titans decide to run so much of their offense through Derrick Henry.
Kirk Cousins

,

Vikings

(5 spots higher)

Kirk "Middle of the Pack" Cousins doesn't offer us the same type of ceiling as he used to when he was in a slightly less run-heavy offense, and he added some value with his legs (no, seriously Kirk Cousins used to score rushing touchdowns), but he's still a consistent scorer who we can take as our QB2. Minnesota did move on from Kevin Stefanski and replaced him with Gary Kubiak, who ran a more pass-friendly scheme in his last two years in Denver. The Vikings are never going to want to get into shootouts —at least not as long as Mike Zimmer is the head coach— but Cousins has become more and more efficient as his career progresses (INT% of 2.4, 1.7 and 1.4 previous three seasons) so he is very unlikely to offer up games that will net you single-digit fantasy points.
Running Backs
Chris Thompson

,

Jaguars

(17 spots higher)

Thompson has played his entire seven-year career with the Washington Football Team, including a five-and-a-half season span with newly appointed Jaguars offensive coordinator Jay Gruden. He will have a chance to reprise his role as a passing-down specialist behind Leonard Fournette, who just had a woefully inefficient year on his shockingly high 94 targets. Thompson averaged 5.4 targets per game over the past three seasons and that would make for some useful weeks. He's currently going undrafted in most drafts, making him a cheap last-round pick.
Rex Burkhead

,

Patriots

(15 spots higher)

Burkhead is another last-round dart worth throwing. The Patriots backfield remains a question mark, with Sony Michel and Lamar Miller possibly starting the season on the PUP list and Damien Harris taking only five total offensive snaps as a rookie in 2019. As is typically the mantra with the Patriots backfield, finding the cheapest part of the committee could be the easiest path to value.
Wide Receivers
John Brown

,

Bills

(9 spots higher)

Volume concerns and the addition of Stefon Diggs as a bonafide WR1 have been deflating John Brown's average draft position for the entirety of 2020 but there's hope for spike weeks that justify snagging him at his late-WR4 price. This is a concentrated passing attack with Josh Allen as the quarterback, and after Diggs, Brown, and to a lesser extent Cole Beasley, Allen is more apt to run the ball than heavily target anybody else. After Brown and Beasley last season, no other player on the team had over 50 targets. Allen's 9.4 average intended air yards (fifth-most) should give us an idea of where Allen wants to go with the ball, meaning the deep ball will still be there for Brown and Diggs while the new arrival also steals a ton of work from Beasley on the underneath.

John Brown finished as the WR26 in points per game last season yet is being drafted as the WR46. He could lose work and still crush this ADP.
Emmanuel Sanders

, Sanders (9 spots higher)

Manny Sanders —32-years old and seemingly forgotten by the fantasy community— will be lining up across a bonafide stud WR1 for the first time since the old Demaryius Thomas/Peyton Manning days back in Mile High Stadium. What's more, he'll be attempting to recreate the old man quarterback (Drew Brees)/dependable possession receiver (Michael Thomas) dynamic in one of the easiest opening-month schedules he could be afforded.

Sanders is currently going in double-digit rounds behind DeSean Jackson (has missed 17 games in the last two years), Sterling Shepard (low-ceiling WR3/4), and Rob Gronkowski (backiatomy).
Tight Ends
Nick Boyle

,

Ravens

(9 spots higher)

Baltimore's tight end room is far-and-away Mark Andrews without a ton of wiggle room behind him. With that said, Nick Boyle did command a 10% target and 7% air yards share in 2019, even while he had to battle both Andrews (23% target, 28% air yards share) and Hayden Hurst (9% target, 9% air yards share). Baltimore ran two-TE sets at one of the highest rates in the league, in both the run game and passing game, even leading the league in 22 personnel (two running backs, two tight ends), according to SportsInfoSolutions.

With Boyle set to see the field at a higher rate —as much as double the time of last season without Hurst in the picture— he makes for a decent flier at the end of your draft as your third tight end.
Dallas Goedert

,

Eagles

(5 spots higher)

Zach Ertz is getting long in the tooth, heading into his age-30 season but we don't need to root for Dallas Goedert to usurp him as the Eagles' TE1 to find the third-year tight end as a value. Even with Ertz playing in 15 games last season, Goedert finished as the overall TE10 and the TE13 in half-PPR points per game. For reasons unbeknownst to me, he is being drafted as the TE17 in Underdog, which features half-PPR scoring.

There's no reason to think other pass-catchers in Philadelphia are going to soak up underneath or seam targets from the tight ends; if anything, the offseason additions for the team will help further open up the parts of the field where the tight ends win. Bringing back a healthy (for now) DeSean Jackson and adding speedster Jalen Reagor in the NFL Draft will only stretch defenses out more as they protect against the long ball.
ADP Differential Tables
*Positive numbers mean the ranking is higher than ADP, negative numbers mean the opposite