John Paulsen's 2021 Draft Day Strategery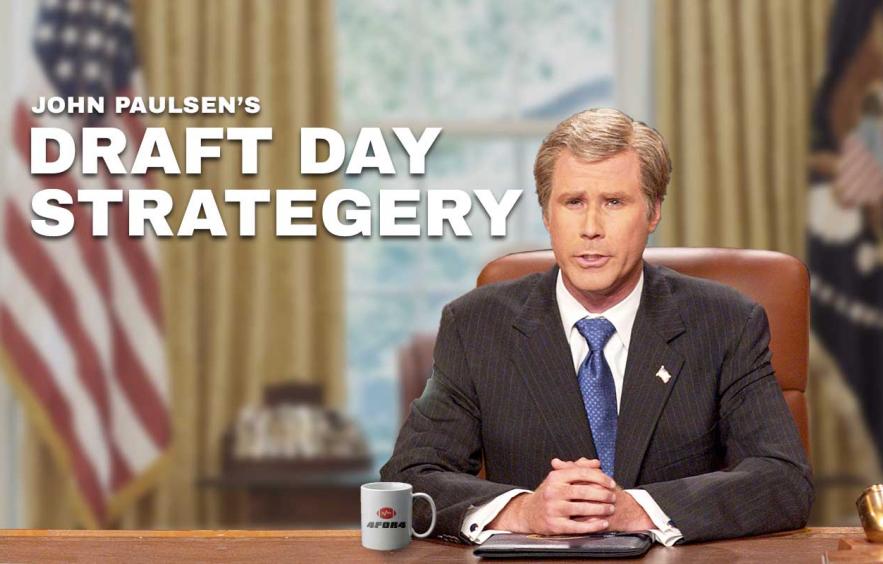 Last Updated: 9/1/2021
Due to popular demand, I've decided to bump this article up my schedule. I'll do a deeper dive into each position later this month. I've participated in a number of best-ball and industry drafts (and mocks) and I think I have a pretty good handle on my strategy for 2021.
---
More Helpful Redraft Content: 99 Stats | Players to Target Every Round | Players to Avoid Every Round | 12 Players with Easy Early-Season Schedules | 10 Sleepers to Target after Pick 150 |
---
This piece is written with a 12-team half-PPR draft in mind, but Rule No. 1 of fantasy football is to know your scoring system. They cover this on the first day in Fantasy Football 101. Your scoring system is going to influence positional value and there are a number of different scoring systems out there.
Drafters in standard leagues can favor running backs a bit more in the early rounds since that position gets a boost in that format. Drafters in PPR formats can safely go WR-heavy in the early rounds if they so choose. Drafters in two-quarterback or superflex (i.e. QB-eligible flex) leagues should ignore all the late-round quarterback talk and be sure to draft a couple of top-20 passers before they're gone. Managers drafting in 10-team leagues should be able to wait for an extra round or two to draft the targets I discuss below since there are fewer picks in each round. A great way to discover how a particular scoring system impacts the different positions is to use our Top 200 Value-Based Rankings Report.
Back in 2015, I had something of an epiphany when it came to formulating my overall draft strategy. At the two onesie positions—quarterback and tight end, where managers typically only have to start one—I felt great about Carson Palmer in the 13th round and Delanie Walker in the 10th/11th. I also advocated for the Angry Tom Strategy, which revolved around drafting a royally pissed-off Tom Brady in the 10th/11th round and taking Palmer later as his backup. This worked out even better than expected since Brady's suspension was lifted and he played a full season. Oh, and Walker finished as the No. 3 tight end that year.
Since then, I have been trying to identify the best values at quarterback and tight end and then build my draft plan around them, and for the most part, it's worked.
Quarterbacks
Continue reading for Paulsen's breakdown of every position and who is targeting in every round!
Last year, I lobbied for The Drew Brees Committee (the top pairing was Ryan Tannehill) and that would have worked pretty well since Brees mostly delivered in his home games before his injury. Through nine weeks, prior to Brees's injury, that pairing would have delivered No. 6 QB numbers, or about what Aaron Rodgers scored in his first eight games.
I provided several options at the quarterback position last year and will do so again this season.
Option #1:
Ryan Tannehill

with a bullet.

This year, it's pretty obvious where the value at the position lies: I'm going back to the well again with Tanny.

Tannehill finished No. 7 last season after posting the No. 9 per game average once taking over as the starter in 2019. After losing Corey Davis and Jonnu Smith, it appeared that he may take a step back, but after the Julio Jones trade, he's back in the top 10. The offense shouldn't change too much under Todd Downing, who was promoted to offensive coordinator (from tight ends coach) once Smith took the Falcons' job. Normally, this might be some cause for concern, but Downing was responsible for game planning and leading the install of red zone and third downs for the last two seasons, and Titans have excelled in both areas.

I love nabbing Tannehill at this point in the draft since the appealing options at the other positions are drying up in the 9th/10th. The available receivers are a little dicey and it's a weird spot at running back as well. The starting options are mostly gone and it's a little early to be drafting backups with upside.

It's a perfect spot to draft a quarterback with proven midrange QB1 upside, which is why Tannehill is my primary quarterback target this season.

Update (8/26): Tannehill has hit the COVID list. Since he's confirmed to be vaccinated, this means that he either tested positive and/or has symptoms. Hopefully, this illness doesn't become an issue for him. At this point, this doesn't move the needle much in the rankings. He should be fine, and perhaps he's less likely to miss time during the season since he's doubly protected with the vaccine and his natural antibodies.
Option #2: Discount Double Check on
Aaron Rodgers

.

Since Rodgers reported to camp, his ADP is on the rise, but if he's still on the board in the eighth round, I'd happily pull the trigger. I might take him in the seventh depending on the way the draft is going.

He's coming off an MVP season where he finished as the No. 2 fantasy quarterback, he has arguably the best receiver in the game (Davante Adams), an up-and-coming tight end (Robert Tonyan, a.k.a. #Babykittle), a great RB duo (Aaron Jones and A.J. Dillon), a good offensive line and a decent supporting cast of receivers that now includes rookie Amari Rodgers and Randall Cobb.

Now that he's officially "in" for the 2021 season, he should be one of the first five quarterbacks off the board. He's currently being drafted as the No. 8 quarterback, so that looks like good value in what might be his swan song in Green Bay.

I'm expecting another scorched earth season from Rodgers.
Option #3:
Justin Herbert

or

Russell Wilson

, if they slip.

There are usually some really appealing options at other positions in the seventh round, but if either of these quarterbacks makes it to the seventh or eighth, they're certainly worth a pick.

From Week 2 on, Herbert was the No. 6 fantasy quarterback. The Chargers have invested in their offensive line and replaced Hunter Henry with the still-productive Jared Cook.

The concern with Wilson is that they won't let him "cook," but the players are raving about new OC Shane Waldron and the tempo of the offense he's installed this summer. Seattle hired Waldron away from the Rams, where he served as the passing game coordinator for the last three seasons. As always, Wilson has top-five upside.

Don't get me wrong, I like the other top-tier quarterbacks, but it's far more likely that Herbert and/or Wilson will slip.
Option #4:
Tom Brady

/

Matthew Stafford

, ho-hum.

If drafters miss out on the top eight quarterbacks (including Rodgers) and don't want to target Tannehill, then Tom Brady and Matthew Stafford are worth a look. Neither player offers much of a rushing floor, but they are a good bet to finish with QB1 numbers.

Brady finished No. 8 in his first year with the Bucs and the offense didn't really get rolling until the middle of the season. He has arguably the best receiving corps in the league–Mike Evans, Chris Godwin, Antonio Brown and Rob Gronkowski–and should benefit from the return of a healthy O.J. Howard. The Bucs also added Giovani Bernard since Leonard Fournette and Ronald Jones dropped too many passes. In short, Brady's weapons have him positioned for another top-10 finish, assuming he stays healthy.

Stafford is joining an efficient offense led by Sean McVay and features a strong receiving corps of Robert Woods, Cooper Kupp, Van Jefferson, DeSean Jackson and Tyler Higbee. With a 9th/10th-round ADP, he's a really solid addition to a team that already is loaded.
Option #5: The Tua/Fitzmagic Committee. YOLO.
In the six games where Tua Tagovailoa played at least 50 snaps–which excludes his first start (Week 8) along with partial games in Week 11 (thumb injury) and Week 16 (benched)–he averaged 256 yards and 1.3 touchdowns through the air, while adding 16 yards and 0.5 touchdowns as a runner. The resulting 18.9 fantasy points per game are more than what Ben Roethlisberger, Matt Ryan, Drew Brees and Joe Burrow averaged last season. The split indicates that Tagovailoa can produce when things are going well, and he's poised for a jump heading into his sophomore season.
The Dolphins added a lot of speed in the form of Will Fuller and Jaylen Waddle, who join DeVante Parker and Mike Gesicki to form a dangerous receiving corps. (More on Waddle later.)
Fitzpatrick jumps out as a 13th/14th-rounder with a legitimate shot of finishing in the top 12. Since he hasn't started a full season since 2015, he's not projected for a full 17 games, but if he were, he'd be ranked in the top 12. In the 20 games over the last two seasons where he has attempted at least 20 passes, he has averaged 258 yards passing, 1.55 passing touchdowns and 1.0 interceptions to go along with 19.2 yards rushing and 0.30 rushing touchdowns. Those are high-end QB2 numbers.
Combined, the Tua/Fitzmagic committee wouldn't have a "red" (i.e. difficult) passing matchup all season, per our Hot Spots Report, though things will change once the season starts.
Note: Managers who really believe in Trey Lance or Justin Fields could draft the rookie along with Fitzpatrick, who should get enough starts at the beginning of the season to get to Lance or Fields' first start.
Option #6:
Jalen Hurts

. Upside.

The rumors of a Deshaun Watson trade worry me a bit, but drafters looking to swing for the fences could target Jalen Hurts and see if his accuracy improves in his second season. He had 272 yards and three touchdowns as a runner in four starts and the team added DeVonta Smith to give him a bona fide alpha receiver.

At cost, I wouldn't take him over Tannehill, but I get why some might. Camp reports have been positive.
Tight Ends
Unlike the quarterback position, there isn't a no-brainer primary target at tight end. I've long been an advocate for early-TE, so I'm typically trying to get one of the top six tight ends off the board.
The Top Six
Drafters can't go wrong with Travis Kelce, Darren Waller or George Kittle. I particularly like Waller in the mid-to-late-second round, but if Kittle can stay healthy he can match Waller's production. I'll take Kelce in the middle of the first if the top running backs are off the board.
Kyle Pitts is intriguing, but at the cost of a fourth-rounder, I'm not completely sold. There are smart people whom I respect that are all over Pitts at cost, but I just think he'll have a hard time living up to his ADP as a rookie.
T.J. Hockenson and Mark Andrews are typically available in the fifth round, and both are appealing at that point in the draft.
With Kenny Golladay and Marvin Jones out and Tyrell Williams and Breshad Perriman in, Hockenson could/should lead the Lions in targets. Hockenson is coming off a No. 4 finish last year and should see a spike in his per-game production. The one concern here is that this Lions offense could really struggle to score touchdowns, but Hockenson should produce a lot of catches and yards, and he should be Jared Goff's primary target in the red zone.
Andrews should continue to see a big role in the Baltimore passing game. He averaged 6.3 targets per game last season after getting 6.5 targets per game in 2019. The one worry is that his targets are under some pressure after the arrival of Rashod Bateman and Sammy Watkins, but if the Ravens' passing game can return to 2019 levels, Andrews should be just fine. By adding Bateman and Watkins, the Ravens are signaling that they want to throw the ball more.
Kelce, Waller, Kittle, Pitts, Andrews and Hockenson are the top six tight ends. I'm hoping to get one at a decent price, but what if I miss out?
If drafters miss out on the top six tight ends, then the next logical pick is Thomas, who is going off the board about 30 picks after Hockenson/Andrews are drafted.
Thomas finished No. 6 last year and was third in targets (110) and fourth in targets per game (6.9). He's the rare 29-year-old breakout, and this feels a little Gary Barnidge-ish, but he's getting a quarterback upgrade and the offseason reports have been good. His yards per route run (1.10) isn't anything special, but he should continue to see heavy usage.
At this point, Thomas is the last tight end that I feel really good about, which makes him the tight end firewall.
TE1-Types, But No Guarantees
One really intriguing player is Dallas Goedert, whose ADP has slipped into the 10th round. This is primarily due to Zach Ertz's presence at camp. Supposedly, Ertz is over his issues with the team, but Mike Garafolo of the NFL Network said that Ertz "is still not happy" and that "nothing has changed."
If Ertz is traded, Goedert easily has top-five upside. In the five games in the past two seasons that Goedert has played without Ertz, he has averaged 4.2-53-0.40 on 6.6 targets per game and has been a serviceable TE1 (4.0-41-0.29) in 21 games with Ertz. There's a good chance that Goedert plays big snaps even if Ertz returns since he's the more productive player at this point.
Robert Tonyan only saw 59 targets but finished as the No. 3 tight end thanks to his 11 receiving touchdowns. The targets are a little worrisome, but he's an ascending player, so increased usage is likely, and it could offset any loss in touchdowns. I'm expecting another big touchdown year from Aaron Rodgers, so Tonyan is certainly a threat for another 10+ touchdown season.
Noah Fant is a fantastic athlete, and his 93 targets were the sixth-most at his position. He posted the eighth-highest yards per route run (1.64) at his position. Quarterback play is an issue, but I'm more worried about the return of Courtland Sutton, who could put pressure on Fant's targets. Those drafters who want to bet on talent should give Fant a long, hard look.
Update (8/26): Fant probably benefits from Teddy Bridgewater at quarterback. Bridgewater's YPA and completion percentage were better than Drew Lock's, which means that more catches and yards are probably available. Bridgewater has never thrown more than 15 touchdowns in a season, which is a little alarming.
The last player that I view as a TE1-type is Tyler Higbee. He posted 69-734-3 in 2019, including four straight 100+ yard games, which is an incredible feat for a tight end. He disappointed in 2020 with a No. 18 finish as his late-season play in 2019 did not earn him a larger role with Gerald Everett back in the fold.
Mike Gesicki is nearly as fast and athletic as Fant, but he's two inches taller. He was 11th in yards per route run among tight ends (1.60). The Dolphins added Will Fuller and Jaylen Waddle in the offseason, so his targets are under serious pressure. The good news is that Gesicki's production increased with Tua Tagovailoa at quarterback–6.2 targets per game vs. 5.0 with Ryan Fitzpatrick at quarterback–though the Dolphins were pretty decimated at receiver by that point in the season. Update (8/26): His preseason playing time (specifically, his route-rate) is a bit worrisome, though it picked up in the second preseason game. I'm still looking for Gesicki as an upside play, but he makes me a little nervous.
Everett is now in Seattle, and Higbee's splits in the seven games over the last two seasons where Everett either didn't play or didn't reach 20 snaps are tantalizing–6.9 receptions for 77 yards and 0.29 touchdowns on 8.9 targets per game. Higbee is getting a quarterback upgrade but isn't the athlete that Fant or Gesecki (or even Tonyan) are. Plus, the Rams seem really intrigued with converted wideout Jacob Harris in camp. Harris could turn into the next Everett; he may not be good enough to be a fantasy starter but his presence keeps Higbee from reaching his fantasy potential.
The Breakout Candidates
If I don't land a top-six tight end, but do end up with one of the aforementioned TE-types–Goedert, Thomas, Tonyan, Fant, Higbee or Gesicki–I'll usually draft another breakout candidate and hope that one of the two turns into a solid starter.
If I miss out on the top 12 tight ends, then I'll typically draft a couple of breakout candidates and hope that at least one hits.
I'll go into more detail in a later article, but (8/26) my primary breakout targets are Irv Smith Jr., Gerald Everett and Cole Kmet. My take on each player can be found on their respective player pages.
Other Dudes
Running Backs
Here's what I wrote about the position after releasing my original set of projections after the 2021 NFL Draft.
There were seven running backs who averaged 20+ touches per game in 2020: Dalvin Cook (25.4), Christian McCaffrey (25.3), Derrick Henry (24.8), Joe Mixon (23.3), James Robinson (20.6), Josh Jacobs (20.4) and David Montgomery (20.1). In half-PPR scoring, those seven running backs all finished in the top 12 on a per-game basis. Five of the seven finished inside the top eight.

There were eight backs last season that finished in the 17.0 to 20.0 range: Ezekiel Elliott (19.7), Myles Gaskin (18.3), Alvin Kamara (18.0), Jonathan Taylor (17.9), Aaron Jones (17.7), Kenyan Drake (17.6), Nick Chubb (17.2) and Austin Ekeler (17.0). Of this group, four–Kamara, Jones, Chubb and Taylor–finished in the top nine in points per game and all but Drake finished inside the top 16. (Drake finished 23rd, by the way.)

To sum up, of the 15 backs that led the league in touches per game, 14 finished inside the top 16 in per-game scoring.

Follow the touches.
A few months later and not much has changed, other than Darrell Henderson's ADP. We want our running backs to have touches, and the more catches the better.
The Top Four
Christian McCaffrey, Dalvin Cook, Derrick Henry and Alvin Kamara.
Henry is ranked ahead of Kamara in half-PPR, Kamara is ranked ahead of Henry in full-PPR. At this point, I wouldn't deviate from this order unless I'm in a TE-premium league and want to grab Travis Kelce.
McCaffrey, Cook and Henry were well over 20 touches per game last season. As for Kamara, he should get a boost as long as Michael Thomas is out, and I'm not particularly bullish about Thomas's recovery given what's gone on this offseason. Over the past two years, in eight games without Thomas, Kamara has averaged 20.5 touches for 148 total yards and 1.51 touchdowns per game.
RB1s, Probably
Ezekiel Elliott, Aaron Jones, Jonathan Taylor, Nick Chubb, Austin Ekeler, Joe Mixon, Antonio Gibson and Saquon Barkley.
Ekeler jumps up a few spots in full-PPR formats since he played at a 104-reception pace in his eight healthy games with Justin Herbert at quarterback.

Mixon's usage last year (23.3 touches per game) is very encouraging, especially since Giovani Bernard is no longer around to soak up third-down snaps. Mixon averaged 19.6 touches in 2019 and 20.0 touches in 2018, so he's done it before.

The discount window on Jones has closed since he's now going near the 1st/2nd turn. I'd consider him as the fifth or sixth back off the board. He's right there with Zeke.

Chubb might be the most talented back in this group, and that's saying something. He plays in a run-heavy offense behind a great offensive line. The presence of Kareem Hunt and a historical lack of usage as a receiver are the only drawbacks, but Chubb will be productive. (8/30) He did see increased usage as a receiver late in the season, and if that carries over to 2021, watch out.

Taylor's stock is falling a bit given the Carson Wentz injury and the injury to Quenton Nelson, (8/26) though it appears both will be ready for Week 1. I don't see these injuries as a major downgrade for Taylor.

Barkley's knee is a concern, as is his subpar offensive line. I've been shying away from him in the first round.
When starting my draft, I am targeting at least one of the aforementioned 11 backs (while avoiding Barkley) in the first two rounds. I'm fine with drafting two, but it's not often that I leave the first two rounds without at least one great back on my roster.
The Next Group
It's not my preferred plan, but starting WR/WR or TE/WR is doable given the reasonable depth at the position. There are intriguing and (likely) productive players available in the next few rounds, though the touches aren't going to be "guaranteed" as they are with the backs going in the first and early second round.
Najee Harris, David Montgomery, Clyde Edwards-Helaire, Chris Carson (8/26) and James Robinson seem to be the most dependable as far as projected usage goes. Montgomery in particular has been rising up my rankings since it looks like Tarik Cohen (ACL) will not be ready to start the season.
Update (8/26): It's time to start targeting Robinson again. The undrafted rookie somehow won the Jaguars RB1 job in the summer and never let go, finishing No. 7 in half-PPR formats in 2020. Unfortunately for his draft stock, the new coaching regime in Jacksonville decided to spend a first-round pick on a running back, Travis Etienne. Etienne injured his foot in late August and will miss the season, so Robinson projects to have a heavy workload, though Carlos Hyde will eat into his touches a bit. SI's Connor Orr suggested that the Jaguars will be run-heavy in 2021 to protect Trevor Lawrence in his rookie season. If that's the case, Robinson has top-10 potential. His ADP should rise into the third or fourth round alongside Montgomery and Carson.
Darrell Henderson and D'Andre Swift are talented and should return RB2 numbers or better, but there are some concerns about the size of their respective roles.
Let's talk about Darrell: He served as the Rams' lead back from Week 2 to Week 7, racking up 86 total yards (4.84 YPC) and 0.67 touchdowns on 15.5 touches per game. Those are low-end RB1 numbers, which is what we can expect if the Rams install him as the starter after Cam Akers' Achilles injury. The team moved away from him once before–by drafting Akers and then giving Akers a bellcow workload down the stretch–so the Rams could sign a veteran like Le'Veon Bell or Adrian Peterson to avoid pressing Henderson into 15- to 20-touch service. But so far, no move has been made. Henderson had the overall No. 3 pass-blocking grade (per PFF) and is a good receiver, so he's fully capable of playing on all three downs. Update (8/26): Henderson is still a breakout candidate, but his path to high-end RB2/low-end RB1 numbers is now in doubt after the Rams traded for Sony Michel. He's in the high-upside/murky-situation tier of backs now.​
I'd also put Mike Davis and Myles Gaskin in this group, though I realize I'm a bit high on both.
The Falcons led the league in vacated touches per game (21.6) and all they did to address the running back position is sign Davis and a 183-pound undrafted free agent, Javian Hawkins. Davis's career YPC (3.7) is pretty ugly, but digging deeper into his 2020 season, there are reasons to like his upside. He was tied for 12th in yards after contact per attempt and led the league in broken tackles per rush attempt. He was also fourth among running backs in catches (59) and was fifth among backs in broken tackles per reception. Advanced stats courtesy of Pro Football Reference.
As for Gaskin, he averaged more than 18 touches per game when active last season, including 4.1 receptions per game, which puts him on pace for 60+ catches over a full season. The Dolphins signed Malcolm Brown, giving him the 11th-most guaranteed money for this year's free-agent class, so I don't think he moves Gaskin's needle too much. Miami ignored the position until the seventh round of the Draft, finally drafting Gerrid Doaks out of Cincinnati.
The thing that jumped out to me about Gaskin's 2020 season is how the Dolphins went right back to him even as he was coming off of a couple of injuries. After missing four games midseason, Gaskin returned to 23 touches in Week 13. After missing two more games, he returned to 19 touches in Week 16. The missed games are certainly a concern, but the certainty of his role is not, at least at this point. Update (8/26): Gaskin has fallen a bit in the rankings after suspect usage in the preseason. He may still return RB2 value, but a heavy workload is not guaranteed.
Gus Edwards/J.K. Dobbins Update (8/29): Edwards enters RB2 territory now that it appears that Dobbins is done for the year. The Ravens typically utilize a committee in the backfield, so Edwards is not a shoo-in for the 17-20 touches that typically lead to an RB1 season. However, he does have RB1 upside if the team utilizes him in the red zone as Dobbins was down the stretch. Dobbins scored nine touchdowns in the team's final eight games, including the playoffs. Ravens running backs combined to score 17 touchdowns during the regular season, so if Edwards sees 70% of those scores, he could find the end zone 10+ times. Since 2018, in the 21 games where Edwards has seen at least nine carries, he has averaged 14.8 touches (14.3 carries) for 74 yards and 0.29 touchdowns per game. He had the No. 4 PFF run grade last season and has finished 19th or higher in that metric in each of the last three seasons. He owns the fifth-highest yards per carry (5.18) from 2019-20. He hasn't been a big part of the passing game, but he has caught 18-of-22 career targets (81.8% catch rate) for 10.8 yards per catch. In other words, it's not that he can't catch the ball–it's that he hasn't been asked to thus far in his career. In June, Jeff Zrebiec reported that the Ravens were emphasizing getting the backs more involved in the passing game. Whether that translates to Edwards remains to be seen. Ty'son Williams is apparently the frontrunner for the backup job over Justice Hill, per beat writer Jamison Hensley. Edwards' ADP is likely to rise into the fourth round, which is fair. He's a great target in the fifth round, though he carries more value in standard and half-PPR formats than in full-PPR leagues.
Intriguing Middle Rounders
Kareem Hunt, Raheem Mostert, Michael Carter, Chase Edmonds and A.J. Dillon (and maybe Zack Moss).
These backs are typically going off the board in the 6th-9th rounds and as RB3s–or even as RB2s, if I'm going with a #HeroRB approach–I like their upside.
The Attrition Plays
The following group should have some weekly value but would have RB1/RB2 upside if there were an injury further up the depth chart: Melvin Gordon, Jamaal Williams, Nyheim Hines, Tony Pollard, Zack Moss/Devin Singletary, Ronald Jones/Leonard Fournette, James Conner and Kenyan Drake.
Drafters utilizing a Hero RB or Zero RB strategy will want to nab a few of these guys in the later rounds.
This group will (probably) only be startable if there's an injury to the team's starter: Alexander Mattison, J.D. McKissic, Malcolm Brown, Samaje Perine, Damien Williams, Rashaad Penny, Xavier Jones, Tevin Coleman, Devontae Booker, Chuba Hubbard, Phillip Lindsay, Darrynton Evans and Boston Scott.
Wide Receivers
The receiver position continues to have outstanding depth so I'll typically wait until the third round to start attacking the position after starting the draft RB/RB or RB/TE (or TE/RB).
Calvin Ridley, Stefon Diggs and DeAndre Hopkins (and Davante Adams or Tyreek Hill, if they fall to the turn) are obviously safe, productive picks in the second round for drafters who want to target the position early.
Keenan Allen (especially in PPR), Terry McLaurin and Allen Robinson are my primary targets in the third round. All three players are clearly the No. 1 options for their teams and are proven producers. Robert Woods in the fourth round is ideal, but I'm fine drafting him in the late third if necessary. He may see a few extra carries this season with Cam Akers out for the year.
In the fourth round, one of this group–Tyler Lockett, D.J. Moore or Julio Jones–should be available. The Tampa receivers (Mike Evans and Chris Godwin) are fine here as well.
In the fifth round, especially in PPR formats, my primary target is Diontae Johnson. (8/26) I'd actually draft him in the fourth round, if necessary. Johnson finished No. 22 last year in half-PPR (behind both JuJu Smith-Schuster and Chase Claypool), though he had a couple of injury games that dragged down his overall numbers. In the 12 games that he played at least 30 snaps, he averaged 6.9 receptions for 74 yards and 0.58 touchdowns, or 14.2 PPG, which are top 10 numbers. He saw double-digit targets in 10 of those 12 games. Sure, he had some struggles with drops, but I'm betting that he'll clean that up and will continue to get open at will.
The sixth round is a good spot for Tee Higgins, Chase Claypool or Odell Beckham. Higgins and Claypool are coming off of strong rookie seasons, while a talent like Beckham being available this late feels a little like Diggs-in-the-sixth last season.
Here's where the depth at receiver really shows up relative to the running back position. Robby Anderson, Tyler Boyd, JuJu Smith-Schuster, DeVonta Smith, Jerry Jeudy, Curtis Samuel, Cortland Sutton and Antonio Brown are all going in the seventh round or later in our multi-site ADP. Setting aside Smith since he's a rookie, all of these players saw at least 6.5 targets per game last season (or 2019 in the case of Sutton). The projected usage for the running backs in the same range–Raheem Mostert, Leonard Fournette or Michael Carter–is not as dependable. I'd also be fine with Deebo Samuel, Brandin Cooks and Will Fuller in this range.
As we move down the WR ranks, one player really stands out as an outstanding value in the 8th-10th range: Jaylen Waddle. He's going 110 in our multi-site ADP, but as early as 92 (mid-eighth) at Underdog.
The Dolphins drafted Waddle with the No. 6 overall pick in the Draft. Since 2010, the seven receivers drafted inside the top 10 who have played at least 13 games as rookies have averaged 61-915-6.9 on 113 targets, or high-end WR3-type numbers. When Tavon Austin (40-418-4 on 69 targets) is removed from the sample, the averages jump to 65-997-7.3 on 120 targets, or low-end WR2 numbers.
Two other factors are working in Waddle's favor: 1) He played with Tua Tagovailoa for two seasons at Alabama so the familiarity is already there, and 2) Matt Harmon of Reception Perception found that Waddle was the best receiver in his class at beating man coverage. He wrote: "It's difficult to remember a recent prospect who can so easily flip the field, control their speed and devastate with a stop/start-move all while doing the little things like Waddle does so effortlessly."
Waddle has a good chance to emerge as the WR1 in Miami. Draft him with extreme prejudice.
I'm also interested in Mike Williams, Michael Gallup, Laviska Shenault, Darnell Mooney, Elijah Moore, Marvin Jones, Rondale Moore and Russell Gage at this stage of the draft.
As the draft winds down, Emmanuel Sanders, (8/26) Jakobi Meyers, Marquez Callaway, Terrace Marshall, Sterling Shepard, Randall Cobb and Van Jefferson are good additions.
Wrap It Up, John
I'll make edits to this piece as August wears on, but at this point this is pretty much how I'll be drafting in the short term.
My general plan is to start with at least one running back in the first two rounds and then focus on receiver in Rounds 3-8, while potentially sprinkling in a quarterback and/or a tight end if value emerges.
Adding Ryan Tannehill in the ninth round to a team that already has three running backs, four receivers (or two/five) and a top-six tight end is certainly appealing.
To help with draft planning, here's a table of my targets at each position by round, primary targets are in ALL CAPS:
Paulsen's Draft Targets By Round (2021)

Round

QB

RB

WR

TE

1

Kelce

2

A. JONES, Ekeler, Chubb, Taylor, Mixon, Gibson
Ridley, Diggs, Hopkins, Metcalf, A.J. Brown, Jefferson
WALLER, Kittle

3

Montgomery,

J. Robinson

, Edwards-Helaire, Carson
K. Allen, McLaurin, A. Robinson

4

WOODS, Lockett, Moore, Diontae
Pitts, Hockenson, Andrews

5

EDWARDS, Henderson

DIONTAE,

Aiyuk

HOCKENSON, ANDREWS

6

HENDERSON

, Davis, Gaskin
Higgins, Claypool, Beckham,

Jeudy

7

RODGERS, Herbert, Wilson

Sutton, Boyd

8

Tannehill

Carter

WADDLE, C. Samuel

L. Thomas

9

TANNEHILL
Dillon
WADDLE
L. Thomas

10

Pollard
WADDLE!!! E. Moore

Fant, Tonyan, Goedert

11

J. Williams, Hines

M. Callaway

Gesicki

, I. Smith

12

Tagovailoa
Mattison
E. SANDERS
Everett

13

Fitzpatrick
R. Moore

Engram

14

T. Marshall,

Valdes-Scantling

Kmet

15

16

Hubbard, D. Evans, Booker