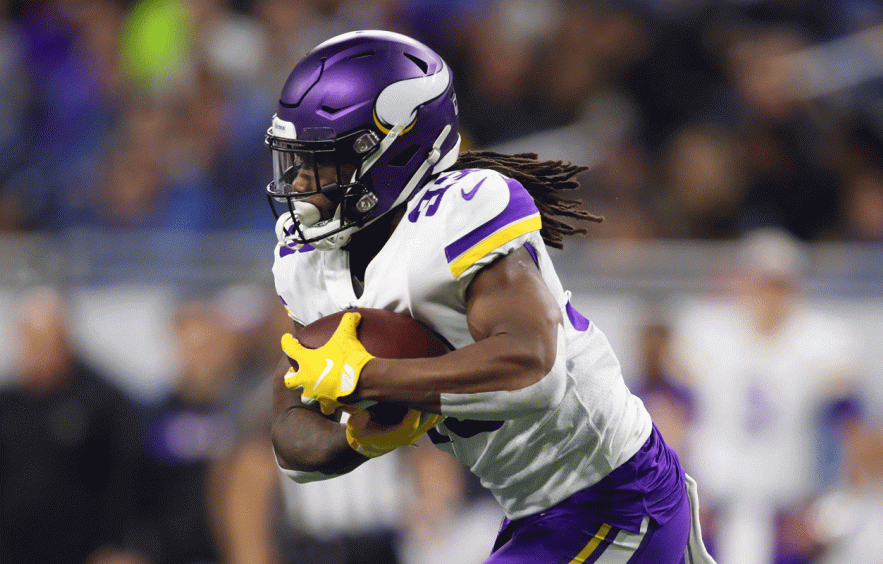 Gregory Shamus/Getty Images
Heading into week one of the NFL season, the fantasy landscape is a large unknown. This article will progress throughout the season to understand how trends evolve and change from 2018. The Thursday preview is already available so this will cover the rest of the week's slate.
Fantasy Rating Key
(5) - Elite option. Must start.

(4) - Strong option. Likely start.

(3) - Good option. Low-end starter to high-end backup.

(2) - Weak option. Possible flex or desperation play.

(1) - Bad option. Bench in nearly all cases.

(0) - Not an option. Injured, bench, or waivers.
---
Jump to Games: WAS@PHI | BUF@NYJ | BAL@MIA | KC@JAX | ATL@MIN | TEN@CLE | LAR@CAR | IND@LAC | CIN@SEA | NYG@DAL | SF@TB | DET@ARI | PIT@NE | HOU@NO | DEN@OAK |
---
Redskins @
Eagles
Spread: Eagles -9.5 | Total: 46
This game features several interesting matchups. The bottom-five Redskins pass game against the bottom-five Eagles pass defense. The slow-moving Redskins offense (28.61 seconds) comes up against a defense who sees the fastest pace between plays (26.33). The Eagles offense with the third-longest average drive time (2:58) against the defense with the eighth-longest average drive against (2:53). This game could turn into a slog quickly if neither team can pick up the pace.
Washington Redskins
Team Trends That Matter
The top returning targeted wide receiver had 35 targets in 2018.
The Redskins averaged just 6.5 points per game in two contests against the Eagles.
The offense has failed to score 20 points in the last five games, tied for the longest active streak.
Fantasy Rating and a Stat to Know
This is going to be painful. The Redskins are 8.5 point underdogs and are expected to be trailing for most of the game. In 2018, the team saw their lowest yards per carry (4.0) and yards per pass attempt (5.9) when they were behind. The running back rotation is going to be hard to predict overall but Chris Thompson should get extra work this week while the receivers should get a chance to catch a few passes. Basically, stay away from everyone here.
Philadelphia
Eagles
Team Trends That Matter
The Eagles broke just 21 tackles on rushing attempts, one more than Adrian Peterson.
One of 12 teams to have multiple turnovers in at least seven games last year, but none were against the Redskins.
Doug Pederson's rushing attack has been top five in yards per carry in four-of-six seasons as an offensive coordinator or head coach.
Fantasy Rating and a Stat to Know
This is a matter of how soon, not if, the Eagles take the lead in the game and lighten their foot off the gas pedal. When leading, the team ran 44% of the time in 2018, which would open up more volume for Miles Sanders and Jordan Howard. Don't count out Wentz though, as he was nearly 10% more accurate in situations when the team is leading, negating some of the decline in pass play percentage (and fantasy opportunities). Zach Ertz and Alshon Jeffery will likely get their share but DeSean Jackson, Dallas Goedert, and others will need something big early to be relevant.
Bills

@

Jets

Spread: Jets -3 | Total: 40

The bettors see this as a low scoring affair with two of the bottom ten scoring offenses from 2018 pitted against each other. New Jets coach Adam Gase likes to run a slow offensive pace as his Dolphins were just one of two teams to take over 30 seconds on average between plays. His defense also saw a slow pace, which could lead to a few fewer plays overall. Buffalo was bottom five in nearly every passing category last year and with uncertainty at the running back position after LeSean McCoy's release, there is no reason to expect anything less than a ball control-focused contest.
Buffalo
Bills
Team trends That Matter
The Bills lost 66% of their rushing attempts from 2018 (310 of 468).
Fantasy Rating and a Stat to Know
The Bills are clearly a team in flux. LeSean McCoy is gone and their two top returning wide receivers are buried due to new additions. The uncertainty makes it impossible to start anyone on this offense not named Josh Allen. Eventually, the depth chart will shake out but there is no reason to put anyone from Buffalo into week one fantasy lineups. Let them flounder in this game and on your bench.
New York
Jets
Team Trends That Matter
Jets running backs had 404 total touches in 2018. LeVeon Bell had 406 total touches in 2017.
Opponents averaged just 5.5 plays per drive last year, second-fewest in the NFL.
Adam Gase has only had one top 10 ranking in total rushes as a coordinator or NFL head coach.
Fantasy Rating and a Stat to Know
QB Sam Darnold (1) - Had two 20-plus point fantasy games in the last month of 2018
RB LeVeon Bell (5) - Six games of 30-plus touches in 2017. No one had more than three in 2018
WR Robby Anderson (2) - Three of his four highest-scoring fantasy games happened in weeks 14-16
WR Quincy Enunwa (1) - Never caught more than four passes after week two of 2018
WR Jamison Crowder (1) - Averaged a career-low 3.2 receptions per game last year
TE Ryan Griffin (0) - Has seven career games of five or more receptions but zero with 100-plus yards
Much like the Bills, the Jets will look to control the clock and the ball. Expect a lot of LeVeon Bell with Sam Darnold serving as a game manager and little more. That will limit everyone else on the offense with Robby Anderson the only one capable of breaking something big for fantasy relevance. This isn't the week to bet on the Jets for fantasy production.
Ravens

@

Dolphins

Spread: Dolphins +6.5 | Total: 37.5

Another likely low scoring contest, this game features two teams facing massive upheaval in the passing game. The Ravens jettisoned Joe Flacco and John Brown among others while the Dolphins moved on from Ryan Tannehill and Kenny Stills. The two quarterbacks combined accumulated nearly 60,000 career passing yards for their former teams while Brown and Stills each led their team in touchdown receptions during the 2018 season. The Ravens will likely try to maintain a quick pace (fourth fastest in 2018) while the Dolphins will try to slow things down (31st in pace).
Baltimore
Ravens
Team Trends That Matter
Six of seven games to end 2018 with under 200 team passing yards. Went 5-1 in those games.
One of nine teams to only reach 30 points on two or fewer occasions.
Led the NFL with 6.6 plays per drive in 2018.
Fantasy Rating and a Stat to Know
There is a lot to sort out with the Ravens. They have two rookie receivers, a new starting running back, and their quarterback is entering his first full season as a starter. Expect a lot of running from the NFL's most run-heavy offense and very few shots down the field. That will likely hurt first-rounder Marquise Brown, but it will come down to who gets open quickly as Lamar Jackson will be instructed to get rid of the ball quickly when passing.
Miami
Dolphins
Team Trends That Matter
Dolphins were last in plays per drive with just 4.9 in 2018.
10 games of 30 or fewer pass attempts, tied for second-most.
Only two games with 20 or more first downs and second-fewest overall.
Fantasy Rating and a Stat to Know
This is a bad offense still going up against a respectable defense. The team may be forced to pass the ball and hopefully, a new coaching regime will recognize it. While that's hard to predict since the head coach has a history on the defensive side of the ball, it is their best chance to stay in the game. Regardless, stay away from this offense outside of Kenyan Drake for at least week one.
Chiefs

@

Jaguars

Spread: Jaguars +4 | Total: 52

The Chiefs tend to start out of the blocks quickly. They have the fifth quickest pace in the first half (26.73 seconds) but the 23rd ranked pace in the second half (28.32). It has nothing to do with the score of the game as they are top ten whether they are winning or losing, but seems more of an approach to catch opponents sleeping early. Considering the Jaguars' defense saw the fourth-most pass attempts, this could become an aerial display quickly. The question is, can Nick Foles and the Jacksonville offense keep up?
Kansas City
Chiefs
Team Trends That Matter
The Chiefs were outgained in yardage nine times in 2018.
Only exceeded two turnovers on offense in one game (Rams) last year.
Scored on over 50% of their drives in 2018 (52.6%).
Fantasy Rating and a Stat to Know
This isn't the greatest matchup for the Chiefs, but they did well last year against the Jaguars. Over 400 yards of total offense and 30 points scored. Granted, Mahomes failed to throw for a touchdown that day but 300 yards passing is likely in the cards again. There is a good chance that he finds the end zone this time with Hill, Watkins, and Kelce being relevant once again. The big question is the running game, which was used 30 times against the Jaguars last year but doesn't feature Kareem Hunt this year.
Jacksonville
Jaguars
Team Trends That Matter
Eight games in 2018 with multiple offensive turnovers including a season-high five against the Chiefs.
Third fewest touchdown passes last year with 15.
Only scored on 25% of their offensive possessions, the second-lowest rate in the league.
Fantasy Rating and a Stat to Know
Another offense in flux, the Jaguars are still determining their receiving hierarchy. Dede Westbrook is presumed to be the top option with Marqise Lee, DJ Chark, Keelan Cole, and Chris Conley also vying for their share of targets. Add to that a new quarterback in Nick Foles and this makes the situation very tenuous. The only certainty is a large workload for Leonard Fournette, a player who saw double-digit touches in every game last year. Tread lightly early but pounce quickly if someone emerges.
Falcons

@

Vikings

Spread: Vikings -4 | Total: 47.5

These teams love to throw as both were ranked in the top six in pass attempts, respectively. Nothing in the offseason suggests this will change either. That's where their similarities largely end as the Falcons are successful in maintaining long drives (third-most plays) and scoring while the Vikings are bottom ten in plays per drive and points per drive. The defenses are the inverse however so something will have to give here.
Atlanta
Falcons
Team Trends That Matter
10 games with under 100 total rushing yards in 2018.
Tied for fourth-most with eight games of 400 or more total yards given up on defense.
Only one game with under 200 passing yards last year.
Fantasy Rating and a Stat to Know
The Vikings pass defense is tough but it is still Atlanta's best path to victory. At best, the Falcons have a league-average offensive line after drafting two in the first round and Devonta Freeman is coming back from injury. Ryan could see some season-long regression in pass attempts with a new offensive coordinator, but this could be high scoring enough to keep him busy for week one.
Minnesota
Vikings
Team Trends That Matter
12 games with under 100 total rushing yards in 2018, second-most in the league.
Allowed multiple touchdown passes just twice last year, the best in the NFL.
Defense had the third-best red zone percentage at 44.9% in 2018.
Fantasy Rating and a Stat to Know
Some may see this offense as one without star power but there are a lot of useful fantasy options here. Cousins was one of the more consistent fantasy options and supported two top 15 receivers last year. The shift to offensive coordinator Kevin Stefanski in the last month of the season made the offense run-heavy, a disturbing trend for a team with a fragile running back and so many good receiving weapons. The Atlanta defense was poor last year but dealt with injuries so their ability to test the Vikings is uncertain and may not be indicative of the season-long offensive play calling patterns. Enjoy the matchups here but be mindful.
Titans

@

Browns

Spread: Browns -5.5 | Total: 45.5

It's hard to look at overall 2018 statistics for the Browns and feel confident predicting the 2019 season. However, the influence of Freddie Kitchens calling plays positively impacted Baker Mayfield among others, increasing his fantasy output by nearly 50%. The Titans, meanwhile, saw the influence of Mike Vrabel hamper the passing game and slow the offense to a crawl with the fifth slowest pace between plays. The Titans defense will test the Browns as they were top ten in most passing categories and allowed the fourth-fewest points per drive (1.72).
Tennessee
Titans
Team Trends That Matter
12 games under 30 passing attempts, most in the league.
Scored under 20 points in 10 different games last year, tied for fifth-most.
The defense had the second-best red zone success rate in 2018.
Fantasy Rating and a Stat to Know
Want to see a dead body? Oh, that's just the Titans offense. There is little to like here as more than a back-end or fill-in starting option. Corey Davis has been given massive snap and target shares but has been inefficient, partially due to poor quarterbacking. Derrick Henry could carry over that massive end of 2018 but it took all season for the team to give him a feature workload. If the Browns get up early, Dion Lewis is more likely to be on the field.
Cleveland
Browns
Team Trends That Matter
Only one game under 200 passing yards with Freddie Kitchens in 2018 versus four in the first half.
Six games with over 800 combined total yards, one of six teams with this many in 2018.
Defense only held one team to less than 20 first downs in a game in the second half of 2018.
Fantasy Rating and a Stat to Know
The Browns certainly have the firepower and have a lot of fantasy teams excited. Think of this as the Vikings offense on steroids with the ability to provide five weekly fantasy starters with most of them reaching top 12 at their respective positions. Beckham will stir the receiving drink here as he likely gulps up a double-digit target average while Nick Chubb should see 15-18 touches per week, especially with Duke Johnson in Houston and Kareem Hunt on suspension. Expectations are really high and this game could prove to be one of the tougher defenses they face so there may even be a slight buy window for someone who struggles.
Rams

@

Panthers

Spread: Panthers +3 | Total: 50.5

This matchup has the most name value at the running back position. Both teams ranked in the top three in yards per attempt last year and were top six in both rushing yards and rushing touchdowns. The Rams are also one of the fastest-paced teams at 26.83 seconds per play, third in the league. That goes up against a Panthers defense who saw the fourth slowest pace last year, which will be an interesting shift for them.
Los Angeles
Rams
Team Trends That Matter
The only team with over 400 first downs in the NFL. They only failed to reach 20 once.
One of five teams with 15 games of 300 or more total yards last year, tied for first.
Tied with the Chiefs for the most games in 2018 with 30 or more points scored (12).
Fantasy Rating and a Stat to Know
The Rams are a prolific offense no matter what style they choose to play. They have three receivers capable of 80 or more receptions along with one of the best all-around running back in the league. Todd Gurley, unfortunately, is dealing with a degenerative knee issue that makes him the biggest question mark in terms of the health perhaps in the entire league. Expect steady production from Jared Goff as he should be a top ten fantasy quarterback once again.
Carolina
Panthers
Team Trends That Matter
Five receivers saw at least 50 targets in 2018. A sixth (Ian Thomas) had 49.
Tied for fourth with six games of at least 150 rushing yards in 2018.
Saw a two-second decline in time between plays from the first half (29.65) to the second half (27.65).
Fantasy Rating and a Stat to Know
There is a lot of transition occurring on the Panthers. They have dynamic playmakers again, not seen since Steve Smith was roaming the deep part of the field. Moore and Samuel are game breakers and Christian McCaffrey is a non-traditional workhorse who opens things up for the entire offense. It all rides on Cam Newton's shoulder being healthy because he is going to need it against the Rams if they have any chance of keeping up.
Colts

@

Chargers

Spread: Chargers -6.5 | Total: 44.5

This game became a lot less interesting with the retirement of Andrew Luck. Nevertheless, we press on. It features the fastest-paced offense in the Colts (26.30 seconds per play) against the slowest in the Chargers (30.25). Maybe it's because Rivers is tired from chasing around all his children. More likely, the Chargers slow things down in the second half at a whopping 31.75 seconds per play. The Colts are top five in pace in all situations except when they have a lead of seven or more points, a possible, but unlikely situation in week one.
Indianapolis
Colts
Team Trends That Matter
Second most pass attempts (644) in 2018.
14 games of 20 or more offensive points, tied for fourth-most last year.
Four games with 50 rushing yards or less, tied for the most in 2018.
Fantasy Rating and a Stat to Know
Bad Luck puns aside, the offense is reeling after their franchise quarterback's retirement. Jacoby Brissett is one of the best NFL backups and gets another chance to prove he is more. In 2017, he had just a few weeks to prepare after a trade from New England brought him over. TY Hilton and Jack Doyle were fantasy relevant then and should be again, although Doyle will have to deal with Eric Ebron, the tight end leader in touchdowns last year. Marlon Mack was given a nice workload down the stretch and he should also be leaned on to help ease the transition, especially in a tough week one matchup.
Los Angeles
Chargers
Team Trends That Matter
Had 30 first downs in three different 2018 games, tied for the most in the league.
15 games of 20 or more offensive points, tied for second-most last year.
Saw a three-second increase in time between plays from the first half (28.59) to the second half (31.75).
Fantasy Rating and a Stat to Know
Even without Melvin Gordon, this offense will be fine. Rivers could see an increase in pass attempts, which typically has been in the bottom half of the league. His generational efficiency has allowed him to maximize those chances with players like Keenan Allen. When the team runs, expect a mix of Ekeler and Jackson with the former taking on most the receiving duties out of the backfield.
Bengals

@

Seahawks

Spread: Seahawks -9.5 | Total: 44

Arguably the biggest mismatch of week one, the Seahawks offense plays mistake-free football by limiting turnovers (a league-low 11) while utilizing a run-heavy offense to the chagrin of fantasy players everywhere. Meanwhile, the Bengals defense allows the most yards and the third-most points with very few redeeming qualities on offense. This game won't be a Sunday NFL Ticket favorite.
Cincinnati
Bengals
Team Trends That Matter
The defense allows the longest average drives in terms of time (2:57) and distance (37.4 yards).
Eight games with 400 or more yards allowed, tied for fourth-most in 2018.
Third highest red-zone conversion rate at 71.1%.
Fantasy Rating and a Stat to Know
While Dalton is underrated as an NFL quarterback, he has rarely been given much more than A.J. Green. Unfortunately, with the emergence of Joe Mixon and Tyler Boyd, it's Green that is out. It makes the pecking order much clearer, but hinders any chance of Dalton having fantasy relevance. Mixon should see a big workload and double-digit targets for Boyd is likely. Beyond that, everything is up in the air.
Seattle
Seahawks
Team Trends That Matter
The Seahawks ranked last in pass attempts (427) and second in rush attempts (534).
Fewest turnovers in the NFL including 14 games of one or fewer, most instances in 2018.
Wilson was one of four quarterbacks to play 16 games and every offensive snap.
Fantasy Rating and a Stat to Know
The Seahawks will continue to be a run-first, second, and usually third team. The emergence of Chris Carson along with Rashaad Penny, their first-round pick last year, gives the team several talented options to grind the football. When they do throw, Wilson will likely go from Doug Baldwin, since retired, to Tyler Lockett as his primary option. There is hope for this year's second-round pick in DK Metcalf along with possible flash in the pan Will Dissly, but the volume will not be there to support them all.
Giants

@

Cowboys

Spread: Cowboys -7 | Total: 45.5

There is a good chance the Giants are losing in this one, and probably by multiple scores. The positive is that they quicken the pace, shaving four seconds off their average time (from 27.40 to 23.52 seconds). That could allow for some extra plays, which is important for an inefficient offense like the Giants. The Cowboys, on the other hand, are good at sustaining drives as they rank second in both average time (2:59) and plays (6.27). With Ezekiel Elliott back, that number should be reflective of week one.
New York
Giants
Team Trends That Matter
12 games in 2018 with less than 20 first downs.
The Giants turned the ball over on nearly 10% of 2018 drives (9.6%), the sixth-highest rate in the NFL.
Three players had over 100 targets in 2018 with only Odell Beckham surpassing 1000 yards.
Fantasy Rating and a Stat to Know
There are not a lot of great options in New York, but the ones they have are good. Barkley remains the focal point and could even see an increase given the 124 vacated targets from Beckham. Same with Sterling Shepard and Evan Engram. The biggest wildcard is Eli Manning. Not so much related to what he will do when he is healthy, but if he struggles, Daniel Jones is an extreme uncertainty. His tendencies are unknown, which could impact the value of Shepard and Engram along with any other receiver who could emerge.
Dallas
Cowboys
Team Trends That Matter
Seven games with zero offensive turnovers, tied for second in 2018.
Ezekiel Elliott played in 75% of the offensive snaps in all 15 games he participated in.
The fourth lowest red-zone conversion rate of just 48.0%.
Fantasy Rating and a Stat to Know
The Cowboys are a blend of the established and the unproven. Ezekiel Elliott and Amari Cooper are bonafide studs who are capable of leading their positions in fantasy scoring. Prescott is efficient but can suffer from dry spells that make it difficult for more than one or two players to thrive. Witten's return is supposedly on a part-time player basis, but that could change if he proves himself capable of more.
49ers

@

Buccaneers

Spread: Buccaneers PK | Total: 50

The Buccaneers were a prolific passing attack in 2018, leading the NFL in passing yards and finishing third in touchdowns despite a quarterback change. They played fast as well, finishing seventh in average seconds per play (27.10). The 49ers had their own quarterback issues, but mostly due to injury. Three quarterbacks started at least three games last year and somehow the team was an average to an above-average passing offense. They also lost their main running back before the season and were 12th in yards per carry (4.5). Both teams will be looking to establish an identity that was crafted in 2018 but stalled for different reasons.
San Francisco
49ers
Team Trends That Matter
Worst red zone conversion rate (41.2%) in the league last year.
George Kittle was the only receiver to see more than 66 targets.
Six games with three or more turnovers, tied for second-most in 2018.
Fantasy Rating and a Stat to Know
The 49ers offense is going to rarely feature one player outside of George Kittle. The wide receiver and running back positions will rotate multiple players in specialist roles rather than see a primary option. That may help Garoppolo develop as he can focus on finding the open player. It will come with growing pains and turnovers will likely be an issue again, but they should show improvement as the season goes on.
Tampa Bay
Buccaneers
Team Trends That Matter
The Buccaneers offense had the most turnovers (35) and the highest turnover rate per drive (19.0%) in 2018.
Second lowest yards per carry (3.9) with no running back exceeding four yards per rush.
Four wide receivers had at least 74 targets last year.
Fantasy Rating and a Stat to Know
Just like 2018, this season should feature a lot of passing. It is possible that the Buccaneers have three receiving options with 1000 yards. Jameis Winston will likely be a top-five quarterback in pass attempts barring injury, and Mike Evans will be a top volume hog. Godwin and Howard may be seen as secondary options but with Adam Humphries and DeSean Jackson gone, there are plenty of vacant targets to go around. The running game exists insofar as the team will employ a runner out of the backfield.
Lions

@

Cardinals

Spread: Cardinals +2.5 | Total: 47

At barely 56 plays per game, fantasy players are hoping that new Cardinals head coach Kliff Kingsbury will up the pace and add another 20 or so plays per week. That's an ambitious goal but Arizona was in the bottom half for most pace-related stats last year. It will start with sustaining drives, where the Cardinals ranked 31st with just 4.94 plays per drive and barely 20 yards gained per possession. The Lions, meanwhile, average a full play more per drive (6.13) and 10 more yards (30.3) comparatively. The key for Detroit, though, is converting those longer drives into points as they were in the bottom ten for overall points per game (20.1).
Detroit
Lions
Team Trends That Matter
143 vacant targets from 2018 with the losses of Golden Tate and Theo Riddick.
Seven games last year without a turnover, tied for second-most.
Failed to reach 100 team rushing yards nine times last year, fifth-most in the NFL.
Fantasy Rating and a Stat to Know
QB Matt Stafford (2) - Broke a seven-year streak of 4000 yards passing last year.
RB Kerryon Johnson (4) - Was on pace for 1,366 total yards before injury.
WR Kenny Golladay (4) - Had at least eight targets in six of his last seven games of 2018.
WR Marvin Jones (3) - Six targets or more in seven of nine 2018 games.
TE T.J. Hockenson (2) - One-third of his 2018 receptions at Iowa went for 20 or more yards.
The Lions are trying to decide if they want to emphasize the pass or run game in their offense. They have the weapons for both and may ultimately strike a balance. Matt Stafford should be able to keep the pressure off Kerryon Johnson, the second-year runner who has struggled with injuries since his time at Auburn. Kenny Golladay should lead the passing attack and Marvin Jones is one of the better secondary receivers in the NFL. The issue is depth at the skill positions. If an injury takes place, there are few options for the team or fantasy players. Keep an eye on TJ Hockenson who is talented enough to be a weekly starter if the Lions go back to their high pass volume ways.
Arizona
Cardinals
Team Trends That Matter
Ranked last in both passing and rushing yards in 2018 along with yards per attempt and yards per carry.
Scored just 1.09 points per drive, the lowest figure in the league last year.
Only converted 29.1% of their third downs, also last in the NFL in 2018.
Fantasy Rating and a Stat to Know
Expect a lot of passing from this offense. The team invested in three rookie receivers and also drafted Michael Crabtree to ensure they had the depth to run a spread offense that utilizes a quick pace. Add in an elite receiving back in David Johnson and the most recent Heisman winner Kyler Murray has all the skill position weapons he can handle. The offensive line is the key here. Can they hold up and provide the protection needed to make this offense go?
Steelers

@

Patriots

Spread: Patriots -5.5 | Total: 51

This is a good way to spend a Sunday night, especially the opening one of the season. The team with the most pass attempts (689) in the Steelers against the team with the third-most rushing attempts (478) in the Patriots. And expect this to be a quickfire game early, as both rank in the top seven for first-half pace with the Patriots "pacing" the league at 26.15 seconds per play. The return of Josh Gordon, life without Antonio Brown and LeVeon Bell, and two of the best quarterbacks in this generation provides plenty of narratives when analysis won't do.
Pittsburgh
Steelers
Team Trends That Matter
One of five teams to score at least 14 points in every game of 2018.
Led the league in red zone conversion rate at 73.5%.
Failed to run the ball 20 or more times in eight different 2018 games, tied for second-most.
Fantasy Rating and a Stat to Know
The big question looms around who absorbs the majority of the Antonio Brown targets that have been vacated. The easy answer is that everyone gets some but I suspect that by the latter part of the year, it will be Washington who sees number two duties opposite JuJu. That said, the team likes Moncrief early and that could lead to some duds for Washington until the Moncrief from Indianapolis shows up. James Conner will need to prove he can handle another big workload while McDonald seems to be on a pitch count at tight end, making his ceiling lower than it should be. Big Ben will have another underrated season with his wealth of offensive weapons.
New England
Patriots
Team trends that matter
Gained the fifth-most rushing yards but were just 20th in yards per attempt (4.3) last year.
Ranked top seven in both points scored (fourth) and points allowed (seventh).
Only two games where the Patriots lost the turnover battle, fewest in the league.
Fantasy Rating and a Stat to Know
Even without Rob Gronkowski, expect little to change in New England. They will use the run to set up the pass as Michel, White, and Rex Burkhead will rotate to provide different looks. That allows Tom Brady to spread the field and remain efficient even into his forties. Edelman will likely see over 150 targets this year and Josh Gordon, barring everything, could find his groove and threaten 1000 receiving yards. Don't expect a tight end to emerge here but after Ben Watson's suspension is up, he could be a fill-in starter for desperate fantasy players.
Texans

@

Saints

Spread: Saints -7 | Total: 53

If this doesn't excite fantasy and NFL fans for the season, it's time to find a new sport. The number three scoring offense from last year welcomes the number four defensive team, as the Saints offense will be trying to press the Texans defense. The Saints are methodical, ranking 29th in offensive pace at 29.53 seconds per play and actually go slower (30.29) when trailing by seven or more points. The Texans offense goes faster, ranking top 12 in nearly every situation, which could tax the defense if they are unable to sustain drives, they ranked in the bottom half of the league in both plays per drive (5.84) and time per possession (2:39).
Houston
Texans
Team Trends That Matter
One of three teams to rush the ball 30-plus times in 10 different 2018 games.
Ranked just 27th in red zone conversion at 50%.
Allowed three or more sacks in a league-leading 13 games last year.
Fantasy Rating and a Stat to Know
With Lamar Miller out for the year, do the Texans shift to a more pass-centric offense or try to leverage Duke Johnson and Carlos Hyde to keep the running game the focal point? Hopefully, it's the former as Watson is capable of having three top-36 fantasy wide receivers and provide Johnson enough passing volume to be a weekly starter in PPR leagues. The concern here is Watson's health as the Houston line is porous and he has taken a beating back there.
New Orleans
Saints
Team Trends That Matter
Led the NFL with 26 rushing touchdowns and were fourth in red zone conversion rate.
Had the league's best starting field position (own 31) and the longest average drive time (3:02).
Six games with 40 or more offensive points, most in the NFL last year.
Fantasy Rating and a Stat to Know
QB Drew Brees (5) - Had his fewest pass attempts (489) since 2004.
RB Alvin Kamara (5) - Double-digit PPR fantasy points in all but one 2018 game.
RB Latavius Murray (2) - Mark Ingram averaged 11.5 rushes per game last year.
WR Michael Thomas (5) - Had double-digit receptions in each of first three 2018 games, only three more the rest of the year.
WR TreQuan Smith (1) - Only two games in 2018 with five or more targets.
WR Ted Ginn (1) - Has played at an 800 receiving yard pace the last two seasons.
TE Jared Cook (4) - Five 2018 games above 15 PPR points, four games below five points.
Drew Brees continues to defy father time and it helps when you have Alvin Kamara and Michael Thomas, two of the elite at their respective positions. Those three will be fantasy gold for another season while Ted Ginn and TreQuan Smith fight to establish themselves as a number two receiving option. Meanwhile, another nice season from Jared Cook seems in the cards at a position that is devoid of strong fantasy options.
Broncos

@

Raiders

Spread: Raiders PK | Total: 43

This is like having fruit for dessert after a decadent dinner. Two bottom-ten scoring offenses with more questions than answers after active, but tumultuous, offseasons. One positive is that they are both top three in pace as they both average less than 27 seconds per play on offense. That means more total plays even if they are inefficient ones. Two areas to watch will be if the Broncos improved their passing attack and if the Raiders upgraded their rushing approach.
Denver
Broncos
Team Trends That Matter
The Broncos were eighth in pass attempts last year but just 19th in yards.
Had the fifth-lowest time per possession at just two minutes and 30 seconds.
Failed to have a receiver with over 100 targets but seven had at least 40.
Fantasy Rating and a Stat to Know
This will likely be a two-headed running attack that leverages the defense to win low scoring games. That makes Joe Flacco a game manager, in a bad way, who will need to make the most of his opportunities. The ceiling is low on the receivers as a result and will likely lead to fluctuations week to week. This game will be a good barometer for who Flacco leans on.
Oakland
Raiders
Team Trends That Matter
Vacated 220 targets from last year with the losses of Amari Cooper, Jared Cook, and Jordy Nelson.
Allowed a league-worst 2.52 points per possession in 2018.
Failed to score 10 or more points in a game five times, one of four teams to do so.
Fantasy Rating and a Stat to Know
The Antonio Brown saga has this entire team in limbo. There was a chance for Derek Carr to have a mini-renaissance with his new weapons but the outlook seems bleaker as the season has crept closer. Tyrell Williams is a good player but shouldn't be thrust into the top receiver role. That said, he and Darren Waller will get all the work they can handle if Antonio Brown does indeed get suspended. As for Josh Jacobs, the questions of his durability and if he can manage a full workload will be tested. He is explosive and fights for every yard, attributes he will need to excel on this team.