TJ's Take: Week 6 NFL DFS Recap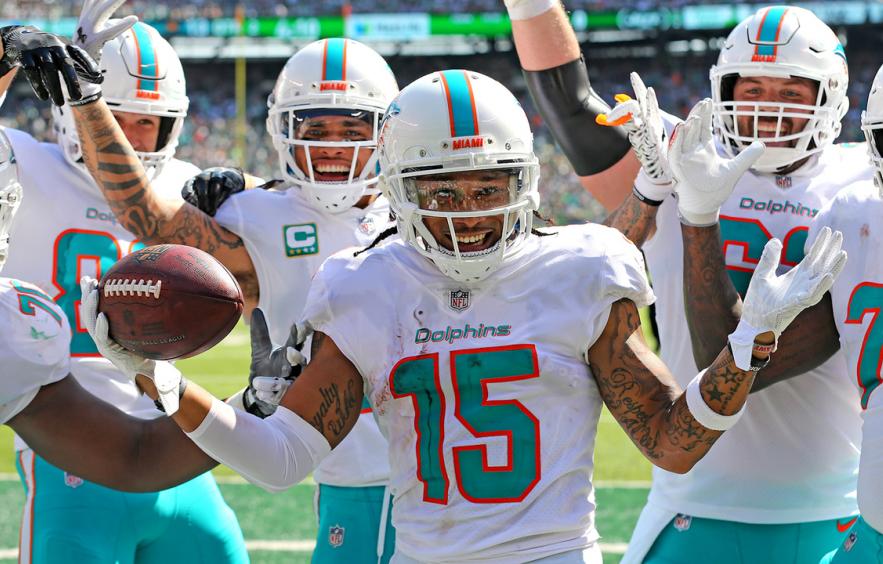 Week 6's winning lineups from the biggest contests on FanDuel and DraftKings can be used to tease out lineup-building strategies and offer clues on how you could have landed on a similar team. Reviewing your hits and misses each week is imperative if you want to be a profitable DFS player but examining winning lineups is also a useful exercise in cultivating a winning approach.
This is a free offering in our weekly content contained in the 4for4 DFS subscription. To get access to all of our weekly DFS analysis, sign up here!
DraftKings Week 6 Millionaire Winning Lineup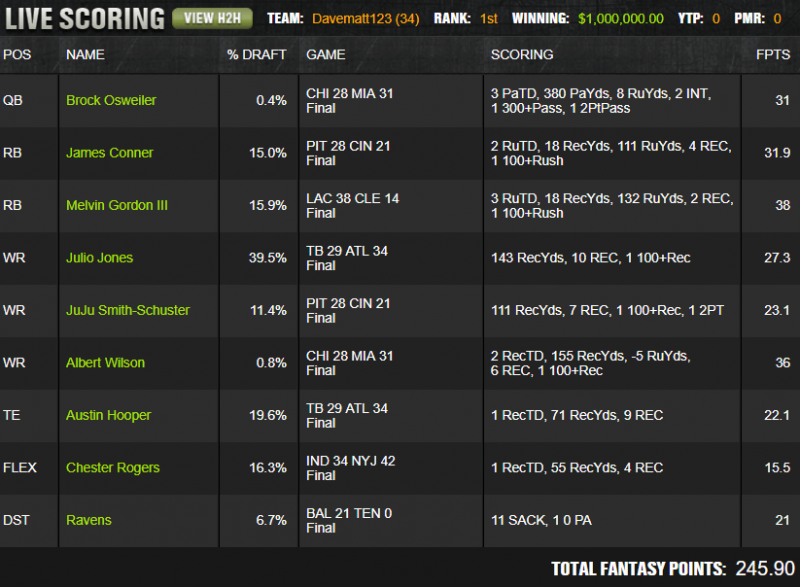 Davematt123 bested a field of over 400,000 entries by offsetting one of the chalkier lineups you'll see atop a leaderboard with a stack owned in less than one percent of lineups and embracing correlation with three pairs of teammates. Targeting an unpopular stack and rotating in your core plays—as Pat James points out each week—is much easier to hit on than trying to nail down a handful of dart throws with no correlation. While traditional stacks are commonplace for most DFS players, having multiple sets of teammates in the same lineup is a strategy that isn't often discussed and one that makes a ton of sense when there are multiple teams projected for inflated point totals, as was the case in Week 5.
As always, the review process on DraftKings should go beyond just the winning lineup and look at the player portfolio of each week's winner, since DraftKings allows owners to easily access a csv of every lineup entered into any contest. Davematt123 took a somewhat unique portfolio approach, using 12 different quarterback stacks despite playing only 34 lineups in the Millionaire. This case is a bit on the extreme end of the spectrum but in weeks where your player pool is relatively tight, increasing your number of quarterback stacks is an effective strategy to improve your chances of taking down a large GPP since it is easier to "cover your bases" than in weeks where you have a large player pool.
What Were the Indicators for the Low-Owned Plays?
Swapping in a player because of late-breaking injury news to a starter is a popular strategy in DFS but it's rarely a lock play outside of a running back expected to see high volume. Brock Osweiler is almost never going to be a popular play but when it's announced less than an hour before kickoff that he'll be starting you're almost guaranteed to get a player at the ownership we saw this week. That, of course, isn't enough to make someone a viable play but there is something to be said for any quarterback that a defense likely didn't prepare for that week.
While Chicago has one of the best pass rushes in the league, they still went into the week ranked in the bottom third of defenses in fantasy points allowed per pass attempt. Albert Wilson was coming off of a week where he played 91 percent of team snaps and was going into Week 6 with the most targets among non-running backs on the team. Anyone taking a shot on the late-breaking quarterback news could have quickly looked to volume to decide which player to pair with Osweiler. At the very least, pairing these players together was a very cheap play that allowed for multiple studs in the same lineup in a week where that was tough to accomplish.
Regardless of how you get there, this isn't the type of play to hang your hat on and Davematt123 rolled out just one Miami stack. That one stack accounted for about three percent of Davematt123's lineup, making him overweight on the field by a comfortable margin.
FanDuel Week 5 Sunday Million Winning Lineup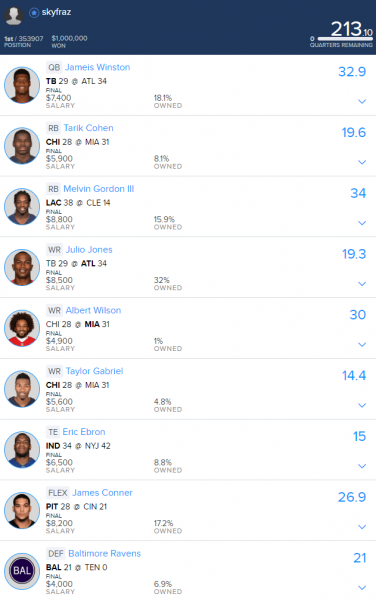 skyfraz used a chalky quarterback in a popular game but was able to differentiate his lineup with a very unique game stack—rather than pairing Jameis Winston with one of his pass catchers, skyfraz rolled out a "naked" quarterback with a chalk receiver from the opposite team. This plan can work when your quarterback spreads the ball around and Tampa Bay went into the week with just one player who had a target share above 15 percent. Like we saw on DraftKings, skyfraz included a pair of teammates that had no correlation with his primary game stack.
What Were the Indicators for the Low-Owned Plays?
Prior to Chicago's bye week, Jordan Howard ceded a huge percentage of touches to Tarik Cohen and Miami is a defense that has been consistently beaten by running backs both on the ground and through the air. Another trend that has been emerging in Chicago is the consistency of Taylor Gabriel—going into Week 6, Gabriel had seen at least seven targets in three straight games and he was a near-perfect price pivot off of Keke Coutee, who was one of the more popular value receivers of the week.
TJ's Final Take
If you're reading this, you probably read my take on the importance of red zone opportunity in this week's DFS newsletter. While red zone opportunities are important, they don't always tell the entire story—a target from the 20 isn't the same as a target from inside the five, for example. That's why I created Red Zone Expected Value (Red Zone EV), a metric that takes historical scoring rates from every yard line in the red zone for each position and quantifies a player's exact scoring expectation based on opportunities inside the 20-yard line.
Now over a third of the way into the season, we can start looking at red zone work to get an idea of which players should be scoring the most and those who might be playing above their head.
The following is every player's red zone scoring expectation compared to their actual scoring output. Underperformers may be primed for a breakout and could make for great GPP options in Week 7.
Red Zone EV = Expected Red Zone TDs * 6; Actual Red Zone Points = Red Zone TDs Scored * 6; Click headers to sort