2022 Dynasty 1QB Rookie Mock Draft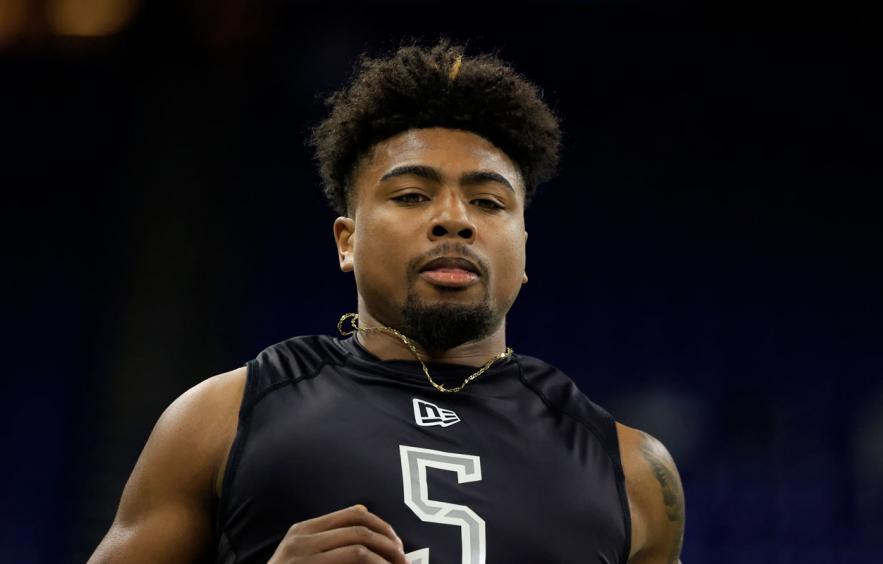 Justin Casterline/Getty Images
We're finally able to look at the NFL Draft after one of —if not the— most insane offseason in recent history. The smoke has settled, and it's time to evaluate the landing spots of all the new faces in the fantasy football landscape. As such, 11 fellow dynasty players and I recently took part in a rookie mock draft to have a better understanding of how your rookie drafts may unfurl.
---
More Dynasty Content: Dynasty League Football | Isaiah Spiller Dynasty Profile | Breece Hall Dynasty Profile | 9 Dynasty Players To Target After The NFL Draft | 9 Dynasty Winners & Losers from the NFL Draft | David Bell Dynasty Profile |
---
Thoughts on player values, strategies, and general player evaluation will follow each pick, either from your humble author or the participant who made the selection. This three-round mock rookie draft assumes a one-quarterback league with half-PPR scoring but no tight end premium scoring. The entire grid of the draft is at the bottom of the article.
Participants in Order:
1. John Bosch (@johnboschff) - DynastyTradeCalculator
2. Kevin Zatloukal (@kczat) - 4for4
3. Dynasty Madman (@DynastyMadman) - DynastyTrades HQ
4. Justin Frye (@FFFBallers) - IDP Guys
5. Justin Edwards
6. Jeff Haseley (@JeffHaseley) - Football Guys
7. Adam Wilde (@APWilde) - Football Guys
8. Chris Allen (@ChrisAllenFFWX) - 4for4
9. Brandon Niles (@2guysbrandon) - 4for4
10. Tommy Garrett (@TommyGarretPFN) - Pro Football Network
11. Andrew Fleischer (@afleischer) - 4for4
12. Tyler Buecher (@TylerBuecher) - Fantasy Guru
Round 1
Round 1, Picks 1-6

| Pick | Drafter | Player | Position | College Team | Pre-NFL Draft ADP* |
| --- | --- | --- | --- | --- | --- |
| 1.01 | @johnboschff | Breece Hall | RB | Iowa State | 1.01 |
| 1.02 | @kczat | Treylon Burks | WR | Arkansas | 1.02 |
| 1.03 | @DynastyMadman | Kenneth Walker III | RB | Michigan State | 1.03 |
| 1.04 | @FFFBallers | Drake London | WR | USC | 1.05 |
| 1.05 | @Justin_Redwards | Jameson Williams | WR | Alabama | 1.06 |
| 1.06 | @JeffHaseley | Garrett Wilson | WR | Ohio State | 1.04 |
*Pre-draft average draft position pulled from Dynasty League Football
1.01 -
Breece Hall

, RB,

Jets

The consensus first-overall rookie dynasty pick —including Superflex leagues— before the draft even kicked off, Hall was nearly landing-spot proof, and the Jets trading up to take him at the beginning of the second round didn't do anything to affect that. He will have touch competition with Michael Carter through the beginning of his career, but he should usurp 60-70% of the backfield touches before too long.
1.02 -
Treylon Burks

, WR,

Titans

Kevin - "Going with the most productive wide receiver taken in the first round. Physically similar to A.J. Brown, he steps into a great opportunity as Brown's apparent replacement in an office with decent quarterback play. He should be productive in year one."

Nothing to argue with here. Rob Lorge is also on board with year one production from Burks, pegging him as a high-end WR3 with WR2 upside in 2022.
1.03 - Kenneth Walker III, RB,
Seahawks
Walker finds himself in a crowded yet injury-riddled running back room in Seattle. The Seahawks are filthy with running backs, but they have either never shone in their opportunities (Travis Homer, DeeJay Dallas), or they have spent extensive time off the field with health concerns (Chris Carson, Rashaad Penny). Being that the team just shipped away the greatest quarterback the franchise has ever seen, it might be a good idea to chase their running game in dynasty.
1.04 -
Drake London

, WR,

Falcons

Justin Frye - "My WR1 and the highest-drafted wide receiver this year. Easiest rookie to project targets to as well."

Drake carries a lot of positives with him coming into the league; size, draft capital, an insanely early breakout age, and a lack of competition, but his new quarterback hasn't done anything of note since London was playing high school basketball in Moorpark, California. Outside of London and Kyle Pitts, this offense doesn't have much else to hang its hat on, but that doesn't mean the rookie will be unusable in year one. TJ Hernandez believes he is a redraft bargain as long as he remains outside of the top-30 in ADP.
1.05 -
Jameson Williams

, WR,

Lions

The biggest red flag for immediate production for Williams is surprisingly not being drafted by the Detroit Lions, but the torn ACL he suffered in the National Championship game early in January. The timetable for ACL surgeries has pushed up and up over recent years, and he is expected to make a full recovery in five-to-seven months, making it very reasonable that we'll see Williams before Week 1 of the regular season. The Lions are becoming an intriguing offense to watch for, and adding "easily the best downfield wide receiver in the draft" per Matt Harmon is certainly a plus for both parties.
1.06 -
Garrett Wilson

, WR,

Jets

The Jets have added a ton of starting-caliber offensive pieces over the last two seasons, including Garrett Wilson, Breece Hall, Elijah Moore, Michael Carter, Alijar Vera-Tucker, Laken Tomlinson, C.J. Uzomah, Tyler Conklin, and, of course, Zach Wilson. Adding talent to your team is never a bad thing, but it's worth wondering how long it will take until all of these pieces start moving in unison. There could be some growing pains for dynasty managers re: Garrett, but if he helps with the growth of Zach Wilson, we could really be seeing an offense on the rise.
Round 1, Picks 7-12

| Pick | Drafter | Player | Position | College Team | Pre-NFL Draft ADP |
| --- | --- | --- | --- | --- | --- |
| 1.07 | @APWilde | James Cook | RB | Georgia | 1.08 |
| 1.08 | @ChrisAllenFFWX | Skyy Moore | WR | Western Michigan | 1.11 |
| 1.09 | @2guysbrandon | Chris Olave | WR | Ohio State | 1.07 |
| 1.10 | @TommygarrettPFN | George Pickens | WR | Georgia | 1.09 |
| 1.11 | @afleischer | Rachaad White | RB | Arizona State | 1.12 |
| 1.12 | @TylerBuecher | Jahan Dotson | WR | Penn State | 1.10 |
1.07 -
James Cook

, RB,

Bills

Cook should slide directly into a third-down and/or hybrid-type role immediately in Buffalo's offense, with the possibility for more in year one. Though his ninth-percentile BMI may prevent him from being a full-time early-down back, 2022 is the final year on Devin Singletary's contract, so there could be some more fruit on the vine looking ahead.
1.08 -
Skyy Moore

, WR,

Chiefs

It probably didn't matter who was going to land with the Kansas City Chiefs; their ADP was likely going to have them going in the back-half of the first round at the very least. Skyy Moore will need to build up to be a viable player for dynasty purposes; he is almost assuredly the third or fourth option in the offense from day one but, over time, could form into a consistent number three, unlike the wide receivers the Chiefs have attempted to do that with over the last few seasons.
1.09 -
Chris Olave

, WR,

Saints

Ohio State has had a number of wide receivers come out in the NFL Draft in the last handful of years, but it could be that Chris Olave stands above them all after he set a school record with 35 career touchdowns. With Michael Thomas returning to the lineup and Jameis Winston the club leader to helm the quarterback position, Olave may be "hashtag better in best ball" dynasty leagues during his rookie season.
1.10 -
George Pickens

, WR,

Steelers

Fans of alliteration will enjoy Pittsburgh picking Pickett to pass to Pickens, but so will fans of potential fantasy points. George Pickens joins an outstanding skill position group with the Steelers, which is excellent for possible spike weeks but could burden any consistent volume in the short term. With Diontae Johnson, Chase Claypool, Pat Freiermuth, and Najee Harris all carrying their weight in volume, Pickens will need to show flashes of his deep-threat prowess before he finds a consistent spot in your starting lineup.

Regardless, Pittsburgh has a storied history of drafting and developing receivers that become very fantasy-relevant, so spending the 10th pick on him is a good investment.
1.11 -
Rachaad White

, RB,

Buccaneers

Though the team did recently re-sign veteran Giovani Bernard, there's still elbow room to work for Rachaad White, who finished fourth amongst all running backs in receiving efficiency last season. It's impossible to tell what the Bucs' offense will look like post-Tom Brady, but as long as he's still the quarterback, pass-catching backs like White will be valuable, particularly in full-PPR leagues.
1.12 -
Jahan Dotson

, WR,

Commanders

We wrap up the first round with Jahan Dotson, who should plugin on day one as the Commanders' new slot receiver, playing between Terry McLaurin and Curtis Samuel. With Carson Wentz's increasing limitations as a quarterback, it's not promising that there is much room for fantasy success behind McLaurin. Still, given where Dotson is projected to win on the field, he can provide a moderate-floor, low-ceiling option while we wait and see Washington's plans subsequent to Wentz.
Round 2
2.01 -
Christian Watson

, WR,

Packers

In a game where volume is king, John decides to pair the likely highest-volume year one running back (Breece Hall) with a wide receiver who is looking to fill the shoes of Davante Adams, who finished second in the league with his 169 targets last year. Regardless of the outcome, it would be hard to argue with this draft process.
2.02 -
David Bell

, WR,

Browns

Kevin - " Another super-productive college player. Has a good chance, I think, to replace Landry's role, which would mean multiple years as a fantasy starter."

The wide receiver landscape in Cleveland after Amari Cooper shouldn't inspire fear when attempting to project David Bell as second-fiddle, and Cooper himself finished 32nd in targets in 2021 on a team with the fifth-highest neutral pass rate. The Browns will lean on Nick Chubb as much as possible, but when (or if) Deshaun Watson hits the field, they'll be sure to open things back up again.
2.03 -
Isaiah Spiller

, RB,

Chargers

The immediate outlook on Isaiah Spiller looks dim as he is immediately thrust behind one of the most voluminous running back pieces in the entire NFL, but that doesn't mean he carries no dynasty value. Spiller is a worthy flyer to take on a potent offense with their lead back entering his sixth NFL season. It's often challenging to take a "wait and see" approach to the running back position. Yet, Isaiah Spiller could offer a very nice return on investment in 2023, whether through a trade with a league mate or heightened opportunity in his sophomore season.
2.04 -
Dameon Pierce

, RB,

Texans

Pierce fell into day three of the NFL Draft by the skin of his teeth (4.02), but his fall is cushioned by a Texans backfield overflowing with ambiguity. Outside of the landing spot, we'll need to keep an optimist's eye with Dameon Pierce after looking at an average athletic and production profile. Pierce's career-high 574 rushing yards leaves something to be desired but he's a bowling ball between the tackles and could usurp an early-down role by the second half of 2022.
2.05 -
Trey McBride

, TE,

Cardinals

I may have reached a touch here in a non-TE premium league, but I'm a sucker for sitting on tight ends until their prices inflate, no matter how rare that is. McBride turned 90 catches and 1,121 yards into the 2021 Mackey Award and a second-round landing spot behind veteran Zach Ertz. Tight ends are notorious for slow starts to their career —particularly in fantasy terms— but Arizona would do well to groom him to take over the pass-catching role before too long.
2.06 -
Tyler Allgeier

, RB,

Falcons

Tyler Allgeier had an interesting college career. Long story short, he switched to and from linebacker during his time at BYU, culminating in 2021 when he rushed for 1,601 yards and added 199 more on 28 catches. His career at the next level could get quick in a hurry as well after the Falcons cut Mike Davis, leaving the depth chart up to the rookie Damien Williams and Cordarrelle Patterson.

Allgeier had the highest ADP boost after the NFL Draft if we ignore players who were going all the way back in the fourth round of rookie drafts.
2.07 -
Kenny Pickett

, QB,

Steelers

Kenny Pickett landed in a dream scenario if we simply ignored the team's problems along the offensive line. Though there is a separation in the talent of the actual quarterbacks, Pickett's situation isn't necessarily that far removed from that of Joe Burrow's 2021 (after he lost much of his rookie season due to injury); a wide receiver group that runs three-deep, a competent-to-good pass-catching tight end, and a running back who can take some of the load off his shoulders and an offensive line that is going to cause him problems. Pickett could easily start every game in 2022.
2.08 -
Brian Robinson

, RB,

Commanders

With Antonio Gibson and J.D. McKissic on the same team, there's a chance Brian Robinson never catches a pass, but that's why he's coming off the board in the back half of the second round. This is a significant blow to Gibson, and dynasty managers with Commanders running backs on their squads are in RB-purgatory until something sorts itself out.
2.09 -
Desmond Ridder

, QB,

Falcons

This reminds how dire the quarterback landscape was in this draft. It's certainly a possibility that Ridder is the signal-caller of the future for Atlanta, but I don't think anyone is holding their breath. Nonetheless, his year-one competition is Marcus Mariota, so I would certainly not rule out the possibility that Desmond Ridder will be able to chuck the ball to one current and one former top-10 pick.
2.10 -
Zamir White

, RB,

Raiders

White was part of a prolific Georgia rushing attack in 2021 but ceded nearly all of the receiving work to his teammates, which puts him in a bit of a fantasy bind at the next level; Josh Jacobs has had the early-down role in a stranglehold for years now. Zamir White sure as hell brings a lot more to the table than the last regime's signing of 27-year-old Kenyan Drake, though. Josh Jacobs is a free agent after this season, but what are the odds that Las Vegas simply hands the job to a fourth-round pick in 2023?
2.11 -
John Metchie

, WR,

Texans

John Metchie falls almost to his real-life draft slot (2.12), which brings me a chuckle. Metchie had a lot of competition in his career with Alabama, but his college dominator (29th), yards per reception (15th), and breakout age (32nd) all fell into the bottom-third percentile. He has a chance in the Texans' offense to prove me wrong if he can excel in a slot role coming off his December ACL tear, but color me skeptical.
2.12 -
Jalen Tolbert

, WR,

Cowboys

Just an incredible landing spot for Jalen Tolbert in Dallas, where Amari Cooper and Cedrick Wilson left town, and Michael Gallup may need time to return from his torn ACL. Tolbert admittedly didn't have the stiffest competition at South Alabama, but he was 95th-percentile in both college dominator rating (51.2%) and college target share (33.4%). This is a player I'll be trying to aim for in the second round of every rookie draft.
Round 3
3.01 - Wan'Dale Robinson, WR,
Giants
Robinson could immediately be 2022's version of Kadarius Toney. That likely means he'll be worth a starting slot in a few weeks that you will not be able to predict.
3.02 -
Alec Pierce

, WR,

Colts

Kevin - "Probably the last WR before we hit the "dart throw" category, for me. The landing spot is good, assuming that Matt Ryan is allowed to air it out a little bit more than Wentz did."

There isn't a lot of competition for targets in Indianapolis. Still, Alec Pierce didn't prove to be a target monster in college, and we shouldn't assume he will magically grow a route tree upon entering the league. Per Reception Perception, Pierce had the worst success rate in the class versus zone coverage and ran mostly a nine route with corresponding cuts off of the nine route.
3.03 -
Tyrion Davis-Price

, RB,

49ers

San Francisco keeps lobbing picks at the running back position, and with their history of injuries at the position, it makes sense. A third-rounder for a number two 49ers' running back is a great value but don't expect it to be a long-term investment.
3.04 -
Pierre Strong Jr.

, RB,

Patriots

New England's running back depth chart makes no sense at the moment. Damien Harris' contract could make him expendable following 2022, which could open the door for some Pierre Strong Jr. usage in the future.
3.05 -
Keaontay Ingram

, RB,

Cardinals

Ingram only has 2020 seventh-rounder Eno Benjamin standing between him and backup duties to James Conner.
3.06 -
Jelani Woods

, TE,

Colts

Woods may as well have been created in a lab and goes to a Colts team that just allowed Jack Doyle to walk in free agency.

Round 3, Picks 7-12

| Pick | Drafter | Player | Position | College Team | Pre-NFL Draft ADP |
| --- | --- | --- | --- | --- | --- |
| 3.07 | @APWilde | Malik Willis | QB | Liberty | 2.02 |
| 3.08 | @ChrisAllenFFWX | Greg Dulcich | TE | UCLA | 3.12 |
| 3.09 | @2guysbrandon | Velus Jones | WR | Tennessee | N/A |
| 3.10 | @TommygarrettPFN | Khalil Shakir | WR | Boise State | 3.09 |
| 3.11 | @afleischer | Tyquan Thornton | WR | Baylor | N/A |
| 3.12 | @TylerBuecher | Jerome Ford | RB | Cincinnati | 3.10 |
3.07 -
Malik Willis

, QB,

Titans

How the mighty have fallen. A patient manager with a deep bench or taxi squad would do well to keep Malik Willis hanging around for upwards of two years. If it's a short-bench league, you may as well just move along.
3.08 -
Greg Dulcich

, TE,

Broncos

Dulcich falls directly into the never-ending debate about tight end blocking. He simply doesn't do it well, so does that mean he'll only be asked to catch the ball, or does it mean he won't see the field as much? Either way, he's an explosive offensive piece, but he'll at best be splitting time with Albert Okwuegbunam.
3.09 -
Velus Jones

, WR,

Bears

It took Velus Jones six years in college to catch more than 25 balls in a year. Best left for return yard leagues.
3.10 -
Khalil Shakir

, WR,

Bills

The Buffalo receiving room is chock full of guys who can work from the slot; Dawson Knox emerged last year and former first-rounder O.J. Howard is now a part of the team. Khalil Shakir's 71 carries in his college career could help gadget himself into the offense a bit earlier.
3.11 -
Tyquan Thornton

, WR,

Patriots

The Patriots draft was baffling on many levels, but nothing will ever take away Tyquan Thornton's 4.28 40-yard dash at the combine.
3.12 -
Jerome Ford

, RB,

Browns

Ford came out of nowhere in his senior season to rush for 1,315 yards and 20 touchdowns. He has the size/speed combination that could turn some heads if Chubb was forced to miss any time.
Final Grid: