Isaiah Spiller: Long Term Dynasty Asset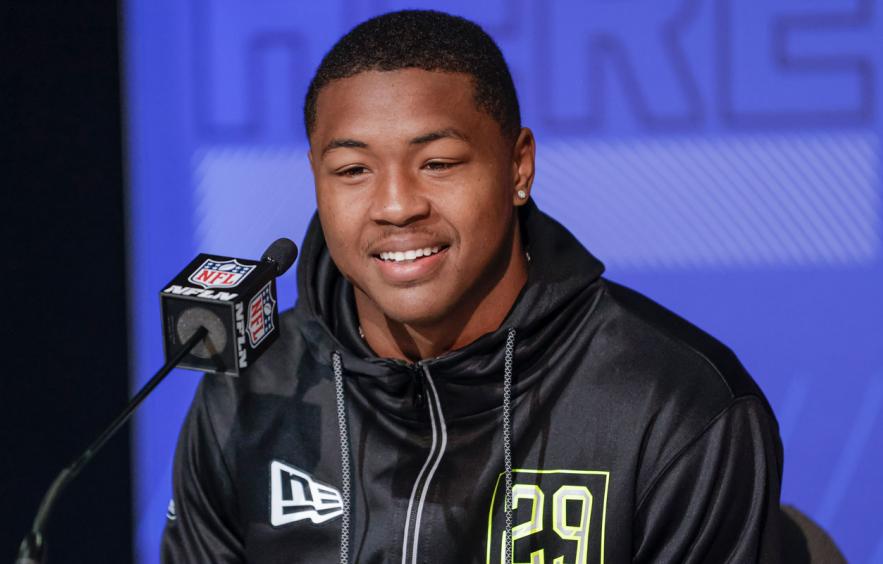 Michael Hickey/Getty Images
With the 123rd pick of the 2022 NFL Draft, the Los Angeles Chargers selected 6'0", 217-pound running back Isaiah Spiller of Texas A&M. Spiller will find himself on a depth chart featuring all-world pass-catching back Austin Ekeler and a couple of later-round picks of the last two seasons that haven't necessarily panned out; Joshua Kelley and Larry Rountree.
---
Click here for more Player Profiles!
---
Spiller was the ninth running back taken off the board last week —a damning fact that should shine some light on how NFL teams think about him— but before we dive into his immediate and long-term fantasy impact, let us first take a look back at his college career.
Aggie Production and SEC Missed Tackles
Making the most of a good situation, Isaiah Spiller spent most of his college career playing behind a good-to-great Texas A&M offensive line, spearheaded by versatile lineman Kenyon Green, who went 15th-overall to the Houston Texans in this same draft. The Texans get a plug-and-play option at guard, as Green cleared lanes for Spiller throughout their three years together, finishing the 2021 season as a finalist for the Lombardi Award, the trophy handed to the nation's top lineman.
Of course, one good lineman does not create all of a running back's production, and Spiller did plenty of his own accord to earn big numbers early and often. Spiller immediately made his presence known at A&M, starting nine of 13 games during his true freshman season of 2019 and finishing with a 174-946-10 line. Spiller Decided to declare early after eclipsing 1,000-yards rushing in each of the following two seasons, adding in a respectable 74 receptions across his 35 career games. Though his route tree seemed to be mostly limited to flares, screens, and flats, teams at the college level are rarely going to ask their three-down back to do much more than those basic concepts.
Spiller was able to run with power and leverage to attack defenders and fight for extra yardage after contact, resulting in 100 forced missed tackles since 2020, the second-most amongst SEC running backs.
The problems begin to arise when we look at his explosiveness, both after contact or before it, which would likely result in less need to initiate contact in the first place. His lack of explosiveness on tape was exasperated by his poor NFL Combine numbers, and the two likely forced his way down the board for many NFL teams. According to Sports Info Solutions' numbers, Spiller had the most forced missed tackles per 100 touches (19) amongst all draft-eligible running backs but only tied for 15th in yards after contact per attempt (3.0); further showcasing his relative lack of high-end speed.
The negative combine/pro day circuit saw Spiller's draft projection plummet, rising at one point to an early-second projection and falling off a cliff to the fourth round, where he inevitably went on April 30th. Spiller's analytical profile model has high-end similarities to that of Kareem Hunt and Jeremy Hill —both outcomes that would have dynasty managers enthralled— but also has play-style similarities to Javorius "Buck" Allen, according to Underdog Fantasy's Josh Norris.
Because Allen never eclipsed 600 yards in a season, these three comps for Isaiah Spiller are all over the board. Possibly more important than play style or analytic profile, we need to look into his offensive fit at the next level to understand better what his short and long-term outlook is on our dynasty teams.
Los Angeles
Chargers

; 2022 and Beyond

The elephant in the room in regards to Isaiah Spiller's landing spot is 2021's RB3, Austin Ekeler.
Austin Ekeler

Production, 2018-2021

| Year | Backfield Touch% | League-Wide Rank | Half-PPR PPG | Rank |
| --- | --- | --- | --- | --- |
| 2018 | 32.0% | 42nd | 10.8 | RB28 |
| 2019 | 45.0% | 24th | 16.7 | RB7 |
| 2020* | 32.7% | 40th | 13.8 | RB15 |
| 2021 | 66.8% | 4th | 19.4 | RB3 |
*Only played 10 games
Ekeler returned from his 2020 hamstring injury better than ever, posting a 66.8% backfield touch% last season, trailing only Najee Harris, Jonathan Taylor, and Joe Mixon. The team's RB2 (Justin Jackson) and RB3 (Joshua Kelley) were left to pick up the scraps, combining for 128 touches, nowhere near Ekeler's 276.
Despite Ekeler's 94 targets, the team ranked 26th in running back team touch shares (51.2%) and 19th in running back positional target rate (19.5%). A massive shift in positional usage is unlikely after the Chargers made it a point to re-sign Mike Williams and locked in Gerald Everett as their pass-catching tight end after allowing Jared Cook to walk in free agency. If anything, there's a chance that Justin Herbert targets wide receivers and tight ends more, with further development from 2021 third-round pick Josh Palmer and a much more athletic Everett filling in for a 35-year-old Cook.
With Austin Ekeler's mounting injury history —a common theme amongst RBs heading towards the dreaded 30-year mark— it would be not very smart to assume that he will reprieve his role as a back who receives two-thirds of the team's backfield touches. Still, it's also unlikely the team starts using the position any more than they have, considering the talent they possess in the wide receiver room. The possibility of a breakout rookie season for Isaiah Spiller could hinge on Ekeler missing extensive time in 2022, and even then, there's no telling if the job is automatically his.
Spiller is an exciting, (very) young prospect on a tremendous offensive team who could benefit from a season to work on the lesser aspects of his game. As such, Spiller drafters should be over the moon if he provides any fantasy value this season, but as a long-term dynasty asset, lock me in.

Bottom Line
Spiller showed plenty of receiving chops and power running in college to get us excited about his long-term fantasy potential. At only 20 years old (the youngest back in the class), he has time to work on the run-of-the-mill aspects of his game.
His current average draft position is 2.02 (RB4) in rookie drafts, according to Dynasty League Football. This is a drop from a pre-NFL Draft mark of 1.08 (RB3)
Spiller showed off his vision in a heavy zone rushing scheme at Texas A&M, and he shouldn't have any issues gobbling up easy yardage when Austin Ekeler needs a breather. The main problem in year one will be how often Ekeler needs a break and how much extra Spiller can do with his snaps to secure the number two spot throughout the season.
Spiller is a worthy flyer to take on a potent offense with their lead back entering his sixth NFL season. It's often challenging to take a "wait and see" approach to the running back position. Yet, Isaiah Spiller could offer a very nice return on investment in 2023, whether through a trade with a league mate or heightened opportunity in his sophomore season.