Drake London Has a Path to Fantasy Success in Atlanta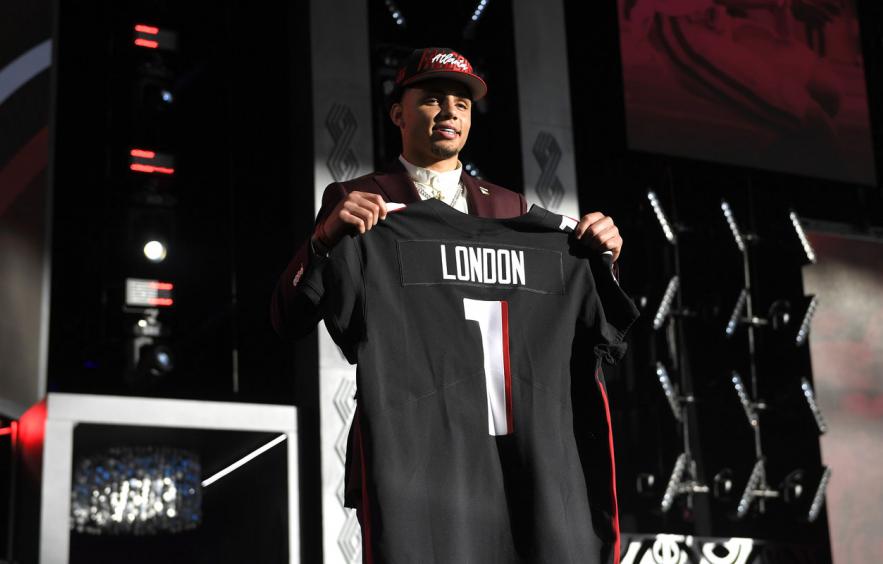 David Becker/Getty Images
The first offensive skill player taken in the 2022 NFL Draft was wide receiver Drake London to the Atlanta Falcons. Along with Kyle Pitts, Atlanta hopes to field one of the best young pass-catching duos in the league. Recent history has shown that first-round wide receivers can not only have an immediate fantasy impact but be league-winning picks. London has the profile to be one of those players but his fantasy upside in 2022 may be limited by the Falcons' quarterback situation.
---
Click here for more 2022 Player Profiles!
---
Drake London

the Prospect

London is a big-bodied wide receiver, measuring 6-foot-4, 213 pounds. His college profile is encouraging with an unparalleled breakout age and above-average college dominator rating. Although London did not work out at the combine, there is enough data to pinpoint Marques Colston as London's closest physical comp.

From a technical standpoint, London is a player that wins on routes that are staples in NFL offenses, such as the curl and slant, and also stretches the field with top-tier contested catch ability. The USC star dominated zone coverage in college, posting a 93rd percentile success rate against zone, according to Matt Harmon's Reception Perception, while still winning a fair amount against man and press looks.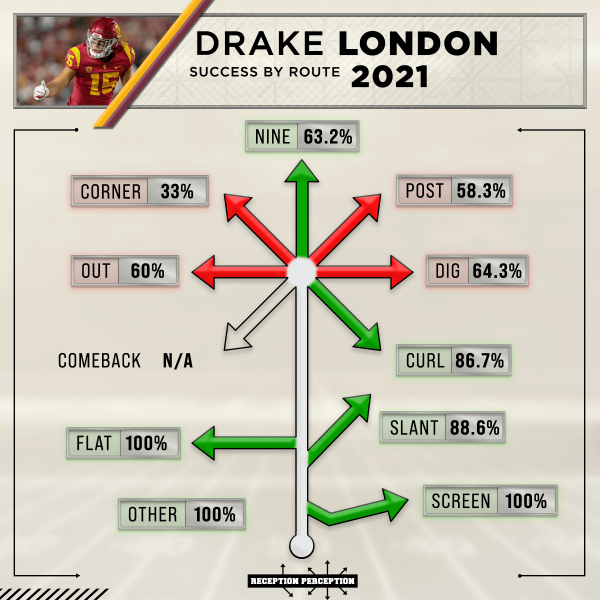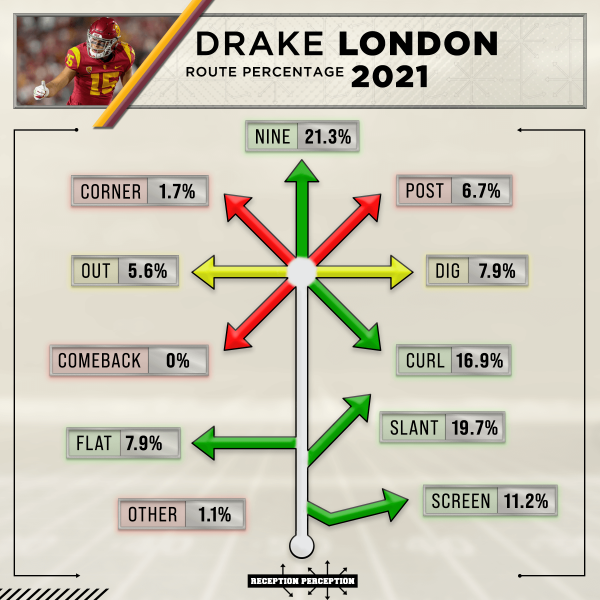 How London Fits in the
Falcons

' Passing Game

Atlanta's offense is in flux going into the 2022 season. Changes are much-needed after a disastrous 2021 campaign where they ranked 25th in both yards and points per drive but expect growing pains early in the process. The coaching staff remains intact but their short-term solution at quarterback is Marcus Mariota.

Mariota takes over an offense that ranked in the middle of the pack in neutral passing rate last season but did produce the third-most passing touchdowns in the league. Despite a hot start to his career, Mariota's career passing stats are as underwhelming as any signal-caller around. This isn't an offense that figures to air it out without reservation but London can still be a fantasy asset with limited target competition beyond Pitts.

In Pitts' rookie season, he commanded a 19.9% target share, 28th among all players but the third-highest at his position. It's reasonable to expect Pitts' target share to meet or exceed 25% but that hardly caps London's upside. Atlanta comes into the season with 225 targets (41% target share) up for grabs. Even if their passing rate dips in 2022, it shouldn't hurt London too much with a clear path to 20% or more of targets.

The element that London brings to the Falcons that was non-existent in 2021 is the deep ball. Atlanta ranked 29th in deep-ball rate last season but as Matt Harmon points out over a fifth of London's charted routes in college were nine routes, and his success when running those routes is elite. Harmon comps London to a more technical Mike Williams and even mentions fantasy stud Brandon Marshall as a player that London can emulate.

London's 2022 Fantasy Outlook
With Marcus Mariota at quarterback, Atlanta should see a drop in passing volume compared to 2021 but there is virtually no target competition for London beyond Kyle Pitts. A 20% target share and roughly 100–110 targets is a fair projection for London.
Even without an explosive offense, London will have weekly upside as one of the best deep-ball prospects in recent history. Atlanta's limitations will keep London from being a plug-and-play WR2 but he will be in the flex conversation every week.
Going into Draft weekend, London was going as low as WR41 in Underdog best ball leagues. With six wide receivers going off the board in the first round, we could see London's ADP remain somewhat stable despite being the first receiver off the board. A top-30 half-PPR finish is well within London's range of outcomes and he will remain on my draft board as long as he remains outside the top 30 receivers in ADP.