9 Dynasty Winners & Losers from the NFL Draft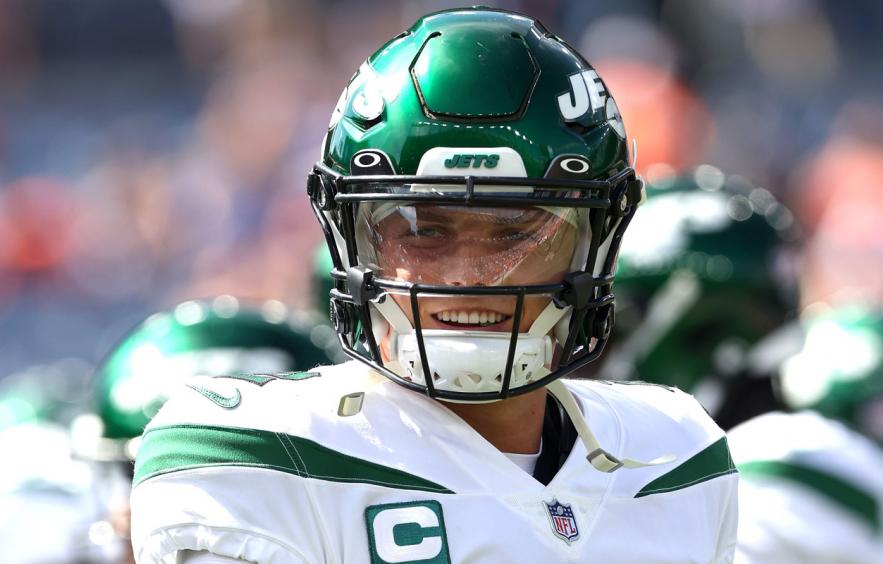 Matthew Stockman/Getty Images
As we know the moniker by now, there is no more offseason in NFL-land, which holds all the more true in dynasty leagues. Though trades go down in that relatively slow zone between the Super Bowl and the NFL Draft, things tend to kick back into gear once teams have made their rookie selections. We will go around the league and identify some incumbents and rookies who were either heavily impacted by their teams' picks or dodged a fantasy bullet in the process.
---
More Dynasty Content: Dynasty League Football | 2022 Dynasty SuperFlex Rookie Mock Draft | 2022 Dynasty Superflex/TE-Premium Rookie Mock Draft | Isaiah Spiller Dynasty Profile | Breece Hall Dynasty Profile | 9 Dynasty Players To Target After The NFL Draft
---
NFL Draft Fantasy Winners
QB
Zach Wilson

,

Jets

The New York Jets had seven picks inside the top-120, and the team made it clear that their number one priority was upgrading the structure that Zach Wilson operates in. At number 10 overall, Wilson got himself a much-needed vertical threat in Garrett Wilson after the Jets finished 32nd in deep ball rate (12.4%) during his rookie year. Garrett ran a blazing 4.38 40-yard dash at the combine and averaged 15.1 yards on his 70 catches last season (1,051 yards), making him an excellent complement to the big-bodied Corey Davis and the slight-bodied Elijah Moore in projected three-wide sets.

On top of the Wilson/Wilson connection, the Jets opted to add more speed to the offense by taking the first running back off the board (more on Breece Hall in dynasty here), adding tight end Jeremy Ruckert to the position room that already features C.J. Uzomah and Tyler Conklin, and adding depth at tackle with Louisiana's Max Mitchell at 111th overall. If left tackle Mekhi Becton can return in good health in time for the regular season, the offense will have very few holes in 2022 and beyond.
RB
Joe Mixon

,

Bengals

After the team spent most of their offseason spending budget on the offensive line, the Cincinnati front office turned their attention to the defensive side of the ball during the Draft, forgoing an arguable need at running back and leaving the depth chart as-is; Joe Mixon, Samaje Perine, and Chris Evans. Year six in dynasty fantasy football terms is right about the time you'll want to hit the panic button for a running back, but Mixon will have another chance in 2022 to be a full-on bellcow, at least one more time.

Mixon's 75.2% backfield touch share ranked third in the league and helped propel him to his RB4 finish. Though he is a temporary winner in these terms, I would suggest getting out from under him if your win/loss record is not going to plan around the midpoint of the season; it's unlikely the team refrains from adding a new face in 2023.
WR
Christian Watson

,

Packers

As a wide receiver selected by a historically efficient passing offense, we would be remiss if we did not touch on the two names coming off of the board to the Packers and Chiefs. With Green Bay unable to secure the services of Davante Adams any longer, the depth chart was looking shaky at best, with Allen Lazard and Sammy Watkins being the de facto first and second options.

It's no guarantee that Watson steps into an alpha role ala Adams, but he immediately exhibits the most athletic option on the roster, and his 90th-percentile college dominator rating (44.0%) shows that he is accustomed to carrying the load. Watson has already begun his ascent in rookie drafts, from the 2.01 (WR9) pre-draft to the 1.09 (WR7) according to Dynasty League Football ADP.
WR
Skyy Moore

,

Chiefs

As with Christian Watson, no one is expecting Skyy Moore to step into the shoes of the team's former WR1 and demand the same type of volume, particularly after the team signed JuJu Smith-Schuster and Marques Valdes-Scandling in free agency. Unlike Watson, I think Moore will need to build up to be a viable player for dynasty purposes; he is almost assuredly the third or fourth option in the offense from day one but, over time, could form into a consistent number three, unlike the wide receivers the Chiefs have attempted to do that with over the last few seasons (Mecole Hardman, Byron Pringle, Demarcus Robinson, etc.).

Maybe the return won't present itself this season, but building a rapport with Patrick Mahomes sounds like a recipe for success in the long run.

NFL Draft Fantasy Losers
QB
Malik Willis

,

Titans

There were rumors for all sorts of teams to select the dynamic playmaking quarterback out of Liberty in the first round, but when those chances came and went, it was starting to become clear that Malik Willis' fall could go for much longer than anticipated. The Lions were the first team pegged to have a shot at Willis, but number two overall seemed like a lot to give up. The Panthers felt logical, but again, the sixth-overall pick was a bit much for such a raw prospect. The Steelers needed —and took— a first-round quarterback, but they stuck with Pitt QB Kenny Pickett.

The fall continued until deep into the third round when the Titans selected the heir apparent to Ryan Tannehill. Willis truly does find himself in a good long-term situation, but dynasty players aren't much interested in compiling goose eggs while they wait for players to see the field. The rookie was going at the 2.02 in pre-NFL Draft 1QB rookie drafts, and in one fell swoop, he is now going at the 3.02, the real-life drop in draft stock causing a full round of fantasy draft stock as well.
RBs
Elijah Mitchell

,

Trey Sermon

,

49ers

While Trey Sermon never did pop out of the doghouse in his rookie season, sixth-round pick Elijah Mitchell turned his heightened opportunity into an RB12 finish in half-PPR points per game (14.1) but ended up missing six games throughout the season. The handful of injuries may have forced the 49ers' hand during the draft, as they've had a history of poor luck with sustained health at the position. Enter LSU's Tyrion Davis-Price, selected in the third round (93rd overall) to share duties with Mitchell and possibly push Sermon the rest of the way out of the door.

Maybe this is a negative that can turn into an immediate positive if Sermon finds himself on the chopping block sooner rather than later. It doesn't seem as if San Francisco is a victim of the sunken cost fallacy and would likely prefer to sever ties as opposed to keeping a former third-rounder just to warm the bench. It may not be a bad idea to go poking your league mates for a trade if you have the roster depth or a taxi squad to place Sermon on in case he comes out of the other side in a better situation.
RB
Michael Carter

,

Jets

Michael Carter had an outstanding rookie season, considering the low bar the dynasty community had set for the 2021 fourth-rounder. Through the Summer, Carter would eventually inch into the back of the first round (1.10) in rookie drafts, and fantasy managers were rewarded with a very solid overall RB27 finish, barely missing the 1,000 scrimmage yard mark (964) and tying with teammate Ty Johnson for the 14th-most targets at the position.

Things changed quickly when the Jets traded up to the 36th-overall pick to select Breece Hall, the first running back taken in the 2022 NFL Draft. Hall has the immediate upper hand in size, athleticism, and draft cost, as well as the versatility, to play all three downs. Carter will still receive a sprinkling of touches, but his days as a fantasy RB3 were a short-lived gift to those who took a chance on him last season.
RB
Devin Singletary

,

Bills

The ever-resilient Devin Singletary has spent the first three seasons of his career fighting for playing time and has proven difficult to keep off of the field from former teammates, but he may have met his match when it comes to Georgia's James Cook. With Zack Moss still struggling to pan out, the Bills went back to the drawing board and selected Cook, who finished fifth out of 29 qualifying running backs (2022 Draft year, Power Five school) in yards per route run (1.63). He should immediately step into a "J.D. McKissic" role, considering that's exactly who Buffalo was aiming for this Spring before a deal fell through.

This is Singletary's final year of his rookie contract and is likely to cede work to the rookie the longer the 2022 season moves along.