Is Breece Hall's Dynasty Value Overblown?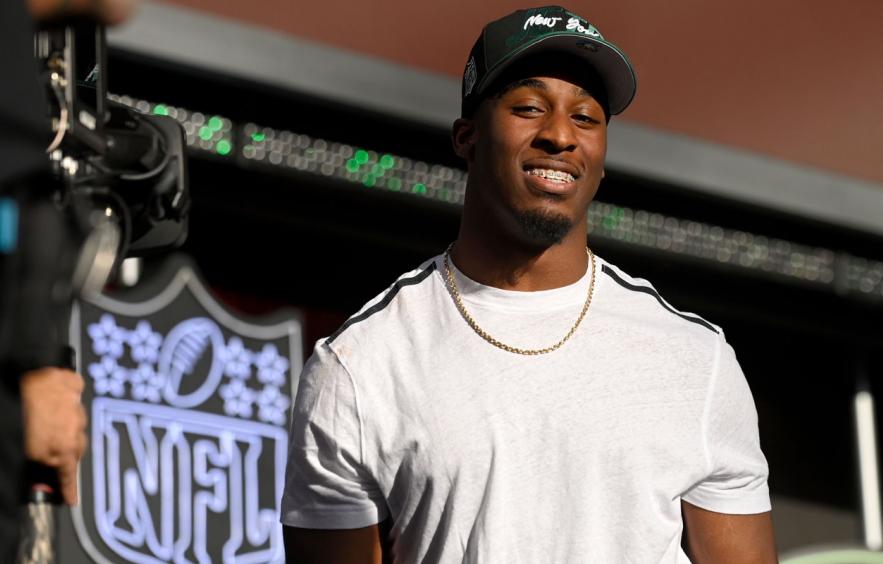 David Becker/Getty Images
With the 36th pick of the 2022 NFL Draft, the New York Jets selected the first running back off the board, 6'1", 220-pound running back Breece Hall of Iowa State. While Hall isn't technically a first-round back, he only missed the designation by a few picks, and the Jets leapfrogged the RB-needy Texans, Falcons, and Seahawks at the very beginning of the second round to ensure that they could take him.
---
More Dynasty Content: Dynasty League Football | 2022 Dynasty SuperFlex Rookie Mock Draft | 2022 Dynasty Superflex/TE-Premium Rookie Mock Draft | Isaiah Spiller Dynasty Profile |
The Jets backfield now consists of 2021 fourth-rounder Michael Carter, the rookie, and an amalgamation of castoffs, opening up a ton of opportunity for this season and beyond. Before we dig into Hall's dynasty value for year one and his future fit in this offense, let's first touch on his college career.
Putting Big-12 Defenses in the Eye of the Storm
Simply put, Breece Hall has a blistering college production profile. After accruing a modest 4,209 yards and 65 total touchdowns in his final two years of high school, Hall would replace David Montgomery as Iowa State's main back in 2019, racking up 3,941 rushing yards with an otherworldly 56 total scores in his three college seasons. Leading the entire FBS with his 1,572 rushing yards in 2020, he managed to be voted the Big-12's Offensive Player of the Year on top of becoming the first unanimous first-team All-American in Iowa State's history.
The Cyclones ran a very zone-heavy rushing attack behind a spread offense during Breece Hall's time in Ames —which could take some getting used to at the next level, but we'll touch on that later— as nearly 75% (528/711) of his career rushes were in zone looks, and only 25% (183/711) were gap or power looks. This would prove to set up perfectly with the strengths of Hall's game, enabling him to exhibit his vision and explosiveness once the hole was made available to him. All of this production was emanated behind a middling offensive line at best. Right tackle Derek Schweiger (Burlsworth Trophy Semifinalist, 2020, 2021) was likely the best player during Hall's most productive seasons yet wasn't selected in this year's draft and continues to remain a free agent at the time of this writing.
Hall was used plenty as a receiver out of the backfield where he could flex his open-field vision and long-speed, converting 93 targets into 82 career receptions and 743 yards.
That speed and overall athleticism showed up in spades at the NFL Combine, where Hall's relative athletic score (RAS) ranked ninth out of the 1,519 running backs who have tested since the 1987 draft. It doesn't take an analytically inclined franchise to understand that this is a freakish athlete that you want on your team and on the field as often as possible. There aren't a lot of landing spots that should have scared us off of Breece Hall in Dynasty (unlike fellow draftee Isaiah Spiller) and the New York Jets are no exception.
In a Tier All Alone
Breece Hall was likely heading into the combine as the consensus No. 1 running back option, he certainly exited the combine as the consensus No. 1, and none of that changed leading up to, and including, the Jets' selection of him in the second round. Before even digging into his projected fit into his new offense, many dynasty drafters consider him the hands-down 1.01 in rookie drafts, but let's take a look into exactly what that means for his dynasty value, as not all 1.01s are built the same.
Jets

RB Touch%, Underneath Passing, 2021

| RB Touch% | Rank | RB Target% | Rank | Avg. Throw Depth | Rank | Deep Ball Rate | Rank |
| --- | --- | --- | --- | --- | --- | --- | --- |
| 55.5% | 15th | 22.6% | 10th | 7.2 Yards | 28th | 12.4% | 32nd |
During the first year of the Robert Saleh/ Mike LaFleur offense in New York, the team was likely not as run-heavy as many were expecting, though they very rarely took gambles by attacking deep down the field, electing instead to keep the ball underneath, which benefitted the running backs in the passing game. Both Michael Carter and Ty Johnson had exactly 55 targets on the season, operating as a safety valve for rookie Zach Wilson and the rest of the quarterback room when Wilson was forced out of a few games. Breece Hall proved to be marginal-to-above average in the passing game as a college athlete, so there is no reason to believe that he can't usurp half of those targets, even if Carter is able to maintain a third-down role through the entirety of the season.
As for Michael Carter standing in the way of a majority of the early-down work, I don't believe it for a moment. Carter had a really nice rookie season, and I don't doubt that he will still have some involvement, but the reality is, that he was the 107th selection in last year's draft, while the Jets have clearly shown their hand by moving up to select Breece Hall 71 slots earlier just one season later. Hall has too big of an upper hand in size, athleticism, and draft cost for the incumbent to keep him off of the field for the sum of the 2022 season, barring some sort of horrendous training camp.
In 2021, the Jets were one of the most robust power-running teams in the NFL. This presents the only setback I can envision for Hall coming out of the starting gates, as Iowa State was a mostly-zone running scheme. It will be interesting to see if LaFleur switches gears to incorporate a heavier zone-look moving forward or if they will simply ask their new offensive weapon to be more of a single-gap back. The team certainly has the experience along the offensive line to cater to a more zone-heavy approach, and the addition of former 49ers left guard Laken Tomlinson over the offseason could help with that transition, as he is very well versed in the zone running game.
All-in-all, Hall is deserving of the 1.01 in practically any scoring setting, but this is a weak rookie class, and he will have to deal with pesky Michael Carter, possibly for the first couple of seasons of his career. This isn't as clear-cut of a situation as Najee Harris, Jonathan Taylor, or Saquon Barkley in years past, but it is still a situation you need to buy into.

Bottom Line
Breece Hall was on a mediocre college offense yet still put together huge numbers, including leading the entire FBS in rushing yards during the 2020 season
His athletic profile (RAS) is in the top 0.5% since the inception of this type of data tracking 35 years ago.
Michael Carter could provide moderate touch competition, which slightly lowers the rookie's immediate ceiling.
Hall is the unquestioned 1.01 in Dynasty League Football's rankings in a "down" year but still has the type of talent, paired with an ascending offense, to be valuable to both contending and rebuilding dynasty teams alike. Hall can be considered an overall RB5-RB8 in dynasty formats moving forward.