2022 Dynasty Superflex/TE-Premium Rookie Mock Draft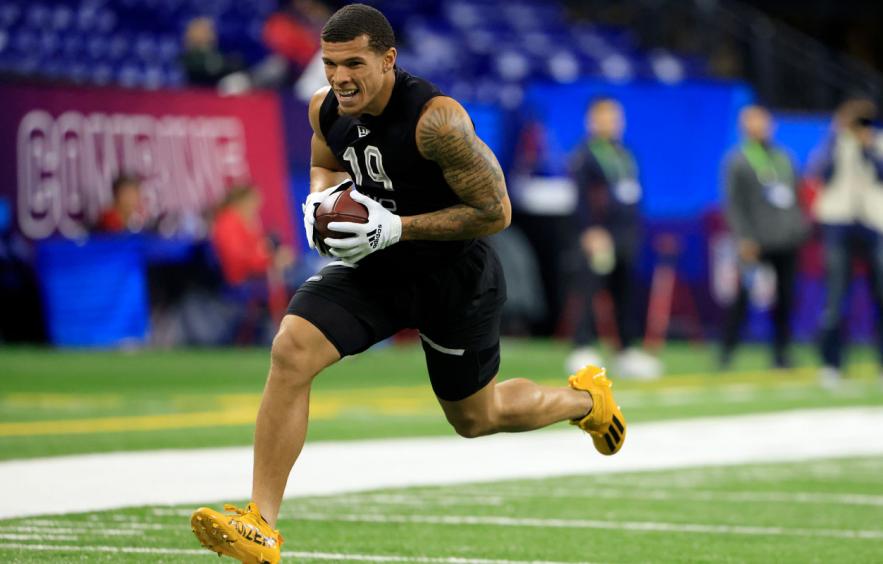 Justin Casterline/Getty Images
While most fantasy football managers are just kicking back, relaxing, and enjoying the NFL draft this week, a cohort of degenerates are in mid-season form. They are gathering information, scouting NFL prospects, and assembling their own personal rankings. We call fantasy-obsessed individuals Dynasty Fantasy Football Managers, and chances are that if you are here reading this you are one of those aforementioned degenerates. No need to be embarrassed, I am proudly a dynasty gamer myself.
---
More Dynasty Content: 10 Dynasty Players to Trade Before the NFL Draft | NFL Draft Big Board 3.0 | Dynasty League Football |
---
Like redraft leagues, part of the draft strategy process involves mock drafting. At 4for4 we have a variety of mock drafts dropping these next few weeks that you can access. These mocks include not only 4fo4 staffers but content creators from all over the fantasy football landscape. (this one included)
And if somehow you have stumbled upon this piece of writing and you are not in a dynasty league don't go anywhere! The information here could be helpful come September when the redraft season kicks off. Below you will find fantasy pearls from some experienced dynasty football managers and although the carryover from dynasty to redraft is not always a perfect fit, there are advantages to being more informed.
The Format:
10 Teams
Linear draft (unlike snake draft, common in redraft leagues) the person pick first gets the first pick in each round
Points per reception (PPR)
Superflex (instead of a traditional flex where you play an RB, WR, or TE managers are allowed to play a QB as well)
TE Premium (TEs are awarded an extra point per reception)
Participants in Order:
Draft Results:
Picks in each round run from left to right
Round 1 Breakdown
Despite this being a Superflex mock draft, overall the consensus is the 2022 quarterback class is weak. As a result, it is not shocking to see Breece Hall go 1.01. For the most part, Hall will be the first player selected in rookie drafts regardless of format, barring a catastrophic fall in the NFL draft.
While Breece Hall is the virtual lock for the top spot, former Liberty QB Malik Willis will likely be chosen as the second pick in most Superflex leagues. In fact if anyone is challenging Hall for the 1.01 in this format, it could be Willis. Malik's stock took off after the Reese's Senior Bowl and his momentum has not slowed one bit since (partly because no other QB stepped up). Willis offers a safe floor due to his running ability and as Sam Wallace put it post-mock "..there isn't a QB (other than Willis) I really want to take in the top two-thirds of Round 1."
After Hall and Willis, it is a toss-up. Thursday night could certainly shift the order that players are selected in the rest of the first round. While the order might differ, most first rounds will contain some combination of Kenneth Walker III, Drake London Garret Wilson, Jameson Williams, Treylon Burks, Chris Olave, and Kenny Pickett. What was interesting to see in this Superflex draft compared to past years was the gap between the QB1 and QB2. It's not common to see the second QB taken until the very end of the first round. Matt Corral and Kenny Pickett's value appears to be close, landing spots could solidify one over the other.
Round 2 breakdown
Skyy Moore is a player to watch this weekend. Nate Liss was pleasantly surprised that he fell to him at the 2.01. JJ Zachariason revealed that he was contemplating taking Moore at the 10th pick but ultimately went the homer route selecting Kenny Pickett (typical Pittsburgh alum…).
Desmond Ridder before Sam Howell is a bit of an anomaly but Kevin Coleman preferred Ridder because of the rushing upside he offers in fantasy and recent rumors that suggest Ridder could sneak into the first round of the NFL draft.
While Isiah Spiller being selected at 2.06 might surprise some he could have easily dropped further, even in a shallow league like this.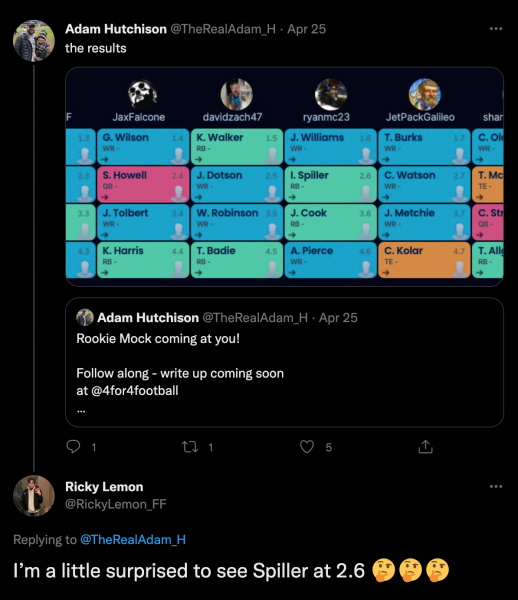 The selection of Spiller in the mid-second requires some further explanation because in this draft room he was not openly viewed as a value at this spot. Ryan McDowell begrudgingly picked Spiller with the 6th pick in round 2. Meaning, Spiller could have easily dropped to the end of the second round or even into the third. Leading into the NFL draft it is harder to find a more polarizing player than Spiller. His future draft capital could tank his stock even further than a second in rookie drafts regardless of league size.

Round 3 Breakdown
Where Nate Liss benefited from JJ passing on Sky Moore in the previous round, he was not so lucky this time around. Nate revealed he was targeting Rachaad White at the 3.01. According to Nate: "many analysts have soured on his (White) prospects for some reason as rumors of him sliding (in the NFL draft) have begun to swirl. The problem with White sliding is that the running back position is just too thin to let a 214lb back who runs a 4.48, with 43 catches in 2021 fall out of Day 2." So as it stands White at 2.10 was great value and someone dynasty managers should have on their radar in this range.
Nate ended up taking the RB from Alabama Brian Robinson because of his athleticism and production profile( although limited - and understandably so due to the talent around him) in college. Nate is banking on Robinson going close to White in the NFL draft, albeit behind him.
Wan'dale Robinson is another player who has fallen out of favor. David Zach elaborates on why he picked him at 3.05: "Robinson had a best in class market share per game (47%) when accounting for team strength (Kentucky SRS 8.62). Despite his notorious underwhelming size, the price of such is already baked in Round 3 for a player whose production profile drastically outperforms his current ADP"
Round 3 is where the final quarterback was selected - Carson Strong. Strong seems to be cemented at the QB5 in this class. Strong has a…well strong arm but lacks some of the athleticism metrics that leave him with a scary floor in fantasy. Additionally, Round 3 is where a pair of TEs are selected. These picks could have been influenced by the TE premium format - specifically Jelani Woods.
Round 4 Breakdown:
In the fourth round, this is where you see a lot of dart throws. Most of the players selected here have red flags in their profiles. In a mock draft, however, it can be helpful to see the players that each analyst is gravitating towards.
Justyn Ross would have been a top one to two-round pick if he could have stayed healthy at Clemson. After a stellar freshman year for the Tigers, injuries -mainly a cervical spine issue- could cause some NFL teams to pass on him.
Kevin Harris from South Carolina is another player with a shaky medical background. Harris fractured his vertebrae (back) in college.
Amr Gabr grabbed Kyrien Williams who pre-NFL combine was viewed as a top 12-15 pick. However, a poor 40 time might mean he is in the same boat as Allgeier.
Calvin Austin was a high upside pick according to Felix Sharpe. Besides his pick of Tyler Allgeier, Felix thought JJ's selection of Austin was the best in the 4th round. "In this draft, it makes sense to swing for the fences. Austin's speed and productivity indicate that he can be a home-run threat" Felix told me after the draft.
Final Takeaways:
As I mentioned before this is not viewed as a strong quarterback class. After Malik Willis, it is pretty much wide open. If you have a QB you prefer, grab him because unless you know your league mates, it could be hard to predict where each gets picked.
At running back there is a drop-off after Breece Hall and Kenneth Walker III. Rachaad White and Brian Robinson are players dynasty managers should have pinned. Isiah Spiller's fate depends heavily on the NFL draft.
This is a very deep WR class and this mock draft reflected that. Ten of the first 20 players picked in this mock were WRs.
The TEs did not see a bump in draft capital regardless of the TE-premium format, unlike last year when Kyle Pitts could have easily vaulted into the top-5. When I ask Sam Wallace if the TE scoring impacted his strategy this year his response was short but basically came down to a simple - no.