2022 NFL Draft Big Board: Version 3.0 Final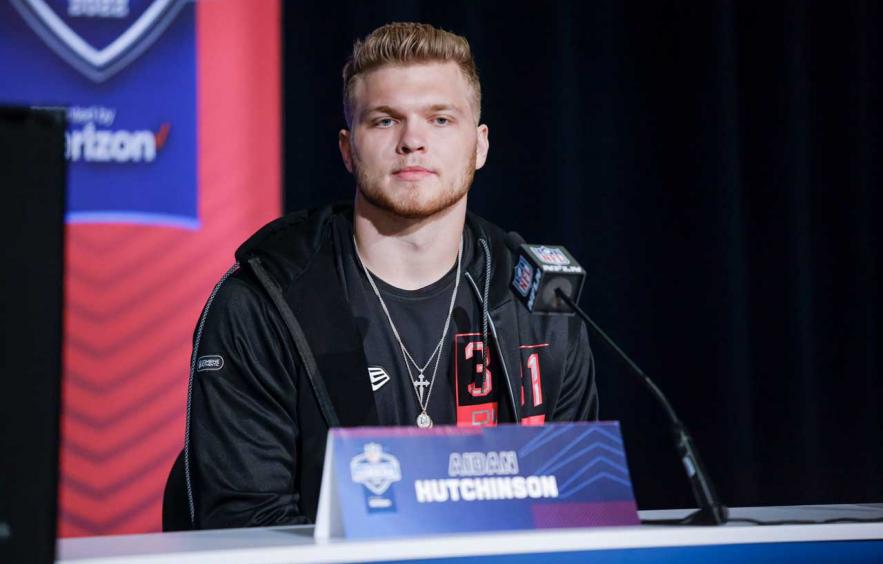 Michael Hickey/Getty Images
With the NFL Draft just a few days away, my big board has been finalized for the 2022 NFL draft hosted in Las Vegas, Nevada. The Combine has come and gone, the Pro Day Circuit has wrapped up, and all numbers that we are going to get have been gotten. Teams are trying to zero in on their targets and make the final split decisions. So, below are my top-175 prospects for the 2022 NFL draft with write-ups on the skill position players in the top 130.
2022 Draft NFL Draft Date & Time
Date: Thursday, April 28 (Round 1), Friday, April 29th ( Rounds 2 & 3) & Saturday, April 30th (Rounds 4-7)
Time: 8:00 PM EST (Round 1), 7:00 PM EST (Rounds and 3), &12:00 PM EST (Rounds 4-7)
Channels: NFL Network, ESPN & ABC, also FuboTV Livestream
Last Updated: April 24, 2022
1. Kayvon Thibodeaux, EDGE, Oregon
2. Aidan Hutchinson, EDGE, Michigan
3. Ikem Ekwonu, OT, NC State
4. Evan Neal, OT, Alabama
5. Travon Walker, EDGE, Georgia
6. Derek Stingley Jr., CB, LSU
7. Charles Cross, OT, Mississippi State
8. Sauce Gardner, CB, Cincinnati
9. Jermaine Johnson, EDGE, Florida State
10. Jordan Davis, DT, Georgia
11.
Drake London

, WR, USC

London is a towering 6-foot-4, 219-pounds, and has excellent body control to attack the ball in the air. London is an exceptional run blocker and is a better route runner than many give him credit for and knows how to use speed changes to his advantage in route running. While Drake will likely never lead the league in YAC, he can surprise after the catch much like former Trojan Michael Pittman. Drake averaged eight receptions for 135 yards a game last season and hauled in seven touchdowns in his eight games played. London's big play strength and ability to attack the ball in the air make him a strong candidate to play outside in the NFL from day one. Due to injury, London has yet to record any times for scouts but his ability to create separation and win in contested catch situations is evident on tape.
12. Kyle Hamilton, S, Notre Dame
13.
Garrett Wilson

, WR, Ohio State

Wilson is a dynamo after the catch but can create space at the top of his route with elite-level quickness. Wilson can also be used in jet action and in the RPO game. The Ohio State product also possesses refined route running prowess and has shown a knack for getting open against both man and zone coverage which is desperately needed in today's NFL. Wilson saw a jump in his numbers this season and outproduced his previously more heralded teammate Chris Olave on the same number of targets in 2021. Wilson lacks prototypical alpha wide receiver size, but guys like Antonio Brown and Stefon Diggs have helped change the stigma surrounding smaller wide receivers as a team's number one option in the passing game. Wilson measured in just a hair under 6 foot and tipped the scales at 183 pounds at the combine. He may be pigeonholed into a slot receiver role at the next level, but his short-area quicks make his release package enticing at the NFL level on the outside, as well.
14. Trevor Penning, OT, Northern Iowa
15.
Chris Olave

, WR, Ohio State

Olave has former track prowess and should add field-stretching ability to whatever team he ends up with next season. Olave is a crispy route runner who has track speed which allows him to get vertical against defensive backs whether it be from the slot or outside. Olave could be the centerpiece of an offense that draws up a lot of play-action shot plays but does have more to his game than just pure speed. The former Buckeye has soft hands and can track the ball with the best receivers in this class. The Ohio State star does struggle in contested catch situations but his knack for creating separation doesn't create many of those situations. The senior would likely have been a first-round pick in last year's loaded class and will likely remain there this season, but offensive scheme fit looks more important now than this time last season. Olave measured in at 6-foot and 187 pounds to go along with long arms at the combine. He doesn't have quite the same YAC prowess as former teammate Garrett Wilson but also wasn't called on to do it much at Ohio State.
16. Devin Lloyd, LB, Utah
17. George Karlaftis, EDGE, Purdue
18.
Jameson Williams

, WR, Alabama

Jameson Williams is an Ohio State transfer that turned into a wide receiver one at powerhouse Alabama, and some team will take the injury discount on a former Crimson Tide wide receiver who was on track to be the top receiver in the class before being derailed by a torn ACL during the College Football Playoff. Williams possesses similar route-running savvy and quickness to former Tide receiver Jerry Jeudy but has a second gear Jeudy has yet to display at the NFL level. Williams could be a run after the catch maven for an offense and when asked to win vertically can also do that. Williams could play inside or outside at the NFL level, but his release package and overall strength are areas he can improve on. With strong hands and an ability to snap in and out of breaks, Williams will be a coveted draft asset despite his injury. He was measured at 6-foot-1, 179 pounds, but many pundits expect him to play in the 190-195 range when not recovering from an ACL tear. Williams has already been shown running but will likely not be back to full speed until his second NFL season.
19. Tyler Linderbaum, IOL, Iowa
20. Zion Johnson, IOL, Boston College
21. Dax Hill, S, Michigan
22. Trent McDuffie, CB, Washington
23.
Malik Willis

, QB, Liberty

Malik Willis has all the physical tools to be a great quarterback at the NFL level. Willis posted the top initial air speed (75.7 MPH) at the Senior Bowl confirming what we see on tape, elite-level arm strength. Willis' legs jump off the page when watching his film, and many believe he would run sub 4.5 in the forty. Over the last two seasons, Willis has averaged nearly 80 rushing yards a game (including yardage lost due to sacks) and has 27 rushing touchdowns over his last 23 career games. Willis should be considered a developmental prospect after taking 51 sacks last season behind a porous offensive line and offensive weapons that failed to haul in passes, some easy and some difficult. The physical tools are there, and the ceiling is immense, but Willis will likely be best in a place where he can sit for a season and develop, but with the current QB landscape that may not be possible.
24. Devonte Wyatt, DL, Georgia
25. Andrew Booth, CB, Clemson
26.
Desmond Ridder

, QB, Cincinnati

Desmond Ridder is another quarterback who checks off all the commandments of Bill Parcell's with extensive experience as a starter and winning record. Ridder has extensive starting experience with four years under his belt and steady improvement season after season. He has good size at 6-foot-3 211 pounds and can generate impressive throw power whether his feet are underneath him or not. Ridder is also an exceptional athlete who can break tackles and set defenders up with his shiftiness in the open field. Ridder's greatest weakness is accuracy and overall execution on timed routes, but his ability to make all the throws and work off schedule makes him a solid developmental pick, but one with massive upside. His ability to stretch the field vertically would work in a heavy play-action scheme, especially one with a strong run game that can feature QB run wrinkles. Ridder ran a 4.52 and posted an overall RAS of 9.62 which ranks in the top 4% of QBs since 1986.
27.
Matt Corral

, QB, Ole Miss

Matt Corral excelled in the quick passing game and in the RPO game while also bringing a QB run threat. The question with Corral is can he operate in a more traditional NFL offense, or will he be pegged into a heavy RPO scheme like the one designed for Tua Tagovailoa (to date). Corral isn't a physical specimen at 6-foot-1 212-pounds and his overall arm strength doesn't fly off the field, but he can manipulate the pocket and make throws from a variety of angles. Corral improved his accuracy in his junior season completing 68% of his passes and showed more effectiveness in the run game particularly near the end zone, finding paydirt 11 times. Corral will be questioned for his frame and arm strength at the NFL level, but his high level of play in the SEC could land him in a situation where a team views him as a developmental starter.
28. Tyler Smith, OT, Tulsa
29. Arnold Ebiketie, EDGE, Penn State
30.
Treylon Burks

, WR, Arkansas

Treylon Burks is a three-year starter who scored nine touchdowns as a freshman in the SEC. Burks is a specimen at 6-foot-2 225-pounds and is a receiver who can really run. The Arkansas product has proven he can be the centerpiece of an offense and excel in nearly every facet of the game, whether it be 50/50 balls, catch and run, or beating a defense over the top. Burks was the number one prospect in the state coming out of high school and his versatility is elite for a bigger-bodied receiver. Burks needs to show improvement as a route runner and can sometimes be lackadaisical coming out of his breaks, relying far too much on his thickness to shield defenders from the ball. Due to how Burks was targeted for the Razorbacks, there are still questions about his ability to separate from defensive backs in one-on-one situations at the NFL level. Burks ran a slower 40 than expected at 4.55 but has showcased more than enough speed on the field and with his weight, posted an 87th percentile speed score.
31. Nakobe Dean, LB, Georgia
32. Kaiir Elam, CB, Florida
33. Kenyon Green, IOL, Texas A&M
34. Bernhard Raimann, OT, Central Michigan
35.
Jahan Dotson

, WR, Penn State

Jahan Dotson is a silky-smooth route runner who gets in and out of his cuts quickly and with explosiveness. Dotson is expected to run sub 4.4 in the 40 and was a state champion in the 4x100-meter dash in Pennsylvania to highlight his need for speed. Dotson is a smaller receiver at 5-foot-10 and 178 pounds, but his quickness and overall speed profile are how he will win at the NFL level. Like many recent first-round picks from Penn State, Dotson will likely put on a show at the Combine in the timed portions and will likely exceed expectations in the jumps as well. The Penn State receiver can cause havoc at all three levels and should be able to play both inside and outside at the NFL level.
36. Boye Mafe, EDGE, Minnesota
37.
Skyy Moore

, WR, Western Michigan

Skyy Moore is a smaller wide receiver at 5-foot-9 but has solid bulk at 195 pounds but makes up for it with elite-level speed at 4.41 at the combine. Moore also posted a strong 10'5" broad jump to help round out a 7.49 RAS which ranks just outside the top 25% of all receivers since 1987. Moore posted a college dominator rating of nearly 45% and was a First Team All-Mac selection as a freshman in 2019. In his final season, Moore caught 95 passes for 1,292 yards and 10 touchdowns with his combination of RAC ability and getting behind defenders. Moore had the largest hands among receivers at the combine and his competitive nature is evident on film as he looks like a bulldog pushing for extra yardage. Despite his blazing speed, Moore wasn't asked to return kicks or punts which will be a concern for some teams.
38.
Kenny Pickett

, QB, Pittsburgh

Pickett is an experienced passer who has good size and functional athleticism and wowed teams with his leadership presence at the Senior Bowl. Pickett showed off his athletic prowess with the now infamous fake slide in the ACC Championship and showed great command of the offense all season long setting numerous Pitt records. Pickett measured in at 6-foot-3 217-pounds, but rumors were confirmed when he measured in with just 8 1/2" hands, the smallest since Michael Vick. Pickett doesn't have jaw-dropping arm talent but can put the ball in tight windows with his quick throwing motion and accurate ball placement. Pickett can operate in the confines of the offense but can also make plays off schedule, getting the ball to his playmakers when forced outside the pocket. Pickett could end up as the top overall quarterback selection as he hits all Parcell's model of quarterback commandments, but some teams will have questions about 1st percentile hand size and lack of a big arm. Pickett did post a strong RAS on the same level as Desmond Ridder, despite a 40 time .21 slower.
39. Kyler Gordon, CB, Washington
40. David Ojabo, Edge, Michigan
41. Travis Jones, DL, UConn
42. Lewis Cine, S, Georgia
43.
Breece Hall

, RB, Iowa State

Breece Hall has rushed for nearly 4,000 yards over the last three seasons at 5.5 yards per carry. Hall has also found the endzone 50 times over the last three seasons on the ground with an additional six coming through the air. The 5-foot-11 217-pound back also caught over 80 career passes showcasing his versatility. Hall will likely be best suited in a zone-run scheme where his patience and initial burst can be showcased. Hall has great vision and finds creases in the opposition and can burst through them but lacks elite level top-end speed to show off at the combine. Despite his size, Hall is more of a finesse back than a power one and can struggle in pass protection from time to time. Hall blazed a 4.39 forty at the combine and has the 7th best RAS score out of 1586 running backs since 1987. Hall just seems to glide on film which has caused some to compare him to Hall of Famer Edgerrin James who always seemed under control as a runner.
44. Nik Bonitto, EDGE, Oklahoma
45.
George Pickens

, WR, Georgia

George Pickens was a heralded high school recruit who in 2019 was considered the fourth-best receiver in the country. Pickens measured in at over 6-foot-3 and 195 pounds and blazed a 4.47 forty despite recovering from a 2021 ACL tear. George set the record for receiving yards by a freshman at Georgia and found the endzone 14 times over his first two seasons. Pickens could still add a few pounds to his lean frame and could still add some releases to his mix to get off the line of scrimmage against NFL corners. The former Bulldog is good in the intermediate to deep areas of the field but needs to work on his precision in the short areas. Pickens has the kind of build and tenacity that could make him a true number one receiver in an NFL with some time to develop.
46.
Christian Watson

, WR, NDSU

Christian Watson absolutely demolished the combine, becoming just the second receiver ever to post a perfect 10. Watson displayed plus size at 6-foot-4 208-pounds, plus speed with a 4.36 forty, and plus explosiveness with a 38.5-inch vertical and 11'4" broad jump. For his career, Watson averaged over 20 yards a catch and that number was at least 18 in every season of his career. The NDSU product does come from one of the heaviest run-centric offenses in college football and his level of competition was not the SEC, but Watson was able to dominate when called upon. Watson lacks polish but has immense upside and will attract teams late Round 1 or early Round 2.
47. Perrion Winfrey, DT, Oklahoma
48.
Trey McBride

, TE, Colorado State

Trey McBride is the 2021 Mackey Award winner who put together an impressive season for Colorado State, posting wide receiver-like numbers with 90 catches for 1,121 yards and just one touchdown. McBride played nearly 70% of his snaps in line for the Rams and is an adequate blocker in both the run and pass game. The 6-foot-3 246-pound tight end was effective in using his body to shield away defenders while also plucking the ball away from the opposition with his strong hands. McBride did not run at the combine but posted a speedy 4.56 at his pro day, and did post above-average numbers in the broad (9'9") and vertical (33") jumps.
49. Jalen Pitre, S, Baylor
50. Quay Walker, LB, Georgia
51. Kenneth Walker, RB, Michigan State
Kenneth Walker is arguably the best pure runner in this class, but he has a non-existent receiving profile which calls into question his fit in the modern NFL. Walker has exceptional contact balance in his 5-foot-9 211-pound frame and is a chiseled Greek god. Walker has one of the best jump cuts in this class and can explode through holes. Walker posted a mind-blowing 4.38 forty at the combine and smashed a 10'2" broad jump to give him a top-10 percentile RAS among running backs. Walker started his career at Wake Forest before transferring to Michigan State and ended up starting every game last season en route to winning the Doak Walker award for the nation's best running back. Walker has scored 31 rushing touchdowns over the last two seasons and led all FBS players with 89 missed tackles in 2021. Walker can still stand to improve his pad level and will need to prove at the NFL his worth as a receiver as it is a complete unknown outside of a few screens here and there. Walker could be in the mix for RB1, but teams may prefer the proven versatility of Breece Hall.
52. Roger McCreary, CB, Auburn
53. Logan Hall, DL, Houston
54. Chad Muma, LB, Wyoming
55. Christian Harris, LB, Alabama
56. Jaquan Brisker, S, Penn State
57. DeMarvin Leal, DT, Texas A&M
58. Kingsley Enagbare, EDGE, South Carolina
59. Phidarian Mathis, DL, Alabama
60.
Sam Howell

, QB, North Carolina

Sam Howell was once regarded as a potential number one overall pick this offseason and despite losing nearly all his passing game weapons, was still able to put up numbers in the passing game. Howell also showed off his wheels more last season and even found the endzone with his legs in the Senior Bowl game. Howell possesses a good feel in the pocket and can move around enough to get himself out of trouble. Howell was a former two-sport athlete and possess an ability to spin the ball with the best passers in this class. According to PFF Howell broke 65 tackles this season which is the most by a power five quarterback since 2014. The UNC product is one of the younger QB prospects in this class at 21 but did struggle in sack avoidance at the collegiate level. The former Freshman All-American had a solid combine throwing the ball, with some scouts wowed by his arm talent on the deep ball. Howell is coming from an RPO-heavy scheme and had his designed reads cut to half the field on most plays, so a spot where he can sit and learn would be best for his long-term prospects.
61. Daniel Faalele, OT, Minnesota
62. Tariq Woolen, CB, UTSA
63. Darian Kinnard, OL, Kentucky
64. Drake Jackson, EDGE, USC
65. Leo Chenal, LB, Wisconsin
66.
Jalen Tolbert

, WR, South Alabama

Jalen Tolbert is a 6-foot-1, 194-pound wide receiver from South Alabama with a 4.49 forty and big hands to snatch the ball away from his body. Tolbert posted elite-level acceleration in his forties at the combine while having a strong show in both the vertical and broad jumps. Tolbert played in the Sun Belt conference against lesser competition but did have a massive showing against Tennessee last season catching seven passes for 143 yards and a touchdown. Jalen also had strong showings against Southern Mississippi (5 catches 168 yards) and Bowling Green (7 catches 95 yards) to round out his draft profile against stronger competition. Tolbert is a silky-smooth receiver who can throttle down his routes and snatch the ball away from defenders when called upon. Tolbert has posted over 2,500 receiving yards and 16 touchdowns over the last two seasons in route to becoming a two-time first-team All-Sun-Belt.
67. Derion Kendrick, CB, Georgia
68.
Greg Dulcich

, TE, UCLA

Greg Dulcich spent a lot of time in the slot at UCLA and posted a strong RAS at 6-foot-4 243-pounds while running a 4.70 forty but exploding for a 10'2" broad jump. Dulcich shows enough speed to stretch the vertical at the NFL level and turn and burn after the catch. Dulcich has mostly served time as a big wideout and lacks the functional strength to be an in-line blocker on the edge at this point. In 2021, the UCLA product caught 42 passes for 725 yards and five touchdowns and received recognition as an Academic All-American. Dulcich will likely need to find a team looking for a move tight end as he is not suited for an in-line role early on in his career.
69. Jamaree Salyer, OL, Georgia
70. Abraham Lucas, OT, Washington State
71. Coby Bryant, CB, Cincinnati
72. Cam Jurgens, IOL, Nebraska
73.
Isaiah Spiller

, RB, Texas A&M

Isaiah Spiller was an uber-productive back in the SEC, gaining nearly 3,000 yards over the last three seasons at 5.5 yards per carry. Spiller has also caught 74 passes over the last three seasons and shown he can be a versatile offensive weapon. Spiller is scheme versatile and can run in either a power scheme or a zone scheme and get north and south with the best runners in this class. Spiller can run inside or attack a defense on the perimeter where his silky-smooth jump cut can shine. Spiller put up less than stellar athletic numbers at the Combine and his Pro Day running a 4.64 and only jumping 30" in the vertical and 9'06" in the broad. Spiller isn't the most impressive open-field runner but can make the first man miss at the line of scrimmage and finish runs by putting defenders on their back with excellent contact balance and strength.
74.
Jeremy Ruckert

, TE, Ohio State

Jeremy Ruckert is a mountain of a man at 6-foot-5 252 pounds with big hands. Ruckert can play inline and has the nasty in his game to get after defenders as a blocker. Ruckert hasn't produced at an elite level at Wide Receiver University as of late and has just 54 catches for 615 yards and 12 touchdowns in his career. Ruckert was great near the endzone and less than one in five catches ended in a touchdown. Ruckert never compiled a big game with his career-high being 57 yards and failed to display vertical field-stretching ability. Ruckert left the Senior Bowl with an injury and did not post any times in the Combine and Pro Day circuit but has shown flashes of Pro level tight end talent in his collegiate career as he projects to be able to play inline as well as a big slot.
75. Brian Asamoah, LB, Oklahoma
76. Nicholas Petit-Frere, OT, Ohio State
77. Sean Rhyan, OL, UCLA
78.
Jelani Woods

, TE, Virginia

Jelani Woods absolutely crushed the Combine and Pro Day circuit posting a perfect 10 RAS that had never been done before. Woods can tower over defenders at 6-foot-7 253 pounds and fly past some linebackers with his 4.61 forty. If you need a tight end to go up and get it, look no further than Woods who posted a 37.5" vertical and 10'09" broad jump. Woods also posted a sub-7 second 3-cone which shows he can get in and out of breaks. Woods is raw as a route runner but is a former quarterback who understands timing and sealing off defenders to give his quarterbacks targets. Woods was a former Oklahoma State commit who played as mostly a blocker before transferring to Virginia and leading all ACC tight ends in touchdowns with eight. Woods is a freak but still needs time to grow, Woods profiles more as a move tight end and needs some time to develop but he will play next season as a 24-year-old rookie.
79. Calvin Austin, WR, Memphis
Calvin Austin is a smaller wide receiver at just under 5-foot-8 170 pounds. His size will scare some teams off, but his elite speed will also attract others. Austin ran a 4.32 at the combine putting some credence to his track background. Austin also jumped out of the gym posting a 39" vertical jump and 11'3" broad jump, with crazy agility numbers. Austin posted a RAS of 9.43 despite size numbers in the very bottom percentiles. For a smaller receiver, Austin has above-average hands and has a good feel for pacing on his routes, mixing in hesitations and change of speeds to separate from bigger defenders. Over the last two seasons, Austin has posted 137 receptions for 2,202 yards and 19 receiving touchdowns. Calvin also has experience as a returner and could provide a spark for a team looking for some special teams impact as well. The former Memphis Tiger will likely need to grow his route tree to be a full-time receiver but could provide instant gadget and flash to an offense that designs plays for him.
80. Nick Cross, S, Maryland
81.
John Metchie

, WR, Alabama

John Metchie is a 5-foot-11, 187-pound receiver with vertical speed to burn and would likely have been a Round 2 pick prior to tearing his ACL late in the season. In 13 games prior to his injury, Metchie compiled 96 receptions for 1,142 yards and eight touchdowns and was sorely missed in the Alabama loss to Georgia. Metchie has struggled with concentration and drops a little too often, but he is constantly looking to attack a defense, whether he has the ball in his hands or not. Metchie played inside and outside at Alabama and was very involved in the screen game and as an option on RPOs but is one of the silkiest route runners in the class and adept at creating separation from defenders in all areas of the field. While Metchie likely wouldn't have blown the doors off at the combine and his overall athletic profile will remain a question mark with no tests incoming due to the torn ACL.
82. Cameron Thomas, Edge, San Diego State
83. Josh Paschal, EDGE, Kentucky
84. Cole Strange, IOL, Chattanooga
85. Sam Williams, EDGE, Ole Miss
86.
Justyn Ross

, WR, Clemson

Justyn Ross has seen the shine wear off from his crazy Freshman season in which he was a Freshman All-American and led the team in receiving yards as Clemson won the College Football Playoff. That season Ross caught 46 passes for 1,000 yards and nine touchdowns after being the #1 recruit in the state of Alabama. Ross has a major medical red flag due to missing the 2020 season with a spinal injury that required major surgery. Ross looked like a future phenom after his freshman season and dropped off after that and testing also ended up less than stellar for the former Clemson Tiger. Ross is a long receiver at nearly 6-foot-4 205 pounds who can excel in contested catch situations as well as over the middle of the field. Ross is more of a project than one would like, but his large catch radius will make him attractive for a team that values size at the position.
87. Cam Taylor-Britt, CB, Nebraska
88. Kellen Diesch, OT, Arizona State
89.
Carson Strong

, QB, Nevada

Carson Strong is a 6-foot-3, 226-pound quarterback prospect out of Nevada who has completed over 70% of his passes the last two seasons. Strong has a strong arm and an impressive feel for the deep ball. Strong has shown an above-average ability to work through his reads and find the right receiver, and seems to have a strong grasp on passing concepts. Strong seems to profile as more of a backup quarterback in the NFL and lacks functional athleticism to escape defenders as a runner. Strong won the Mountain West Offensive Player of the year twice but has major medical red flags dating all the way back to high school that may scare off some teams.
90. Marcus Jones, CB, Houston
91. Martin Emerson, CB, Mississippi State
92. Alontae Taylor, CB, Tennessee
93. Brandon Smith, LB, Penn State
94.
James Cook

, RB, Georgia

James Cook is an explosive running back out of the University of Georgia and with the depth they had at the position still has plenty of tread left on the tires with just 300 touches to his name in his college career. James, the younger brother of Dalvin, is a smaller change-of-pace back weighing in at under 199 pounds but ran a 4.42 and jumped 10'4" in the broad. Cook doesn't seem to have the first step explosiveness of his brother but is a smooth runner who has averaged 6.5 yards per carry in his career. Cook really excels as a pass-catcher however, catching 67-of-74 career targets for 730 yards and six touchdowns. Due to his lack of bulk, Cook will likely be a change-of-pace back at the NFL level, but his ability to catch passes as well as protect the quarterback against the blitz will prove valuable.
95. Troy Andersen, LB Montana State
96. Zyon McCollum, CB, Sam Houston
97. Kerby Joseph, S, Illinois
98.
Cade Otton

, TE, Washington

Cade Otton is a 6-foot-5, 247-pound tight end prospect out of Washington with over 1,000 career receiving yards on 91 receptions with nine touchdowns. Otton celebrated his 23rd birthday on Tax Day and has some nasty to his game as he was also a former All-State linebacker as well. Cotton runs refined routes and knows how to use all the tools in his bag to get open against a variety of different defenders. Otton is a solid in-line blocker and can set the edge with the best tight ends in this class. Otton has been underutilized the last few years of his career but is a strong hands catcher who can break tackles after securing the bag. Due to low usage the last few years, Otton is a bit more of a projection than other tight ends in his class.
99. Dylan Parham, OL, Memphis
100. Mario Goodrich, CB, Clemson
101. Myjai Sanders, EDGE, Cincinnati
102. Ed Ingram, OL, LSU
103. Damone Clark, LB, LSU
104. Channing Tindall, LB, Georgia
105. Zach Tom, IOL, Wake Forest
106.
Zamir White

, RB, Georgia

Zamir White is a smooth gliding runner who packs some power in his lower half. Zeus was a top-10 in the country high school recruit who measured in at 6'0" 214-pounds and ran a 4.4 forty at the combine. White is an impressive runner who can get up to speed quickly and push the pile when he makes contact with defenders. White is a chiseled runner who can speed through the first hole and get to the second level in a hurry. White lacks a receiving profile and may need to be a first and second-down thumper and goal-line back at the NFL level. White can play in either a gap or inside zone scheme and has the speed to take the edge in a wide zone scheme as well making him a fit for most NFL teams.
107.
Alec Pierce

, WR, Cincinnati

Alec Pierce is a big 6-foot-3, 211-pound wide receiver from the suburbs of Chicago who was a second-team All-American at Cincinnati last season. Pierce ran a 4.41 at the combine and absolutely jumped out of the gym recording a vertical of over 40 inches. Pierce is also a first-team Academic All-American who was a mismatch on the outside at Cincinnati with the ability to get behind defensive backs. Pierce has some nasty to his game as a blocker and plays strong at the catch point. Pierce does struggle to get away from press coverage and needs to further diversify his release repertoire to succeed at the NFL level. Pierce has been rumored to have some suitors as high as the second round, but his inability to separate at times is a concern.
108. Jalyn Armour-Davis, CB, Alabama
109.
Dameon Pierce

, RB, Florida

Dameon Pierce is a 218-pound back who plays bigger than his measurements and looks ready to explode when he touches the ball. Pierce runs like he was shot out of a cannon despite his 4.59 recorded forty time. The former Gator possesses strong legs and plus contact balance as defenders to struggle to bring him down between the tackles. Pierce has yet to be used as a workhorse and very rarely even carried the ball 10+ times in his collegiate career. Dameon has more of a receiving profile than fellow SEC Thumper Zamir White but lacks the breakaway speed that teams seem to be looking for in today's NFL.
110.
Tyler Allgeier

, RB, BYU

Tyer Allgeier bulked up during his college career gaining more than 40 pounds but maintaining his big-play threat. With Zach Wilson under center in 2020, Allgeier ranked top 10 in the nation with 7.5 yards per carry and then became a true three-down back in 2021 carrying the ball 276 times and catching 28 passes. Allgeier has a well-rounded game but lacks explosiveness on his first step and his build-up speed ended up at a 4.6 at the combine. Despite his size, Allgeier tends to run to avoid contact and when hit isn't aggressive in pushing the pile forward. Allgeier is a heady runner who can also hold up in pass protection and will likely have a long career as a backup if he doesn't catch on as a starter.
111. Bryan Cook, S, Cincinnati
112. Wan'Dale Robinson, WR, Kentucky
Wan'Dale Robinson is a pint-sized receiver with a rocket ship attached to his legs. Robinson measured in at 5-foot-8 178 pounds but ran a 4.44 forty at the combine. Robinson transferred from Nebraska to Kentucky and had a breakout season catching 104 passes for 1,334 yards and seven touchdowns. The Former Mr. Kentucky provides value as a rusher as well as on special teams and has that first step quick twitch that NFL teams love on special teams. Robinson could be a Swiss army knife weapon at the NFL level but will likely be used as a gadget player who spends most of his time in the slot. Robinson may not be able to work as a true running back at the NFL level due to his lack of bulk, but end-arounds will likely be a major part of his game.
113.
Daniel Bellinger

, TE, San Diego State

Daniel Bellinger is a sturdy 6-foot-5 253-pound tight end who had an impressive combine showing finishing the day with a 9.66 RAS which ranks among the best in this class. Bellinger posted an elite 10'5" broad jump and strong 4.63 forty time. Bellinger has massive hands and snatches the ball out of the air and away from defenders when targeted. Bellinger is explosive in the first 10 yards and can separate from defenders as his suddenness can surprise defenders. He wasn't used to stretch the field much and was mostly a short area receiver in the SDSU offense, but was a strong blocker in the run game and was able to set the edge while also holding up in the passing game.
114.
Rachaad White

, RB, Arizona State

Rachaad White is a 6-foot 214-pound back out of Arizona State who showed off his lower body explosiveness with a 38-inch vertical and 10'5" broad jump to go along with a 4.48 forty time. White rushed for over 1,000 yards and caught 456 yards on his 43 receptions. White is an explosive athlete who can do it all but would likely be best as a passing game and change of pace back for an NFL team. Despite his overall speed, White seems to lack exceptional burst as a runner but runs crisp routes out of the backfield. White is more of a buildup runner and sometimes struggles with his wiggle in the open field which can cause him to be brought down by the one defender far too often.
115.
Kyle Philips

, WR, UCLA

Kyle Philips is a prototypical slot receiver with plus agility but a lack of top-end size and speed. Philips is a 5-foot-11 181-pound receiver with short arms but led UCLA in receiving and scored 10 touchdowns last season. Philips has fleet feet and averaged nearly 20 yards per punt return in his collegiate career. Philips is a competitive receiver who will fight for the ball and every yard after the catch. Philips posted a sub-1.5-second 10-yard split which is elite along with his impressive agility score. Philips lacks top-end speed and top-end size, but also doesn't have any experience as a deep threat as most of his looks came as an underneath option.
116. Deangelo Malone, Edge, Western Kentucky
117.
Danny Gray

, WR, SMU

Danny Gray is an undersized receiver at 5-foot-11 186-pounds but with elite deep speed at 4.33 in the forty. At the Senior Bowl, Gray topped 22 MPH on the field and was able to eat up the cushions of defenders in 1-on-1 drills. Gray really shines with the ball in his hands and attacks the defense once he possesses it. Gray posted an impressive broad jump and was able to shine in the on-field drills. Gray has struggled with drops and isn't a great contested catch receiver or play strong. Gray is also undersized and struggles to break tackles after the catch or avoid defenders outside of his speed.
118. Max Mitchell, OT, Louisiana
119. Rasheed Walker, OT, Penn State
120. Damarri Mathis, CB, Pittsburgh
121. Alex Wright, EDGE, UAB
122. Joshua Williams, CB, Fayetteville State
123. Luke Fortner, OL, Kentucky
124. Darrian Beavers, LB, Cincinnati
125.
Kyren Williams

, RB, Notre Dame

Kyren Williams is a short 5-foot-9 194-pound running back out of Notre Dame coming off back-to-back thousand-yard rushing seasons. Williams posted disappointing numbers at the combine and his pro day despite showing on-field explosiveness. Williams did catch 77 passes over the last two seasons and could provide some value as a receiving component of a passing game. Williams' size will turn off some teams as he sometimes struggles to move the pile as a runner and far too often gets tackles by one defender.
126. Neil Farrell, DL, LSU
127.
Khalil Shakir

, WR, Boise State

Khalil Shakir is a 6-foot 196-pound receiver out of Boise State who ran a 4.43 at the combine but served as a featured member of the passing game in route to becoming a two-time, All First Team MWC. Shakir is a polished route runner who can find space against both man and zone coverage. He can snatch the ball away from defenders with strong hands and posted a strong RAS of 8.32 mostly due to his strong forty time including a sub-1.5-second 10-yard split. Shakir was a leader on the Boise State team and provides some value as a returner.
128. Dohnovan West, OL, Arizona State
129.
David Bell

, WR, Purdue

David Bell is an uber-productive receiver at the collegiate level but really struggled in the testing portions of the combine. Bell measured in at just under 6-foot-1 and has more than adequate bulk at 212 pounds. Bell posted a 40 time of just 4.65 and all his other tests were below average for his position. Bell was the Big Ten wide receiver of the Year in 2021 and was also named First Team All-American as he caught 93 passes for 1,286 yards and six touchdowns. Bell excelled at battling for the football and plays with a physical style before and after the catch. Bell's main weakness came after the catch as he didn't excel at breaking tackles or making people miss in the open field.

130. Marquis Hayes, OL, Oklahoma
131. Luke Goedeke, OL, Central Michigan
132. Rasheed Walker, OT, Penn State
133.
Charlie Kolar

, TE, Iowa State
134.
Erik Ezukanma

, WR, Texas Tech
135.
Brian Robinson

, RB, Alabama
136. Tycen Anderson, S, Toledo
137. JoJo Domann, LB, Nebraska
138. Alec Lindstrom, OL, Boston College
139.
Tyquan Thornton

, WR, Baylor
140.
Jerome Ford

, RB, Cincinnati
141. John Ridgeway, DL, Arkansas
142.
Isaiah Likely

, TE, Coastal Carolina
143. Zachary Carter, DL, Florida
144.
Bo Melton

, WR, Rutgers
145.
Cole Turner

, TE, Nevada
146. Haskell Garrett, DL, Ohio State
147. Akayleb Evans, CB, Missouri
148.
Abram Smith

, RB, Baylor
149. Tyreke Smith, EDGE, Ohio State
150. Mykeal Wright, CB, Oregon
151.
Master Teague

, RB, Ohio State
152.
Bailey Zappe

, QB, Western Kentucky
153. Josh Jobe, CB, Alabama
154. Tariq Castro-Fields, CB, Penn State
155. Terrel Bernard, LB, Baylor
156. Michael Clemons, EDGE, Texas A&M
157.
Velus Jones

, WR, Tennessee
158. Verone McKinnley, S, Oregon
159. Dominique Robinson, EDGE, Miami (OH)
160. Jesse Luketa, LB, Penn State
161.
Hassan Haskins

, RB, Michigan
162. Amare Barno, EDGE, Virginia Tech
163. Braxton Jones, OT, Southern Utah
164. Mike Rose, LB, Iowa State
165.
Jake Ferguson

, TE, Wisconsin
166.
Tyler Badie

, RB, Missouri
167. Otito Ogbonnia, DL, UCLA
168. Isaiah Thomas, EDGE, Oklahoma
169.
Jalen Wydermyer

, TE, Texas A&M
170.
Romeo Doubs

, WR, Nevada
171. Matthew Butler, DL, Tennessee
172. Matt Waletzko, OT, North Dakota
173.
Chigoziem Okonkwo

, FB, Maryland
174. Chris Paul, OG, Tulsa
175. Dare Rosenthal, OT, Kentucky