2022 Dynasty SuperFlex Rookie Mock Draft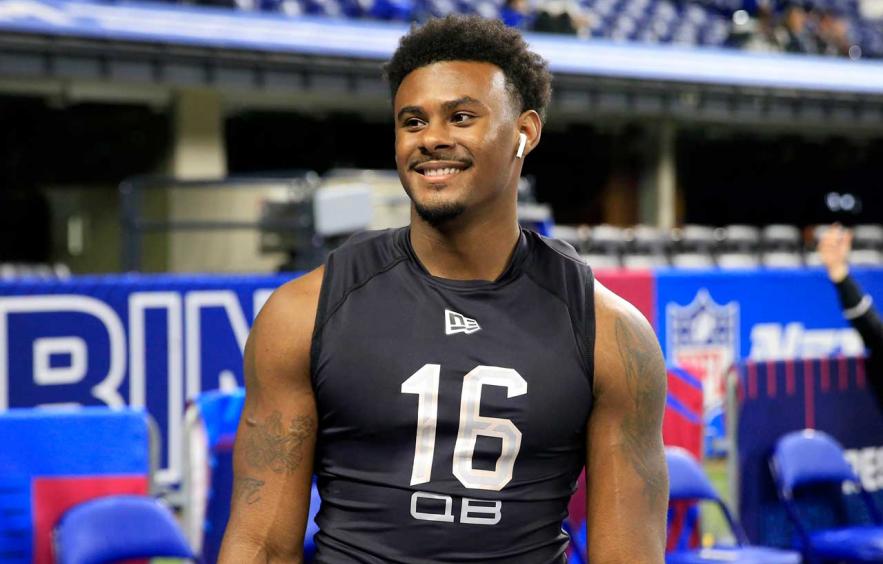 Justin Casterline/Getty Images
Am I really sitting here writing a mock draft with a bunch of sharps from the fantasy football industry on April 27th, a day before the NFL draft while actual football is almost five months out and we don't have the slightest inclination about landing spots for any of these prospects? Yes, yes I am, because at 4for4 football never sleeps, especially if you're in a dynasty league, which is probably how you stumbled across this article. You're one of us and you love the thrill of drafting even though any of these picks could be flipped on its head if we get a favorable landing spot from any of these 48 prospects that we're drafted in this 2022 Dynasty Superflex Rookie Mock Draft exercise.
---
More Dynasty Content: 10 Dynasty Players to Trade Before the NFL Draft | NFL Draft Big Board 3.0 | Dynasty League Football | Superflex TE Premium Mock
---
There are many formats in a dynasty league and this format was based on the idea that it was a Superflex league, which means you can start any position, be it QB, RB, WR, or TE in your flex spot, which allows for many different strategies. Some of my favorite dynasty content creators were in this draft and watching them draft in real-time while also taking into account the format of this mock was fun.
At 4for4 we'll have lots of mock drafts coming out in other kinds of formats like a standard 1QB rookie mock, and Dynasty Superflex-TE premium which is for the degenerates of all degenerates. Sit back and enjoy this mock and it should give you an idea of what players to expect at what picks when you have your rookie drafts in August, or maybe you're in the middle of a rookie draft and this mock could give you an idea of how to strategize of when to pick which players and which players might be there later so you give yourself the ability to gain the most value in your rookie drafts while also setting your dynasty teams up for prolonged success.
The Format:
​​​12 Teams
Linear Draft (This is different from a snake, where the first and last pick get back to back picks) the person who picks first, gets the first pick every round
1/2 PPR (standard in most fantasy leagues)
Superflex (as I alluded to above, you're allowed to play a QB, RB, WR, or TE in your flex spot)
Participants in Order:
1. Anthony Amico (@amicsta) from Establish the Run and Football Guys
2. Amr Gabr (@amrgaabr) from 4for4
3. Chris Allen (@chrisallenffwx) from 4for4 and Football Guys
4. Patrick Kerrane (@patkerrane) from NBC Sports Edge
5. Brandon Niles (@2guysbrandon) from 4for4
6. Jordan Vanek (@jordanvanekdfs) from 4for4
7. Kent Weyrauch (@kentweyrauch) previously wrote for PFF and NumberFire
8. Rich Hribar (@lordreebs) from Sharp Football Analysis
9. Andrew Fleischer (@afleischer) from 4for4
10. Peter Overzet (@peteoverzet) from Underdog
11. Jeff Hicks (@_jeff_hicks) from 4for4
12. Adam Hutchinson (@therealadam_H) from 4for4
Draft Results:
Picks in each round from left to right
Round 1 Breakdown
If you've ever participated in a Superflex draft the strategy is usually to take a QB early but if you've been following along with my notes on 4for4 you'd have some idea of how weak this quarterback class is and how a lot of NFL teams are shying away from this class because they don't feel like there is a Trevor Lawrence or Joe Burrow. It was probably a tough decision for Amico to take Malik Willis, as the 1.01 for a lot of people in this class in Breece Hall. As Amico puts it, "Willis has the same upside folks covet from Trey Lance." That's high praise as Trey Lance went as the third overall pick in the 2021 NFL Draft.
The fun thing about a SuperFlex league is that QBs usually hold their values the longest in a dynasty league due to the longevity of the position and the low supply of starting QBs in the NFL right now. You can see that by how this draft unfolds, as three QBs went in the top-10 picks even though many people are low on this QB class. We had three QBs, two RBs, and six WRs go in the first round. The fun thing about this class is that so many players are so close in value that a good landing spot on Thursday will most either catapult a prospect up the draft board or on the other hand send him sliding down if he lands in a spot where he may not have many opportunities. One thing about drafting early, you can tell yourself a story about why you got the best value on the board.
Round 2 Breakdown
With the way this class is shaping up, after the first round, you're mainly firing bullets from the hip and praying for draft capital come draft night. As Rich Hribar puts it "The rest of the rounds were just firing bullets. Pre-draft I am just hoping David Bell gets the draft capital that a Jarvis Landry received and not Tyler Johnson" As you may remember Landry went in the second round in the famous 2014 draft class while Johnson went in the fifth round in 2020. A lot of my favorite WR prospects were in this round as well, after the first wave of WRs, which should tell you, if you pass on one in the first round, you'll still have nice options in the second round such as Skyy Moore, Jahan Dotson, Christian Watson, all of whom have Round 1 aspirations according to many NFL media heads.
Another interesting wrinkle is when Peter Overzet took the first TE off the board, we're not sure if that's what he meant to do, but we'll go with it. I'm guessing Overzet thought this was a TE premium draft which is a good draft lesson, always make sure you know your rules. After back-to-back picks of QBs at 2.04 and 2.05, we don't see another QB off the board the entire draft, which as we said before shines a light on how most analysts and sharps around the industry view this QB class and maybe this class as a whole. Brandon Niles put's it perfectly, he says "In a Superflex format, I need to take a shot at one of these quarterbacks, and while Howell has huge question marks, I think he has just as good a chance of becoming part of a succession plan in the NFL as any of these other available QBs." So even though Howell might not be the cleanest prospect, a good QB changes your team in a Superflex format, so the more shots you take, the better your odds of hitting on one will be.
Round 3 Breakdown
Round 3 had a lot of interesting picks but one thing you should notice is the dynamic shift from a WR-heavy selection in Rounds 1 and 2 to an RB-heavy selection. Out of 12 possible picks, seven RBs went off the board, compared to three in the first round, and three in the second round. We had more RBs taken in Round 3 than we did in Rounds 1 and 2 combined. It all comes back to firing off as many bullets as possible and hoping one draft pick excels or gets a favorable landing spot.
Another thing you should notice if you're taking notes from this mock is a lot of the RBs in the third round have prospect profiles that favor the pass-catching role, and that's because the further you get into the draft, you want to look for players who have a skill that can get them on the field sooner than later. In today's NFL, that's the pass-catching role and a lot of fantasy success from RBs comes from excelling in that role. That's exactly what Kent Weyrauch looked for when he selected Kyren Williams at 3.07, he says "Williams is an undersized back, but shifty and capable of being a reliable third-down back in the NFL with great pass-catching chops."

Round 4 Breakdown
In the fourth round, you see off-the-wall names and prospects because people are just trying their best to make something stick from a dart throw. Perhaps, the funniest moment in this round is when Peter Overzet realized he wasn't taking Zamir White but instead he was taking an RB with the same initials as Zamir White in Zaquandre White, who doesn't even have an ADP if you were to take a look at UnderDog Fantasy. He had the right idea though, Zamir White who went in Round 3 has a lot of red flags, but this was also me knowing my peers, if I didn't, Overzet probably could have gotten him in the fourth round.
In Round 4 you saw more of the same as Round 3 - more dart throws. You also notice we see two tight ends in this round, matching the number of tight ends we saw from Rounds 1-3. Tight ends usually take longer to materialize because the position is vastly different in how it's played at the college level versus the NFL level.
Justyn Ross as a freshman at Clemson was considered a first-round pick in the NFL, that was until he had major injury red flags and a spinal issue. He might not ever pan out, but as a fourth-round pick who had first-round consideration, those are the type of dart throws you're looking to make in the final round of a mock draft such as this.
In final rounds like this one, you shouldn't look for a safe play, you should be chasing the home run because if they hit, the value you gain from a pick succeeding like that will do tremendous things for your dynasty teams.
Bottom Line:
I mentioned it before, but this QB class isn't as strong as years prior, if you can, try to prioritize QB knowing the drop-off is steep and very steep. If you know your league and you can afford to wait, I'd try to grab as much value as I can before I'm forced to take a QB.
This RB class is viewed through the same lens as the QB class, after Breece Hall and Kenneth Walker, you're chasing guys who you know can get on the field sooner rather than later. Chase those RBs later who have pass-catching acumen because it could help them see the field a lot quicker. Those guys are James Cook, Rachaad White, and Brian Robinson just to name a few.
The WR is the jewel of this draft class, you even saw starting caliber WRs deep into the second round, but remember it all hinges on how things play out this weekend. If we get draft capital some of the second-round guys could become first-round guys and vice versa.
After Trey McBride and Greg Dulcich, the top two guys in this TE class were drafted in the first two rounds, we didn't see another TE drafted until the fourth round. That should give you an idea of how many view this TE class as a whole. If this wasn't a Superflex mock draft, I'd bet you we wouldn't even see you in the first two rounds, but as we say, it's always beneficial to know your league settings and rules so you can set yourself up for success.