The Dynasty Football Outlook for David Bell in Cleveland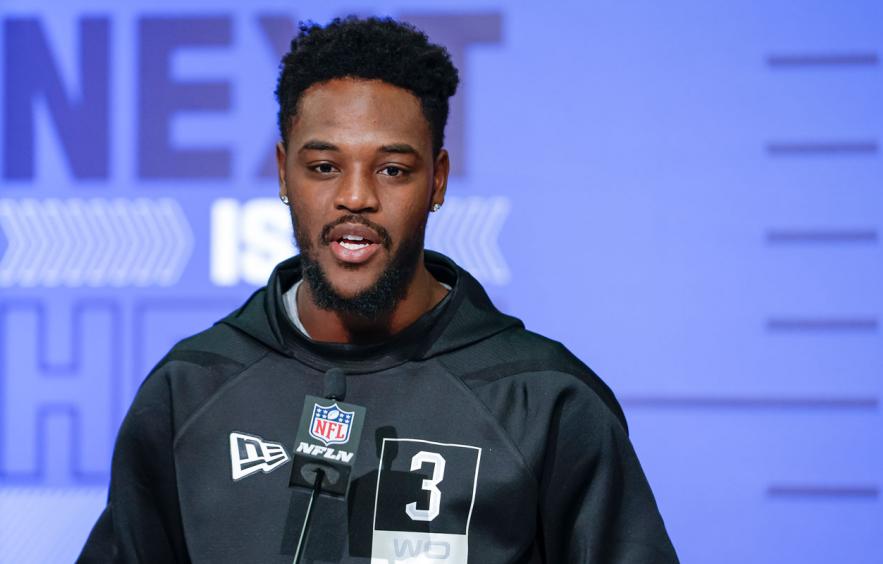 Michael Hickey/Getty Images
Now that the NFL draft has concluded and players are finally on rosters, it is time for rookie drafts to commence. As you navigate your league drafts, I want to draw your attention to a specific player with a productive college career that slipped into the third round of the NFL draft.
---
More Dynasty Content: Dynasty League Football | 2022 Dynasty SuperFlex Rookie Mock Draft | 2022 Dynasty Superflex/TE-Premium Rookie Mock Draft | Isaiah Spiller Dynasty Profile | Breece Hall Dynasty Profile | 9 Dynasty Players To Target After The NFL Draft | 9 Dynasty Winners & Losers from the NFL Draft |
---
With the 99th overall selection, the Cleveland Browns took a chance on the 6'1, 221lb wideout from Purdue University. If you did not watch a lot of Boilermaker football this college football season then what you have likely heard about Bell is related to his poor showing at the NFL combine. I'm here to stop the David Bell slander, and explain why he could be a value in rookie drafts with both immediate and long-term production.
Bell at the NFL Combine
Let's just address the big hairy elephant in the room right away. David Bell is slow. He did not have a good NFL combine. Bell ran a sluggish 4.65 40-yard dash at the combine and his pro-day. Coming into the pre-draft process there were questions about Bell's athleticism. He did not do anything to stifle these concerns, combining his poor 40 time with a broad jump and vertical jump that amongst all WRs ranked in the 35th percentile. Bell was given a Relative Athletic Score (RAS) of 4.02 - a number that gauges how athletic an NFL prospect is compared to others at this position.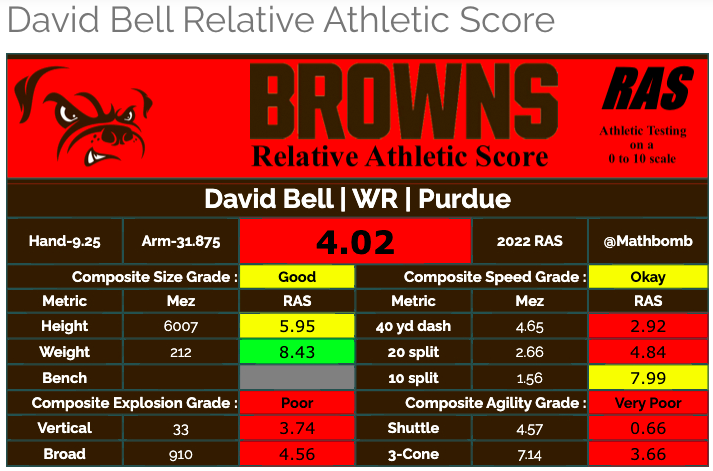 For his poor testing, Bell paid the price, as he trickled into the 3rd round. However, post-draft Bell's combine testing is no longer a factor. 4for4's very own Rob Lorge wrote a piece on "Biggest Draft Steals of the NFL Draft" and highlighted that there is no relationship between NFL success for receivers and their athleticism. In fact, what RAS can be helpful with is predicting draft capital. Since 2017 the average RAS for WRs selected in the first four rounds of the NFL draft was 7.7. Bell fell in the NFL draft because of his poor athleticism, however now that he has been selected, using his combine scores against him is double counting. The draft is where these scores were going to affect him and he came out the other side with a Day 2 selection.
David Bell

's College Production

Something that is actually predictable for NFL success is what a player does in college, and David Bell has one of the best collegiate profiles in this class.

He burst onto the college scene in his true freshman season with over 1,000 receiving yards and seven TDs over 12 games. It was during Bell's freshman season that he "broke out" (a term used for college WRs when they post a dominator rating >20%.) Dominator rating represents how involved a player was in his team's offense and is a way to quantify the percentage of the team's offensive production the player is responsible for. The younger the breakout age, the more likely that player excels in the NFL. David Bell's breakout age in college was 18.7 which ranks in the 94th percentile amongst all WRs in the database per PlayerProfiler.com

To give you an idea of how impressive Bell's Dominator Rating was early in his collegiate career, here is how he compared to other WRs in the 2022 class that were selected in the first round.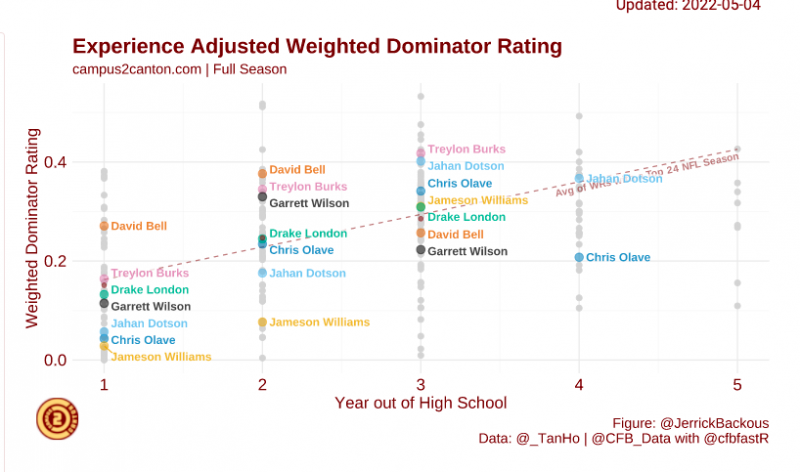 Even later in his career, when opposing defenses knew that David Bell was going to get the ball, they could not stop him. Especially during his junior season, as the Boilermaker's peppered Bell with targets all game long and he still found ways to separate and make plays time and time again. There was nothing flashy about this game, but David Bell ran crisp routes, leveraged his body, and was as sure-handed as they come in college. Even as his peers were starting to develop, Bell still ranked in the upper tier in yards per team per play. Below is how Bell again compared to the other wideouts that were drafted in Round 1.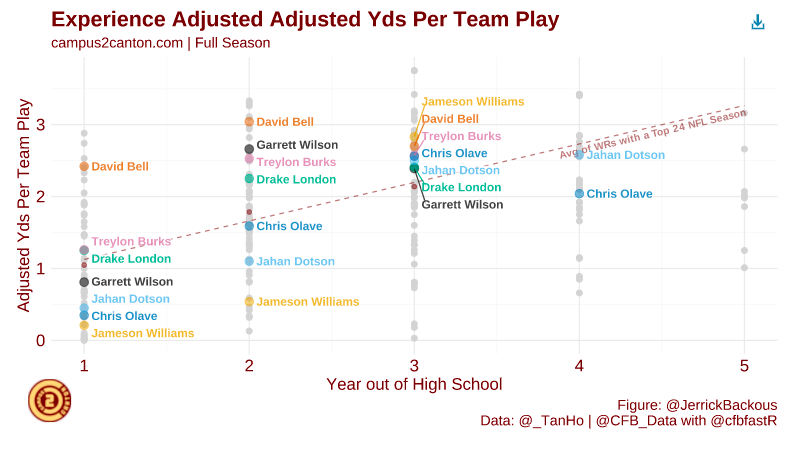 How Bell's Arrival Impacts Cleveland
A year ago, Bell being selected by the Cleveland Browns could have been an issue regarding his fantasy value. Bell profiles in a similar role as Jarvis Landry and the Browns are well known for their ground and pound offensive scheme with Nick Chubb and Kareem Hunt. However moving forward to 2022 and beyond, there are few offenses that could be better fitting for WRs in fantasy football.
The Browns will still run the ball, but they did not trade all their future draft picks to have new quarterback Deshaun Watson turn around and hand the ball off to Nick Chubb 350+ times. Cleveland is going to open up their passing offense in a way they did not with Baker Mayfield.
In the last three seasons, Watson was healthy and he was consistently well in the top half of the league in passing yards and pass attempts. Since 2018, Watson has been well above the league average in those two categories, and in 2018 and 2020 he spearheaded the upper tier, ranking in the 75th% and above. Sure some of Watson's numbers are skewed by his situation in Houston but there is enough data to suggest that there are points to be had for WRs tethered to Watson.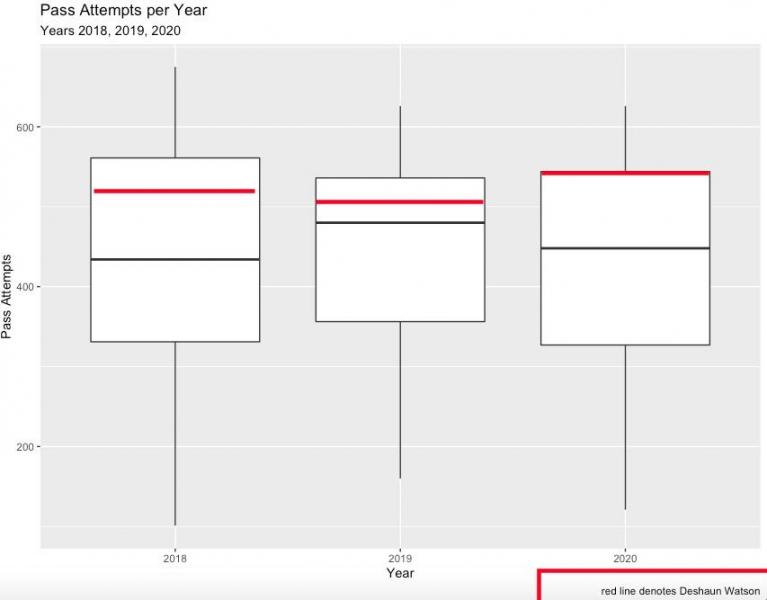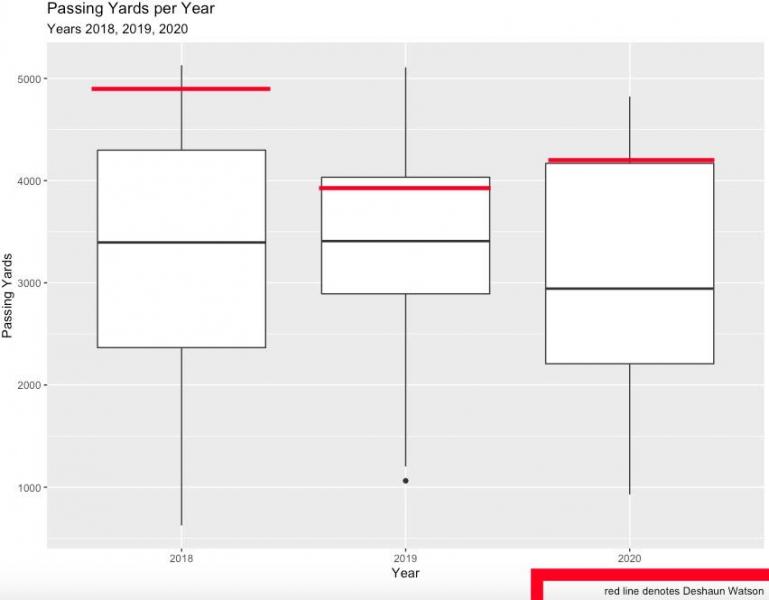 There will be competition for targets with Amari Cooper lining up opposite Bell. However, we have seen other wideouts be productive fantasy assets with Cooper in high-volume situations. You can even go back to Cooper's Oakland Raider days when Michael Crabtree (a player with a very similar skillset to David Bell) was a top-12 WR alongside Cooper.
Average Draft Position
Post-NFL draft, Bell's ADP according to Dynasty League Football is slotted around the 2.07 mark in 12 team leagues (the 19th overall player and 10th amongst WRs). This 2022 class has been universally labeled as a "weak class." As a result, obtaining late-2nd-round picks in rookie drafts is relatively easy. In my personal experience, most league members are attempting to move back in drafts or get rid of their 2022 picks altogether. Adding David Bell to your dynasty rosters requires minimal investment.

Bottom Line
David Bell's poor combine is behind him. Using it as negative at this point is meaningless.
Bell's college production ranks alongside any other WR in this class and suggests that he has a path to success in the NFL.
Cleveland is a great landing spot for WRs in fantasy. Tethered to Deshaun Watson, Bell will have plenty of opportunity, early on and long term, to produce fantasy points.
The investment to acquire Bell is minimal as he is currently slated as the 19th player selected in rookie drafts.