Biggest Steals of the NFL Draft – Fantasy Football Edition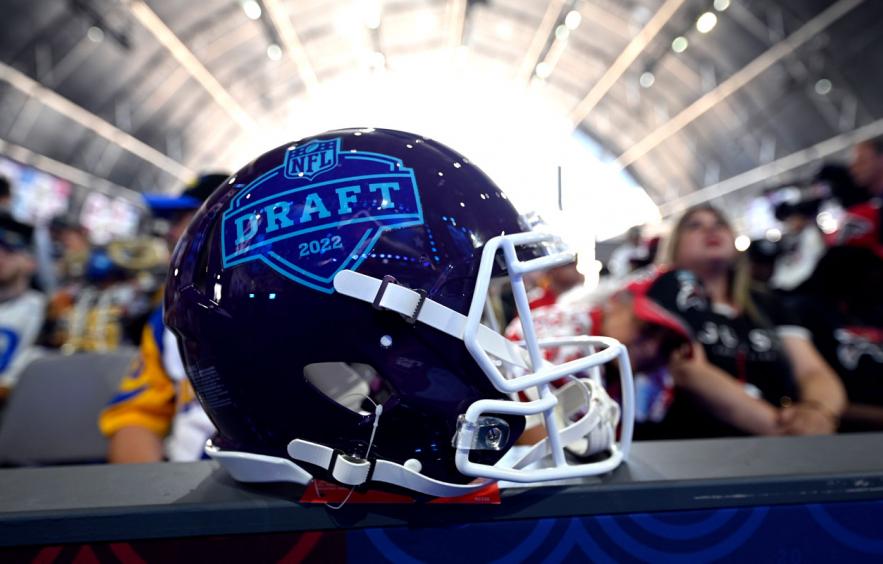 David Becker/Getty Images
With the Draft finally in the books, there's no shortage of draft grades and articles about what teams were the biggest winners and losers.
Here we're going to be looking at some of the best value picks of the 2022 NFL Draft and how fantasy managers should be viewing them as fantasy football assets for the 2022 season.
---
Click here for more 2022 Player Profiles!
---
Jameson Williams

, Detroit

Lions

There were some mock drafts that predicted Jameson Williams might just be the first wide receiver off the board. That wasn't the case. Instead, the former Alabama superstar ended up being the fourth receiver selected on Thursday night. The Lions made a huge commitment to him, trading picks No. 32, 34, and 66 for No. 12 and 46. Below are four commonly used draft pick value charts and you can see the value he received. You'll notice the "winner" of the trade is split 2–2.
| Value Chart | Detroit | Minnesota |
| --- | --- | --- |
| Rich Hill Model | 475 | 435 |
| Jimmy Johnson Model | 1,640 | 1,410 |
| Fitzgerald-Spielberger Model | 2,801 | 3,334 |
| Harvard Sports Analysis Chart | 436.4 | 500.5 |
The common perception of the trade is the Lions didn't really need to give up that much to move up from No. 32 to No. 12. They dropped just 12 spots in round two and gave up their third-rounder. In a vacuum, it doesn't seem like a huge price to pay to move up almost 20 spots into the top-15. It was an aggressive move from the Lions and when you consider most draft experts consider the trade itself as a huge win for the Lions, it's easy to view Williams as one of the bigger steals of the first round.
Despite coming off a late-season torn ACL, Williams displayed plenty during his junior season to envision there being stardom in his future. He has speed for days and has the look of a big play waiting to happen in the NFL. He finished his junior season at Alabama with 79 catches, 1,572 yards, and 15 touchdowns.
With the D.J. Chark signing in Detroit, Williams won't be asked to have to produce on day one. They'll be able to bring him along slowly as they have a solid group of pass-catchers already between Chark, Amon-Ra St. Brown, and T.J. Hockenson. In terms of fantasy football, the Jameson Williams selection was one of the best first-round picks made.
Breece Hall

, New York

Jets

NFL teams are starting to devalue running backs, especially in the draft. We're seeing fewer and fewer running backs go in the first round and Breece Hall was a victim of that circumstance. With the Giants on the clock at pick No. 36, the Jets made a move up the draft board to select the standout running back from Iowa State. Maybe not coincidentally, the Jets moved just ahead of the Texans, Falcons, and Seahawks. All three teams could have been eyeing up a running at their respective spots. In fact, Seattle ended up taking Kenneth Walker III just a few picks later.

Hall was viewed as the best all-around running back in this year's class. He racked up over 3,000 rushing yards the past two seasons and 41 touchdowns. He also displayed the ability to catch passes out of the backfield, finishing with 82 receptions and 734 receiving yards over his three seasons at Iowa State.

The Jets appear to be very committed to ensuring Zach Wilson is surrounded by enough talent to be successful and to make his job easier. With Garrett Wilson, Elijah Moore, Corey Davis, Michael Carter, and now Breece Hall, Wilson will have plenty of help to make sure a breakout sophomore season is on the horizon.
Skyy Moore

, Kansas City

Chiefs

There were some draft pundits who thought Skyy Moore had an outside chance of skirting into Round 1. Most wide receiver rankings had Moore solidly inside the top 10 and most often was found inside the top seven. However, when the second round finished, Moore found himself as the 13th receiver off the board.

After trading Tyreek Hill to the Dolphins after not being able to come to terms with him on a new long-term deal, the Chiefs had a hole at receiver. They were able to do some patchwork with the signings of JuJu Smith-Schuster and Marquez Valdes-Scantling, but Kansas City still needed help at the position. Mecole Hardman has largely been a disappointment and Smith-Schuster is only signed through 2022. An influx of youth was needed.

He was arguably the best value selection of the second round. The Western Michigan standout excelled as a true freshman, finishing with 51 catches and 802 yards. The Covid-19 shortened 2020 season halted his ability to put forth back-to-back excellent campaigns, but he picked up in 2021 right where he left off in 2019, except better. He absolutely dominated the competition in his junior season en route to 95 receptions, 1,292 receiving yards, and 10 touchdowns.

Moore had everything in his analytical draft profile. Early breakout, early declare, a very high target share, and an excellent yards per route run average. There was nothing to indicate he should've been selected behind 12 other receivers and the landing spot for him could not have been any better. Fantasy managers should expect Moore to climb up rookie drafts this summer.
David Bell

, Cleveland

Browns

There were some questions as to where David Bell would get drafted. Especially after a disastrous combine performance.
David Bell is a WR prospect in the 2022 draft class. He scored a 4.03 RAS out of a possible 10.00. This ranked 1664 out of 2785 WR from 1987 to 2022. https://t.co/aBYAkWNHVH #RAS pic.twitter.com/vPT78VCyTy

— Kent Lee Platte (@MathBomb) April 26, 2022
With an athletic profile that looks like that, Bell found himself tumbling down draft boards. However, a study done by Harvard Sports Analysis Collective in 2012 showed there was no significant correlation between NFL success for receivers and excellent or terrible athletic scores. For example, Davante Adams' Relative Athletic Score (RAS) was just 6.53 (out of 10). DeAndre Hopkins was at 4.94. Jarvis Landry scored a 0.27. Cooper Kupp scored a 5.0. You get the point and we can all remember many receivers with fast 40 times that never amounted to anything. This is true at every position to some extent, but receiver stands out.
As far as college production, there were very few receivers in this class that can hold their own with Bell. The Purdue standout came in as a true freshman and had 86 catches, 1,035 yards, and 7 touchdowns. In a shortened Covid-19 season, he once again dominated the Big Ten. He finished with 53 catches, 625 yards, and 8 touchdowns in just six games. Then in what would be his final season at Purdue, Bell recorded 93 catches, 1,286 yards, and 6 touchdowns.
You won't find too many receivers with that kind of resume at a Power-5 school drafted at the end of Round 3, but that's exactly what happened with Bell on Friday evening. It's a great spot too. The Browns traded for Amari Cooper in the offseason, but right now the No. 2 receiver on the depth chart is Donovan Peoples-Jones. Bell will have the opportunity to play and produce on day one.
Round Three Quarterbacks –
Malik Willis

and

Desmond Ridder

Throughout the mock draft season, Malik Willis was widely seen as a top-15 pick. Desmond Ridder even garnered first-round buzz at times and while that was likely wishful thinking, no one could have reasonably predicted him to fall into round three, much less Willis.

Ridder became the second quarterback selected when the Falcons took him at pick No. 74. He'll get a chance to learn and watch in year one as Marcus Mariota will get the starting nod this year. It's a great landing spot for him and he'll likely get the chance to start in year two. Ridder was a four-year starter at Cincinnati and had 20 touchdowns and just five interceptions. His sophomore season didn't see the kind of improvement one would expect, but that did come in his junior and senior seasons. In his final year, he finished with 30 touchdowns and just eight interceptions.

Willis began his college career at Auburn before transferring to Liberty, which is where his career really took off. In his first year as a starter there he threw for 2,250 yards with 20 touchdowns and 6 interceptions. He also kicked in 944 rushing yards and 14 touchdowns. As a senior, he threw for 2,857 yards to go along with 27 touchdowns and 12 interceptions. He once again dominated on the ground with 878 yards and 13 touchdowns.

While neither player has a clear avenue to playing time in year one, these selections were some of the best values throughout the entire draft. Willis seemed to be a lock for round one and Ridder appeared to have a chance of going in round one if a team wanted the fifth-year option. Instead, they both fell to the third round and the Falcons and Titans got incredible value.
Isaiah Spiller

, Los Angeles

Chargers

It was surprising to see Spiller fall into the fourth round and for there to have been eight running backs selected ahead of him. Looking at his college stats below, it seems unreal that someone with that kind of college production at a Power-5 school could fall as far as he did.
| Year | Rushing Yards | Rushing TDs | Receptions | Receiving Yards |
| --- | --- | --- | --- | --- |
| 2019 | 946 | 10 | 29 | 203 |
| 2020 | 1,036 | 9 | 20 | 193 |
| 2021 | 1,011 | 6 | 25 | 189 |
There were several running backs who were selected ahead of him that never cracked 1,000 yards in their entire college career. What likely caused the fall was a poor combine performance where he ran just a 4.64 forty-yard dash. He has great size and should be a solid in-between the tackles kind of runner. The Chargers have been looking for a complimentary back to Austin Ekeler for a while and they seem to have finally found that guy.

Charlie Kolar

, Baltimore

Ravens

There aren't many college tight ends who are very involved in their team's passing game and a lot of the time, it takes some projection on the part of NFL teams to determine if they'll be able to be assets in the passing game at the next level. Charlie Kolar, however, was an exceptional receiver for three straight seasons at Iowa State.
| Year | Receptions | Receiving Yards | Receiving TDs |
| --- | --- | --- | --- |
| 2019 | 51 | 697 | 7 |
| 2020 | 44 | 591 | 7 |
| 2021 | 62 | 756 | 6 |
In addition to the excellent production, Kolar followed that up with an excellent combine performance. He ran a 4.67 forty and finished with a 9.76 RAS. He's a huge target at 6'6" and 252 pounds. He looks the part as an excellent move tight end, which is the kind of player every team should be on the lookout for. He's a matchup nightmare.
Finding a player with that kind of college resume, athletic score, and size in the fourth round is an excellent find. It should be no surprise the Ravens were the team to find it. They dominated their draft and Kolar was a part of that. He's a Mark Andrews-like clone and after trading Marquise Brown to the Cardinals during the first round of the draft, Kolar could have a role in the passing game in year one.