Can Treylon Burks Carry the Passing Attack in Tennessee?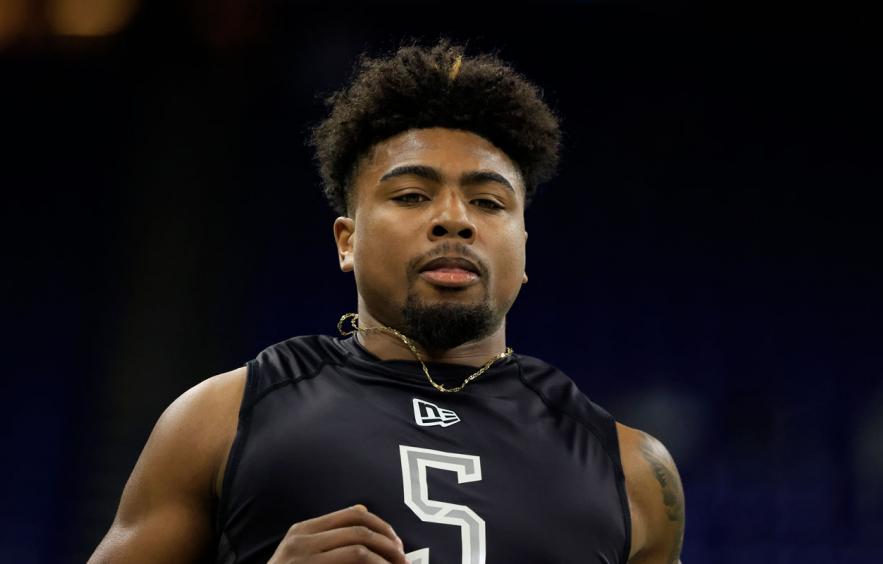 Justin Casterline/Getty Images
Through the predraft process, many mock drafters and analysts compared A.J. Brown to Treylon Burks. Both are built like brick houses, weighing in at over 220 pounds and they're physically imposing receivers who are extremely difficult to bring down in the open field.
The other reason Burks was often compared to Brown was because of where they played and dominated from in college – the slot. Both collegiate receivers lined up in the slot the majority of the time and absolutely terrorized defenses from that spot. Their speed and physicality was a matchup nightmare. One of the easiest and maybe most widely made comps between players during the predraft process ended up even more uniquely connected.
Contract talks between Brown and the Titans had hit a stalemate and then, almost completely out of the blue, the Eagles traded the No. 18 pick to the Titans in exchange for the one-time Pro Bowler out of Ole Miss. As convenience would have it, Treylon Burks was still available and so the Titans immediately drafted Brown's replacement, a collegiate clone of himself. With Burks now in Tennessee, what does that mean for his fantasy prospects? Luckily for fantasy managers, the first three years of Brown's career there has given us a convenient blueprint to look at.
---
Click here for more 2022 Player Profiles!
---
What Does
Treylon Burks

Bring to the Table?

Burks played three years at the University of Arkansas and contributed right away despite being a true freshman. In fact, he would finish as the leading receiver his first season on campus. That resulted in just 29 receptions for 475 yards, but he was immediately thrust into being the focal part of the Razorback offense and for the most part, he delivered.

After a promising freshman season, Burks cemented himself as a first-round prospect after his sophomore campaign. He finished with 50 receptions, 811 yards, and 7 touchdowns. It's just the kind of improvement NFL teams covet. Then, in his final season at Arkansas, Burks went and put an exclamation point on his college career by once again demonstrating considerable growth from the year before. During his junior season, Burks finished with 65 receptions, 1,100 yards, and 11 touchdowns.
| Year | Target Share | Share of Receptions | Share of Receiving Yards | Share of TDs |
| --- | --- | --- | --- | --- |
| 2019 | 14.2% | 14.3% | 20.5% | 0.0% |
| 2020 | 22.9% | 27.3% | 33.8% | 35.0% |
| 2021 | 27.9% | 31.7% | 39.5% | 50.0% |
As you can see from the table above, Burks upped his game with each passing year in college. By his final year at Arkansas, he had pretty much become their entire passing offense. The next closest receiver was Tyson Morris with 337 yards. Burks had more than three times that much. On one hand, he was pretty much all they had, but on the other hand, opposing defenses knew exactly where the ball was going to go, they knew exactly who they had to stop and they simply could not do it.
In his final season, he lined up in the slot 67.7% of the time. The offense was predicated on getting Burks the ball early and in space and letting him do the rest. His 9.7 average depth of target was lower than all of the other first-round receivers except Drake London. Out of 142 qualifying receivers who finished with at least 70 targets in 2021, Burks ranked just 100th in this metric. Somehow, he still managed to finish 21st in yards per reception with a 16.9 average. He was one of the best yards after the catch (YAC) receivers in all of college football last season. He averaged 9.3 YAC per reception, which was third in the entire country. Simply put, opposing defenses could not get him to the ground.
New Titans WR Treylon Burks in #ReceptionPerception



- Good success rate vs. zone coverage (82.2%)

- Brought down on first contact on just 46.9% of "in space" attempts

- Needs to improve as a technician vs man and press but could be a big slot right awayhttps://t.co/MZBqfF5qsy pic.twitter.com/GCAzKamzzr

— Matt Harmon (@MattHarmon_BYB) April 29, 2022
That was not the only metric in which Burks found himself in rare air. Out of every single receiver drafted this season, not a single one of them had a better yard per route run average—Burks finished with a 3.57 average. He also finished with the best quarterback rating when targeted at 155.3, which paced the entire class of receivers.
While his predraft ranking seemed to go in ebbs and flows, starting as the No. 1 receiver and falling as far as the No. 5 or even No. 6 on some expert's boards, the landing spot in Tennessee really could not have been perceived any better, but is that accurate?
Treylon Burks

's Role in Tennessee

Last season the Titans struggled mightily with injuries, especially at the receiver position. There were several weeks where Nick Westbrook-Ikhine was their No. 1 receiver. Brown ended up missing four games and newcomer, Julio Jones missed seven. In an attempt to not find themselves so short-handed again this season, the Titans traded for Robert Woods and signed Austin Hooper. Both were excellent additions and will provide Ryan Tannehill with more options in the passing game. Woods is recovering from a torn ACL he suffered in the middle of the 2021 season, but the expectation at this time is he should be ready for training camp. Those additions, assuming Woods is healthy, will help alleviate some of the pressure Burks may have to carry this season.

While the idea of Burks just stepping seamlessly into the A.J. Brown role in the Titans' offense seems perfect, fantasy managers should approach the situation with hesitancy. The three-year pro proved in year one not only that he belonged in the NFL, but he was one of the best receivers in the game. Despite receiving only 84 targets and catching just 52 of them, he somehow still managed to finish with over 1,000 yards. It was the least amount of catches in NFL history to ever amount to 1,000+ yards. This accomplishment defines Brown's game—elite efficiency. He's had to be too because the Titans' offense is largely centered around the run and Derrick Henry.

Last season, the Titans averaged just 31.1 pass attempts per game, which ranked 26th in the NFL. The year before they ranked 30th with just 30.1 attempts per game In three years, Brown has just one season where he ranked in the top 20 in targets per game. While Burks may slide into Brown's target share, what fantasy managers need to be cognizant of is he most likely will not replicate his predecessor's insane efficiency.

Brown finished as the WR25 during his rookie season in PPG average. He averaged 20.2 yards per reception, which ranked second in the NFL. He also had a 9.5% touchdown rate. He finished as the WR5 in PPG during his sophomore campaign and once again flashed the potential to truly be a record-wrecker if given more volume. He was 12th in yards per reception and finished with a 10.4% touchdown rate. For reference, Davante Adams' touchdown rate from 2016 to 2021 is 8.1%. During that time no receiver has more touchdowns than Adams and Brown bested his 8.1% touchdown rate in both the 2019 and 2020 seasons.

In his last year in Tennesse, Browm finished as the WR26 in PPG average. Despite getting the most targets per game in his career (8.1) his fantasy ranking in PPG was the worst. This was because his yard per reception average, which still was inside the top-25 among qualifying receivers, fell to 13.8. His touchdown rate also fell to a more reasonable 4.8%.

On paper, Woods and Hooper are more talented pass-catchers than former Titans Corey Davis and Jonnu Smith, which means Burks will not only be a rookie but will likely be facing stiffer target competition than Brown had in any of his three seasons as a Titan. When you consider the target competition, Burks' rookie status, and the fact that Brown has only ever had one season where he ranked in the top-20 in terms of target per game, it becomes a little more difficult to be overly confident in Burks' ability to finish as a WR2 in 2022—Brown only accomplished that feat once in three seasons.

There's no denying the opportunity in Tennessee though. The Titans have the most available air yards and the second most available targets. The other positive is all the similarities between Brown's strengths and the ones that Burks possesses. Woods, while also being more accomplished than Corey Davis is coming off a torn ACL and may not be 100% this season.

During Brown's rookie season, he averaged 5.25 targets per game. That jumped to 7.57 as a sophomore. Assuming Burks settles in somewhere in the middle of those two seasons, fantasy managers should reasonably expect Burks to have around 120 targets as a rookie, roughly seven targets per game. A reasonable projection for Burks is 70+ catches and 950+ yards. A 5% touchdown rate would give him six touchdowns and result in 162.5 half-PPR points. Based on receiver averages from the last three years, Burks would be expected to finish at WR28.

The Bottom Line
The Titans are an extremely run-heavy offense and offer limited passing volume.
Treylon Burks appears to be an AJ Brown clone who possesses similar strengths.
Brown's fantasy upside required elite efficiency due to low target totals.
There's ample volume and opportunity in Tennessee for Burks to become a solid WR2.
Fantasy managers are best viewing Burks as a high-end WR3 with WR2 upside.