Expert Fantasy Football Mock Draft Recap: 12-Team Half-PPR (June 2022)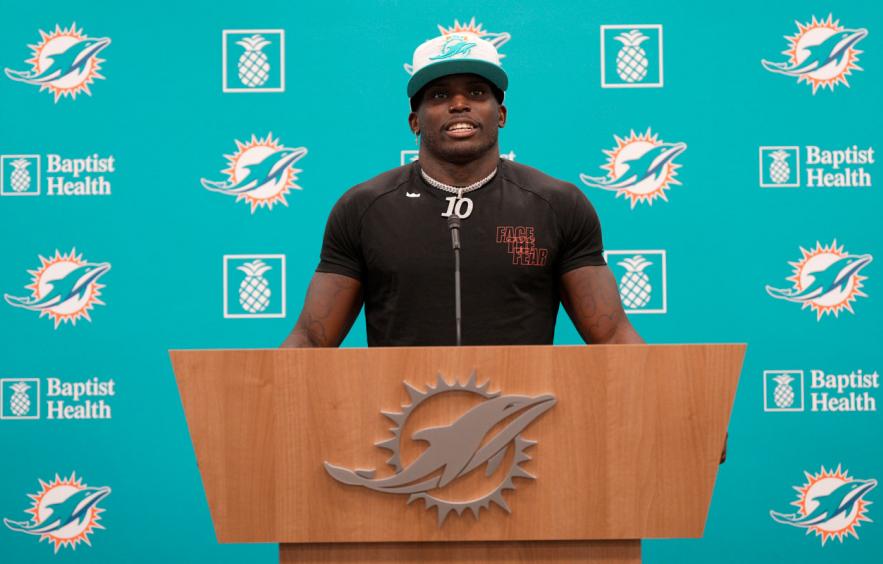 Mark Brown/Getty Images
Throughout the summer, players' values will have ebbs and flows. Identifying these changes is what can give you an edge over the other fantasy managers in your league. To best evaluate where the biggest and worst values are, we conducted a 12-team redraft mock draft with several other fantasy analysts to give you the best information and the most up-to-date information about how the fantasy community is currently perceiving certain players.
We'll be looking at the ADP (average draft position) at Underdog, as well as our own rankings here at 4for4 to evaluate what some of the best and worst value picks were.
You can find the full draft board here.
Roster Settings: 1 QB, 2 RB, 3 WR, 1 TE, 1 Flex (RB/WR/TE), 1 Defense, 1 Kicker & 6 Bench Spots
Scoring Setting of Note: Half-PPR
Draft Participants In Order:
Andrew Cooper: Fantasy Alarm/@CoopAFiasco
Andrew Fleischer: 4for4/@afleischer
Tim Petropoulos: EIC of the Fantasy Football by BRoto App/@BRotoFFTim
Josh Larky: Unaffliated/@jlarkytweets
Frank Ammirante: The GameDay NFL/@FAmmiranteTFJ
Rob Lorge: 4for4/@RobFFSlayer
Adam Koffler: Rotoballer/@AdamKoffler
Jason Katz: PFN Fantasy/@jasonkatz13
Mike Randle: 4for4/@RandleRant
Connor: FantasyPros/@ConbonNFL
Anthony Cervino: Fantasy Football Faceoff/@therealNFLguru
Joe Pisapia: FantasyPros/@JoePisapia17
Rounds 1–3

Takeaways
One of the interesting takeaways from the first three rounds is that despite having to start three and possibly four receivers on a weekly basis, there were still just as many running backs drafted in the first 36 picks as there were receivers.
While no one team selected a running back in all three rounds, five teams left the first three rounds with two running backs. Only one team left the first three rounds with no running back at all. There were three tight ends selected with the second-year phenom, Kyle Pitts just sneaking his way into round three. There was also just one quarterback selected in the first three rounds with Joe Pisapia taking the back-to-back QB1 in Josh Allen.
Biggest Reaches
Javonte Williams (2.3), DK Metcalf (3.11)
There's no denying the talent of either of these players, but there are some significant questions surrounding their environment. Last year, Williams finished as the RB17 overall but was just RB26 in PPG. There was optimism early this offseason that Melvin Gordon would sign elsewhere and Williams would have the backfield all to himself. Even if the backfield split this upcoming season favors Williams more than it did last year, it's still quite the jump to go from RB26 in PPG to the RB10 he was selected at here.
There are also questions regarding just how often Wilson will check down to his running backs. From his days in Seattle, he targeted his running backs at one of the lower rates in the league. Was that a Wilson thing or a Pete Carroll offense thing? We cannot know for sure, but it raises a red flag. While Teddy Bridgewater was more than willing to dump the ball off, Wilson has been willing to push the ball down the field in their careers. Wilson has averaged 8.2 air yards per attempt, while Bridgewater's career average is just 7.0. If the Broncos' running backs don't receive as many targets as they did last year, fantasy managers could be in even more trouble.
As far as Metcalf, he's being drafted as the WR21 on Underdog, and 4for4 ranks him as the WR27 for the 2022 season. He was drafted as the WR16. With Wilson no longer in Seattle, Metcalf will be catching passes from Geno Smith and/or Drew Lock. The offense looks like it will most likely be a bottom-five unit and sport one of the lowest passing-volume offenses in the NFL. Adam Koffler of RotoBaller had this to say about Metcalf,
He'll be on a run-first team with either Drew Lock or Geno Smith throwing passes his way. His ceiling is capped and his floor is single-digit fantasy points in any given week.
Best Values
James Conner (3.7)
Last year, Conner finished as the RB6 in half-PPR PPG and was selected as the RB16 by Adam Koffler. While his Underdog ADP is at RB15, 4for4 ranks him as RB12. Chase Edmonds was in Arizona last season and has since been replaced by Darrel Williams, formerly of the Kansas City Chiefs. He represents excellent value at RB16 and is one of the better value picks in the first three rounds.
Biggest Surprise
Alvin Kamara and Tyreek Hill are both being drafted in the third round
Tim Petropoulos, EIC of the Fantasy Football by BRoto App had this to say,
It's been a while since you could draft those two guys outside of the top-10
Rounds 4–7

Best Values
Mike Williams (5.3), Brandin Cooks (6.6), Elijah Mitchell (7.2)
Two of these picks were made by our very own, Andrew Fleischer, and they were both two of the bigger steals in the first half of this draft. Mike Williams was the 24th receiver off the board and Elijah Mitchell was the 27th running back selected. Williams was the WR11 in half-PPR PPG last year and Mitchell was the RB19. Williams is currently being drafted as the WR13 on Underdog and Mitchell is is selected as the RB24.
Currently doing a half-PPR mock with some damn fine analysts for @4for4football. A big thanks to everyone participating!

A few picks stand out through 8 rounds. Which pick is the best value pick, in your opinion?

— Rob (@RobFFSlayer) May 23, 2022
Andrew of 4for4 had this to say about his Mike Williams selection,
Williams's market share for the Chargers jumped from 15.5% in 2020 to 21.1% in 2021 with an average depth of target of 11.6 yards, which led the team. Williams had a career year in offensive coordinator's Joe Lombardi's first season in Los Angeles. Lombardi called the fifth-most passing plays and had the fastest pace of play in the NFL. Justin Herbert targeted his top-two receivers 57% of the time.
One player selected in this range that will likely go unnoticed is Miles Sanders, whom I was able to select at 7.6 and as the 29th running back. That's good value for him and I wasn't the only one in the draft room to think so. Andrew Cooper of Fantasy Alarm identified Sanders as one of the bigger steals of the draft and recently wrote an article on why he believes Sanders could be one of the better running backs selected in the "dead zone" this season.
Other notable selections that drew praise from the draft room were Travis Etienne (RB21, 5.4), Brandin Cooks (WR31, 6.6), Dalton Schultz (TE7, 7.3), and Joe Burrow (QB9, 7.11). Etienne was one of my favorite selections in this draft and I was hoping he would fall to me in the fifth round. Etienne seems to be set up very similarly to D'Andre Swift last season. He's an excellent pass-catching back on a team that is unlikely to win a lot of games. The receivers in Jacksonville are somewhat lacking and it could lead to a lot of dump-off passes to Trevor Lawrence's former college teammate.
The other thing to mention about the former Clemson standout is that the depth chart behind Etienne is significantly lacking. James Robinson is recovering from a torn Achilles, Snoop Conner is a fifth-round rookie, and Ryquell Armstead is just a guy. The second-year running back could be looking at a heavier workload than we expect with ample involvement in the passing game. As for Brandin Cooks, this should speak for itself,
Since 2015 Brandin Cooks has:
- Averaged 12.1 half-PPR PPG (WR11 based on the 3 year average of WR scoring)
- Median PPG of 12.8 (WR8 over last 3 years)
- Averaged 129 targets, 1,182 yards & 7 TDs per season
- Been a top-16 WR in 6/7 seasons

Cooks has an Underdog ADP of WR33.

— Rob (@RobFFSlayer) May 8, 2022
Biggest Reaches
Chris Godwin (WR23, 5.1), Dak Prescott (QB4, 6.4), T.J. Hockenson (TE6, 6.11)
Godwin is a tremendous talent and if he's healthy and ready to go, this pick could end up being a steal. However, there are a lot of question marks surrounding his status. A nine-month recovery time puts him on track for Week 1 or 2, but it's possible the Buccaneers could choose to hold him out as they have a Super Bowl on their mind and likely are not interested in risking his health in early September. Frank Ammirante of The GameDay NFL identified this risk and had this to say,
Godwin tore his ACL late in the year and it's hard to see him back to full-form until later in the season. He's off of my draft board right now. I'd rather target Mike Evans or Russell Gage to get a piece of the Buccaneer's passing game.
There's no denying that Prescott is a good fantasy quarterback. The question at this cost becomes, how good? Since his gruesome ankle injury, his running has been almost non-existent and now he'll be entering the 2022 season without Amari Cooper and likely without a healthy Michael Gallup, as well. He was selected before Patrick Mahomes, Kyler Murray, and Jalen Hurts all of whom had a higher PPG average last season.
Other Interesting Observations
Antonio Gibson has been falling down draft boards over the summer. The Commanders made a strong push to get J.D. McKissic to resign after having agreed to terms with the Buffalo Bills. Then Washington went out and selected Brian Robinson in the third round and head coach, Ron Rivera has talked about a one-two punch between Gibson and Robinson with McKissic still working in on third-downs. By the sounds of it, fantasy managers may have a three-way backfield, which presents all sorts of trouble. Still, at some point, the reward outweighs the risk. After having over 300 touches in 2021 and finishing as the RB16 in half-PPR PPG, Gibson was selected as the RB24. That's good value.
Another running back who has been the scorn of most fantasy managers since entering the league in 2020 is Clyde Edwards-Helaire. He was drafted as the RB25 and there's some upside in Kansas City with Darrel Williams now in Arizona. The Chiefs did bring in Ronald Jones, but he does not appear to be a threat to Edwards-Helaire's role in the passing game.
Clyde Edwards Helaire finished RB21 (2020) & RB29 (2021) in half-PPR PPG.

Underdog ADP of RB29

Darrel Williams is gone. RoJo is in. CEH is looking at his highest target total of his career.

RB29 seems to be his floor & there's upside if he gets Williams' role.

I'm in at cost.

— Rob (@RobFFSlayer) May 13, 2022
Rounds 8–11

Best Values
DeAndre Hopkins (WR39, 8.5), Chase Edmonds (RB32, 8.6), Drake London (WR40, 8.7), Russell Gage (WR44, 9.4) Cordarrelle Patterson (RB35, 9.5), Christian Kirk (WR45, 9.6), Melvin Gordon (RB36, 10.1), Kenny Golladay (WR52, 10.7), Trey Lance (QB13, 11.2), and Darrell Henderson (RB44, 11.7)
There were a ton of players that seemed to fall through the cracks in these four rounds and plenty of fantasy managers were able to scoop up value after value. Starting with DeAndre Hopkins, Jason Katz who didn't select his first receiver until the sixth round was able to select last year's WR17 in PPG. The reason he fell was due to his six-game suspension, but he still brings with him top-20 upside.
Chase Edmonds moved from Arizona to Miami this offseason and looks to be the starter in the Dolphins' backfield. Jason Katz of PFN Fantasy had this to say about the selection of Edmonds,
Chase Edmonds is a starting running back who is expected to catch a lot of passes. He's not going to be a three-down back, but the Dolphins' offense projects to be much better this season and no starting running back, especially one with PPR-value, should be available this late. He's an RB2 at an RB3 price.
We've already talked about Chris Godwin and some of the risks associated with his value, especially in the early portion of the season, but the beneficiary of Godwin's possible absence is Russell Gage. Josh Larky was able to scoop him up as the WR44 and identified him as one of the best value selections in the entire draft. He had this to say about his pick,
However long it takes until Godwin is fully healthy, Gage should be a top-20 option at the receiver position. I ended up taking him at WR44. He's the ultimate early-season points receiver with handcuff potential late. He sneakily had a 22% target share in Atlanta last season.
I am particularly fond of the late value of Christian Kirk and Kenny Golladay who both profile as their team's No.1 receivers entering the season. It's rare to find No. 1 options so late in the draft and at WR45 and WR52, respectively, there's plenty of upside to be had with both players and very little risk. Brandon Niles of 4for4 also likes the value of Golladay late.
You can currently draft two team's WR1 at a cost of WR40 & later. Regardless of what you think of these two players or their situations, the target potential is impossible to ignore at that price. Little risk. Big upside.

These 2 players are Christian Kirk & Kenny Golladay. Buy.

— Rob (@RobFFSlayer) May 31, 2022
There were three other running backs selected in these four rounds that fantasy managers should get plenty of excited about getting at these prices. Cordarrelle Patterson, Darrell Henderson, and Melvin Gordon all present with solid upside despite cheap prices. Patterson especially looks to be one of the better values this late in the draft. He finished as the RB17 last year in half-PPR PPG and was selected as the RB35.
Cordarrelle Patterson is RB29 @ Underdog & RB36 @ FantasyPros. That's insane.
- They added no established talent at RB. He's the clear #1.
- They're gonna lose a lot of games, tends to equal dump offs & high pass attempts.
- Had 69 targets & 52 catches.

Buy. Great price.

— Rob (@RobFFSlayer) June 1, 2022
Melvin Gordon was a free agent this offseason who ended up being unsigned longer than expected. While he met with the Ravens, he ultimately ended up resigning with the Broncos. Last season, Gordon finished as the RB24 and split the workload 50/50. Despite the situation being exactly the same, fantasy managers are valuing these two running backs incredibly differently.
Javonte Williams (Underdog ADP 24.9) and Melvin Gordon (110.5) played 16 games together. The leader in those contests:

Carries - MGIII (203-180)
Carries Inside 5 - MGIII (11-10)
Targets - Williams (44-34)
Routes - MGIII (247-234)
RZ Touches - MGIII (46-33)

— John Daigle (@notJDaigle) May 30, 2022
Fantasy managers seem to be expecting Cam Akers to be the lead back for the Rams with Darrell Henderson being nothing more than a change of pace back, but that seems entirely optimistic considering Akers' Achilles injury. Akers miraculously returned late in the 2021 season but struggled mightily. That shouldn't be held against him. After all, he had returned in record time from an injury that is sometimes a career-ender, but just as we shouldn't hold his late-2021 struggles against him, we also shouldn't just assume he'll be the No. 1 guy. Henderson was the RB21 in PPG last year and showed he can be an effective runner in his own right.
If you're looking for the best "handcuff" at cost, it is Darrell Henderson.
- Effective in the lead role in 2021
- Akers' status & ability is unknown
- Had a 53% route participation (6th highest, higher than Fournette). Could be the pass catching back in LA.
- Ranked RB43

— Rob (@RobFFSlayer) June 2, 2022
Lance has league-winning upside this season and he was a steal getting him in the 11th round. Lance could easily become one of the top-three rushing quarterbacks in 2022. While he may struggle to pass the football, he has the best group of pass-catchers in the league in regard to yards after the catch. Deebo Samuel, Brandon Aiyuk, and George Kittle will get plenty of easy yards and touchdowns for Lance and do a lot of the heavy lifting for him. At this price, fantasy managers should be doing everything they can to leave their drafts with him on their roster.

Biggest Reaches
Skyy Moore (WR38, 8.1), Pat Freiermuth (TE10, 8.4)
Skyy Moore ended up being the second rookie receiver off the board, but his landing spot isn't quite as cozy as it may appear on the surface. There are a lot of pass-catchers in Kansas City. We know Travis Kelce will be the No. 1 and JuJu Smith-Schuster has proven to be one of the better target earners. While Marquez Valdez-Scantling is unlikely to be fantasy-relevant this season, his ability to stretch the field and run-block will keep him on the field.
Tyreek Hill in 2021: 159 targets, 111 catches, 1,239 yards & 9 TDs

JuJu (2020) + MVS (11 games, 2021): 183 targets, 123 catches, 1,261 yards & 12 TDs

Hardman (2021): 83 targets, 59 catches, 693 yards &2 TDs

Are we sure Skyy Moore does anything in 2022?

— Rob (@RobFFSlayer) May 6, 2022
Pat Freiermuth made a name for himself as a rookie with a late-season surge in 2021 that was largely predicated on finding the end zone. With Ben Roethlisberger no longer in Pittsburgh, how this offense functions in 2022 is up in the air. Diontae Johnson is all but locked in as the No. 1 target, but there are questions regarding how many pass-catchers rookie Kenny Pickett or Mitchell Trubisky can support. It's incredibly rare for a rookie quarterback to be able to support two fantasy-relevant pass-catchers in Year One and it's something Trubisky has never done in any season as a starter.
Rounds 12–16

Best Values
Evan Engram (TE15, 13.1), Justin Fields (QB15, 14.3), David Bell (WR70, 14.7), Aaron Rodgers (QB17, 15.12),
What the fantasy community is currently doing to Engram is entirely unfair and it exhibits one of the biggest concerns when it comes to fantasy football – short-term memory loss and a constant "what have you done for me lately". Engram signed with the Jaguars this offseason who now currently employ Doug Pederson as their head coach. When he was in Philadelphia, the Eagles targeted their tight ends at one of the highest rates in the league.
Using half-PPR & PPG, Evan Engram was:
- TE4 in 2017
- TE7 in 2018
- TE7 in 2019
- TE22 & 23 in 2020-2021 (hello Daniel Jones & Jason Garrett

Doug Pederson's Eagles ranked 2nd, 4th, 1st, 2nd & 2nd in TE target share in 5 years.

Engram is ranked outside of the top-20 TEs. pic.twitter.com/ka6EoekRAj

— Rob (@RobFFSlayer) June 2, 2022
Two of my other favorite late-round picks in any draft are Justin Fields and David Bell. While everyone is hyper-focused on the weapons in Chicago, or rather lack thereof, fantasy managers are forgetting just how much upside quarterbacks that run have. Jalen Hurts just finished as a top-six quarterback last year with barely 3,000 passing yards and 16 touchdowns.
In Justin Fields' last 7 starts...
- 361 rushing yards
- 877 yard 17-game pace
- 52 rushing attempts
- 126 attempts 17-game pace
- 3-5 TDs would be expected based on that volume
- Amounts to 6.6 fantasy PPG on rushing alone

There's upside here despite a weak WR room.

— Rob (@RobFFSlayer) May 7, 2022
David Bell should be someone everyone wants on their roster at his current price. The Browns have an upgraded quarterback with DeShaun Watson and the weapons behind Amari Cooper are incredibly lacking. Donovan Peoples-Jones has exactly zero seasons out of five in college and the pros with more than 650 yards. David Njoku, in five years, doesn't have a single season in the NFL with over 650 yards either. Bell is in an excellent position to become the No. 2 target in Cleveland.
Rookie Costs
Quaterbacks: None
Running Backs: Breece Hall (RB19, 4.10), Travis Etienne (RB21, 5.4), Kenneth Walker (RB34, 9.2), Rachaad White (RB39, 10.9), Isaiah Spiller (RB42, 11.4), James Cook (RB43, 11.6), Dameon Pierce (RB45, 11.10), Tyler Allgeier (RB47, 11.12), Tyrion Davis-Price (RB55, 13.4), Zamir White (RB57, 14.5), Brian Robinson (RB60, 15.5)
Wide Receivers: Treylon Burks (WR34, 7.1), Skyy Moore (RB38, 8.1), Drake London (WR40, 8.7), Garrett Wilson (WR42, 8.10), Chris Olave (WR50, 9.12), Jameson Williams (WR51, 10.2), Jahan Dotson (WR64, 13.2), Jalen Tolbert (WR66, 13.7), David Bell (WR70, 14.7), Alec Pierce (WR72, 14.9), George Pickens (WR73, 14.10), Wan'Dale Robinson (WR75, 16.3), Justyn Ross (WR78, 16.3)
Tight Ends: None
Final Draft Board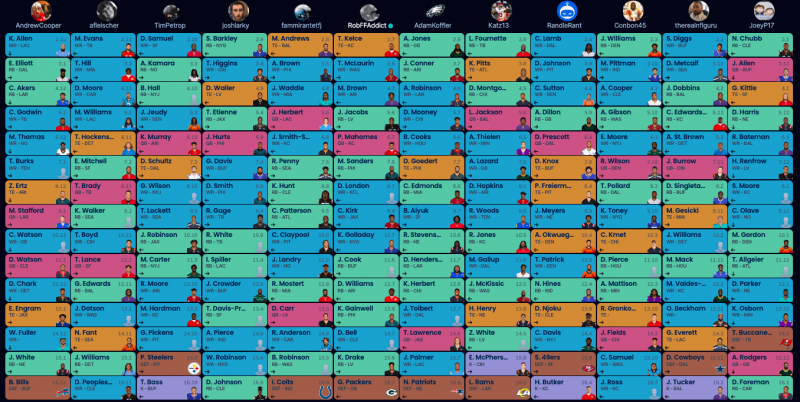 Bottom Line
There were 69 receivers selected in this mock draft and 63 running backs.
There were 17 quarterbacks selected with five teams selecting two.
20 tight ends were selected.
With offseason storylines in hyper-drive, there are plenty of values to be had at this time of the summer.
The longest any team waited on a running back was 5.6.
One team waited until 14.6 before they selected their first quarterback – this is not advisable.