Kenny Golladay: Fantasy Football Bargain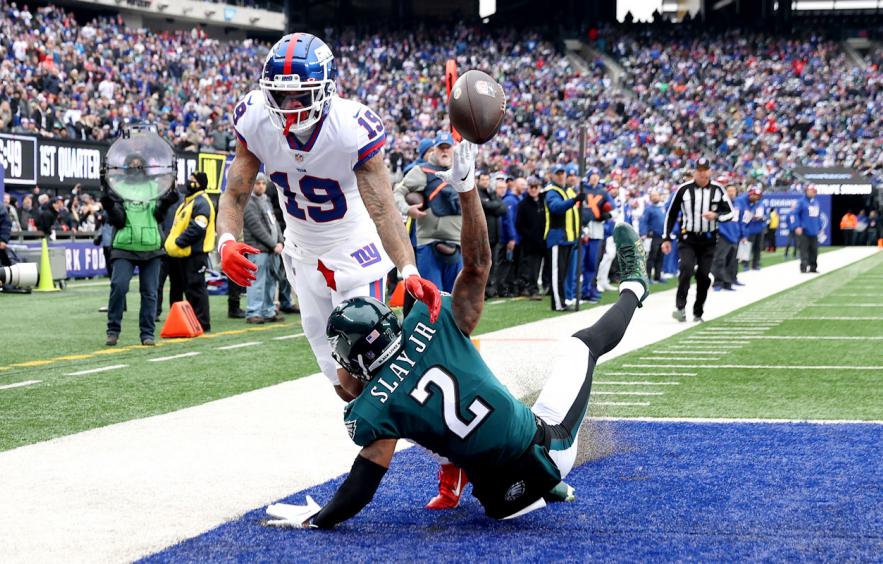 Elsa/Getty Images
Kenny Golladay followed up an injury-marred 2020 season in Detroit with an injury-marred and woefully disappointing first season in New York. Expected to help cement Daniel Jones as the starter, Golladay was hurt for most of the offseason, barely practiced, played in only 14 games, and wound up with just 521 yards on 37 receptions. Golladay also failed to find the end zone, just two seasons removed from leading the league with 11 touchdown receptions with the Lions. Despite this, I'm buying the discount and drafting Golladay at his extremely reasonable early-11th round ADP.
---
Click here for more 2022 Player Profiles!
---
Why Worry?
Not that I'm not concerned. There are absolutely two primary worries with drafting Golladay after such a forgettable two seasons. Most notably, the question of whether he can stay healthy – since he's failed to do so in two straight years. And second, his woeful splits when Matthew Stafford isn't throwing him the ball.
8/30/22 Update: A third concern seems to be the woeful news about him in regard to new coach Brian Daboll. If he falls out of the coach's favor, it's possible he'll struggle to stay on the field. On the other hand, Kadarius Toney is nicked up and Sterling Shepard is coming off an injury - and not exactly an iron man himself - so there may be limited options available to Daboll. Golladay's contract makes it financially improbable to release him.
Health
Obviously, health is the biggest concern. He was limited to just five games in 2020, and missed three games last year. Additionally, in the 14 games he played in he was often listed on the injury report and looked noticeably hobbled by knee, hip, and late-season rib issues. In 2020, he started the year with a lingering hamstring injury, and then later hurt his hip, which kept him out of the final eight games of the year.
Even this season, he started OTAs in a red jersey with an undisclosed injury. While he quickly shed that jersey, it's still not a great sign to see him starting an offseason with limited activity. I asked our injury analyst at 4for4, Adam Hutchison what he thought of Golladay's injury history, and he said:
"After a delayed start to the 2020 season due to a hamstring injury, Golladay eventually missed the second half of the year with a mystery "hip injury" which left many questioning his commitment to football and reliability in the future. The beginning of 2021 was on the right trajectory… but he hyperextended his knee in Week 5, missed three consecutive games, and finished out the rest of the season as WR79 on a points per game basis."
Adam went on to comment on the red jersey start to this offseason, saying "it's possible Golladay needed an arthroscopic (cleanup) procedure for his knee injury. This could explain his subpar production last season."
Not exactly great news, but Adam does suggest at this point, "we have to assume health for Golladay in 2022. Drafting him requires a minimal investment (given his ADP of WR57 and 120th overall on Underdog right now)."
QB Splits
Matthew Stafford has always been very good, but after the season he just had with the Rams, it's never been more clear just how WR-friendly he is. Here are the numbers for Kenny Golladay with and without Stafford throwing him the ball:
Kenny Golladay

With and Without

Matthew Stafford

| QB | Games | Targets | Receptions | Yards | TDs | Yards/Rec | 0.5 Fantasy Points | FPPG | Catch % |
| --- | --- | --- | --- | --- | --- | --- | --- | --- | --- |
| Stafford | 39 | 256 | 151 | 2,496 | 17 | 16.5 | 427.1 | 11.0 | 59% |
| Not Stafford | 28 | 135 | 69 | 1,093 | 4 | 15.8 | 167.8 | 6.0 | 51% |
Fantasy points per game is a little skewed, because this double-counts games. For example, in 2017, Jake Rudock threw one pass to Golladay in one game, but Stafford played the rest of the game. As such, Golladay has 61 career games, but this counts 67. Still, the numbers are starkly contrasted.
Most notably, Stafford was the quarterback for 64% of Golladay's career games but accounted for 81% of his career touchdowns. Yikes! Let's look at his numbers by quarterback:
Way to go David Blough! In all seriousness, the biggest concern here is Daniel Jones failing to find Golladay for a touchdown and them connecting on just 56% of targets with nine games of opportunity. They should've been able to provide a bit more pop than that, and with Jones expected to be the signal-caller in New York for at least one more season, there's reason to be worried.
However, notice the connection with Jones yielded 16.2 yards per reception, just a hair lower than the 16.5 career connection he created with Stafford. That tells us the Giants were willing to use Golladay deep, but that they couldn't get enough plays to connect to put up big numbers.
Why Gamble on Golladay?
On the flip side, there are also reasons to take the plunge on Golladay. Mostly, the Giants' offense looks like it's set to improve and his big-play talent and role in the offense are hard to pass up at his current price.
Giants

' Offensive Improvements

The Giants made several improvements over the offseason that should help Golladay.

First off, the offense gained a behemoth OT in Evan Neal with the seventh pick in the draft. He should help solidify an offensive line that has long been a problem in New York. The Giants finished 16th, 4th, and 14th in sacks allowed over the past three seasons.

Second, a healthy season from Daniel Jones should benefit Golladay. While he and Jones didn't always connect, he still averaged 2.3 more FPPG with Jones over Jake Fromm and 2.9 more over Mike Glennon. Another season of familiarity, and hopefully a productive offseason in 2022 should provide opportunities for improvement. Even if Jones can't stay healthy again, new backup Tyrod Taylor should be an upgrade over the Glennon/Fromm duo Golladay suffered through for more than five games last season.

Finally, and most importantly, head coach Joe Judge was jettisoned for Brian Daboll, fresh off a stint calling plays for a Buffalo Bills offense that ranked fifth in yards and third in points scored last season. Daboll was heavily credited for the development of Josh Allen – who has a similar playing style to Daniel Jones if you squint a little. Daboll should be an upgrade over Judge, and Jones should benefit from the addition of an offensive-minded head coach.
Talent vs. Value
At some point, you have to just bet on talent. Golladay is 6-foot-4 and an incredible downfield threat. In fact, per StatHead, among players with at least 100 targets since he entered the league in 2017, he still ranks eighth in yards per reception (16.3). That's impressive given his volume and considering that includes the debacle of the last two seasons. Surrounded in the offense by undersized receivers and players who thrive in the slot, the Giants need Golladay to fill the traditional outside receiver spot in the offense.
As mentioned throughout this article, it's a minimal investment for Golladay, making the risk/reward a no-brainer for me. Last year, he cost a sixth-round pick in most 1QB leagues, but there is far less risk in drafting him in double-digit rounds. He's being drafted after names like Tyler Boyd, Michael Gallup, and Rondale Moore. No disrespect to any of those talented receivers, but they each have concerns as well and only Golladay has a clear path toward leading his team in all the major receiving categories.

If healthy, he's the number one receiver on an offense that almost HAS to improve. At that point in the draft, there are very few legitimate WR1 prospects available and Golladay is well worth the risk.
Bottom Line
Kenny Golladay has serious health and quarterback concerns heading into his age-29 season but appears to be healthy at this time.
Golladay's skill-set remains unique on the Giants' roster, and his ability to win downfield gives him huge upside as the top outside threat on the team.
Golladay's risk is baked into his current early 11th-round ADP, making him a potential bargain.
8/30/22 Update: I'm still buying Golladay at his last-round ADP. The buzz on him is so bad that he's pure upside at this point. He at least still has a path to targest and a starting gig, which separates him from the other receivers being taken at the end of drafts. If he gets traded, that can only be a positive thing for him.