Rankings Changelog (2020)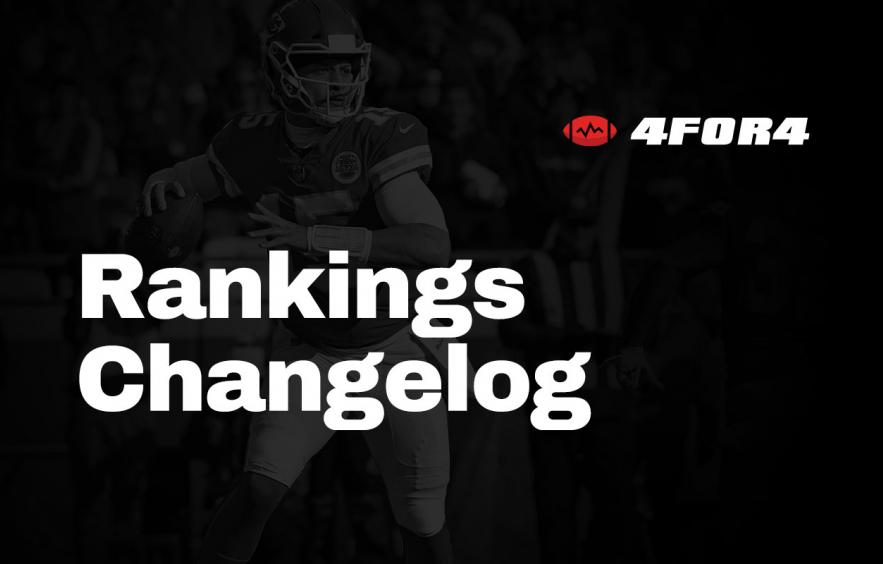 (12/16) Removed Marquise Brown, Miles Boykin and Ronald Jones due to COVID concerns. Jones also had finger surgery. Willie Snead and Leonard Fournette become Sneaky Starts.
(11/20) Upon multiple reports that Taysom Hill will start in Week 11, I have updated projections for that expectation. More detail here. Also, I removed D'Andre Swift from the rankings since he was ruled out. Adrian Peterson is a fantasy RB2 with Kerryon Johnson likely serving as his backup. Jonathan Williams might be in the mix as well.
(11/20) Ian Rapoport reported that the Saints may start Taysom Hill at quarterback after he received starter reps at practice. Beat writer Nick Underhill confirmed as much. I asked him if both players were getting starter reps and he replied, "Hill has been preparing as the starter." I'm going to wait to redo the Saints' projections until we have more clarity here. For now, Jameis Winston doesn't look like a safe streamer.
(11/19) Removed Teddy Bridgewater since it looks like he's not going to play. Phillip Walker relieved him in Week 10 and is splitting reps with Will Grier this week in practice. It's a downgrade for the entire offense.
(11/19) Added Sammy Watkins and removed Mecole Hardman (currently on COVID/reserve list).
(11/6) Added Chris Godwin to the rankings since it looks like he will play. I'm not sure if he'll see his usual snaps/volume given the injury and the addition of Antonio Brown.
(10/28) Removed Emmanuel Sanders for now. He may be able to return for Week 8, but it's not clear where he stands so I'm assuming he's out for now.
(10/24) Removed Aaron Jones from the rankings due to the report that he's not going to play. Jamaal Williams becomes a low-end RB1 and A.J. Dillon moves into high-end RB3 territory.
(10/24) Removed Jamison Crowder since he was downgraded to doubtful. Braxton Berrios becomes a Sneaky Start. He averaged 5.0 catches for 61.5 yards and 1.0 touchdowns in the two games that Crowder missed this season. The WR corps has changed though, now that Breshad Perriman and Denzel Mims are active.
(10/23) Removed Emmanuel Sanders (COVID-19 IR) and John Brown (knee) from the rankings. Tre'Quan Smith figures to see a larger role along with Alvin Kamara and Jared Cook. For the Bills, Gabriel Davis will pick up most of Brown's snaps but Cole Beasley should benefit as well.
(10/23) Added Sam Darnold and Noah Fant. Removed Joe Mixon (foot), who is out for Week 7. Giovani Bernard gets a big bump into RB2 range. Also removed Austin Hooper (surgery) who is out for a week or two after having his appendix removed. David Njoku and Harrison Bryant should see additional usage. Added Leonard Fournette, who puts a slight dent into Ronald Jones's upside.
(10/22) Added Sterling Shepard since it looks like he's going to play tonight.
(10/22) Added Diontae Johnson.
(10/22) Added Melvin Gordon since he was a full participant on Wednesday.
(10/22) Removed Michael Thomas due to a new hamstring injury.
(10/21) Added Corey Davis and DeSean Jackson to the rankings.
(10/17) Removed Noah Fant. Saturday rankings sweep is complete.
(10/15) Added Adam Humphries to the projections since he was taken off the COVID IR list.
(10/2) Added Russell Gage to the rankings.
(10/2) Removed Michael Thomas. Tre'Quan Smith, Emmanuel Sanders and Alvin Kamara get a bump. Removed Steven Sims. Added Deebo Samuel, who figures to be eased into the offense. Removed Leonard Fournette from the rankings; Ronald Jones gets a bump. Added D.J. Chark to the rankings.
(10/2) Added John Brown (removed from injury report) and Zack Moss (questionable) to the rankings.
(10/1) Added Michael Thomas to the rankings and removed Jared Cook.
(10/1) Removed all TEN and PIT players from rankings since the game has been postponed to later in the season. Added Julio Jones since he returned to practice.
(9/30) Added Jamison Crowder since it looks like he will play on Thursday night. Added James White since he has returned to practice.
(9/29) Removed Chris Carson from the rankings. Both Carlos Hyde and Travis Homer get a bump. They'll likely split the work in the backfield with Hyde getting more carries and Homer having a bigger role as a receiver.
(9/27) Removed Julio Jones and Duke Johnson from rankings. In Atlanta, Calvin Ridley, Russell Gage and the other Falcons' pass-catchers get a bump. Slight downgrade for Matt Ryan but he's still a QB1.
(9/26) Added Sammy Watkins to the rankings since he practiced in full and looks like a go for Monday Night Football. Obvious downgrade for Mecole Hardman, whose snaps dry up when Watkins, Tyreek Hill and Demarcus Robinson are all healthy.
(9/26) Saturday sweep complete. Many tweaks.
(9/25) Removed Christian Kirk from the rankings. Andy Isabella is the big beneficiary since his routes are likely to triple as he moves from WR4 to WR3 on the depth chart. His 2.21 yards per route (per PFF) over one-plus year in the league would have been top 10 last year had he had enough targets to quality. Kirk averaged 90 air yards per game and I expect most of that usage will go to Isabella. Larry Fitzgerald also moves up.
(9/25) Removed Davante Adams (doubtful) from rankings. Marquez Valdes-Scantling, Allen Lazard and the other Green Bay pass-catchers get a bump. It's a downgrade for Aaron Rodgers.
(9/25) Removed Zack Moss from the rankings.
(9/24) Removed D.J. Chark from the rankings. James Robinson, Laviska Shenault, Keelan Cole and Chris Conley got a boost.
(9/20) Added DeVante Parker to the rankings. Preston Williams and Mike Gesicki each take a slight hit but most of Parker's projected production comes from the ancillary receivers.
(9/20) Added Courtland Sutton to the rankings due to this report from Ian Rapoport.
(9/13) Mike Williams added to the rankings. He's not a trustworthy start, but it looks like he's going to play.
(9/12) Derrick Henry moved up on the news that Darrynton Evans is out for Week 1. If Henry starts catching passes, watch out.
(9/12) Removed Miles Sanders from the rankings after it was revealed that he was ruled out. Boston Scott likely takes over as the lead back with Corey Clement in a complementary role. When Sanders went down in W17 of last season, Doug Pederson gave Boston Scott 23 touches (19 rush, 4 rec) which he turned into 138 yards and three touchdowns. Jordan Howard played one snap. Scott is a midrange RB2 in this matchup, though the Philly offensive line is an issue, and they may have problems with the Washington front four. Clement may have a larger role than expected.
(9/12) Added Mike Evans since he was upgraded from doubtful to questionable. He's not 100% and has a bad matchup against CB Marshon Lattimore.
(9/12) Week 1 Saturday rankings sweep complete.
Draft Rankings Update
(8/17) Removed Jalen Hurd from rankings due to suspicion of torn ACL. Brandon Aiyuk, Kendrick Bourne and others moved up a bit.
(8/17) Reduced T.J. Hockenson's projections due to a lingering ankle injury.
(8/17) Moved Aaron Jones up a few spots after researching his career to date and reconsidering the Packers' backfield in 2020.
(8/19) Increased Kenyan Drake's receptions after seeing the report that the team intends to get him more involved as a receiver.
(8/19) Moved Justin Jackson up and Joshua Kelley down on the reports that Jackson is clearly ahead of Kelley at camp.
(8/20) Moved Robert Tonyan up and Jace Sternberger down on the reports that Tonyan is looking good at camp and could start. Moved Breshad Perriman up on good practice reports from Jets camp.
(8/20) Moved Jalen Reagor up a few spots due to positive reports from camp.
(8/20) Moved Mecole Hardman up due to injuries to Sammy Watkins and (possibly) Tyreek Hill.
(8/20) Added NYG kicker Graham Gano to the rankings.
(8/21) Moved Devin Singletary down and Zack Moss up due to camp reports.
(8/22) Moved A.J. Green down a bit due to camp injury. I'm not too alarmed by a hamstring tweak, but interested drafters can probably get him a round later now.
(8/23) Moved Cam Akers up a bit due to the Darrell Henderson leg injury.
(8/23) Moved T.J. Hockenson back up due to positive practice reports in light of possible lingering ankle injury, which doesn't seem to be an issue.
(8/24) Moved Mike Williams (shoulder) and Brandon Aiyuk (leg) down a bit until we have more clarity on their injuries.
(8/24) Added Nick Folk (Patriots) to the rankings after reports of rookie Justin Rohrwasser struggling in camp.
(8/24) Moved Auden Tate up the depth chart and the rankings after a beat writer called him the "early front-runner for offensive MVP" at camp. Our own Chris Allen, a self-proclaimed Bengals fan, is high on Tate.
(8/24) Moved Kenyan Drake down slightly due reports that he's in a walking boot, though the Cardinals say it's just precautionary. Moved Frank Gore up (and Le'Veon Bell down) due to reports that Gore looks like the best running back in camp.
(8/24) Moved Courtland Sutton up due to positive camp reports and an injury to K.J. Hamler. Sutton has "remained" Drew Lock's No. 1 target in camp.
(8/24) Moved Mecole Hardman up a few spots due to positive camp reports along with injuries to Tyreek Hill and Sammy Watkins. Hardman's ceiling is sky high, but he'll be a risky play if he doesn't see a significant spike in playing time. Ideally, he'd play 70%+ of the snaps.
(8/24) Moved Dalvin Cook down a few spots due to continuing concerns about his contract status, Adam Schefter's comment that it would give him "pause" about drafting Cook if his contract situation isn't resolved by Week 1 and the likelihood that he re-injures his troublesome shoulder.
(8/25) Moved Logan Thomas up on reports that he's likely to start for Washington. Moved Chase Claypool up a bit on positive camp reports.
(8/25) Moved Bryan Edwards up since it appears he will start early in the season given the injury to Tyrell Williams. Camp reports about Edwards have been consistently positive.
(8/25) Moved Laviska Shenault up due to consistently positive camp reports and a fairly wide-open depth chart after D.J. Chark.
(8/25) Moved Mike Williams down (and Keenan Allen up a bit) on the news that he's expected to miss 2-6 weeks. The team is reportedly preparing to play September without him.
(8/26) Moved David Montgomery down pending word on his injury (carted off holding his leg). Devonta Freeman has been mentioned as a possible replacement, but trades for players like Gus Edwards or Royce Freeman are also possible. An expanded role for the very productive Cordarrelle Patterson is also possible.
(8/27) The Bills cut Steven Hauschka, so he was removed from the rankings. Tyler Bass is the kicker now. Moved Zack Moss up significantly due to the drumbeat of ball security problems for Devin Singletary.
(8/28) Moved up Darrel Williams and moved DeAndre Washington down on the reports that Williams is in fact the KC RB2. This makes Williams an intriguing late-round flier.
(8/29) Moved Deebo Samuel up since it looks like he'll be able to play early in the season. Currently assuming that he'll play 14 games.
(8/29) Moved Kenyan Drake up since he has shed his walking boot. Moved Tre'Quan Smith up and Emmanuel Sanders down due to positive camp reports about Smith. Moved Chris Herndon up due to glowing camp reports and the injury to Denzel Mims. Moved Raheem Mostert up since he started the 49ers' scrimmage and has been first to take RB reps in practice. It looks like he's actually going to start games this year. Moved Brian Hill up (and Ito Smith down) due to positive reports about Hill.
(8/30) Moved Jalen Reagor down due to the news that he's going to miss four weeks (shoulder). I'm expecting him to miss three games at this point. J.J. Arcega-Whiteside and DeSean Jackson get a slight bump.
(8/31) Removed Leonard Fournette from the rankings after he was cut from the Jaguars. We do not project free agents since they don't have a team. Drafters should weigh their possible landing spots and determine at what point they are worthy of a draft pick. I broke down the entire situation here, but long story short, Ryquell Armstead is likely to form a committee with Chris Thompson, though Devine Ozigbo might see extra work early since Armstead was on the COVID reserve list in August and was out again on Tuesday due to a non-COVID related illness.
(9/1) Removed Tyrell Williams from the rankings since he's out for the year. Bryan Edwards and Tyler Renfrow benefited the most in the projections, but Henry Ruggs got a bump as well.
(9/2) Moved Robert Tonyan (a.k.a. #Babykittle) ahead of Jace Sternberger on the report that he's likely to start the season as the team's primary tight end.
(9/2) Changed Alvin Kamara's expected games to 14 -- most RBs are projected for 15 games -- due to concerns over his back and soft holdout. I think they'll get a deal done, but I'm a bit worried about his health now. Moved Derrick Henry up due to the drumbeat that he's going to be more involved as a receiver. It sounds real.
(9/4) Moved the other Washington running backs up on the heels of Adrian Peterson's release. Removed Matt Gay from rankings and moved Ryan Succop up since he won the TB kicking job. Removed Dare Ogunbowale and adjusted TB RB projections.
(9/7) Moved Sony Michel up on the news that Damien Harris landed on IR and will miss at least the first three games of the season.
(9/8) Moved James Robinson up and Devine Ozigbo down on the news that Robinson was listed as the starter on the team's Week 1 depth chart. I outline my thought process here.