The Dynasty Aftermath: Post NFL Draft Edition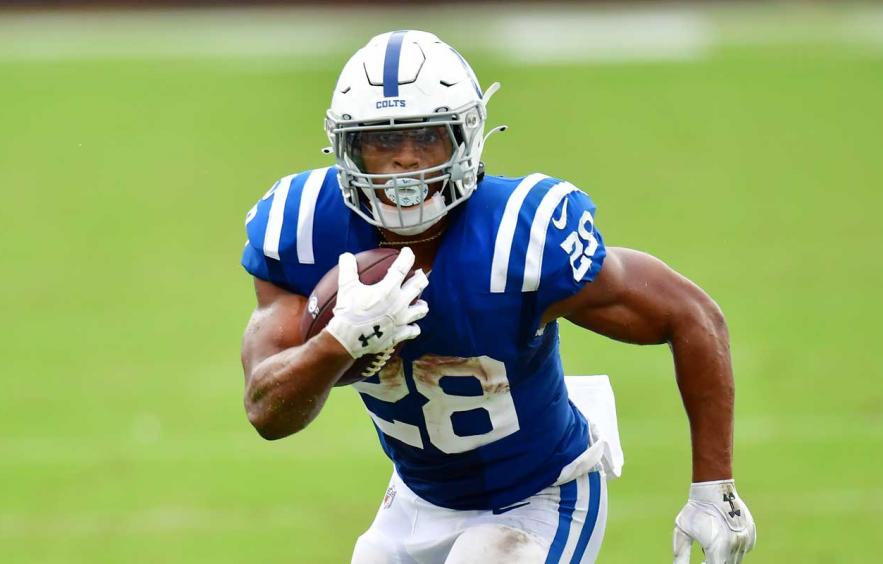 Julio Aguilar/Getty Images
Welcome to DLF's Dynasty Aftermath. This staple article of ours is the longest-running signature piece at Dynasty League Football. For the last sixteen seasons, I've been bringing this fun, weird and informative article to the masses who subscribe to DLF each week during the NFL's regular season. I'm pretty stoked to share it with the audience of 4for4 today. We'd love for you guys to get the new BETSPERTS bundle and enjoy everything all the sites have to offer.
---
More Dynasty Content: 9 Dynasty Players To Target After The NFL Draft | 9 Dynasty Winners & Losers from the NFL Draft | Dynasty 1QB Rookie Mock Draft | Isaiah Spiller Dynasty Profile | Breece Hall Dynasty Profile |
---
This article typically reviews the week's happenings in a variety of ways and helps set up our readers for the coming weeks as we spin around the league in the way we know best.
That's not all.
I also really love sharing little bits of my life with the fantasy community and picking a theme for this column every week during the year. You really never know what you're going to get. Each week somehow brings me down a different path. Some of those have included the following:
The time my Dad lost his underwear
A Dream about Jerry Jones
The power of the Nilla Wafer
The time my friend peed her pants at the Goodwill
So, where do we go from here?
I'm going to take this opportunity to review the NFL Draft by sharing some lineup fun, giving you some fantasy football gut checks, and ranking what I believe are the top 20 rookies in fantasy football, specifically in dynasty leagues.
That's a lot of stuff, but first, I have to get something off my mind. If you've combed the internet for any amount of time, you've found yourself in a situation where you need to prove you're not a robot. In real life, that's easy - you just attempt to raise a teenager. Any robot would malfunction at that challenge. However, in cyberland, you have to use CAPTCHA, where you are to select certain pictures in a collage and prove you're human. That means at any given time, you've likely asked yourself some of the following questions:
Is that a crosswalk or just a line?
I see the top of a bus, does that count?
Is that a "zero" or the letter "o?"
What does "e3trjrthyp" mean?
I've been frustrated with these so many times that I believe there's a simple solution - I think I should be in charge of the CAPTCHA images. These are some of the examples I'd use: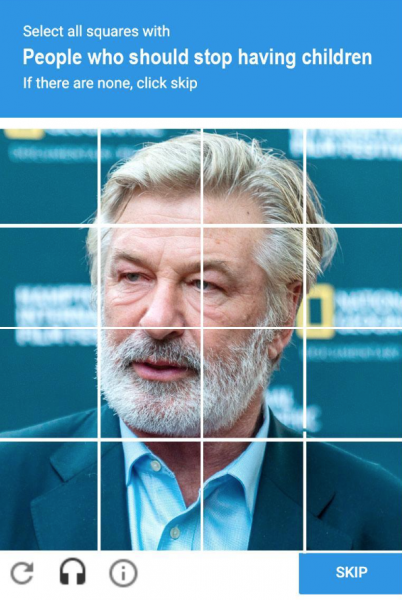 See, that's a softball. Baldwin (63) and his wife (38) are going to have their seventh child this Fall. Baldwin has a bit of a checkered past and this is just getting out of control. I have three kids and can hardly do anything productive, no less produce more offspring. I'll give him credit, but enough is enough.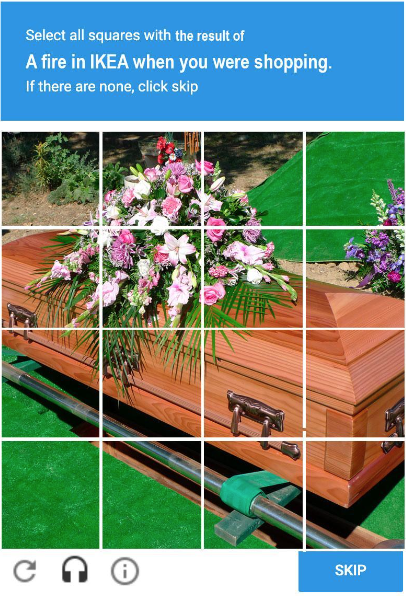 Another pretty easy one here - mark 'em all. If a fire was to occur and you were in the middle of IKEA, let's just face it - it's over. I needed to pick up a dresser for my daughter the other day and had to walk about 17 miles to finally get where I needed, all the way through the different catacombs.
IKEA has light-up arrows all over the place directing you through because if anyone ever messed with a sign and pointed it the other way, you'd have dead people on couches all over the place, all failing to find an exit. In case of a fire, there's a chance you could make it to the warehouse area if you were lucky. You could also try to assemble your own coffin once you made it there, but it would be called something like a "flurgenburgen" and you'd have little chance of getting to step #172 with your miniature allen wrench. They really should have had IKEA design Alcatraz.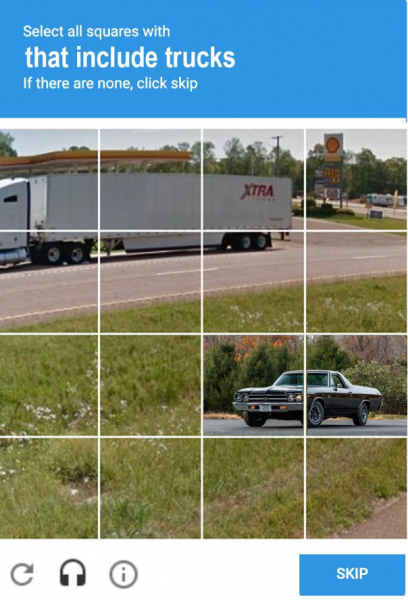 Yep, this is where it gets fun. Is an El Camino a truck or a car? Choose wrong and go back to step one. I'd start throwing these out there when I just got sick of my job and wanted to create chaos.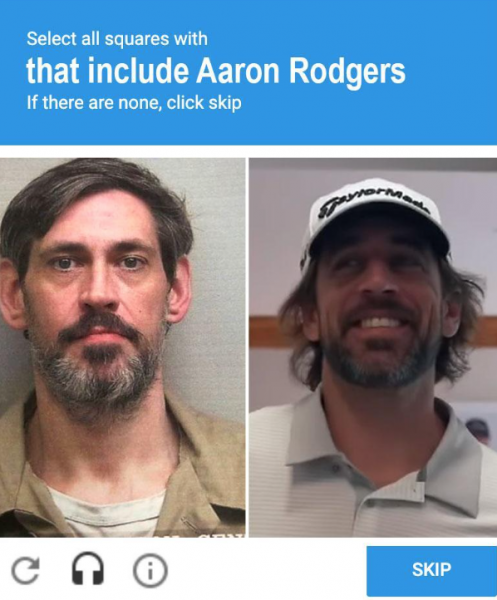 Yep, Aaron Rodgers is on the right and that fugitive guy Casey White is on the left. This is a good one for fans of football or people who just watch the news. Robots would be totally screwed.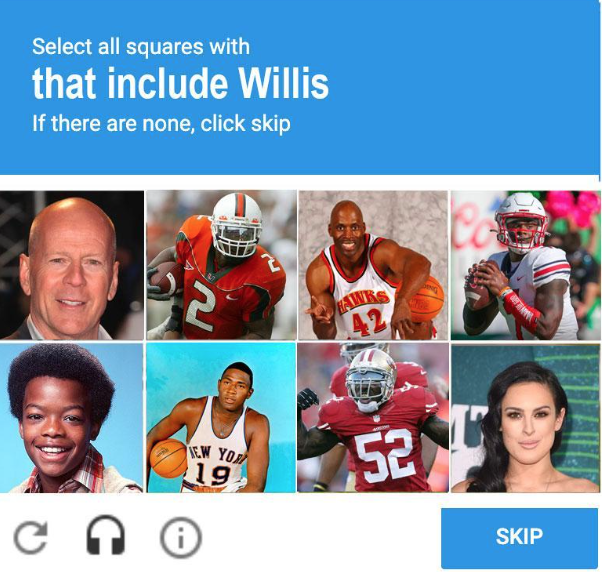 Yep, another toughie for a robot. Most can get Bruce Willis, Willis McGahee, Kevin Willis, Malik Willis, Willis Reed, Patrick Willis, and even Rumer Willis. However, nailing Todd Bridges, who played Willis on the 80s sitcom Diff'rent Strokes is no joke.
Anyway, I think I'd rule CAPTCHA.
On to the football
The Unbeatable Lineup for 2022
This is what I believe has the best chance to be the highest-scoring lineup next season.
QB Josh Allen, BUF
RB Jonathan Taylor, IND
RB Derrick Henry, TEN
RB Christian McCaffrey, CAR
WR Cooper Kupp, LAR
WR Justin Jefferson, MIN
WR Ja'Marr Chase, CIN
TE Travis Kelce, KC
With Tyreek Hill in Miami, it's tough to see Patrick Mahomes regaining the throne. While there are others who could challenge Allen (Justin Herbert, Mahomes, Lamar Jackson, Kyler Murray), Allen just has such a high floor that his "bad" games are still great to have in weekly lineups.
At running back, McCaffrey is the undisputed king when he's healthy. That's a huge question going into the season, but he's hard to keep off the list if he plays all year. We have a similar narrative with Derrick Henry. As for Taylor, he left no doubt last season as to who the RB1 is in dynasty leagues moving forward.
The receivers are tough to pick and it's odd to not see Davante Adams on this list. Still, it remains to be seen just how his numbers look as he catches passes from Derek Carr instead of Aaron Rodgers. Jefferson and Chase are two young studs with limitless potential and Cooper Kupp, while he's due for a regression, was simply better than anyone else last year by a country mile.
This is probably the last season for Kelce as the TE1 as he has both Mark Andrews and Kyle Pitts nipping at his heels. Still, it's hard to bet against his consistency.
The Underdog Lineup of 2022
This is the lineup I like best that contains players ranked below #100 overall.
QB Trey Lance, SF
RB Kenneth Walker III, SEA
RB James Robinson, JAX
RB Ronald Jones, KC
WR Treylon Burks, TEN
WR Michael Gallup, DAL
WR Allen Lazard, GB
TE Zach Ertz, ARI
Lance is clearly a "boom or bust" type of pick in any startup draft, but he could outperform what Jalen Hurts did last year and help folks win a lot of leagues if things go well.
The running back group also includes some real long shots that could hit big or fall on their faces. I don't trust Rashaad Penny to stay healthy for a half, no less an entire season. Clyde Edwards-Helaire has proven to be mediocre. Robinson is still undervalued, even coming off a brutal Achilles injury.
At receiver, Burks is going to be peppered with targets in Tennessee. If the Packers don't add anyone else significant, Lazard is also primed for a big leap forward. As for Gallup, he needs to get healthy, but having Amari Cooper leave is great for his value.
Zach Ertz was a solid addition for Arizona last year and he's going to need to be relied upon heavily with DeAndre Hopkins suspended for the first part of the year.
The Disappointing Lineup of 2022
These are the players ranked in the top 100 overall who I think will fail to live up to their draft slots.
QB Justin Herbert, LAC
RB Melvin Gordon, DEN
RB Elijah Mitchell, SF
RB Miles Sanders, PHI
WR DeVonta Smith, PHI
WR Jerry Jeudy, DEN
WR Allen Robinson, LAR
TE Kyle Pitts, ATL
Let me be clear here, I think Herbert will have a good season. However, he's going in the fourth round in a lot of startups and that's just too rich for my blood.
At running back, Gordon is going to likely become the 1B instead of the 1A in Denver as Javonte Williams continues to develop. I like Elijah Mitchell as a runner, but taking him in the 50s as the RB22 is just too much of a gamble with him being in a Shanahan offense that's hard to predict. As for Sanders, he has a great opportunity again but Hurts takes a lot of the rushing touchdowns away and we've been burned by him too many times before.
The receivers are clearly interesting. Personally, I'd rather have Courtland Sutton instead of Jeudy (who is being taken higher than he is in many drafts). He should be a solid option, but his uptick in value is already baked in where you're going to need to draft him. Speaking of Hurts, we haven't seen him really be able to maintain the value of one receiver, no less two. With A.J. Brown in town, Smith is going to have a tough time living up to a seventh-round ADP. As for Robinson, he's going to be much better than last season, but I'd rather have receivers like Rashod Bateman or Marquise Brown in the sixth round.
Kyle Pitts is loaded with talent, but the Falcons aren't. Say what you want about Matt Ryan, but he's a lot better as a passer than Marcus Mariota. With Calvin Ridley out for the season, Pitts is going to be blanketed with coverage on a pretty poor offense. While his touchdowns should increase, his overall production may go down a touch.

Gut Checks
This section always includes things I worry about on a week-to-week basis. For this installment, I'll focus on 2022.
I'd be worried if I was still drafting Julio Jones or AJ Green.
I'd be worried if I thought Sammy Watkins was going to do anything but tease us again.
I'd be worried if I was expecting instant stardom from any rookie receiver.
I'd be worried if I was drafting any Patriots running back.
I'd be worried if I was counting on DK Metcalf or Tyler Lockett this year.
I'd be worried if I was in charge of CAPTCHA and at least didn't give me consideration.
I'd be worried if I was counting on Alvin Kamara at the beginning of the year.
I'd be worried if I thought Jaylen Waddle was a fluke.
I'd be worried if I didn't see a tremendous ceiling and low floor for James Conner.
I'd be worried if I forgot about Irv Smith, Jr.
I'd be worried if I thought Keenan Allen was going to slow down.
I'd be worried if I was counting on any Texans running back.
I'd be worried if I didn't handcuff Christian McCaffrey with D'Onta Foreman and Chuba Hubbard.
I'd be worried if I ever thought Josh Gordon would be a thing again.
I'd be worried if I was relying on the health of Rashaad Penny.
I'd be worried if I thought Aaron Jones was going to hold off AJ Dillon much longer.
I'd be worried if I expected consistency from Amari Cooper or Mike Williams.
I'd be worried if I expected Josh Jacobs to carry the load in Las Vegas this season.
I'd be worried if I was ignoring Breece Hall in my drafts.
I'd be worried if I needed a repeat performance from Cordarrelle Patterson.
I'd be worried if I thought Antonio Gibson was going to be featured all season.
Ditto with Chase Edmonds.
I'd be worried if I thought the patience with Clyde Edwards-Helaire will continue all season.
I'd be worried if I underestimated Leonard Fournette. It's not always pretty, but he can help a team.
I'd be worried if I forgot about JK Dobbins.
I'd be worried if I thought Mark Andrews would slow down.
I'd be worried if I was counting on Chase Claypool.
I'd be worried if I thought Russell Wilson wasn't going to cook. A lot.
I'd be worried if I took Saquon Barkley as my RB1.
I'd be worried if I needed the exact same production from Cooper Kupp next season.
And finally…
I'd be worried if I didn't take advantage of all the things DLF, 4for4, The Fantasy Life App, and Betsperts can provide you with our new Betsperts bundle.
Good luck next season and thanks for reading (unless you're a robot).