How to Manage Rookies in 2021 Best Ball Drafts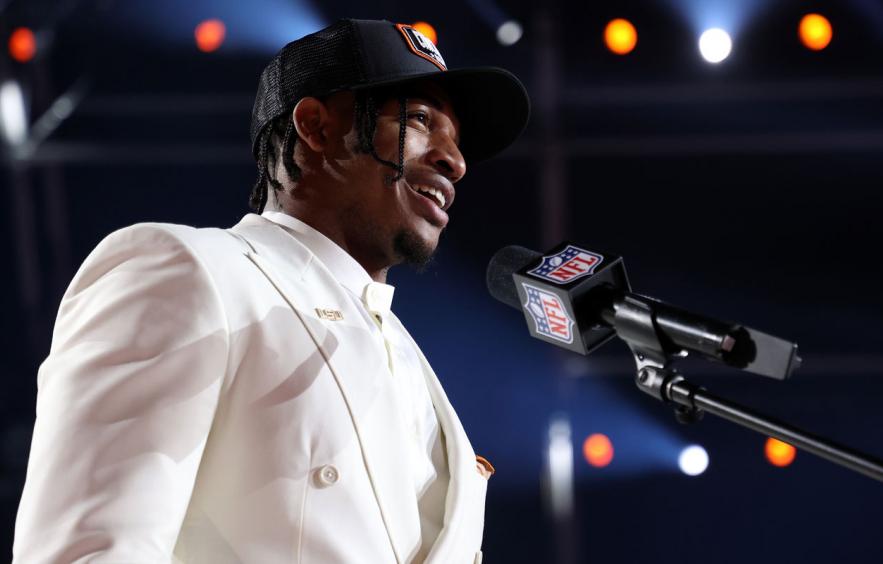 Gregory Shamus/Getty Images
With the 2021 NFL Draft officially in our rearview mirror, we have entered the dead zone between those seven rounds of selections and OTAs. You know what that means; it's time to prognosticate the impact of rookie landing spots and, more importantly, draft as many best-ball teams as we can handle. Before we do that though, let's take a look at how rookies typically perform in these best-ball formats and how we can apply that to this season's group of first-year fantasy pieces.
Below, I'll break down rookies by position to find 2020 contributors, trending factors when considering rookies, and what options we have to bolster our score in this, the 2021 season.
Running Backs
Last season was fantastic for first-year running backs, with the top-10 rookie options averaging 142.91 half-PPR points, which would have placed Generic Rookie RB as the overall RB28, between James Conner and Chase Edmonds. To put that in perspective to 2019's numbers, the top-10 rookie options averaged 100.81 points, with only four players reaching the 140-point mark. Nearly every 2020 rookie running back contributed to best ball teams at some point during the season, except of course James Robinson, who was going mostly undrafted on a crowded Jaguars depth chart that had Leonard Fournette, Devine Ozigbo, and Chris Thompson listed above him.
As recently discussed by 4for4's Chris Allen, rookies Antonio Gibson and Jonathan Taylor were two of the most rewarding best ball draft picks among the position's top-level last year. Gibson in particular had the third-highest FFPC win rate in 2020 (14.7%), buoyed in part by the low opportunity cost associated with getting 184.2 fantasy points out of a running back who was going in the sixth round of FFPC and the seventh round of Underdog best ball drafts.
A trend that we see with these top scorers, the position in general, and really offensive positions across all rookies, is that fantasy scoring in the second half of the season outweighs fantasy scoring in the first half of the season. Running backs, in particular, have scored 22.6% more fantasy points between Weeks 9-17 than they have in Weeks 1-8 over the last two seasons. Even if every single rookie in the study had a bye week in the first half of the season (they didn't), that would only account for 6.25% of their overall scoring to be in the second half of the season, meaning no matter how you break it down, rookie running backs simply get more run in Weeks 9-17.
How To Use This Information For 2021
At this point in the offseason, Najee Harris is the only running back that the fantasy market is bullish on, but nearly all of these names will continue to rise in ADP throughout the spring and summer months. If you're going to fall in love with any of these backs, right now is the best time to do it to make the most of each name's opportunity cost. By no means should you avoid rookies in August, but their associated costs are unlikely to ever be this low as they are when you are reading this.
There is a lot of backfield ambiguity involved in most of these rookie landing spots, so finding them at a value will be important as it could take longer than usual for rookie running backs to take control of the reins. If they even take over the reins entirely. With references to Curtis Samuel, Percy Harvin, and others, Jaguars head coach Urban Meyer hinted at using Travis Etienne as more of a "gadget", "manufactured touch" sort of player, going so far as to remind reporters that they signed Carlos Hyde in the offseason. That's not to say that he won't be usable during his rookie season, but we would like to have a workhorse touch floor if we're going to be taking him in the third round, which is where I'd expect his ADP to climb by the end of draft season.
Javonte Williams has Melvin Gordon to deal with, Trey Sermon has a litany of bodies to hurdle on the 49ers depth chart and Chuba Hubbard is simply injury insurance for Christian McCaffrey —though, injury insurance you should be willing to throw a dart on for your rosters that don't get CMC in the first round. One name in the middle rounds that intrigues me is Michael Carter, who is going on the cusp of the ninth/10th round even though he's clearly already the most talented back on the Jets' roster. All he has to do is beat out Lamical Perine and 28-year-old Tevin Coleman for his chance at a 200-touch season. Sign me up.
As a whole, this 2021 class has a tall hill to climb if they're going to produce at the same type of level as the 2020 class. Six rookie running backs finished within the top-36 last year, and I don't see a path for a repeat. If I had to bet, I'd put the over/under at 3.5 backs finishing as an RB3 or better. To best mitigate the slow rookie starts and the possibility that they won't completely take over a backfield is to pair them with veteran running backs on other NFL teams, i.e. don't handcuff. It's unlikely that handcuffing is ever going to produce the way you would like it to, especially in best-ball leagues, and especially in large-field tournament leagues like Best Ball Mania, where you want to draft a team with a limitless ceiling.
Wide Receivers
Arguably the most valuable best-ball commodity came out of this rookie group last season, as Justin Jefferson was coming off the board in the 13th round —which seems insane in hindsight— to finish as a top-seven receiver. There were values all down the draft board when it came to rookies last season; Chase Claypool, Tee Higgins, Brandon Aiyuk, Jerry Jeudy, and Laviska Shenault all finished as a WR4 or better despite going in the double-digit rounds.
Jefferson led the way for rookie wide receivers contributing to winning best-ball teams, landing on 19.2% of winning FFPC teams while going in the late 14th round. En route to setting the rookie receiving record (Super Bowl era) with a crisp 1,400 yards, Jefferson consistently tied opposing corners into knots with his route running and used his open-field vision to accrue buckets of yards after the catch. The Vikings rookie was one of only two wide receivers (Tyreek Hill) with over 400 yards after the catch and an aDOT of 12.0 or higher.
First-year wide receivers, as a whole, saw an increase of 20% in fantasy scoring in Weeks 9-17 from Weeks 1-8. Though that number is still significant, it has been sharply declining since I began tracking the difference in scoring in 2017. In '17, the increase from the first half of the year to the second half was 92%, in 2018 it was 48%, and in 2019 it was 31%. This downward trend possibly exhibits how more and more wide receivers are coming out of college with the knowledge necessary to plug into their new role at the professional level. Maybe with the increase in passing league-wide, rookies simply get more reps right out of the gate. Either way, if we are confident in a wide receiver's role heading into the season, we should weigh their status as a rookie less than we would have a handful of seasons ago.
How To Use This Information For 2021
With a draft class chock full of slot receiver/second-fiddle type players, we don't have as many "alpha" game-breaking receivers that the fantasy community is clamoring for as we have had in recent history. Ja'Marr Chase, DeVonta Smith, and Jaylen Waddle are the only three receivers currently going in single-digit rounds, as they are the only players likely to emerge as their respective teams' top target sooner rather than later. Chase and Smith are already the WR1 on their teams barring any preseason set-backs for all intents and purposes. Waddle may need a little help to carve out a consistent top-target role with DeVante Parker and Will Fuller there in Miami.
The ADPs for most —if not all— of the players listed above will be on the rise throughout the off-season as the general public begins to get better acquainted with the fresh faces. One name associated with a voluminous offense who could quickly become his team's second receiving option is former Purdue receiver Rondale Moore, now a member of the Arizona Cardinals. Though Moore is diminutive in stature (5'7", 181 pounds), he accrued 178 catches for 1,915 yards in 20 career college games and broke out at such a young age that he registered in the 99th-percentile in Breakout Age. Even if it takes some of the year for Moore to rise above Andy Isabella, Christian Kirk, and the corpse of A.J. Green in the target pecking order, I believe Arizona used the 49th-overall pick on him with the intent of scheming him into the offense from Day 1. Currently going around the 12th/13th round turn in Underdog drafts, he's being selected with the likes of Nelson Agholor, T.Y. Hilton, and Gabriel Davis.
Because of the ambiguity in a lot of these landing spots, we may be forced into taking a wait-and-see approach with the guys going in the back half of drafts. Keep your eyes on the news wire, as guys like Amon-Ra St. Brown or Amari Rodgers could shoot up ADP quickly with any semblance of good news coming out of training camp.
Tight Ends
2020 Rookie TE Fantasy Points

| Player | Team | Weeks 1-8 Half-PPR | Weeks 9-17 Half-PPR | Total | 2020 Underdog ADP |
| --- | --- | --- | --- | --- | --- |
| Harrison Bryant | Browns | 38.6 | 11.2 | 49.8 | 18.12 |
| Cole Kmet | Bears | 16.9 | 31.1 | 48 | 18.11 |
| Adam Trautman | Saints | 4.9 | 25.7 | 30.6 | 18.12 |
| Average | | 20.13 | 22.67 | 42.8 | |
| Increase, First to Second Half | | | 11% | | |
It has long been a maxim of the position that because tight ends are half offensive lineman, half receiver, it takes prospects longer to become an impact player in either realm. This is never truer than in fantasy where usable weeks from a rookie tight end feel heaven-sent. As such, it came as no surprise when this small group from last year turned out to be nothing more than a wasted pick. Bryant, Kmet, and Trautman were going undrafted in as many drafts as they were being selected, and even then it was a final-round flier. They were more of a viable option in deep, TE-premium FFPC leagues but you could talk yourself into almost any tight end when there are upwards of 35-40 being drafted.
Unlike the running back and wide receiver positions, tight ends can see the field consistently (albeit often consistently little) throughout the season, as evidenced by their minuscule 11% increase in fantasy scoring from the first half to the second half over the last three years. Instead, their improvements seem to grow year-to-year, making disappointing sophomores a better target than players assimilating to the position out of college. If there is one of these three that I had to target moving forward it would be Adam Trautman with the departure of Jared Cook from New Orleans.
How To Use This Information For 2021
2021 Rookie Tight Ends

| Player | Team | NFL Draft Slot | Current Underdog ADP |
| --- | --- | --- | --- |
| Kyle Pitts | Falcons | 1.04 | 5.10 |
One man stands alone as a viable fantasy piece in 2021, and it's the Atlanta Falcons' Kyle Pitts. Pitts checks all of the boxes as a prospect who will be a great watch for many years to come but the history at the tight end position for rookies is grim. Certainly grim enough that you shouldn't be considering him at his current ADP of 5.10. What's worse, that ADP is steadily climbing. Easily the best rookie performance since 2017 was Evan Engram's rookie season of that year, when he finished with 141.6 half-PPR points, which would have finished as the overall TE4 in a down 2020 year.
On the other hand, the average rookie tight end finish over this four-year sample sees first-year players finish with less than 70 half-PPR points per season, a mark that would have been good enough for a TE25 finish last year. And 2020 was a historically bad tight end season. The solution to this is to take Kyle Pitts everywhere you can in dynasty formats and leave him on best-ball draft boards for your opponents to overspend.
Quarterbacks
The quarterback position is typically the easiest position to project when it comes to rookie prognostication, but last year was a wild ride. The Chargers stuck a needle in Tyrod Taylor's lung, opening up an almost full-year showcase of Justin Herbert, the Dolphins practically had to force Ryan Fitzpatrick off of the field because he was playing too efficiently to get Tua Tagovailoa playing time, and Joe Burrow blew his knee out because his offensive line couldn't keep defenders off of him. Maybe we could have predicted that last scenario, but luck played a part both positively and negatively depending on whether you were stacking Burrow with Tee Higgins or taking a final-round flier on Herbert.
Considering rookie quarterbacks typically end up winning the job from someone else, and rarely the other way around (yes, I remember DeShone Kizer), rarely, a group of rookie signal-callers will ever score more as a whole in the first half of the season than the second half of the season. This could have something to do with more complex offensive game plans as the season progresses but it would be very difficult to impossible to parse out that effect on fantasy points.
How To Use This Information For 2021
Four of these rookie quarterbacks may win their respective team's job outright before Week 1 and I must say, I am absolutely here for it. There is absolutely no question for Trevor Lawrence and Zach Wilson, so we can evaluate them purely on offensive fit, weapons, and ability without worrying about potential quarterback competitions. Justin Fields should absolutely start over Andy Dalton but I'll pump the brakes on loading up my portfolio with Fields shares while Matt Nagy is spewing nonsense likening the Fields/Dalton dynamic to Patrick Mahomes/Alex Smith in Kansas City.
I am more confident in Trey Lance beginning the season behind center but I would like to hear more rumblings about Jimmy Garoppolo getting shipped out of town before I'm completely in, and Mac Jones is a no-go for 2021 best-ball drafters.
Bottom Line
Entirely ignoring rookie targets from your best-ball portfolio is not a good idea, even though I'm sure you've heard of people avoiding them altogether with varying degrees of success. Setting parameters around yourself before a draft even begins is a great way to limit your upside in the long run. Rather, know that rookies typically surge in the second half of the season and can still be league-winners without early-season production. Balance your rookie picks with these tactics:
Pair rookie running backs with unsexy consistent producers like Chris Carson, Josh Jacobs, or Chase Edmonds.
Stack late-round rookie wide receivers with quarterbacks you already have on your roster.
Restrict your rookie tight end rostership.
There are more viable rookie quarterbacks this season than in years past. Take "your guy", but be wary about sticking multiple first-year QBs on the same team.