NFL Schedule Release: Week 17 Targets for Best Ball Mania IV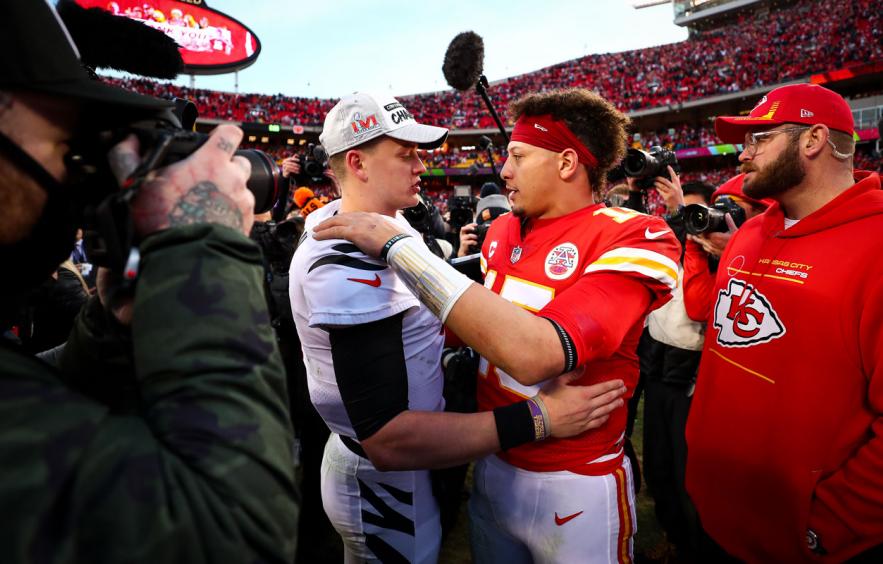 Kevin Sabitus/Getty Images
The NFL Schedule release is usually a bunch of hype for nothing since we already knew who every team will play. With the explosion of best ball tournaments such as Underdog's Best Ball Mania IV, though, we can immediately use the schedule release for actionable information. The final round of BBMIV takes place in Week 17, ultimately deciding who takes home $3 million. Targeting games that might be shootouts in that final fantasy week could help you climb the leaderboard if you have one of the 441 entries that make it to the finals.
---
More Best Ball Resources: Underdog ADP | Roster Construction Tool | Advance Rate Explorer | 2023 Schedule Grid
---
Cardinals

@

Eagles

Philadelphia's offense is already popular with early best ball drafters but that popularity makes them expensive to stack. Five Eagles are being drafted in the top 70 picks with three going in the first two rounds. Having the right pieces of this offense could determine a winner in the event of an Eagles blowout—DraftKings look-ahead lines have Philly favored by 10 in this game, one of only two games all season with a double-digit spread.

A Cardinals bring-back could help bolster a game stack in that game flow. As things stand, DeAndre Hopkins is still in Arizona and he and Marquise Brown are the only Cardinals' pass-catchers with an ADP in the top 100. Anyone that misses out on a game stack early can consider taking a swing on Rondale Moore or Trey McBride late in drafts.
Dolphins

@

Ravens

This matchup produced one of the best fantasy environments of 2022 when the Dolphins won 42–38 in Week 2. Now they get to run it back on fantasy championship week. Miami has one of the most concentrated passing attacks in the league making Tyreek Hill and Jaylen Waddle uber-expensive but they don't have another pass-catcher even being drafted. Guessing right on the third Miami pass-catcher in the last round of your draft could help build a unique roster for this potential shootout.

Baltimore is suddenly one of the most loaded passing attacks in the league and has four pass-catchers going in the top 106 picks. Starting with Lamar as the fourth quarterback off the board will allow for plenty of stacking options if you choose to target this passing matchup, but don't forget about the running backs on both sides.
Bengals

@

Chiefs

For the second time in three years, this juicy fantasy matchup is gifted to us in Week 17. In addition to these being two of the best offenses in the league, this game should have heavy playoff-seeding implications. Targeting game stacks from this matchup is especially interesting because of so many unknowns on the Chiefs' side. After Patrick Mahomes and Travis Kelce, it's a wide-open competition for fantasy points among both running backs and wide receivers in Kansas City.
Lions

@

Cowboys

There's always a chance that weather could be an issue during the final weekend of December so it's nice to target some game stacks in a dome. This matchup features two teams that were top five in scoring in 2022 and is one of the easier games in this article to stack. Both quarterbacks in this contest are being drafted outside the top 10 at their position and only three pass-catchers across both teams are going in the top 100. David Montgomery also happens to be one of my favorite values in early drafts.
Chargers

@

Broncos

Broncos-Chiefs was a trendy Week 17 game stack in 2022 best ball tournaments but we quickly learned that the Russell Wilson-led offense was nowhere near as explosive as we hoped for. With Sean Payton now the head coach in Denver, the hope here is that Russ can return to his efficient ways and help turn this into a high-scoring affair in a week that could be a little light on scoreboard fireworks.
The Bottom Line
With so much of best ball tournament prize pools determined in Week 17, it's important to leverage these weeks by looking for potential game stacks. Remember that this strategy should only be a piece of the puzzle—don't give up ADP value for the sake of game stacking, for example. The games listed here are just the ones that pop at first glance. Any game can go off and if these games stand out to me they will probably be trendy for most people. Look for unique combinations to try and separate from the field if you are lucky enough to make the finals.
You can download every Week 17 matchup here.

2023 Bye Weeks
With the NFL schedule release, we also now know every team's bye week. This is usually an overrated aspect of fantasy football, but it's important to know for best ball in order to avoid matching up bye week quarterbacks or tight ends in 2-QB or 2-TE builds.
2023 NFL Bye Weeks

| Week | Teams on Bye |
| --- | --- |
| 5 | Browns, Chargers, Seahawks, Buccaneers |
| 6 | Packers, Steelers |
| 7 | Panthers, Bengals, Cowboys, Texans, Jets, Titans |
| 8 | None |
| 9 | Broncos, Lions, Jaguars, 49ers |
| 10 | Chiefs, Rams, Dolphins, Eagles |
| 11 | Falcons, Colts, Patriots, Saints |
| 12 | None |
| 13 | Ravens, Bills, Bears, Raiders, Vikings, Giants |
| 14 | Cardinals, Commanders |