9 Zero-RB Best Ball Targets Before the NFL Draft (A Roundtable)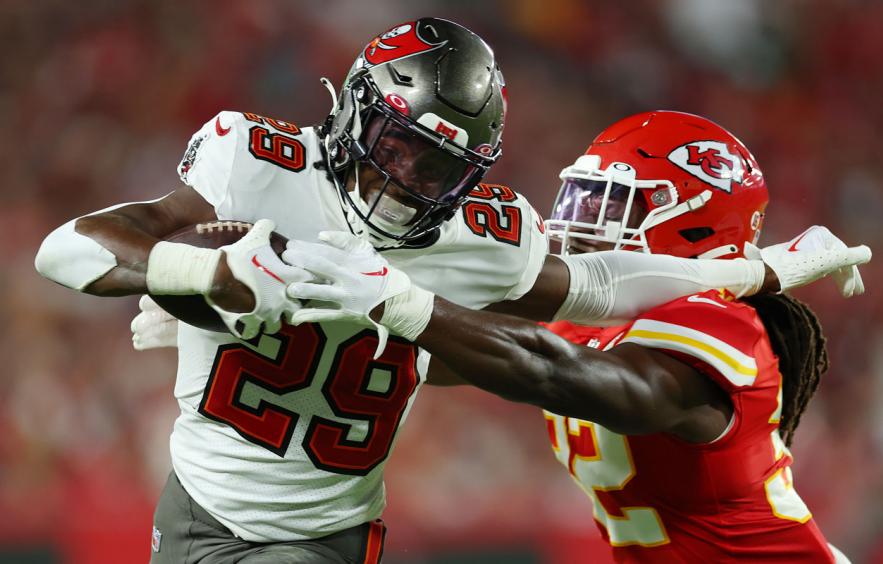 Mike Ehrmann/Getty Images
We can debate the perfect draft strategy all day and still come up with the fact that there is no fool-proof way to go about drafting a fantasy football squad. When it comes to best ball, one of the more popular approaches in recent years is to wait on the bulk of the RB position, whether it's going zero-RB or more of an anchor-RB construction.
---
Additional Best Ball Resources: Never Too Early Rankings | ADP Risers and Fallers | 7 Rookies to Target in Best Ball | Superflex Best Ball Bargain Quarterbacks | How to Approach 3-Team Leagues | 4for4 Staff Superflex Best Ball Draft & Roundtable Discussion | Player Profiles
---
As a staff, some of the 4for4 writers got together to dish out our favorite later-round RBs to target before the NFL Draft when their ADP could experience an uptick.
Alexander Mattison

,

Vikings

(Superflex ADP: 130.2, RB39)

John Paulsen: In a minor surprise, the Vikings re-signed Mattison to a two-year contract worth $7 million. His guaranteed money ($6.35 million) was the fourth-most among this year's free agent class behind Miles Sanders, David Montgomery, and Jamaal Williams. While Dalvin Cook remains on the roster, the trade rumors (and rumors that he could be cut) make me wonder if all this smoke means something is in the works. Would Mattison re-sign with Minnesota without some assurance that he'd have a crack at the starting job? If Cook is moved, and the Vikings don't use significant draft capital on the position, Mattison has a great chance to finish as a fantasy RB1.

In the 14 games that Mattison has seen at least 10 carries, he has averaged 18.1 touches for 88 yards and 0.57 touchdowns. The resulting 13.0 half-PPR points per game are about what Jamaal Williams and Aaron Jones averaged as low-end RB1s in 2022. Don't forget that Cook underwent shoulder surgery on his troublesome right shoulder this offseason, and that's one reason why the Vikings were unable to cut him before March 17 when he earned a roster bonus of $2 million. The good news is that Cook's return seems to be completely baked into Mattison's ADP; Mattison is being drafted as if he'll continue to be Cook's backup. Even if Cook remains on the roster, Mattison could still return RB1/RB2 value via an in-season trade or injury to Cook.
Rachaad White

,

Buccaneers

(Superflex ADP: 101.7, RB26)

Brandon Niles: Hurry up and increase your exposure to Rachaad White in best ball leagues before his value skyrockets. Even with Leonard Fournette active for 16 games last season, White was still the RB38 in half-PPR leagues. With Fournette gone, and only Chase Edmonds brought in to compete for touches, White is a steal as the RB26 on Underdog right now, available in the ninth round. I understand the risk associated with drafting a running back who hasn't been a full-time player at the NFL level and is at a committee risk with the draft still in play. However, White's role grew over the course of the 2022 season and he was the RB29 over the final nine games. This was with Fournette still getting 46% of the snaps. Even if the Buccaneers bring in another back, White could repeat his play from the second half of last season and still return adequate value based on his ADP. Basically, he's being drafted at his floor, while providing significant upside.

We don't know how badly the offense is going to struggle without Tom Brady, but we know Cam Akers was the fantasy RB4 with Baker Mayfield under center last season, and Chuba Hubbard was the RB16 while Mayfield started with the Panthers. Kareem Hunt and Nick Chubb never seemed to struggle to produce when Mayfield was in Cleveland. With a variety of different styles of backs finding success with Mayfield behind center, I'm not concerned about the downgrade at quarterback keeping White from putting up quality numbers. When I'm going zero-RB, I like players who catch the ball (50 receptions last year) and have a path to a significant workload. White checks both boxes and is a bargain at his ADP. If Tampa Bay doesn't draft a running back in the first three rounds of the draft, White's ADP will dramatically increase, so get him now while you can.
Jamaal Williams

,

Saints

(Superflex ADP: 125.3, RB36)

Jennifer Eakins: Last year's league winner and lottery ticket Jamaal Williams finds himself in another spot to bring it home for those who wait at the RB position in 2023. After a career season with the Lions, the 28-year-old is now in New Orleans and brings reliability and solid rushing prowess to a somewhat unstable backfield. Alvin Kamara has a potential suspension looming and was also utilized differently last season, with less goal-line and passing work than in previous years. That led to just four total touchdowns (two rushing, two receiving) with 897 rushing yards.

Williams can't possibly live up to the 17 touchdowns he posted in 2022, but with the Saints run-heavy scheme and a new QB who loves to pepper his backfield with targets, a fantasy RB2 outcome seems like a legitimate possibility with RB1 upside if Kamara is sidelined for a significant amount of time. 4for4 currently has Willams ranked as the RB31, with Kamara six spots behind him at RB37, however, the current Superflex ADP has Kamara ahead at RB33, with Williams leaving boards as RB36. Grab Williams now before their values flip-flop.
David Montgomery

,

Lions

(Superflex ADP: 87.1; RB19)

TJ Hernandez: If you are looking for closing line value on a pre-Draft zero-RB pick, my answer is a rookie. However, zero-RB drafters still need to anchor their running back depth chart. Enter David Montgomery. The NFL Draft itself probably won't directly impact the Lions' backfield but Detroit's offense as a whole is a tide that could steadily rise throughout the offseason.

Plenty of mocks expect the Lions to address multiple offensive needs on the first two days of the Draft, specifically pass-catchers and the interior offensive line. If they pull this off in a manner that pleases the fantasy masses, Detroit's offense stands to be one of the trendier targets in best ball drafts through early summer and into September.

This would mean that the 1-2 punch of Montgomery and D'Andre Swift will be a valuable duo in the middle rounds of fantasy drafts. With Montgomery currently going after Swift in Underdog drafts, though, he is the player to target before his ADP spikes. While Swift has just four 20-touch games in his career—with none in 2022—Montgomery has 21 such games. Unlike Swift's previous backfield mates, Montgomery is a serviceable pass-catcher. If one of these players takes on a significantly bigger role in the Lions' backfield in 2023, it figures to be Montgomery.
Samaje Perine

,

Broncos

(Superflex ADP:126.0, RB37)

John Daigle: Not only did coach Sean Payton reportedly call Samaje Perine on the first day of free agency to recruit him personally, but general manager George Paton also backtracked from February's statement, suggesting Javonte Williams was "on track" for the season opener following October's torn ACL only to confirm the team "won't know that for a while." Denver's five allotted selections in the 2023 draft — none occurring before No. 67 overall in the third round — only adds to the notion that Perine, who popped for box scores of 21-93-1 and 27-155-0 with a 20.9% target share and robust 5.1 yards per touch in two starts for Joe Mixon last year, will open Week 1 as the team's starter despite being drafted in the 10th round of drafts. The organization also encouragingly hit a reset in building from the inside out this offseason, prioritizing OT Mike McGlinchey (5th at his position in ESPN's Run Block Win Rate), iOL Ben Powers (2nd), and TE Chris Manhertz (19th) in free agency.
Miles Sanders

,

Panthers

(Superflex ADP: 74.5, RB17)

Neil Dutton: Now that I don't have the added burden of rooting for him as an Eagles player, I think I can truly get behind Miles Sanders as a lead back in a zero-RB build. He has the early down role pretty much all to himself at the moment. His offensive line looks promising. His offensive play caller likes to mix the run and pass in neutral situations. He may even rediscover the pass-catching skills that he seems to have mislaid since his rookie season. Plus, Sanders is almost certainly not going to have to share RZ rush attempts with a quarterback this season…unless the Panthers draft Anthony Richardson, of course.
Devin Singletary

,

Texans

(Superflex ADP: 178.2, RB54)

Justin Edwards: Devin Singletary is leaving one of the most explosive offenses in the league, and his very late ADP is appropriately reflecting the downgrade in environment. Still, with the additions of Singletary, Dalton Schultz, Noah Brown, Robert Woods, and their five picks within the first 75 selections of the upcoming NFL Draft, the offense should resemble something more interesting for the 2023 season.

While Dameon Pierce is going in the sixth round of current Underdog drafts, we should look to fade him as a one-dimensional option on a team that would likely prefer to run the offense through their future second-overall quarterback. As for Singletary, he has an opportunity to take over the passing-down role as early as Week 1 and earns a fantasy floor because of it. If Houston doesn't add a passing-game specialist between now and the regular season, there is a good chance his fantasy value will be overlooked too often in fantasy drafts.

Rashaad Penny

,

Eagles

(Superflex ADP: 109.0, RB30)

Jeff Hicks: Opportunity is vital at running back in fantasy football. As a free agent, few places offered a better opportunity than the Philadelphia Eagles. Rashaad Penny signed a one-year deal worth up to $6.5 million, which is not nothing considering the RB position does not see massive paydays like it used to. Penny will now compete and has a better chance to be the lead RB with incumbent RBs Kenneth Gainwell and Boston Scott lingering. Neither has been asked to be the top dog, including in 2021 when now-Panther RB Miles Sanders was not great/in the doghouse.

Gainwell, the presumed top backup to Sanders, saw five-plus carries more times in 2021 than in 2022 and did not do enough to usurp the veteran. It could be argued that the Eagles wanted to run the wheels off Sanders, but Gainwell was an Eagles draft pick. Penny had three games with at least 12 carries and 14 total touches before he was lost for the season to injury. He was on his way to 10 carries in Week 5 when he was hurt. Now he gets an opportunity to run behind arguably the best offensive line in the NFL on one of the best offenses. Injuries and opportunity are why his Underdog ADP is still hovering around 100. A healthy Penny is very much in the RB1 conversation.
Ezekiel Elliott

, FA (Superflex ADP: 159.9, RB47)

Connor Allen: The hate for Ezekiel Elliott has gone way too far and he is now a value in fantasy football drafts. He is oftentimes being selected outside the top 160 picks in Underdog drafts right now. I can't deny that he wasn't efficient last season but based on his name brand alone he will almost certainly find himself with a significant role on a team come August. He is waiting to sign with a team until after the draft because teams who don't land their running back of choice will offer him more than if he signed with a team now.

There are plenty of clubs who are still in the running back market where Zeke would at least be in a 1A/1B situation with upside for more. The Bengals could be in the market for an RB with Joe Mixon's status up in the air. Other teams include the Bears, Falcons, Saints, Cardinals, and Rams. I'm not saying Zeke will finish as an RB1 but when he does sign with a team, he'll have touchdown upside making him worth more than a 12th-13th round pick in best ball drafts.