Post Free Agency ADP Risers & Fallers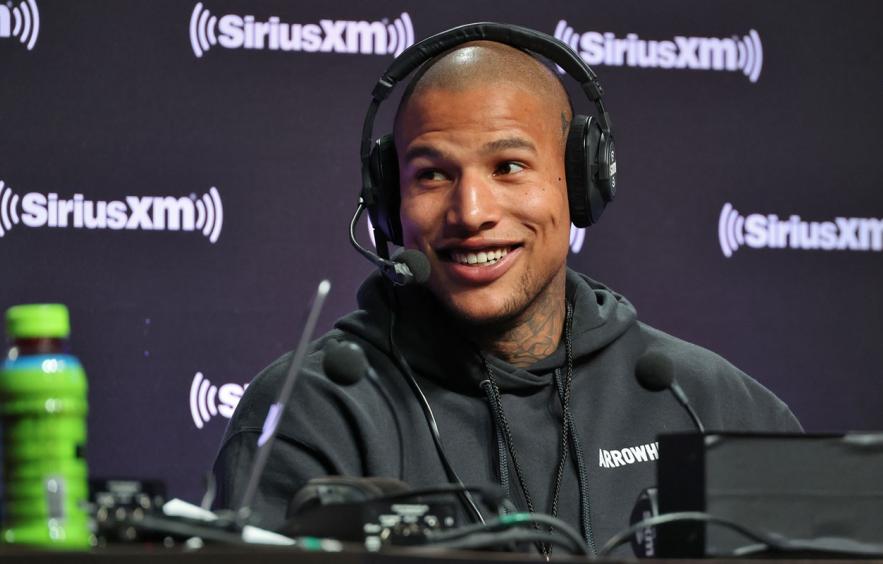 Cindy Ord/Getty Images for SiriusXM
The casual fantasy footballers are probably still taking a hiatus from the game within a game, but best ball lobbies are open on various sites and folks are in there drafting teams. Current changes in ADP are very likely due to the free agency period, which began on March 15th, with legal negotiations starting on the 13th.
Let's take a look at the biggest risers and fallers at each position over the last two weeks in Underdog drafts, by comparing players' ADP from March 13th through the 27th. I'll go position by position to tease out any relevant players' spikes or slides over the fortnight.
*All ADP is courtesy of 4for4's Underdog ADP Tool.
Quarterback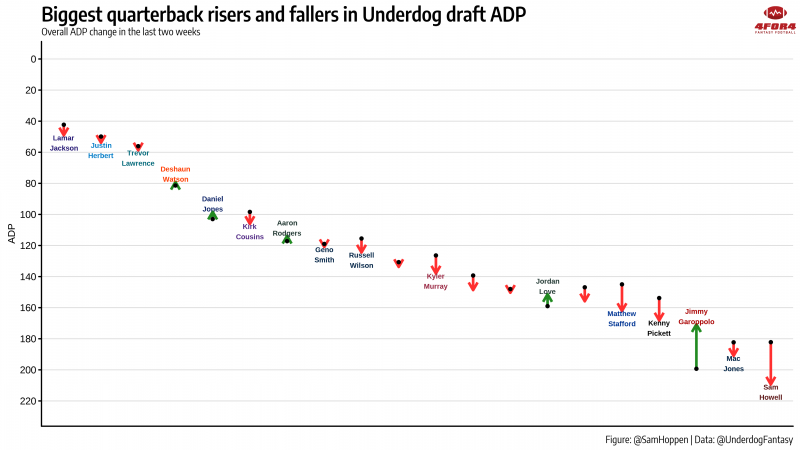 QB Risers
Jimmy Garoppolo

,

Raiders

(ADP: 170.7, +28.6)

After five years in San Francisco, Jimmy Garoppolo signed a three-year deal with the Raiders, easing the team's transition from the Derek Carr era to whatever the future holds at the position for Las Vegas. Garoppolo's ADP climbed over two full rounds as a result, bringing him from a mid-17th-round pick up to a 15th-round selection as QB27. The 31-year-old has finished as QB17 and QB20 in fantasy points per game over the last two seasons and is currently QB25 in 4for4's early rankings.
Jordan Love

,

Packers

(ADP: 151.3, +7.7)

With the Aaron Rodgers news cycle in 24/7 overdrive, it's tough to miss the fact that he's likely being traded to the Jets, leaving Jordan Love at the helm for the Packers in 2023. Drafters are responding, elevating the third-year QB's ADP from 14.03 to 13.07. Love's short NFL career consists of just 83 attempts for 606 yards and three touchdowns, but being behind Rodgers hasn't allowed for much playing time. The 24-year-old has the rushing chops for fantasy relevancy and will have a talented Christian Watson in his arsenal, so a QB2 finish is within reach. Right now Love is 4for4's QB19, with an Underdog ADP of QB23.
QB Fallers
Sam Howell

,

Commanders

(ADP: 209.4, -27.2)

The Commanders stepped on the hearts of Sam Howell backers (if there were any) by signing Jacoby Brissett to a one-year contract on March 15th. Howell started one game in Week 18 last season, completing 11-of-19 passes for 169 yards and a score, adding another 35 yards and a touchdown with his legs. Brissett had a decent season for Cleveland last year while DeShaun Watson served a suspension, checking in as the QB22 in fantasy points per game from Weeks 1-12 with 15.3. It's too early to tell how the QB situation will shake out in Washington, but if Howell maintains the starting role, he's a best ball QB3 with no redraft value, and Brissett falls into the same category.
Matthew Stafford

,

Rams

(ADP: 162.1, -17.1)

It's been quiet in the Matthew Stafford camp for the past two weeks, so this one-and-a-half-round dip is a bit puzzling. Last season was rough for the Rams QB who struggled through the first nine contests before suffering a spinal contusion that sidelined him for the rest of 2022. Both Stafford and the Rams have confirmed that he'll be back under center this season and he should still have a little something left in the tank, along with one of the most productive WRs in recent years in Cooper Kupp running routes for him. However, we can't trust Stafford as anything above a fantasy QB2 and he's being valued as such, sitting as QB25 in 4for4's early rankings.
Running Backs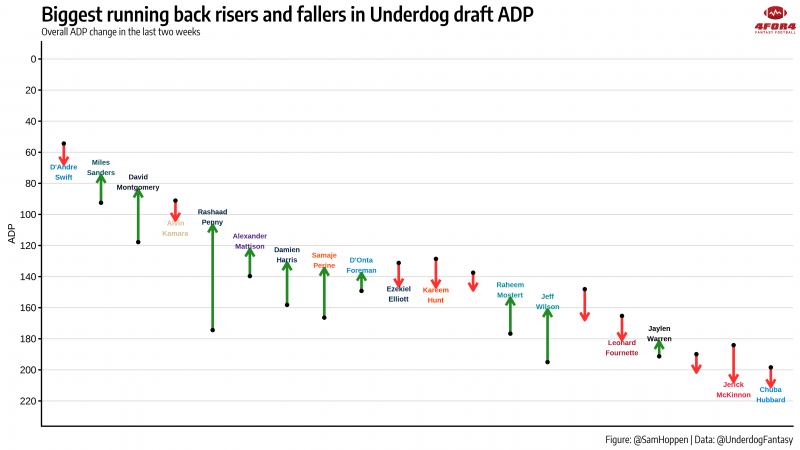 RB Risers
Rashaad Penny

,

Seahawks

(ADP: 106.7, +67.7)

The Eagles let Miles Sanders walk on over to Carolina and inked Rashaad Penny to a one-year deal, presumably to replace Sanders in his early-down role for Philly. As a result, Penny's ADP saw a meteoric rise from the 15th round up to 9.10. In the five games played last year for Seattle before his injury, he averaged a hearty 6.1 yards per carry and posted fantasy RB2 numbers. Penny will be hindered by Jalen Hurts at the goal line, but if he can stay healthy, which is a big if, he could outperform his current RB34 ADP.
Jeff Wilson

,

Dolphins

(ADP: 161.1, +33.9)

Heading into free agency, it was unclear who would be in the RB room for Miami in 2023. They recommitted to a Wilson/Raheem Mostert backfield, signing both rushers to two-year deals. Wilson garnered a higher price tag and is three years younger, making him the more appealing fantasy prospect over the oft-injured Mostert in 2023. Both will get touches in a Mike McDaniel offense and both would gain value if one were to get hurt.

Right now, they are being drafted back to back as RB48 (Mostert) and RB49 (Wilson) in Underdog drafts and have the potential to outproduce their RB4 designations. Wilson rose two and a half rounds to 14.05, while Mosert also experienced a near two-round spike in ADP to 13.10.
David Montgomery

,

Lions

(ADP: 84.2, +33.6)

I wrote in-depth about David Montgomery's fantasy outlook as a Detroit Lion after his signing, and the former Bear landed in a great spot to produce for managers in 2023. He'll take over the role vacated by Jamaal Williams and will see plenty of work both on the ground and as a pass-catcher. As long as D'Andre Swift is still on the roster, both are considered fantasy RB2s, but there is still some value to be had in Montgomery despite his close to three-round jump in ADP. The 25-year-old is ranked as 4for4's RB19 and is leaving draft boards as the RB26 in Underdog best ball formats.

Other Notable Risers: Samaje Perine, Broncos (ADP: 134.5, +31.9) - He's in a great spot with Javonte Williams still recovering from a knee injury sustained in early 2022. Damien Harris, Bills (ADP: 131, +27.2) - Harris should see the goal-line work not taken by Josh Allen and has potential for a double-digit touchdown season.
RB Fallers
Jerrick McKinnon, FA (ADP: 207.8, -23.7)
With most of the big free agent names either finding new homes or staying with their previous teams, the RB market has been stagnant in recent days, leaving Jerrick McKinnon still not officially on a roster. His ADP slid a full two rounds, down to 18.03 as RB62. His value could rise depending on landing spot, but if McKinnon remains in Kansas City, we're looking at fantasy RB4 territory.
Leonard Fournette

, FA (ADP: 180.8, -15.5)

Here's another RB without a home and his ADP has suffered, plunging down to 16.01 from 14.09 over the last two weeks. Leonard Fournette turned 28 in January and should sign somewhere, but without knowing what team he'll be playing for, it's tough to hit that draft button any earlier than fantasy RB4/5 territory.
Ezekiel Elliott

, FA ( ADP: 146.2, -15)

We have a legitimate pattern here in the RB fallers, as Ezekiel Elliott is still unsigned as of March 27th. He was released by the Cowboys back on March 15th and it was reported that Elliott himself had narrowed his prospective teams to the Jets, Eagles, and Bengals. Both New York and Philly have made moves, leaving just Cincinnati left as an option from his self-made list. The market appears fairly limited for Zeke, but he should still find a place to play in 2023 over the next week or so. The former Cowboy fell 15 spots to 13.02 and is leaving Underdog drafts as RB45.
Wide Receivers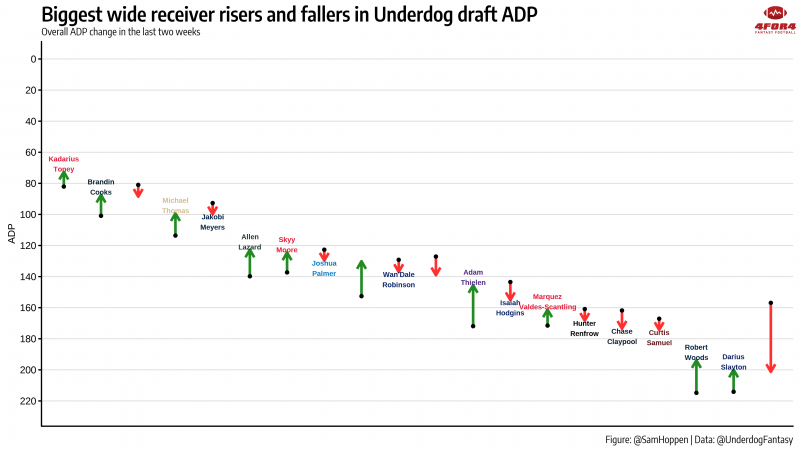 WR Risers
Adam Thielen

,

Panthers

(ADP: 145.5, +26.4)

After signing a three-year deal with Carolina, Adam Thielen could produce some juicy fantasy weeks as a red zone target in Frank Reich's offense. Managers got lucky if they rolled the dice on Thielen's location pre-free agency, as his ADP climbed over two rounds since becoming a Panther. It's still TBD which rookie QB will be under center for Carolina, but with a WR depth chart devoid of major star power, Thielen—and his 30 touchdowns over the last three seasons—could be a sneaky value in best ball formats as he's leaving draft boards as the WR65 in the early-13th round, but has the capacity to end as a fantasy WR3 this season.
Odell Beckham

, FA (ADP: 130.1, +22.5)

First Aaron Rodgers included Odell Beckham on his wish list for the Jets, then it was confirmed that their interest was "very real". Nothing has come to fruition yet for Beckham in 2023, but his Underdog ADP rose close to two rounds over the last few weeks, landing at 11.10 for now. The Jets' roster is pretty crowded at receiver and it's tough to see where OBJ fits in, but he's a quintessential late-round flier in best ball formats unless the hype causes even more of a spike in ADP in the coming weeks.

Other Notable Risers: Michael Thomas, Saints (ADP: 99.3, +14.3), Darius Slayton, Giants (ADP: 199.9, +14.2), Brandin Cooks, Texans (ADP: 87.4, +13.5) All three of these players re-signed with their previous teams, solidifying their offensive roles and gaining more trust from drafters.
WR Fallers
Chase Claypool

,

Bears

(ADP: 173.5, -11.7)

After posting just 140 yards and no touchdowns in seven games for the Bears via a midseason trade, Chase Claypool sustained another hit when his team and Carolina worked out a deal in early March that brought D.J. Moore to Chicago. In an offense that was 32nd in pass attempts last year, Claypool's fantasy value was already minimal and took a nosedive along with his ADP with the Moore news. As the Bears' WR3, we can't expect more than WR6 numbers from Claypool and he's just a late-round roster filler heading into 2023.
Isaiah Hodgins

,

Giants

(ADP: 155.1, -11.6)

The sophomore had a late-season breakout for the Giants after being claimed from Buffalo during their Week 9 bye. Isaiah Hodgins had 33 catches for 351 yards and four touchdowns in eight games as a Giant and returned as a restricted free agent for 2023. Hodgins' role is still unclear as their WR room is close to standing room only, and his slide in ADP could be due to the addition of another weapon in Darren Waller at TE and the re-signing of Darius Slayton. Hodgins is currently the WR64 in 4for4's rankings and is being drafted as WR69 at 13.11 in Underdog contests.
Tight Ends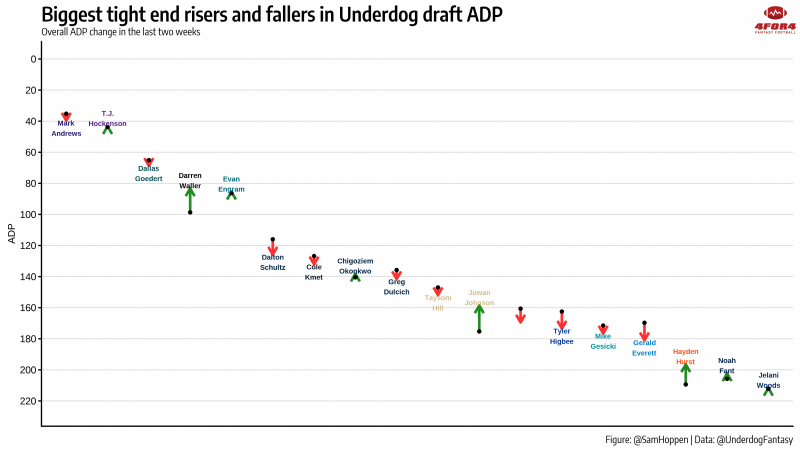 TE Risers
Juwan Johnson

,

Saints

(ADP: 158.6, +16.7)

Johnson re-signed with the Saints through 2024 and will have Derek Carr throwing him the rock. The 26-year-old managed a TE15 finish last year in half-PPR points per game with Andy Dalton as his QB for most of the season and could provide some solid value for those not wanting to pay up for the position in 2023. He's currently leaving draft boards as TE17 at 14.03 but has valid potential to sneak into fantasy TE1 territory.
Darren Waller

,

Giants

(ADP: 83.3, +15.4)

Speaking of Derek Carr, his former Raider teammate also found a new home this season and will be suiting up for the Giants. Acquired via trade, Darren Waller is one of the best pass-catchers at the TE position when healthy and joins a receiving corps in New York that needs both size and a leader. The 30-year-old could be in line for monster targets from Daniel Jones and is both 4for4's TE7 and the seventh TE off Underdog draft boards following his arrival in New York.
TE Fallers
Gerald Everett

,

Chargers

(ADP: 180.9, -11.2)

He's not the sexiest TE out there and feels older than 28, but Gerald Everett is still around despite rumors that he could be a cap casualty for the Chargers. They also have Donald Parham on the roster, who re-signed with the team on March 17th, likely causing Everett's near one-round dip in ADP. Last year wasn't awful for Everett who ended as the TE17 in half-PPR points per game, and he still holds fantasy TE2 capabilities. There is some value in his boringness as Everett is Underdog's TE21, yet he's the TE19 in 4for4's early rankings.