Bargain-Priced QBs to Target in Superflex Best Ball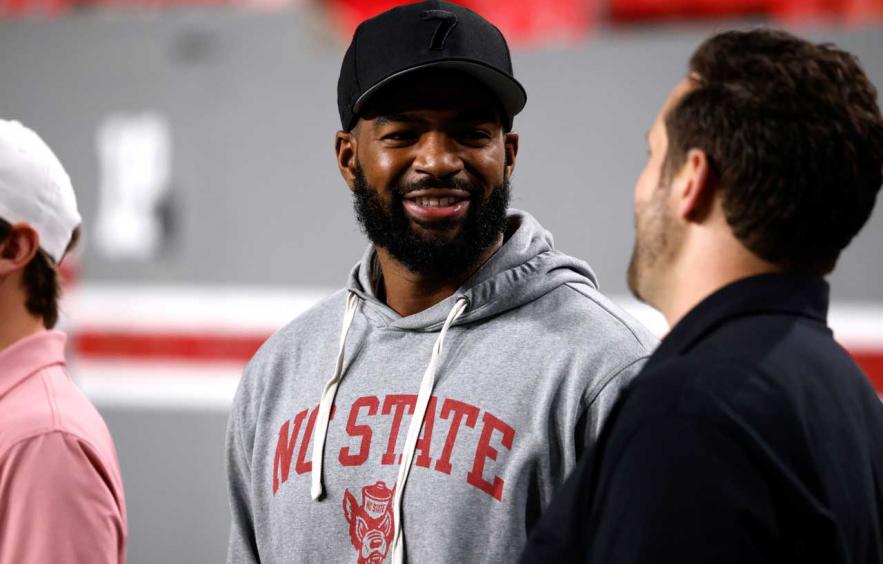 Lance King/Getty Images
With the Superflex format the only option right now in the Underdog NFL lobby, now's a great time to draft as plenty of players' ADP will fluctuate in both directions based on the outcome of the upcoming 2023 NFL Draft.
Most drafters go after multiple top-tier guys early and for good reason, but loading up on elite players at other positions and selecting several of the less expensive QBs with late-season upside is a contrarian and viable strategy, particularly in the bigger fields.
Here's a look at some of my favorite later-round QBs to target right now—with ADPs 100 or higher—who could provide some league-winning weeks, particularly towards the end of the season in the larger tournaments like the Big Board: Superflex.
*All ADP is courtesy of Underdog and is for the Superflex format
---
Additional Best Ball Resources: Never Too Early Rankings | ADP Risers and Fallers | 7 Rookies to Target in Best Ball | How to Approach 3-Team Leagues | Player Profiles
---
Presumed Starting Quarterbacks
Jacoby Brissett

,

Commanders

(ADP: QB35, Overall 153.1)

Sam Howell is allegedly the Washington starter heading into this season, but Jacoby Brissett is getting paid $8 million guaranteed this year for a reason. Brissett was more than serviceable last year in Cleveland while DeShaun Watson was suspended, ranking top 10 in several advanced metrics including DVOA (7th), EPA per play (10th), and completion percent over expected (3rd). In Weeks 1-12, the 30-year-old was QB18 in total fantasy points and in that time frame, Brissett was a fantasy QB1 three times.

Even if Howell does enough to win the starting job this summer, Ron Rivera is on the hottest of the hot seats in Washington and will likely pull the sophomore sooner rather than later if needed. All we need from Brissett at QB35 is a few weeks of fantasy love and that's very possible if the Commanders stay put at QB. Brissett's current late-13th-round ADP could spike if the Commanders pass on the position at the start of the draft.

Stack Options: The entire Washington offense is available with limited investment, making them one of the easiest offenses to stack right now. Terry McLaurin (76.3), Jahan Dotson (112.9), Curtis Samuel (197.1), Logan Thomas (239.7)
Baker Mayfield

,

Buccaneers

(ADP: QB 33, Overall 111.4)

It's tough for many to get fired up about Baker Mayfield, but I laid out some reasons to draft him in best ball earlier this offseason. In the Superflex realm, all we need is a few hot weeks for the Tampa Bay QB to pay off as a QB3. His only competition at the moment is the very inexperienced Kyle Trask and as we saw last year in LA, Mayfield is capable of stringing together some solid fantasy play.

When under center, the 27-year-old will have plenty of talent with Chris Godwin, Mike Evans, and Rachaad White all at his disposal. This offense likely won't throw as much as they did with Tom Brady at the helm, but Mayfield should do enough for some QB1 performances peppered in. We also can't dismiss the possibility of the sixth-year QB ending up on another team for Weeks 15-17, when your best ball squad is hopefully contending for a tournament win. The favorable opportunity cost for Mayfield in conjunction with his potential in 2023 makes him a target in these bigger Superflex tournaments.

Stack Options: Like Washington, the Buccaneers' offense is low on the fantasy radar so all pieces are easily stackable. Chris Godwin (88.9), Mike Evans (96.2), Rachaad White (101.7), Cade Otton (228.2), Russell Gage (238.6)
Ryan Tannehill

,

Titans

(ADP: QB32, Overall 107.4)

This list never claimed to be full of sexy options and Ryan Tannehill is probably the least sexy starting QB in the NFL at the moment. Titans coach Mike Vrabel has expressed that Tanny will be under center at the start of 2023 and unless they draft a rookie in a few weeks, he should do enough to hang on to that job long enough for some fantasy production. If the Titans pass on a signal caller, we should see an uptick in the QB's best ball ADP.

The 34-year-old put up two fantasy QB1 performances in 2020 and 2021 but was QB26 last year. In his high-production seasons, Tannehill added seven touchdowns with his legs but only found the end zone twice last year on the ground. His wheels may be less dangerous entering his age-35 season, but there is still some mobility there which is always a plus in the fantasy football world. We should get some spike weeks from the 12-year veteran and, like Mayfield, there's always the possibility he gets cut and signed somewhere else for the fantasy postseason.

Stack Options: Derrick Henry (40.6), Treylon Burks (104.1), Chigoziem Okonkwo (144.8), Nick Westbrook-Ikhine (240.0)

Honorable Mention: Will Levis (ADP QB34, Overall 119.3) is also in this category as a QB value with an ADP past 100, but without knowing where he's going we can't really slot him in the starter or backup category. As the 34th QB off the board, Levis could easily give us some fantasy starter weeks for an affordable, double-digit Superflex pricetag.

Backups With Takeover Possibility
Bailey Zappe

,

Patriots

(ADP: QB41, Overall 223.8)

It's fairly clear that Bill Belichick is not a Mac Jones fan and it's tough to see him starting at QB for this team for very long, if at all. Bailey Zappe was a pleasant-ish surprise last season, throwing for 781 yards and five touchdowns with a 70.7% completion percentage in the four games he played for New England.

Zappe was QB25 in that four-game stretch and if called upon again at any point in 2023, QB2/3 numbers from a 19th-round pick could elevate your best ball squad to advance or even win given the right situation.

Stack Options: JuJu Smith-Schuster (138.8), Mike Gesicki (185.9), Tyquan Thornton (203.0), James Robinson (217.4), DeVante Parker (238.3), Kendrick Bourne (239.9)
Mike White

,

Dolphins

(ADP: QB39, Overall 200.2)

The Miami backup is one of my favorite late-round targets and I've seen him go undrafted in some Big Board: Superflex leagues. We all saw Tua Tagovailoa's struggles in and out of the concussion protocol in 2022 and after the public outrage that enveloped the Dolphins' medical team along with the NFL's independent neurological consultants, it likely wouldn't take too much to sideline the 25-year-old this season for any amount of time. Miami was forced to turn to Teddy Bridgewater, then Skyler Thompson at one point last season which led to securing Mike White for the next two seasons.

Tagovailoa played very well when healthy last year and hoping for injury is not something we do as a fantasy football community, however, preparing in this situation could certainly benefit, particularly in the best ball format. Last year for the Jets, White showed quick and effective passing prowess, completing 175 passes for 1,192 yards and three touchdowns in four contests, while adding another score with his legs. If he does get significant playing time, the third-year QB will be surrounded by plenty of talent capable of enhancing his fantasy value.

Stack Options: Tyreek Hill (15.1), Jaylen Waddle (33.6), Raheem Mostert (150.2), Jeff Wilson (154.8), Braxton Berrios (239.4), Durham Smythe (239.7)

Honorable Mention Backups: All three of these QBs could see enough playing time to assist your Superflex squads, particularly down the stretch when the NFL postseason may be out of reach. They all have fantasy-relevant weapons and make for some ideal QB4/5 darts.