7 Rookies to Target in Best Ball Before the NFL Draft (A Roundtable)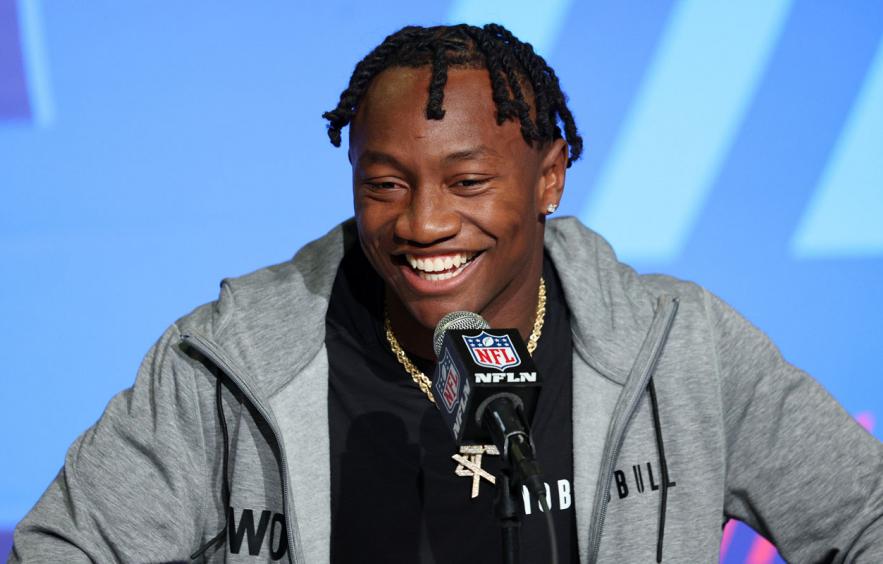 Michael Hickey/Getty Images
Hitting on a profitable rookie before they have been drafted to their future team can be highly beneficial in best ball formats.
As a staff, some 4for4 writers came together to give their favorite rookies to go after in the next few weeks before potential spikes in ADP inflate their price tag based on landing spots after the NFL Draft.
---
For more NFL Draft Content, check out our latest assortment of mock drafts done by Scott Smith, Connor Allen, Ryan Noonan, and Anthony Staggs.
---
Pre-Draft Rookie Targets
Tank Bigsby

, RB (Underdog ADP: RB58, Overall 188.2)

TJ Hernandez: When considering a rookie's fantasy value in redraft or best ball, landing spot is arguably as important, if not more so, than talent evaluation, especially around the time of the NFL Draft. A good landing spot can catapult an average prospect's ADP while going to a team with a potential committee might nose-dive the redraft value of all but the most elite running back prospects.

Although it may be nearly impossible to predict which team is going to select which player on Day 2 or Day 3 of the Draft, betting markets can help best ball drafters anticipate potential spikes in ADP. Best ball ADP is mostly in lockstep with betting markets but Cartavious "Tank" Bigsby is a running back that betting markets seem to like more than Underdog drafters.

As the ninth rookie running back currently off the board in best ball, Bigsby is tied for the fourth-shortest odds on DraftKings Sportsbook to be the first back off the board as well as the fourth-shortest to be the second back drafted. If Bigsby is the surprise third or fourth back drafted to a team that doesn't have a clear starter, his ADP could spike 50 or more spots—the fourth rookie back off the board is going 151st overall and the third rookie back is being drafted 95th.
Zay Flowers

, WR (Underdog ADP: WR48, Overall 97.4)

Jennnifer Eakins: There are four WRs clustered at the top of this draft class, with all of them projected to be selected in the first round of the NFL Draft in most industry mock drafts. Right now Zay Flowers is the cheapest in this tier in terms of ADP and could jump a few rounds post-draft depending on his future employer.

Flowers plays much larger than he measures and is explosive on the outside with solid separation. In our 4for4 mocks, Scott Smith has him being drafted by the Chargers at pick No. 21, while Ryan Noonan thinks he'll come off the board at No. 20 to Seattle. The Boston College product is a different type of receiver than anyone Justin Herbert currently has to throw to and the Seahawks could really use a WR3 after coming up short in recent years.

There are certainly other landing spots for Flowers to come in and create fantasy goodness for us in his rookie season, and he's currently carrying an ADP four rounds later than Jaxon Smith-Njigba (ADP: 5.03), close to two rounds past Quentin Johnson (ADP: 7.12), and nearly one full round after Jordan Addison.
C.J. Stroud

, QB (Underdog ADP: QB24, Overall 157.5)

John Daigle: Whether it was his 157.5 ADP in the Big Board (R.I.P.) or ongoing status as a high-floor QB2 in Underdog's Superflex tourney, I have been prioritizing C.J. Stroud (6'3/218) in his range because he checks all the boxes of an undervalued quarterback who could 'accidentally' leak into the top-12 at his position (albeit at low odds).

Not only are sportsbooks universally expecting Stroud to be the No. 1 overall pick in April's draft (and presumably starting 17 games in his first year), we know signal-callers have to offer some semblance of a rushing floor to sneak into QB1 territory; Kirk Cousins, last year's gatekeeper as the QB12 in fantasy points per game, threw the league's fifth-most passing touchdowns (29) and barely made the cut. On that note, Stroud only averaged 3.1 carries per game across two seasons as the Buckeyes' starter but spiked 12/34 when all the chips were in the middle in the semifinal round of the 2023 College Football Playoffs — a shimmering trait that has knowingly confused scouts in the best way possible to this day. The fact he threw for 85 touchdowns in that stretch, leading his class in completion rate both from the intermediate and deep levels of the field, is merely the cherry on top.

Carolina also invested the most guaranteed money ($13 million) among free-agent running backs into Miles Sanders, the fourth- and seventh-most into Adam Thielen ($14 million) and D.J. Chark ($5 million) at wide receiver, and the most to Hayden Hurst ($13 million) at tight end. Worst-case scenario, Stroud lands in a safe situation and soft division surrounded by competent talent.
Sean Tucker

, RB (Underdog ADP: RB51, Overall 169.2)

Justin Edwards: Tucker was involved in the Syracuse passing attack in a way we don't typically see at the college level, accruing a 37-262-2 receiving line on 52 targets during his Junior year. That 15.8% college target share clocked in at the 95th percentile, and it's not as if he didn't produce in the running game as well. He would rack up 2,554 yards and 23 touchdowns in his final two seasons, on a Syracuse offense that ranked seventh and 11th in scoring offense in the ACC.

Currently coming off the board as the RB51 at the beginning of the 15th round, Tucker provides an explosive option who could produce for your team in a handful of weeks. Something we are all starving for at that point in the draft.
Israel Abanikanda

, RB (Underdog ADP: RB64, Overall 212.2)

Jennifer Eakins: The Pitt standout ran for 1,431 yards (14th among RBs) and 20 touchdowns which led college football last season. Currently an 18th-round pick on Underdog, Israel Abanikanda posted more yards than several RBs touted before him like Zach Charbonnet (ADP: 9.01) and Devon Achane (ADP: 13.07), and was more efficient than many including Sean Tucker (ADP: 15.01) and Tank Bigsby (ADP: 16.09) with 6.0 yards per attempt in 2022. I'd be remiss not to point out that Abanikanda also broke Tony Dorsett's 47-year single-game rushing record at Pitt of 303 yards by slashing Virginia Tech for 320 yards (and six scores).

Izzy ran a speedy sub 4.4 at his pro day and is rumored to be moving up NFL draft boards which will likely translate to a spike in ADP. At 5'11", 216 pounds, the former Panther boasts a coveted mix of size and speed to lead a backfield but also displayed enough receiving chops in college even with a 6.2% target share last season to take on some pass-catching work.

Right now the 20-year-old is the 64th RB off draft boards (11th rookie) at spot 18.08 and has all the makings of a player who could smash that value in the right backfield. Grab Izzy now before a team invests in him earlier than previously expected and drafters realize his potential in a backfield with some wiggle room.
Dalton Kincaid

, TE (Underdog ADP: TE25, Overall 197.9)

Brandon Niles: Look, tight end is a crapshoot anyway, bound to disappoint and leave fantasy managers grasping at streaming straws by mid-season. So when I'm looking to take my backup-slash-upside tight end at the end of the draft, I'm grabbing Dalton Kincaid out of Utah. Why bother with the Hayden Hursts of the world who we know have limited TE1 appeal, when you can throw a best ball dart at an exciting young prospect who will be drafted solely for his receiving prowess?

Kincaid bursts off the line, has true seam-stretching ability, and has the size to make plays in the red zone. Rookie tight ends suck, but so do all the other tight ends, so you may as well swing for the fences. Right now you can get the rookie at 17.06 as the TE25.
Evan Hull

, RB (Underdog ADP: RB345, Overall 237)

Neil Dutton: You have to go a long way down the player pool to find my guy, but a player I can't seem to quit is former Northwestern RB, Evan Hull. He's going off the board all the way down at RB345, but I like his chances of carving out a fantasy-relevant role in 2023. Why? Because he can catch the ball. Hull has 88 receptions for 810 yards over his last two collegiate seasons, along with 1,922 rushing yards with 16 total touchdowns.

Hull is not going to come into the NFL and take over an RB room. But on the right offense, with a starter who lacks a strong receiving profile, Hull could have weeks in which he shows up in 2023. And at RB345, that's the type of bargain we should be looking for in my humble opinion.