2023 NFL Mock Draft: Anthony Staggs' 1.0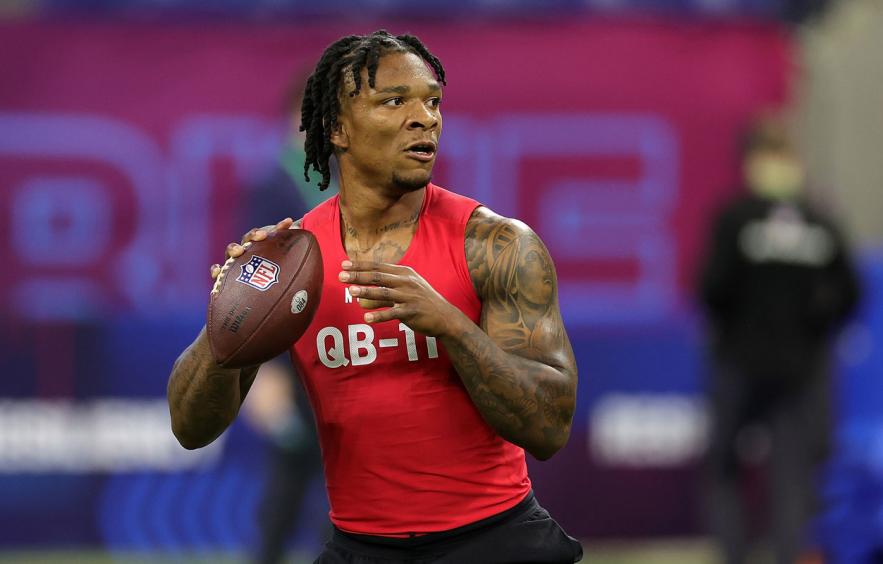 Stacy Revere/Getty Images
We have been through the combine and now are in the thick of Pro Days and free agency. Roster moves are being made and stars are trading teams every time you reload Twitter. With the player movement, clearer needs are starting to present themselves and draft plans are starting to be revealed. Now that the proverbial shoe has dropped with the Panthers acquiring the Bears' number one overall selection for a haul, mocks start to make sense rather than rampant speculation on who is coming up for a QB.
Find out how you can join our discord and get all of our NFL Draft bets for just $15!
---
More NFL Draft and Rookie Content: 11 Players Who Turned Heads at the NFL Combine | 10 Fantasy Relevant Rookies: A First Look | How to Bet on the NFL Draft | Connor Allen's Mock Draft 2.0
---
2023 NFL Mock Draft
1. Carolina
Panthers

: CJ Stroud, QB, Ohio State

Once this pick was announced there was major line movement to the QB out of Ohio State who had one of the most impressive throwing sessions at the combine I have ever seen. Stroud has been compared to players like Joe Burrow and Dak Prescott and his ball placement was superb at the college level, showing pinpoint accuracy in all areas of the field.
2. Houston
Texans

:

Bryce Young

, QB, Alabama

While a QB with the upside of Anthony Richardson is tempting for new head coach DeMeco Ryans, the Texans play it "safe" and take the pro-ready quarterback prospect from Ryans' alma mater. While Young does not possess the prototypical size and will actually be one of the smallest quarterbacks ever drafted, let alone a first-round pick, he does have the kind of movement in the pocket that made shorter guys like Doug Flutie and Drew Brees successful at the NFL level. Young has an innate ability to keep his eyes downfield while moving in the pocket and getting the ball out to his playmakers with space to run.
3. Arizona
Cardinals

: Will Anderson, EDGE, Alabama

The Cardinals get the perk of choosing between the best non-QB prospect in the draft should they stay in this spot. But with teams' potential willingness to move up for their preferred passer of Richardson and Levis, this is also a prime trade-out spot. In this scenario, the Cardinals stick to their pick and add what could be their first homegrown defensive stalwart in what feels like forever. Anderson didn't blow the doors off the combine but still moved to the tune of 4.6 in the 40 at 253 pounds. Anderson has been hyper-productive at the collegiate level and is a fairly "clean" prospect when searching for cons.
4. Indianapolis
Colts

:

Anthony Richardson

, QB, Florida

Anthony Richardson put on a show at the combine, weighing more than expected and running fast at his weight while also jumping out of the gym. Richardson showed his athletic ability while at Florida and also displayed a big arm and nearly unapparelled velocity to push the ball into tight windows. Richardson did struggle with accuracy issues but I have started to come around on coaches being able to improve accuracy when they play to their quarterback's strengths. Enter Shane Steichen and his recent success working with Jalen Hurts in Philadelphia.

While Richardson might not be seen as a fit to start right away, working with a coach like Steichen who would heavily utilize the QB run would be a great fit. Steichen could design packages a la Jalen Hurts/Lamar Jackson or stick Richardson to the bench for a season and let him watch. A run game led by Jonathan Taylor will be Richardson's best friend whenever he does see the field and his tantalizing tools will see his name called early on draft night.
5. Seattle
Seahawks

: Tyree Wilson, EDGE, Texas Tech

The Seahawks are in another pivot position with only one quarterback who people view as a potential long-term starter available for selection at this point in the draft. But with major needs for defensive pressure, the Seahawks dip back to Texas Tech and add a long strong edge. Wilson is a raw power rusher who has questionable get-off speed, but whose length can disrupt the run game on its own.
6. Detroit
Lions

: Christian Gonzalez, CB, Oregon

The Lions look to continue adding pieces to a hopeful playoff team entering the 2023 season and Christian Gonzalez is a corner that can make an instant impact. Gonzalez is a smooth operator who can break on the ball with the best of them. The Colorado transfer also smashed the combine which was just the cherry on the top of his resume. Gonzalez possesses good recovery speed at 4.38 and can jump with the best of them. The Lions get an instant impact player after allowing the second-most yards to opposing wide receivers last year. The Lions have added a number of interesting pieces in the secondary but Gonzalez would be the jewel in the crown.
7. Las Vegas
Raiders

:

Will Levis

, QB, Kentucky

The Raiders seem to be having an identity crisis, signing Jimmy Garoppolo who is just a different kind of stopgap quarterback than the recently jettisoned Derek Carr, and moving on from Darren Waller via trade. With solid offensive skill players, Jimmy G is set up for success but still has major question marks on the offensive line as well as nearly the entire defense. Levis has all the tools to be a plus NFL passer but hasn't shown an ability to put it all together for long stretches of time. Levis has plus size, athleticism, and arm strength but struggled after losing nearly all of his offensive firepower this last season. With McDaniels long-term job seemingly already being mentioned, an injection of talent at the quarterback position could buy him some time.
8. Atlanta
Falcons

: Myles Murphy, EDGE, Clemson

The Atlanta Falcons had the lowest pressure percentage in the league and generated just 21 sacks last season, and 39 over the last two seasons. Murphy has solid size and a quick first step to get after the quarterback from wherever he is lined up. Murphy has a bag of pass-rush moves and is a staunch run defender who crashes down hard on the backside. He is a former top recruit who can be a building block next to Grady Jarrett as the Falcons look to build a new-look defense under new defensive coordinator Ryan Nielsen.
9. Chicago
Bears

: Jalen Carter, DT, Georgia

The Chicago Bears finally got a king's ransom for the number one overall pick that included wide receiver D.J. Moore who fills one of the team's biggest needs. The Bears could still add a player that played with Fields at Ohio State in Jaxon Smith-Njigba or Paris Johnson and those guys were still under consideration, but Carter was rumored to be a Bear favorite at number one overall. Carter would provide the Bears with an interior force that is so important in Matt Eberflus' scheme that was at its best with DeForest Buckner at his height.
10. Philadelphia
Eagles

: Devon Witherspoon, CB, Illinois

The Eagles have a deep roster with playmakers all over the offense and defense, making their needs look further down the line. With the pick acquired from the Saints for last season's number one, the Eagles add Devon Witherspoon who some have as the number one corner in this class. Witherspoon is a long and rangy corner with the ability to thrive in off-coverage and drive on the ball in front of him. With Darius Slay's long-term future with the team still a slight question, Witherspoon could step in as a nickel in his rookie season and move to the outside to replace Slay in the future. As usual, this could also be a spot the Eagles look to trade back out of and acquire more future assets.
11. Tennessee
Titans

: Broderick Jones, OT, Georgia

The Titans have a lot of holes on each side of the ball but their tendency to run the ball and keep the game close covers up some of the lack of talent on their roster. Enter a blue-chip tackle prospect in Broderick Jones to replace the recently departed Taylor Lewan and one who fits the Titans' mentality of physicality. Jones is a long tackle who can move people in the run game while being able to play the blind side in pass protection. The Titans have spent a lot of recent assets on tackle prospects over the last two seasons but having their pick of best-available tackles is too much for the Titans to pass up.
12. Houston
Texans

: Lukas Van Ness, EDGE, Iowa

While the Texans had a massive need to find a wide receiver even before the Brandin Cooks trade, there just isn't a prospect worthy of a top-16 pick in this draft. While someone may end up reaching for a wide receiver in the next few picks, the Texans have too many holes to fill, making this another interesting trade-back spot. In this scenario, the Texans add an athletic freak on the edge who will give DeMeco Ryans a force off the edge they currently don't have. The 49ers' defense has been centered around pressure with their defensive front and Van Ness can convert speed to power with the best in this class. The young Iowa pass rusher has untapped potential but his toughness will be revered by Ryans and his new staff.
13. New York
Jets

: Paris Johnson Jr., OT, Ohio State

When all is said and done with the Aaron Rodgers drama, the Jets might not even hold this pick, but if they do, we should expect them to add a tackle to either replace Mekhi Becton or play across from him. Johnson is one of the longest tackles ever measured at the NFL combine and his feet are good enough to play the blindside at the NFL level. In the run game, Johnson is better on the move rather than road grading what is right in front of him but his work in the passing game is where his bread is buttered. Paris could complete the Jets' offensive line overhaul and provide elite-level play at whatever spot they put him.
14. New England
Patriots

: Peter Skoronski, OT, Northwestern

The Patriots currently seem to lack the blue-chip players on both sides of the football to compete with the class of the AFC. The Pats' strength is on the offensive line but their question marks there are at the tackle position. Some might see Skoronski as more of a guard due to his arm length but the team from Foxborough has always seemed to find unique offensive linemen and get strong performances. Skoronski is a technician and weight room warrior who can stand up against the bull rush and cut-off speed rushers alike.
15. Green Bay
Packers

: Bryan Bresee, DL, Clemson

In a world where Aaron Rodgers is a giant unknown, the Packers continue to Packer and cycle in a new defensive lineman just as others have moved on. Losing Jarran Reed and Dean Lowry leaves over 1,000 snaps to be filled and the candidates to fill them are lackluster. Breese is no slouch, however. As a former number-one recruit in the country, Bresee has plenty of run-stuffing chops to help improve a lackluster run defense in a division that might run the football more than any other in 2023. Not to mention Bresee is an athletic freak ranking with a 40 time of 4.86 at just under 300 pounds and a nearly identical Relative Athletic Score (RAS) to last year's pick Devonte Wyatt.
16. Washington
Commanders

: Darnell Wright, OT, Tennessee

Washington is in a season of flux, with Sam Howell slated to be the starting quarterback this season and their door of revolving quarterbacks seemingly closed for at least a season. Despite just signing swing tackle Andrew Wylie and having incumbent Sam Cosmi, Darnell Wright just makes this offense better in the long term. Wright is a mountain of a man who went to Tennessee as a former top-10 recruit and is a plug-and-play right tackle who can help in both the run game and pass game right away. Wright gives the backfield of Robinson and Gibson a boost from day one while working on his technique at the position.

17. Pittsburgh
Steelers

: Joey Porter Jr., CB, Penn State

The Pittsburgh Steelers end up with a fallback option that fans will immediately recognize due to his father's legacy. The Steelers have a massive need at tackle and with many of the top options lasting into the early teens, could be a team that looks to move up in order not to miss out on one of the sure-fire first-rounders. Joey Porter Jr. possesses elite play strength to go along with his 4.46 40-yard dash and strong explosiveness. Porter can fill in Cam Sutton's snaps and add some physicality to the Steelers' back end to more closely mirror their front seven.
18. Detroit
Lions

:

Michael Mayer

, TE, Notre Dame

The Lions traded away T.J. Hockenson last year and immediately draft his replacement out of Notre Dame. While there are four strong candidates for the top tight end in this year's class, Mayer is the most well-rounded as a blocker and pass catcher. Mayer has produced every season at the collegiate level from the second he stepped on campus and left as the school's all-time leader in receptions, receiving yards, and receiving touchdowns by a tight end. Mayer gives the Lions an instant upgrade over a now lackluster tight end group and provides a red zone target the team currently lacks.
19. Tampa Bay
Buccaneers

: Brian Branch, S, Alabama

Currently, ESPN doesn't even have a free safety listed as a position for the Buccaneers so that is good. This is also a spot where need lines up perfectly with the board as Branch is a general on the field who can hopefully be the centerpiece of a defense that looks forward to life after Tom Brady. Branch can play at all levels and has corner-like ball skills when the ball is in the air. Branch is sticky in coverage and can play a hybrid safety role for the Bucs much like the recently departed Mike Edwards.
20. Seattle
Seahawks

: Deonte Banks, CB, Maryland

The Seahawks have been making some shrewd moves in free agency to bolster their defensive line and also did so with their first pick, but with most of their holes seemingly up the middle and some talents too good to pass up, they look to rebuild a once dominant secondary around two crazy athletic corners in Banks and last seasons surprise star, Tariq Woolen. Banks absolutely demolished the combine posting a perfect 10 Relative Athletic Score based on his elite first step, size for his position, and elite jumps. Banks would give the Seahawks options to match up against the likes of Cooper Kupp, Deebo Samuel, Brandon Aiyuk, and Marquise Brown in the division.
21. Los Angeles
Chargers

:

Jaxon Smith-Njigba

, WR, Ohio State

The Chargers add another receiving option for Justin Herbert with Keenan Allen entering his age-31 season and playing in only 10 games last year. JSN is a near clone of Allen as a route runner who is quicker than fast but just always seems to be open. While many may clamor for a wide receiver with a little more field-stretching ability, the Chargers just can't pass up on the top option still being on the board, and that's straight from the mouth of Garrett Wilson. Njigba could be a target hog for the Chargers in the future and his ability to play all over the formation will make him an instant impact addition to the Chargers' offense.
22. Baltimore
Ravens

:

Jordan Addison

, WR, USC

The Ravens have taken a shotgun approach at wide receiver drafting the athletic Marquise Brown and Rashod Bateman over the last few years, but Jordan Addison has just been a target hog no matter the jersey he has worn. Addison is a silky-smooth route runner who will be in the spot when Lamar Jackson is ready to let it rip. The former Pittsburgh Panther is great at picking up yards after the catch while also being able to create space with his suddenness. Addison's ability to get open against man and zone and in the short to intermediate areas would be a welcome addition to a Ravens receiving corps that was recently maligned by General Manager Eric DeCosta.
23. Minnesota
Vikings

: Calijah Kancey, DL, Pittsburgh

The Minnesota Vikings have had an offseason of defensive transition and their talent level on that side of the ball is just lacking. Enter Calijah Kancey who gets Aaron Donald comparisons due to his alma mater and speed for the defensive tackle position. Kancey ran the fastest 40 time of any defensive tackle ever at the combine and his ability to use that first step quickness helps him dart around interior linemen. Kancey is a penetrator who due to a lack of size can get pushed around in the run game, but his ability to get after the quarterback from the interior can't be ignored by a coach who knows Aaron Donald's game well.
24. Jacksonville
Jaguars

: Mazi Smith, DL, Michigan

The Jaguars seem all but set on the offensive side of the football after franchise-tagging Evan Engram and getting Calvin Ridley back after the trade and remaining suspension. So the Jaguars put their attention on the defense where they have a massive hole on the interior defensive line. Enter Mazi Smith who is a massive man at over 320 pounds with great play strength. Smith has the size to eat up blockers and let the linebackers flow behind him, and when offenses leave Mazi one-on-one he can push lineman back into the quarterback's feet. Smith might not produce in a big way on the stat sheet but pair him with Travon Walker off the edge, and they would be a tough combo to move off the ball in future seasons.
25. New York
Giants

:

Quentin Johnston

, WR, TCU

The Giants have made some solid moves in free agency to bolster their receiving corps capped by the recent trade for Darren Waller. At receiver, however, their main addition has been Parris Campbell who has missed more games than he's played so far in his NFL career. The opinions on this wide receiver class vary widely among many draftniks. While some in the fantasy football community love Johnston for his blend of size and speed, he is not without his warts. Johnston would give the Giants a presence they don't have at wide receiver as he can win vertically down the field while also being able to turn screens into touchdowns. Johnston and Waller would give opposing much more issues than the weapons the Giants were trotting out in the playoffs.
26. Dallas
Cowboys

:

Bijan Robinson

, RB, Texas

The Cowboys have made too many shrewd moves this offseason to address need areas with the trades of Stephon Gilmore and Brandin Cooks for them to not do something Cowboy-like in the draft. Bijan Robinson is arguably a top-five player in this class but teams have learned the value of no first-round running backs. But this late in the first for a team that wants its identity to be to run the damn ball is too much to pass up. Robinson is the best running back prospect since Saquon Barkley and he can excel in any scheme. Robinson would bring the Cowboys back to the early days of Zeke.
27. Buffalo
Bills

: Nolan Smith, EDGE, Georgia

Based on his combine, Nolan Smith could go as high as the top 10 based on his crazy speed and athleticism for an edge player. Smith is a former top overall recruit and shocked the combine by running a sub-4.4 40-yards dash and posting huge jump numbers. Smith weighed just 238 pounds, but that's not far off from where Von Miller was at the combine (246). Getting Smith to potentially learn from Miller would be huge for his development. A defensive line of Miller, Smith, Rousseau, and Oliver on passing downs would be a nightmare for opposing lines. The Bills' line fell off when they lost Miller to his ACL injury and Smith would give them extra insurance should he be slow to recover.
28. Cincinnati
Bengals

: Dawand Jones, OT, Ohio State

The Bengals are again looking to fix the tackle position after La'el Collins looked bad for much of the year before eventually suffering a torn ACL in Week 16. With such a late-season injury and Jonah Williams looking to be moved since he was replaced at left tackle by the newly signed Orlando Brown Jr., right tackle is a problem area for the Bengals. Enter Dawand Jones who is one of the larger players in NFL history at 6'8" and 374 pounds with massive arms and huge hands. Jones' size can eliminate power moves but can sometimes cause him to struggle against speed rushers. Dawand would be the cherry on top of the Bengals' offensive line rebuild over the last two seasons.
29. New Orleans
Saints

: Will McDonald, EDGE, Iowa State

After losing Marcus Davenport to free agency the Saints have a major need on the edge, especially considering their best pass rusher, Cam Jordan, will be entering his age-34 season. Will McDonald possesses elite speed and bend around the edge and put on a show at his pro day running a 4.66-second 40-yard dash and 6.79 3-cone time that wowed scouts in attendance. Despite weighing just 239 pounds, McDonald will likely have a RAS in the 97th percentile. McDonald started playing football as a junior in high school and has lots of room to grow but does display an excellent spin move to get away from tackles.
30. Philadelphia
Eagles

: Felix Anudike-Uzomah, EDGE, Kansas State

After venturing away from their typical draft-in-the-trenches strategy, the Eagles get right back to it with their second first-round pick. With Brandon Graham entering his age-35 season and Derrick Barnett still returning from a Week 1 torn ACL, edge is a long-term need for the Eagles. Felix Anudike-Uzomah is a refined edge player with a bag of moves to get after the quarterback and nearly had a six-sack game during his collegiate career. FAU would provide much-needed depth for a team that cycles defensive linemen and feels like they can never have enough pass rushers.
31. Kansas City
Chiefs

:

Dalton Kincaid

, TE, Utah

Sorry NFL, we are just getting Patrick Mahomes arguably the best move tight end in the draft. Dalton Kincaid has only played football for about five seasons and just topped off his senior year with 70 receptions for 890 yards and 8 touchdowns. Kincaid is a smooth mover who can stretch defenses vertically up the seam with his speed and catch radius while also being refined enough as a route runner to separate from defenders underneath. With Travis Kelce turning 34 during next season, the two weapons can team up for the next few seasons before Kincaid ascends the role for the long term and Kansas City doesn't even need to alter their offense long-term.
---
If you are interested in joining our NFL Draft discord where we post all of our bets and talk about all of the markets, prospects, and more every day, you can get access to that for just $15.