2023 NFL Mock Draft: Connor Allen's 2.0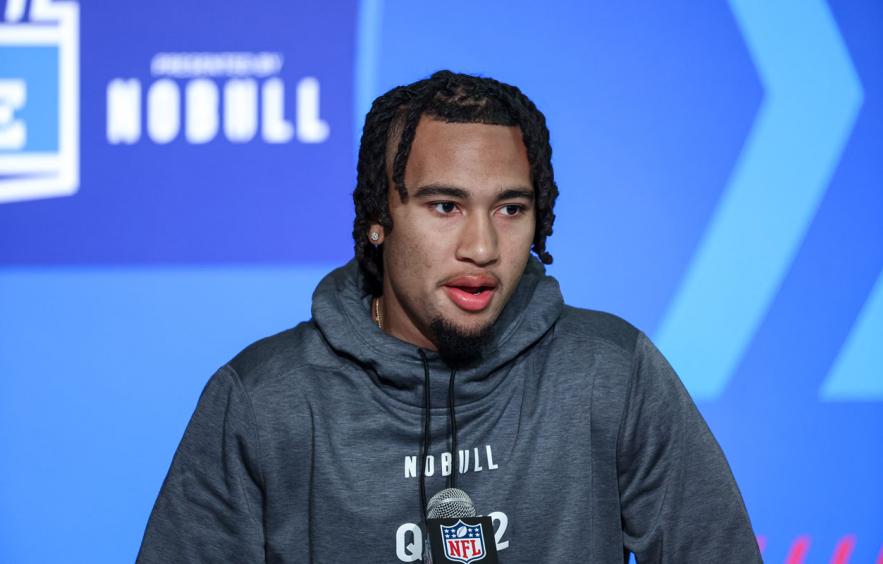 Michael Hickey/Getty Images
A lot has happened since my first mock draft! The Panthers traded up to the No. 1 overall pick and free agency has shaken up what each team needs. While we are still over a month out from the NFL Draft, we now have a pretty good idea of what each team could be looking for positionally. I'll have at least one more mock draft before the NFL Draft as we gain more information on specific targets for each team.
For the record, this is a mock draft of what I think will happen, not what I would do. Leading up to the NFL Draft I dissect as much information as possible from reputable sources to try and figure out where players will land. I do this so our subscribers can have another successful year betting on the draft. Last year we combined to win over 40 units on official plays in our discord and some subscribers had even more success.
Find out how you can join our discord and get all of our NFL Draft bets for just $15!
---
More NFL Draft and Rookie Content: 11 Players Who Turned Heads at the NFL Combine | 10 Fantasy Relevant Rookies: A First Look | How to Bet on the NFL Draft
---
2023 NFL Mock Draft
1. Carolina
Panthers

(Via CHI) –

C.J. Stroud

, QB, Ohio State

The Panthers traded away multiple first-round picks, two second-round picks, and D.J. Moore to move up to the first overall pick from No. 9. I believe the reports which suggest they aren't locked into any one player but it's likely they love at least one of the quarterbacks. They had to believe at least one of them was worth mortgaging away their future for, otherwise, they would be crazy to take the deal.

On the other hand, the reports about them trading back down are complete nonsense. The only viable team for them to trade down and "re-coup draft capital" would be the Texans. The Cardinals aren't trading up at 3 and trading down to 4 with the Colts would be an utter disaster. The fourth pick is a tough one to have right now when needing a quarterback because of the possibility of Arizona trading down. If you are sitting at 4, there's a very real chance there will be three quarterback-needy teams ahead of you and only four semi-viable prospects. So, trading down to 4, or any lower would be a massive misuse of draft capital and potentially catastrophic. Another rebuttal to a trade-down with the Colts making no sense is "They can just sit at 4 and take whichever QB falls to them!"

This is a fantasy football concept, but not one practiced by actual NFL GMs unless they have the exact same grade on players and are willing to risk their jobs and potentially careers on whoever falls to them. Most GMs aren't willing to risk that and usually don't adhere to that line of logic.

The Texans could trade up but would be bidding against themselves a good portion of the time. If the Texans want say, C.J., Stroud but wouldn't settle for anyone else, maybe it's worth trading a second or third-round pick to move up and secure him. But if the Panthers were never going to pick Stroud, you just wasted a mid-round pick for nothing.

The other question then becomes, why wouldn't they just do that from the beginning knowing Chicago would love to move down multiple times and could have still gotten a haul to move down from 2? You also run into the exact same problem I mentioned above, which is that the Panthers would need to have very similar grades on at least two quarterbacks. The Texans are the only semi-viable trade-down partner and even then, it's really thin.

Anyways, we know new QB coach Josh McCown likes: C.J. Stroud via his Youtube videos on Underdog where he compared him to Joe Burrow. For what it's worth, he also liked Bryce Young but was most excited about Stroud. There is also a very real chance owner David Tepper steps in and says he wants Anthony Richardson given his extremely high ceiling and the fact that the Panthers signed ideal bridge QB Andy Dalton. At the moment, I think Stroud is the pick and was the reason the Panthers felt comfortable trading up to No. 1 overall.
2. Houston
Texans

–

Bryce Young

, QB, Alabama

Young weighed in at 5'10, 204 pounds at the NFL Combine, artificially alleviating the fears of NFL decision-makers worried about his weight. His playing weight will likely be at least 10 pounds less than that. If you can put height and weight concerns aside, Bryce Young is a truly impressive player. I don't think Nick Caserio and the Texans will put too much stock into Young not having the physical tools of the other prospects and select him second overall.

All that being said, absolutely no one knew what the Texans were doing last year until about 24 hours before when some reporters got wind that they may be interested in Derek Stingley Jr over Sauce Gardner. Young can be penciled in here but pen shouldn't be used with the Texans for a long time.
3. Las Vegas
Raiders

(via Arizona) –

Anthony Richardson

, QB, Florida

This was somehow largely swept under the rug but the Raiders were the other team in serious talks to try and trade up to the No. 1 overall pick. They signed a competent starter in Jimmy Garoppolo but he isn't a QB of the future and they know that. With Jimmy in place, they can take a swing for the fences with a player like Anthony Richardson.

Richardson has the most upside in this draft class due to his athletic ability (4.43 40-yard dash at 6'4, 244 pounds) and cannon of an arm. Sitting behind Garoppolo would give him some time to get up to speed as a passer while providing the Raiders with long-term upside at the position.
4. Indianapolis
Colts

–

Will Levis

, QB, Kentucky

The Colts are one of the most desperate teams for a QB right now with just Gardner Minshew on the roster and a rotation of failing veterans leading the way for them post-Andrew Luck. Chris Ballard has preferred a certain stature during his tenure (every quarterback has been 6'1 or taller) and recently said they have "stringent" height requirements. Levis is a bit of a project but fits the mold and the Colts just may not have many other options.
5. Seattle
Seahawks

– Will Anderson, EDGE, Alabama

With all the top quarterbacks off the board and Geno Smith on a team-friendly contract, the safest defensive player in the draft falls into the Seahawks' laps. Anderson would be perfect for the Seahawks' defense which currently lacks upper-echelon talent.
6. Detroit
Lions

– Devon Witherspoon, CB, Illinois

The Lions may not need a cornerback right now after adding Cameron Sutton and Emmanuel Mosely but the latter is on a one-year deal while Sutton only has two years of guarantees and is 28 years old. Former first-round pick Jeffrey Okudah played better down the stretch but is far from a sure thing. I wanted to put Jalen Carter here but with all of the recent issues it doesn't seem like a good fit with Dan Campbell from a character standpoint.

The Lions could also add another edge here if they fall in love with Lukas Van Ness, Myles Murphy, or Tyree Wilson but they sunk the second overall pick into an edge last year and may be content with where they are at. Christian Gonzales is favored in the betting markets for which corner will go off the board first but I think Witherspoon would get the nod for the Lions. He's extremely physical and would fit their defense well. The Lions played a top-10 rate of man coverage last season and Witherspoon played man at a 75%+ rate at Illinois.
7. Arizona
Cardinals

(via Las Vegas) – Christian Gonzales, CB, Penn State

The Cardinals lost Byron Murphy in free agency and already needed help at cornerback before that. Christian Gonzales is probably most teams' CB1 and would be an instant starter for the Cardinals. He also ripped off a 4.38-second 40-yard dash at the NFL combine, solidifying his top-tier draft stock.
8. Atlanta
Falcons

– Tyree Wilson, EDGE, Texas Tech

The Falcons are very much in play for a quarterback with Desmond Ridder slated to be the current starter but in this scenario, they miss out on the top tier. They also need a ton of help in the trenches as their defense has recorded the fewest sacks over the past two seasons.

I originally had Wilson much higher but his injury history of two Jones fractures is not a good sign. He will get a more in-depth medical check-up in April and at that point, we will have a better idea of if the NFL considers his injury history to be a problem. If he turns out to be clean, Wilson could easily be a top-5 pick and was described by Daniel Jeremiah as this year's Travon Walker (last year's No. 1 overall pick).
9. Chicago
Bears

—Broderick Jones, OT, Georgia

After trading down, the Bears need to start stockpiling talent. Carter is in play but at this point, they need stability and guys who can contribute immediately. Broderick Jones ripped off the fastest 40 of any offensive lineman at 6'4, 311 pounds, and is a true athletic specimen. As Anthony Amico pointed out on Twitter, he also profiles closely to Eric Fisher, who the Chiefs selected first overall over three other tackles who went top-5 in that Draft. At that time, Ryan Poles was the college scouting coordinator for the Chiefs.
Ryan Poles was with the Chiefs from 2009 to 2021. The only first-round OT they took in that time frame was Eric Fisher, who looks similar to a certain 2023 prospect:



Fisher

6'7" 306

5.05 forty

1.7 10-yard

28.5" vert



Broderick Jones

6'6" 311

4.97 forty

1.74 10-yard

30" vert

— Anthony Amico (@amicsta) March 16, 2023
10. Philadelphia
Eagles

– Jalen Carter, DT, Alabama

Carter looks to be in the clear "legally" but there were already rumors about "character issues" unrelated to his most recent legal incident. On top of this, he showed up to his pro day nine pounds heavier than at the combine and reportedly couldn't finish drills due to cramping.

Carter opened as the favorite to be the first defensive player off the board but there is enough going on between all of the recent happenings for him to fall. A team like Philadelphia may be willing to take a risk on a high-upside player like Carter even after drafting Jordan Davis last season.
11. Tennessee
Titans

– Paris Johnson Jr, OT, Ohio State

The Titans could go a lot of different directions here with holes all over the roster. They are reportedly shopping Derrick Henry but at the bare minimum need to start shoring up their offensive line. Paris Johnson Jr is considered to be one of the top offensive linemen in the draft and would be a plug-and-play starter for the Titans.
12. Houston
Texans

– Nolan Smith, LB/EDGE, Georgia

Smith crushed the combine with a 4.39-second 40-yard dash, a 41.5-inch vertical jump, and 10-foot-8-inches in the broad jump. The Texans need to continue adding talent to their defense after appointing former NFL LB Demeco Ryans as their HC. The Texans also spent FA adding offensive "weapons" like Robert Woods and Dalton Schultz so may opt to start shoring up their defensive woes with the second pick in the draft.
13. New York
Jets

– Darnell Wright, OT, Tennessee

Wright has been shooting up draft boards and Daniel Jeremiah mentioned he is in the conversation to be the first offensive tackle drafted. The Jets need to continue to bolster the offensive line especially given the uncertainty of Mekhi Becton.
14. Dallas
Cowboys

(Via New England) –

Bijan Robinson

, RB, Texas

I know it seems like a stretch to trade up for a running back but there are rumors swirling that the Cowboys are very interested in Robinson. If there was a team to trade up for a running back, it'd be the Cowboys. Tony Pollard is coming off a broken leg and Jerry Jones' favorite player, Ezekiel Elliott, is no longer with the team. If we remember back to 2016, the Cowboys had the option of selecting Jalen Ramsey or Zeke. Jerry Jones reportedly put his foot down and picked Zeke. We could see the exact same thing happen here as they get their star running back of the future.
15. Green Bay
Packers

– Myles Murphy, EDGE, Clemson

The Packers moved on from Aaron Rodgers and will need to tighten up their defense in order to remain competitive. A tight end or wide receiver here won't have enough of an impact on a Jordan Love-led offense to make a difference but could ultimately be the selection if they are okay with rebuilding for a bit.
16. Washington
Commanders

–

Michael Mayer

, TE, Notre Dame

Dalton Kincaid and Michael Mayer are both in the conversation to be the top tight end selected. It will just come down to if a team wants a better pass-catcher (Kincaid) or a more well-rounded tight end (Mayer). I originally had Kincaid in this slot but after evaluating the Commanders, they are much more likely to go run-heavy and want a tight end who can be a strong blocker as well.

17. Pittsburgh
Steelers

– Joey Porter Jr., CB, Penn State

Porter has tons of personal connections to the Steelers with his dad (Joey Porter) playing seven years with the Steelers. Corner is also a position of need for the Steelers so it could be a great pairing.
18. Detroit
Lions

– Peter Skoronski, OT, Northwestern

Skoronski takes a mini-tumble in this mock draft but the Lions would be eager to pounce here. Skoronski is the most polished offensive lineman in this draft but is reportedly viewed as a guard by some teams. That would be a perfect fit for the Lions who have questionable guard play and outstanding tackle play.
19. Tampa Bay Bucs – Lukas Van Ness, DL, Iowa
The Bucs need help on the defensive line and Van Ness is a versatile player who could be effective from the jump.
20. Seattle
Seahawks

– Calijah Kancey, DT, Pittsburgh

Pairing Kancey up with Will Anderson would immediately change the dynamics of the Seahawks' defense and jump-start their ability to win in the trenches. Kancey is a bit undersized but can rush the passer in a big way.
21. Los Angeles
Chargers

,

Dalton Kincaid

, TE, Utah

The Chargers need to continue adding weapons for Justin Herbert and Kincaid would be a great fit after catching 70 passes as a senior at Utah.
22. Baltimore
Ravens

–

Jaxon Smith-Njigba

, WR, Ohio State

The Ravens hired Todd Monken from the Georgia Bulldogs to be their offensive coordinator and will almost certainly skew a bit pass-heavier than Greg Roman. In order to do that they will need NFL-caliber receiving options outside of Rashod Bateman and Mark Andrews. We probably won't see the full air raid offense Monken implemented in 2018 with the Bucs but with Lamar Jackson's situation up in the air, the Ravens could look a lot different come Week 1.
23. Minnesota
Vikings

–

Quentin Johnston

, WR, TCU

The Vikings desperately need some speed opposite Justin Jefferson to open up the field. They also released Adam Thielen and have a gap at their second wide receiver position. I expect them to take a receiver here but it's unclear which one they prefer. Johnston would be an electric pairing alongside Jefferson that could open up the offense.
24. Jacksonville
Jaguars

– Dawand Jones, OT, Ohio State

With Calvin Ridley joining the Jaguars and Evan Engram getting the franchise tag, continuing to build out Trevor Lawrence's supporting cast is crucial. Jones is a physical presence at 6'8", and 359 pounds but also ran a respectable 5.39s 40-yard dash. Upgrading the offensive line could make this team lethal next season.
25. New York
Giants

–

Jordan Addison

, WR, USC

The Giants signed Daniel Jones to a multi-year deal while placing the franchise tag on Saquon Barkley. They need to continue adding viable receiving options for Daniel Jones for this offense to take the next step. Addison didn't test well relative to his size but is a pristine route-runner and would be a big upgrade for them at the position.
26. New England
Patriots

(Via Dallas) – Keion White, EDGE, Georgia Tech

In this scenario, the Patriots get two things they love: more picks by trading down, and a project player who some draftniks may consider over-drafted. Georgia Tech isn't a small school but White started his career as a tight end at Old Dominion. He wound up as a defensive end at Georgia Tech. Last year the Patriots selected Cole Strange from Chattanooga in the first round. White is big, athletic, and productive but is still a bit raw from the position change.
27. Buffalo
Bills

– O'Cyrus Torrence, OL, Florida

With the Bills signing Damien Harris, their two main needs are linebacker and offensive line. Either position is in play here.
28. Cincinnati
Bengals

–Deonte Banks, CB, Maryland

Banks crushed the combine with a 4.35 40-yard dash and the Bengals need to continue upgrading their secondary.
29. New Orleans
Saints

– Bryan Breese, DT, Clemson

Breese is a 6'5, 300-lb defensive tackle who ran a 4.86-second 40-yard dash at the combine. He was also the No. 1 recruit of the 2020 class out of high school. The Saints are currently relying on Khalen Saunders and Nathan Shepherd at DT.
30. Philadelphia
Eagles

– Drew Sanders, LB, Arkansas

With the Eagles shoring up their secondary in free agency outside of Chauncey Gardner Johnson going to the Lions, they don't have a lot of holes. They did lose both TJ Edwards and Kyzir White in free agency so linebacker is definitely a need.
31. Kansas City
Chiefs

–

Zay Flowers

, WR, Boston College

The Chiefs lost both Mecole Hardman and JuJu Smith-Schuster this offseason and will almost certainly be in the market to upgrade their receiving corps in the draft. Flowers is a great separator who made waves at the senior bowl in the pre-draft process.
---
If you are interested in joining our NFL Draft discord where we post all of our bets and talk about all of the markets, prospects, and more every day, you can get access to that for just $15.