Post-NFL Draft Superflex Rookie Mock Draft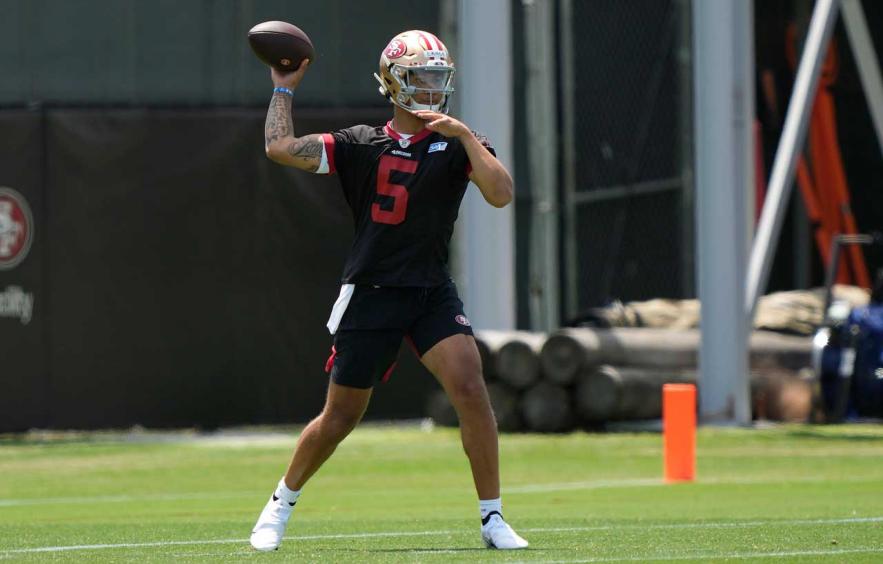 Thearon W. Henderson/Getty Images
A couple of months have passed since I recapped a pre-NFL Draft Superflex dynasty rookie mock draft. Player values fluctuated throughout March and April as Pro Day measurements and results trickled in. NFL rumors and mock drafts gave us some idea about where in the draft these prospects were likely to be selected. Then, the actual NFL draft happened and dumped most everything on its head as it is wont to do. George Kritikos recently wrote a Pre-NFL Draft vs. Post-NFL Draft article that utilized the same four drafters executing both rookie mocks in a 1QB format, breaking down what changes the NFL Draft brought on these offensive prospects.
I ran a post-NFL Draft Superflex dynasty rookie mock draft where I'll be looking at the changing values from that first Superflex mock in March compared to the more recent mock in May. I was joined by 4for4's Brandon Niles, George Kritikos, Justin Redwards, Kevin Zatloukal and Sal Stefanile for both drafts. Chris Allen also partook in the earlier mock, which was then filled out by Aaron Schill, Danny Mackey, Pat Fitzmaurice and Paul Williams. For the post-NFL Draft mock, Jack Miller and Pete Davidson joined the party, while Pat Fitzmaurice and Paul Williams graciously returned, and John Hogue and Pat Thorman took the bait to fill out the draft room.
---
Previous Rookie Drafts: 1QB (Post-NFL Draft) | Superflex | Superflex/TE-Premium | Pre-Draft vs. Post-Draft
---
Round 1
The most notable change in the second draft from the first was Trey Lance going first overall over Trevor Lawrence, compared to his selection at 1.06 in March as the fourth quarterback taken. You won't see this very often in Superflex rookie drafts with Trevor Lawrence so strongly entrenched as the consensus number one pick, but I wouldn't dismiss Justin's selection here. Lance going third overall to San Francisco was a dream scenario for him. San Francisco left tackle Trent Williams, one of the best in the league at his position, recently signed a six-year extension. San Francisco also signed free-agent center Alex Mack, drafted guard Aaron Banks in the second round of the draft, and drafted tackle Jaylon Moore for depth in the fifth round, who's a physically gifted project at the position.
Lance may not start immediately with Jimmy Garoppolo still in San Francisco, but there's no quarterback in this class with more Konami-code upside than Lance, and the receiving arsenal at his disposal that includes Brandon Aiyuk, Deebo Samuel, and George Kittle is superb. Trevor Lawrence is a safer selection in that it's a near-certainty he'll be starting for the Jaguars in Week 1, there's far more college tape on which to evaluate him than there is for Lance, and Lawrence is one of the most highly-regarded quarterback prospects since Andrew Luck. Jacksonville still doesn't appear to have an answer at either tackle spot, though, and Lawrence's receiving corps in Jacksonville isn't as deep as Lance's in San Francisco. Justin's pick is contrarian, but it's far from crazy. Or more succinctly, from Justin himself, "I simply like Trey Lance's offensive surroundings more, and would rather have a true dual-threat option for years to come than Lawrence, who is very athletic but is also tied to Darrell Bevell."
Travis Etienne did not move from his March draft spot to his May draft spot, which speaks to both how highly he has been regarded throughout this rookie evaluation process as well as dynasty drafters' comfort with his landing spot in Jacksonville. Javonte Williams is an interesting non-mover in that his early-March value at 1.09 as the third running back taken reflected his college production, size and the hope he would land with a team that would use him as a three-down back. His value took a bit of a hit in terms of his opportunity for immediate production when he was drafted by a Denver team paying Melvin Gordon $8M in 2021, 86% of which is guaranteed. That being said, Gordon is a free agent in 2022, and it's hard to find the 2021 running back prospect that should leap ahead of Williams for that RB3 overall spot. Perhaps it's Williams's college teammate, Michael Carter, who has a great opportunity for immediate contribution on an ascending Jets offense, but at 5-foot-8 and 200 pounds, Carter lacks the ideal size you want from a running back going in the first round of rookie drafts. Rashod Bateman dropping out of the first round is an understandable development given his NFL home with the Ravens, a team that was dead last in passing rate in 2021. Baltimore would need to undergo a massive— and unlikely—shift in this area for Bateman to see the kind of target volume that's projected for the dynasty rookie wide receivers now being drafted ahead of him.
Round 2
Elijah Moore was one of the clearest beneficiaries of the NFL Draft outcome, rising 17 spots from the 3.06 to the 2.01. Moore ended up with second-round draft capital, a quarterback in Zach Wilson taken second overall, and a potential roadblock in Jamison Crowder potentially avoided with Crowder appearing likely to be cut. Amari Rodgers shared Moore's rocketship up the ranks, going from the 3.11 to the 2.06, which can be attributed mostly to his new partnership with Aaron Rodgers in Green Bay. It's certainly possible Aaron Rodgers forces a trade out of Green Bay or sits out his age-37 season, but count me among those who believe he'll be starting for the Packers come September 12th. Either way, Rodgers & Rodgers is the pairing most drafters are hoping for. Trey Sermon and Michael Carter have solidified themselves as the RB4/RB5, and there are valuable arguments for each rookie to justify taking one before the other. Sermon lands in an excellent zone-blocking offense in San Francisco, but faces touch competition from the 49ers' strong group of veteran running backs. Michael Carter has stronger college metrics and a clearer pathway to volume, but will operate in an offense that is more of an unknown with a rookie quarterback and an offensive line that struggled in 2020.
The post-NFL Draft mock was devoid of any quarterback picks in the second round, as Mac Jones ascended into the late-first round after being drafted by the Patriots with the 15th pick of the first round of the NFL Draft. The round was also extremely wide receiver heavy, with nine of the 12 picks being spent on the position. This is likely as much of an indicator of how thoroughly the draft muddied the waters for mid-range running back values than as it is a vote of confidence in the landing spots for the receivers. Terrace Marshall Jr., Amon-Ra St. Brown, Kadarius Toney and Tylan Wallace saw negligible change in their draft values between the two mocks. They're all strong second-round targets.

Round 3
This round saw some new arrivals to the draft board—players who were undrafted in March but whose NFL Draft destinations buoyed their values into third-round territory. Quarterback Davis Mills joined a Houston Texans team with a giant void of unknown at quarterback given Deshaun Watson's legal troubles. Mills joins Kellen Mond as the Superflex upside plays in this range, with Mond having a more difficult path to 2021 usage with Kirk Cousins ahead of him in Minnesota.
Brevin Jordan drops from pre-draft 2.03 to post-draft 3.08. Jordan was fairly popular among a number of draft analysts as the potential TE2 in this class, but after some fairly poor athletic measurables, the NFL as a whole shook its head and teams went with Pat Freiermuth, Hunter Long, Tommy Tremble, Tre' McKitty, John Bates, Kylen Granson and Luke Farrell before Houston selected Jordan with the third pick in the fifth round. Jordan's college breakout age of 18.1 puts him in the 99th percentile, and he had more yards after the catch in 2020 than any other tight end in this class, so he could easily provide value here with some needed patience and time on your taxi squad.
The late-third is an excellent range for a very interesting trio of wide receivers in Nico Collins, Tutu Atwell, Anthony Schwartz and Josh Palmer. Palmer's presence is the surprise here, but being tied to Justin Herbert in Los Angeles with second-round draft capital makes it easier to stomach his lack of college production or exciting measurables. Schwartz is likely the fastest wide receiver in this entire class and has tremendous upside with the Browns at just 20 years old. Collins went from the final pick of the pre-NFL Draft mock to the ninth pick of the third round after the draft. At 6-foot-4 and 215 pounds as part of a shallow Texans receiving corps, he's very enticing here. Atwell rose a bit less than the trio around him, but still a significant eight spots. He ended up with the Rams and second-round draft capital. His speed, agility and breakout age of 18.9 makes him a good candidate to rise up the depth chart quickly. Unfortunately, that depth chart includes Robert Woods, Cooper Kupp, Van Jefferson and DeSean Jackson, so he'd need quite a bit to happen around him to see fantasy-worthy usage in 2021.
Round 4
The final round saw two more dart throws at the quarterback position with selections of Sam Ehlinger and Ian Book. I certainly can't fault their selections here, as there's a very low percentage chance that any of the prospects selected in the fourth round of a rookie draft will have starting value on your dynasty squad. If you're shooting for the moon in this round, it may as well be at the position with both scarcity and value. Jamie Newman fell out of the fourth round in the post-NFL Draft mock, but was signed by the Eagles and is worth keeping an eye on in case Jalen Hurts falters.
The wide receivers here are worthy dart-throws for various reasons. Dez Fitzpatrick because the Titans took him in the fourth and have a thin depth chart behind A.J. Brown and new free-agent arrival Josh Reynolds (Chester Rogers, Cameron Batson, Nick Westbrook-Ikhine, Marcus Johnson and Cody Hollister do not represent an impregnable wall for a rookie to climb over). Ihmir Smith-Marsette because he remains an interesting prospect who played college ball for an Iowa team with Spencer Petras at quarterback and because he was the only wide receiver drafted by the Vikings (though they did have UDFA additions that included Whop Philyor, who I want to succeed because his name is the 1.01 of this class). He should also see the field quickly as a kick and/or punt returner. Shi Smith because he joins a Panthers team behind starters D.J. Moore, Robby Anderson, fellow rookie Terrace Marshall Jr., and free-agent acquisition David Moore, but has a path to relevance with Curtis Samuel out of town. Seth Williams because of his ideal height and weight, 98th-percentile breakout age, and above-average athleticism on a Broncos team almost certain to upgrade the quarterback position sooner than later. Hunter Long might end up as my most-drafted tight end in dynasty in 2021. He could form a strong duo at the position alongside Mike Gesicki in Miami. He'll also have Tua Tagovailoa as his quarterback, and he's got ideal size for the position at 6-foot-5 and 254 pounds. Miami also spent a third-round pick to acquire him, and it may only take an early fourth-round rookie pick (or late-third if you have a glaring need) to acquire him for your dynasty team.
All but one of the running backs in this final round paid the price of having either low NFL Draft capital or none at all, and almost no one in the draft-projecting community expected the odd man out, Kene Nwangwu, to be drafted anywhere near the fourth round. Nwangwu's eye-popping athleticism is intriguing and may have been enough for the Vikings to de-emphasize the fact he had just 143 total carries at Iowa State across four seasons, but his draft capital combined with his measurables justifies a shot here. Elijah Mitchell brings impressive speed, agility, and receiving chops to a San Francisco running back room that's six players deep with his inclusion. Javian Hawkins will compete with Qadree Ollison and Tony Brooks-James for snaps behind Mike Davis, and Hawkins's 20 targets and 127 receiving yards at Louisville in 2020 more than doubled his 2019 totals in both categories. He could see meaningful touches in relief of Davis as soon as this season. Earlier late-round rookie targets like Demetric Felton, Larry Rountree, Jaret Patterson, Kylin Hill and Jermar Jefferson all fell out of the NFL Draft, and subsequently the second dynasty rookie mock as well, but they all ended up on NFL teams as undrafted free agents worth adding to your watch list.
---
Related Articles