2021 Dynasty Superflex Rookie Mock Draft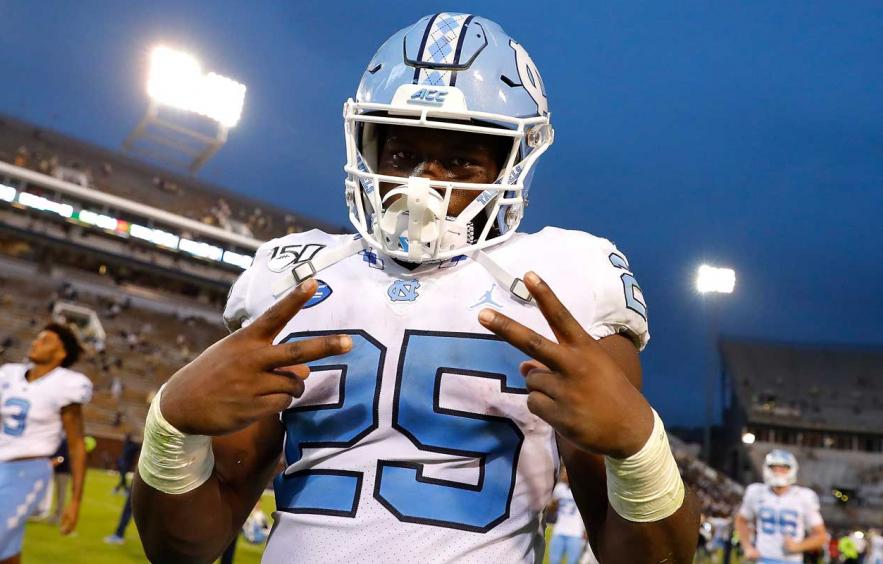 Kevin C. Cox/Getty Images
It may be very early in the offseason, but it's never too early for a rookie mock draft with a group of sharp dynasty minds to see how the landscape is looking for the incoming rookie class of 2021. We lack the important information of which teams these prospects will play for in the NFL or how they're being valued by the NFL marketplace, and due to the unique and patently-absurd 2020 that has recently passed, we won't even get combine numbers to help guide our assessments of the relative athleticism of these prospects.
---
MORE 2021 DYNASTY CONTENT: Player Profiles & Strategy | Rookie Rankings | Top 200 Overall Rankings: Superflex + Non-Superflex | NFL Mock Draft | NFL Draft Big Board | Rookie Mock Draft
---
The good news, though, is that all is not lost. We will still get Pro Day timings and measurements for these players, our confidence grows that the dim glow ahead of us may actually be the light at the end of the tunnel of this pandemic, and you're reading an article about dynasty fantasy football. Let's not lose sight of the fact that this Superflex dynasty rookie mock draft took place toward the end of February, and the intrepid souls who took part are all some part of engaged, degenerate, curious, and knowledgable.
Participants for this mock: George Kritikos, Salvatore Stefanile, Chris Allen, Brandon Niles, Justin Edwards, and myself representing 4for4, plus dynasty analysts/friends/brethren Pat Fitzmaurice, Matt Hicks, Aaron Schill, Danny Mackey, Paul Williams and Casey McGrath. The drafters supplied me with insight into their picks, and I've included my own thoughts on picks and the mock draft overall.
Round 1 (Picks 1-6)
1.01 -
Trevor Lawrence

, QB, Clemson

Sal: "You are sitting in the driver's seat if you hold the 1.01 pick in a Superflex rookie draft. If your team has a glaring hole at quarterback, you draft Trevor Lawrence—Someone who has a first-round ADP in Superflex Startup drafts. If you're content with your quarterback depth chart then you tell your league mates to send you their best offers and trade the 1.01 pick for more picks and players. There's not much more analysis to this pick. Just do it."

Sal channeled my feelings here like a telepath with mercifully benevolent intentions. Trevor Lawrence's production profile makes him as good a bet as we've seen since Andrew Luck for immediate elite production. If you're holding the 1.01 in a dynasty Superflex league and are lucky enough to be completely secure at quarterback, accept nothing less than a massive haul as compensation for this pick.
1.02 -
Justin Fields

, QB, Ohio State

Casey: "Despite the recent concerns and the fact Wilson has jumped him in multiple NFL mocks, I slot Fields as the second-best QB in the 2021 draft. I love his versatility, and in Superflex leagues, I'd be happy to land him in a strong QB draft."

For all the focus quarterback prospects receive on things like a "canon arm", "prototypical size" and "pocket awareness", shouldn't the ability to throw the ball precisely to the intended target remain the most important trait? Justin Fields also happens to check a lot of those other boxes (pocket mobility, deep-ball aggressiveness, rushing prowess), but most importantly, he's one of the most accurate quarterback prospects the analysts at Pro Football Focus (PFF) have ever charted, and this is reflected in his absurd 2019 ratio of 51 touchdowns to just three interceptions in 2019. Fields is a great pick here in Superflex rookie drafts—and a steal if he falls past the 1.02.
1.03 -
Najee Harris

, RB, Alabama

Danny: "This was an easy pick here with both Lawrence and Fields gone. I decided to take who many believe to be the best RB in this draft. Harris possesses both the strength and the hands to be a three-down back in the NFL."

Najee Harris stepped into an Alabama backfield as a freshman in 2018 behind Damien Harris and Josh Jacobs, yet still managed to command 121 wildly-efficient touches. His 6.7 yards per attempt easily bested his teammates, both of whom now lead their teams' respective backfields. All Harris did in 2019 was command the majority of Alabama's rushing attempts and explode for 1,224 yards and 20 touchdowns. He then finished his college career in 2020 with 1,528 combined rushing/receiving yards, alongside 20 touchdowns, all while maintaining over 5.8 yards per attempt. Harris is 6-foot-2 and 230 pounds. Don't overthink this one.
1.04 -
Ja'Marr Chase

, WR, LSU

Aaron: "With the two top quarterbacks off the board, I'm very happy grabbing Ja'Marr Chase with the fourth overall pick. He's my WR1 in this 2021 class, and it isn't close. His route running is fantastic, he's very shifty, and he is great after the catch. His ability to run after the catch might be one of his best attributes and Chase is a no-brainer for me as the top wideout in this class."

Ja'Marr Chase opted out of the 2020 season to focus on the 2021 draft, so it's been some time since we've seen him on the field. That being said, Chase's 2019 season was one for the history books, as he set the record for a single-season in the SEC with 1,780 receiving yards and 20 touchdowns. Chase will likely clock in below 4.40 at his Pro Day later this month at 6-foot-1 and 208 pounds. He's a highly-skilled route-runner, and as tracked by PFF, his 2019 stats from only 20+yard targets (24 catches, 860 yards, 14 TDs) are truly absurd.
1.05 -
Zach Wilson

, QB, BYU

Paul: "I have him as my QB1 on the board ahead of Lawrence. His upside screams playmaker like Patrick Mahomes. If he goes to a spot with some weapons already in place, look out."

In my mind, this part of the draft is truly the inflection point for 2021 Superflex, where drafters need to either plant a flag on their QB3 behind Lawrence and Fields, or make the decision to grab one of the top-three running backs or wide receivers. This is an extra-difficult decision before the NFL Draft gives us landing spots for the quarterback prospects, and I can't fault either Paul's pick here or George's immediately following. Zach Wilson has truly remarkable touch on his deep passes, and the arm to deliver them accurately. He also has only one season of dominance on his college resume and played a relatively weak schedule behind an excellent offensive line.
1.06 -
Trey Lance

, QB, North Dakota State

George: "Lance has all the tools but drafters will need to be patient as he refines as a quarterback. He has top 12 fantasy upside due to his running ability and an NFL team will view him as a franchise quarterback in the draft."

Trey Lance showed out in 2019, throwing 28 touchdowns against zero interceptions while rushing for over 1,000 yards and 14 touchdowns. He also displayed excellent accuracy on throws down the field. On the other hand, Lance's FCS alma mater North Dakota State played only one game in 2020 due to the pandemic, which would have been his redshirt sophomore season, leaving him with one season plus one game of production at a young age. Ultimately for me, Lance slots in ahead of Wilson as the QB3 for fantasy due to his dual-threat Konami-code upside.

Side note: If my hometown Patriots were to trade up in the first round to pick a quarterback, as our own Anthony Staggs predicts in his Mock Draft, choosing Lance to develop for a short time behind a veteran acquisition like Ryan Fitzpatrick is the stuff of dreams, or potentially nightmares for nearly anyone who didn't grow up in the New England area.
Round 1 (Picks 7-12)
1.07 -
Travis Etienne

, RB, Clemson

With the top four quarterback prospects off of the board, Chris lands one of the top two running backs in what appears to be a top-heavy class. Travis Etienne is a superb prospect who checks the elusiveness box that's so near and dear to my heart with a king-sized Sharpie, and the receiving skills he showed in his senior year further solidify his stock. The knocks against him include his size (5-foot-10, 205 pounds) and his reduced rushing totals in 2020, but the upside of his all-around skillset and big-play potential outweigh the minor flaws in his prospect profile.
1.08 -
DeVonta Smith

, WR, Alabama

Brandon: "I was really hoping Etienne would make it here, as I like his floor a little more than the undersized Smith's, but if he was two inches taller and 20 pounds heavier, he'd be viewed as a can't-miss prospect. The Heisman winner is a big-time playmaker and has as much upside as anyone in this draft. A little risk here, but worth it with the no-brainers off the table. Pitts and Bateman were awfully tempting here as well."

DeVonta Smith is another prospect who is slightly dinged for his size at 6-foot-1 and 174 pounds, but his production simply cannot be ignored. Winning the Heisman after a 2020 senior season that saw him put up 1,856 yards and 23 touchdowns will go a long way toward looking past his stature. It's potentially dangerous to fade an outlier in the size category with this much talent and production against SEC opponents.
1.09 -
Javonte Williams

, RB, North Carolina

Andrew: "I'm drawn to high broken tackle rates for RB prospects like a bear to honey, and Williams is the leader in this class. Throw in his receiving production and size, and he's got a great shot at a three-down alpha-RB role."

Javonte Williams exponentially increased his production over his three-year college career at North Carolina, and while the receiving accolades are mostly directed at his teammate Michael Carter, Williams displayed his utility as a receiver out of the backfield in 2020. Williams has compact size at (5-foot-10, 220 pounds) and preternatural balance. That combined with the physicality and power displayed by this human Mack truck contributed to Williams being one of the most elusive runners in this class. I was thrilled to draft him here as my rookie RB1.
1.10 -
Kyle Pitts

, TE, Florida

Justin: "As we've seen over the last few years, having an upper-echelon tight end is a huge difference-maker. If Pitts is anywhere near his hype and can find your starting lineup in the first couple years of his career he will be much more valuable than any other player in this range."

Kyle Pitts is the no-doubt TE1 in this class, with receiving skills that put him toe-to-toe with the best wide receivers in his class, except he's 6-foot-5 and 239 pounds. Pitts can line up all over the formation, block sufficiently well in the running game, and he plays at a position of scarcity in fantasy football. The usual adage of "don't expect production from a rookie tight end" can probably be thrown out the window in this case. This is a great value for Justin at 1.10.
1.11 -
Rashod Bateman

, WR, Minnesota

Pat: "Amazing how good the first round is this year, isn't it? Getting this guy at 1.11 seems unfair. Bateman is a terrific technician and makes some circus catches. I like him more than any other receiver in this class with the exception of Ja'Marr Chase."

I figured Pat may have been pinching himself at the reality of having Bateman available at the 1.11, and I was not wrong. Batemen is a precise route runner with prototypical size who could realistically outperform many of the receivers drafted before him in this class. If he can avoid landing in an excessively run-heavy offense (cough, cough, Baltimore), he's got Super-Saiyan upside.
1.12 -
Jaylen Waddle

, WR, Alabama

Matt: "This is tremendous value for the sticky-handed speedster out of Alabama. Waddle is my pre-draft WR2 in the 2021 class—he is a sharp route runner and has great athleticism to round out his game."

Matt also had to love the opportunity to select Jaylen Waddle at the 1.12, another wide receiver with realistic potential as the fantasy WR1 in this excellent class. The need for quarterbacks in a Superflex league plays a sizeable role in players like this lasting this long, but it's the embarrassment of riches at the position that has Waddle as the fifth wide receiver selected more than anything. Waddle is a multi-use weapon with game-changing speed whose fantasy value will rise significantly if he lands with an NFL team that understands how to utilize him.
Round 2 (Picks 1-6)
2.01 -
Rondale Moore

, WR, Purdue

Sal: "I'm going to group these two picks together. (Rondale Moore at 2.01 and Dyami Brown at 3.01). In Rondale Moore and Dyami Brown, I selected two receivers ranked as top-10 options at the position and top-15 overall, according to George Kritikos's rookie rankings. The one great thing about Superflex leagues is that it pushes down players who should be drafted earlier because of the quarterback bump—in this case, a top-five asset in Moore fell to me at 13th overall, while I was able to snatch up a top-15 asset in Brown at the 25th overall draft slot."

The wide receiver parade keeps on going, with Sal selecting a prospect in Rondale Moore whose short-but-yoked stature (5-foot-9, 180 pounds) has drawn comparisons to Tyreek Hill and Steve Smith, and it's not hard to be tantalized by his upside. Moore played in only four games in 2019 due to injury and then opted out of the 2020 season before opting back in to play in Weeks 5-7, but he's done enough to cement his status as one of the top receivers in this class.
2.02 -
Terrace Marshall

Jr., WR, LSU

Casey: "I was really hoping Rondale Moore would have slipped one more spot, but Terrace Marshall is a nice consolation prize. He's a big, fast touchdown machine who produced despite playing second and third fiddle to Justin Jefferson and Ja'Marr Chase the last few years. Out of the gate, he could be a nice red-zone target, with the potential to build on his route running skills to become a solid WR in the league."

Terrace Marshall Jr. is a great pick here by Casey and represents a slight tier break at the wide receiver position, according to George Kritikos's rookie rankings. Marshall will be just 20 years old when he's drafted in April, and while his fantasy stock might sit a bit lower due to his weight (200 pounds at 6-foot-3), he has speed to burn and a nose for the end zone.
2.03 -
Brevin Jordan

, TE, Miami

Brevin Jordan is George's TE3 in this class, but at the bottom of a tier below several receivers on the board. Jordan certainly has the size and production to represent upside at the position, but he's less of a sure-thing as a receiver than Kyle Pitts, and in a non-TE-premium league, I'm a little more risk-averse early in the second and would probably lean toward one of the WRs available here.
2.04 -
Kenneth Gainwell

, RB, Memphis

Aaron: "The hype has died down a bit with Kenneth Gainwell, but at the 2.04, I'm happy to gamble on his upside. Gainwell can line up out wide and may very well be the best pass-catching running back in this class. His versatility could make him a very valuable fantasy asset in the right scheme."

Kenneth Gainwell is the fourth running back taken in this draft, and while George has both Michael Carter and Chuba Hubbard ranked higher, I can see Aaron's reasoning with this selection. Gainwell may be destined for more of a complementary role in the NFL, but the same could be said for Michael Carter to some extent—and he doesn't have Hubbard's senior year stat-depression.
2.05 -
Amon-Ra St. Brown

, WR, USC

Paul: "Incredibly versatile WR who moved from slot to perimeter this year, and averaged more than a TD/game. Feels like he should be a first-round pick and will likely be there for someone in the second."

I'm torn on Amon-Ra St. Brown as a prospect. He certainly has a high ceiling, and as Paul mentions, he expanded his repertoire beyond the slot in 2020. He's also a talented route-runner with experience all over the offensive formation. On the other hand, he's unlikely to showcase impressive speed at his Pro Day and hasn't proven to be adept at creating separation.
2.06 -
Mac Jones

, QB, Alabama

George: "I don't envision Jones falling this far in Superflex drafts after the NFL Draft but I'm happy to scoop him up here. He has the accuracy and overall ability to be a multi-year NFL starter. That, combined with a likely first-round NFL Draft selection, will be more than enough to justify his selection here."

George landed a great rookie quarterback after starting the draft with Trey Lance, creating a quarterback duo who could dominate in Superflex for years. He may need to hit on some later undervalued prospects at running back and wide receiver after forgoing those positions in the first two rounds, but he'd also have excellent trade capital should his theoretical fantasy team decide to go in that direction.
Round 2 (Picks 7-12)
2.07 -
Jermar Jefferson

, RB, Oregon State

Jermar Jefferson is another prospect who may be destined for a complementary role in the NFL, but he put up impressive rushing totals at Oregon State. Jefferson's upside may be somewhat dependent on landing with an NFL team that has a shallow depth chart at the position and runs a zone-blocking scheme that complements his strengths, but he does have a path to vastly outperform this mid-second-round draft pick.
2.08 -
Chuba Hubbard

, RB, Oklahoma State

Brandon: "Hubbard looks like he has starter potential, but might be very landing spot-dependent based on his profile of an elite complementary back, catching the ball out of the backfield and trying to get the ball in space. At this point in the draft, he was far and away the best RB remaining on my board, and the last remaining of a tier of backs that includes Jermar Jefferson and Kenneth Gainwell."

I may be slightly irrational in my enthusiasm for Chuba Hubbard, and I understand easing up off of the gas pedal after his disappointing senior year. If his struggles were more related to playing through injury and performance issues around him than individual struggles, Brandon could be landing an absolute steal at 2.08. Hubbard outrushed every running back in the country in 2019 with 2,094 rushing yards on an impressive 6.4 yards per attempt—it's not hard to see the upside here.
2.09 -
Kadarius Toney

, WR, Florida

Andrew: "I was hoping Mac Jones would have somehow fallen to me here, but George mercifully decapitated that fantasy earlier in the round. With seven WRs off the board, I like Toney's floor as a big-slot WR whose ability to create separation in space is excellent. I'm hoping to see Toney put up strong 3-cone and 2-yard shuttle times at his pro day."

Wise words from this Andrew guy. Kadarius Toney's skills in space are at war with his production profile, and his ability to overcome low success percentages with raw talent makes him risky as my first receiver from this class. If I had a do-over, I would probably go with Elijah Moore or Michael Carter here.
2.10 -
Michael Carter

, RB, North Carolina

Justin: "Carter is unlikely to ever find a "bell-cow" role at the professional level but depending on landing spot, his receiving skills and elusiveness could be exploited for very useful fantasy outputs."

Speaking of Michael Carter, Justin didn't let the dual-purpose teammate of Javonte Williams sneak past him. If Carter can land on a team that leans on their backfield as an extension of the passing game, he could really shine as a fantasy asset. Carter's physical play belies his short stature (says the guy who considers himself above-average in height at 5-foot-10). He is a great target here.
2.11 -
Tylan Wallace

, WR, Oklahoma State

Pat: "He had 1,491 receiving yards and 12 TD catches as a 19-year-old sophomore at Oklahoma State. That's a pretty impressive early breakout. In a draft full of talented receivers who weigh less than 200 pounds, Wallace is one of my favorite welterweights."

As we head toward the end of the second round, the floor gets a little lower on some of these wide receiver prospects, but that doesn't mean you can't strike gold here. Tylan Wallace offers the somewhat-recently-torn-ACL discount that distracts from the 2019 season Pat mentions on just 86 receptions.
2.12 -
D'Wayne Eskridge

, WR, Western Michigan

Matt: "I do not believe Eskridge will be available at this pick after the 2021 NFL Draft. He is an explosive runner with a great release. He is flying under the radar, playing at Western Michigan, but I project him as a Day 2 NFL Draft pick, which will skyrocket his fantasy football value."

D'Wayne Eskridge may not have the requisite size of an alpha receiver, but his speed should turn a lot of heads when he tests at his Pro Day. At the end of the second round with the safety of Jaylen Waddle on his mock roster, Matt shoots for the moon here.
Round 3 (Picks 1-12)
3.01 -
Dyami Brown

, WR, North Carolina

Dyami Brown in the third is highway robbery by Sal. Brown's production on an absurdly high average depth of target could drive him up NFL Draft boards and make his rookie ADP look rather silly.
3.02 -
Trey Sermon

, RB, Ohio State

Casey: "He may lack the college production you look for in a top-tier RB prospect, but I think he could be a productive early-down RB in the NFL. He's a big, tough runner and he has good vision. Despite the lack of speed and use in the passing game, he's a player I'm happy to grab in the third round, with hopes he can carve out a role in the NFL."

Trey Sermon's an ideal late target as a running back who won't test well in the speed department. He'll probably need an injury in front of him to ascend the depth chart wherever he ends up in the NFL.
3.03 -
Sage Surratt

, WR, Wake Forest

I really like Sage Surratt, and wasn't shy about it in a recent 4for4 dynasty round table, so I like Danny's selection here. I'm a bit gun shy after falling for N'Keal Harry in 2019—another separation-averse receiver who at least had first-round NFL Draft capital.
3.04 -
Pat Freiermuth

, TE, Penn State

Aaron: "Penn State was awful this year so Pat Freiermuth didn't get to do a ton, scoring just once on the season. He's got the size of your typical tight end and is very well-rounded. He's one of the "safer" options at the tight end position—and in this rookie class."

Pat Freiermuth, George's Rookie TE2, is a value for Aaron here. He offers a higher floor than many of the options on the board at other positions.
3.05 -
Rhamondre Stevenson

, RB, Oklahoma

Paul: "A JUCO monster, Stevenson was a homerun-hitter for Oklahoma last year, and I see him having a nice career as the back end of a timeshare somewhere."

Rhamondre Stevenson may be slow, but you would be too at 6-foot-0 and 230+ pounds. There's an avenue for him as the Thunder in a Thunder-and-Lightning backfield scenario.
3.06 -
Elijah Moore

, WR, Ole Miss

George: "Moore is going to be a riser in the next few months as he is a productive college player who will be a Day Two NFL pick. He's the type of dynamic athlete who typifies today's NFL and should become a big-play threat and movable chess piece for an NFL offense that will lead to solid fantasy stats."

Elijah Moore is another slot-receiver-plus who should test extremely well in what would normally have been NFL Combine drills that will now take place at Ole Miss' Pro Day. He should also end up with an impressive dominator rating and should easily outperform his third-round rookie fantasy draft capital.
3.07 -
Tamorrion Terry

, WR, Florida State

Drafting Tamorrion Terry is making a bet on innate athleticism and traits over college production. At this point in rookie drafts, you want to aim for the bullseye ceiling over safe prospects who aren't really that safe if they're relegated to the mid-to-late third round. Terry is 6-foot-4, 210 pounds, and is expected to lay down a 40-time in the 4.4s.
3.08 -
Kellen Mond

, QB, Texas A & M

Brandon: "Mond is the third QB on my draft board, so I'm nabbing him in the middle round of rookie drafts, particularly in Superflex formats. I doubt Mond gets drafted into an immediate starting gig, but he has tremendous dual-threat upside, showed improvement as a passer throughout his four-year career, and could have a Jalen Hurts-type impact if he battles his way into a chance at starting."

I haven't looked into Kellen Mond's production enough to feel like I have something definitive to say about his prospects, but his rushing production is notable, and you can do far worse in Superflex rookie drafts than targeting quarterbacks with rushing upside.
3.09 -
Kyle Trask

, QB, Florida

Andrew: "I don't love Trask's lack of mobility because it makes him somewhat landing-spot dependent, but in the late-third in a Superflex rookie draft, he's worth a shot in the hopes he lands on a team with a good O-Line and a great scheme."

Speaking of doing worse than targeting quarterbacks with rushing upside, I present to you my pick at 3.09. Holding off at the position in the second round meant reaching a little bit here. It's hard to separate Kyle Trask's production from his excellent supporting cast, but one of the benefits of being taken outside of the first round of the NFL Draft is the chance to be drafted by a team that will actually surround him with an excellent supporting cast.
3.10 -
Kylin Hill

, RB, Mississippi State

Justin: "At this point in the draft I tend to lean towards running backs if I'm in a tiebreaker situation between positions. Hill's lack of explosiveness is a reason his fantasy stock will see him in this range, but there is use for a north-south runner with exceptional ball security."

Things will have to break right for Kylin Hill in the NFL Draft process for him to return fantasy value in the short term, but he's proven his skill as a receiver out of the backfield, and he's adept at breaking tackles.
3.11 -
Amari Rodgers

, WR, Clemson

Pat: "Overshadowed by Tee Higgins and Justyn Ross in 2019, Rodgers had a late breakout in 2020, then was the best receiver at the Senior Bowl by several accounts. Born to be an NFL slot receiver."

Showing out at the Senior Bowl certainly won't hurt Amari Rodgers's NFL Draft stock, and a role as a slot receiver with tremendous yards-after-the-catch skills could easily return value here. It may be worth noting he's had multiple pre-draft meetings with the New England Patriots (I'm sorry).
3.12 -
Jaret Patterson

, RB, Buffalo

Matt: "There should be at least one Patterson truther in every league; I am happy to take on that role for this mock. Patterson is a powerful and tenacious runner between the tackles and led the MAC in rushing in 2019 and 2020. He will likely start off in an RBBC in the NFL, but will always be an injury away from fantasy football relevancy."

I'm with Matt 100% here. There sure are a lot of 5-foot-9/5-foot-10 WR/RB tanks in this draft class—any of whom could transcend their size limitations in the right situation. In Week 4 of Buffalo's 2020 season, Patterson rushed for 409 yards and eight touchdowns. That's not a typo. I don't even care that it was against Kent State, that's pure insanity.
Round 4 (Picks 1-12)
4.01 -
Jamie Newman

, QB, Georgia

Sal: "This was a wild card pick, honestly. I was debating between Seth Williams (who went with the very next pick) and Jamie Newman here. The Superflex bump came into play, as I wanted to grab another signal-caller at the most important position in the format. I prefer quarterbacks who offer production on the ground and in Newman's final full season (he opted out of 2020) in 2019, he ran for 574 yards and tacked on six touchdowns on the ground. I prefer to take a shot on someone like that this late in a rookie draft. Plus, Thor Nystrom of Rotoworld compared him to David Garrard, which, while unsexy on the surface, a Garrard-like career from a fourth-round rookie pick is something I would gladly take."

I strongly considered passing on Kyle Trask for options at running back and wide receiver in the third, based on the possibility I could target Jamie Newman in the fourth, so it's nice to know that plan would have imploded. Like Sage Surratt, Jamie Newman had the pleasure of being on my roster in the only college football fantasy league I've ever played in during the 2019 season. While he's a long shot to start in the NFL, barring a series of fortuitous events (for him, unfortunate events for those who would need to flame out to open the necessary doors), I do think he has the ability to show out if the opportunity presents itself.
4.02 -
Seth Williams

, WR, Auburn

Casey: "I like his size and ball skills, I worry a little about his issues creating separation against NFL corners, but his upside made this pick in the fourth a no-brainer."

Ah yes, Seth Williams. It's the fourth round, Williams is 6-foot-3 and 211 pounds, and he had Bo Nix throwing passes in his direction. No qualms here.
4.03 -
Riley Ferguson

, QB, Memphis

Soooo, Riley Ferguson is not a rookie, he was a 2018 quarterback prospect out of Memphis. This was an auto-pick for Danny, but don't blame Danny for the pick here. When you select "rookies only" in your mock draft options, it's fair to expect the player pool to feature... only rookies.
4.04 -
Javian Hawkins

, RB, Louisville

Aaron: The biggest knock on Javian Hawkins is definitely his size, weighing under 200 pounds. He runs very tough for his size and has very nice speed, which may cause his stock to rise a bit. Fourth-round picks are absolute fliers and Hawkins is one I'm totally fine gambling on.

Look, my brother's middle name is Hawkins, because it's a family name, and it's inarguably badass. This means Javian Hawkins will destroy all expectations and will be an immediate RB1. Okay, fine, he's an undersized prospect who would need to follow a Dion Lewis-like path to fantasy relevancy, but he has legitimate speed and agility, and these third- and fourth-round rookie picks are all dart throws.
4.05 - Jared Rice, TE, Fresno State
Paul: "I'm gonna level with you. This pick was made because the timer ran out while I was asleep. I have no idea who this kid is, but I'm owning the selection."
Sleeper's "rookies only" draft pool strikes again, as Jared Rice is a 2020 tight end prospect who signed with the Chargers as a UDFA. I suspect having Rice as his last name may have snuck him past Sleeper's sensors.
4.06 -
Tutu Atwell

, WR, Louisville

George: "I have a type at wide receiver with Atwell a poor man's version of Elijah Moore. He creates yardage with his electric agility and speed but needs an NFL offense to manufacture touches for him."

Chatarius "Tutu" Atwell is not a large man by any measure approaching NFL prospect standards. He should test as a wildly fast receiver who will need to overcome an extremely low-percentile likelihood to succeed at his size in the NFL. I passed the 165-pound mark at 5-foot-10 for the first time in my life during this pandemic, and I'm built like a shorter version of The Slender Man. Granted, Atwell would lap me at least four times on a track of any length, which is why he has a chip and a chair.
4.07 -
Hunter Long

, TE, Boston College

If you're going to draft a rookie tight end not named Kyle Pitts, you could do a whole lot worse than Hunter Long out of Boston College. I might go so far so to say he might be the best fourth-round target in this draft.
4.08 -
Larry Rountree

, RB, Missouri

Brandon: "Rountree is probably just another guy at the position, but at this point in the draft, he provides two-down and red-zone potential as part of a committee. Rountree seems to be working on his pass-catching and seems motivated to prove he's more than a limited, inside runner. He may lack the explosiveness to expand his game too far. Still, at this point, I was looking for playing time upside, and his mentality and work ethic should land him a role somewhere."

Brandon's take reflects my own quite well; Larry Rountree may end up on the tail end of a running back depth chart and will need to clearly outwork and outperform the players ahead of him in practice to have a shot at fantasy relevancy. Welcome to the late-fourth-round of a fantasy rookie draft.
4.09 -
Khalil Herbert

, RB, Virginia Tech

Andrew: "Herbert probably won't be much of a pass-catching threat in the NFL, but he's a legit athlete with speed likely to test out in the low-4.4s, and after a 2020 season at Virginia Tech in which he rushed for 1,182 yards and eight touchdowns, he's an easy target here.

Khalil Herbert didn't really get a reasonable chance to show his capabilities in his college career at Virginia Tech. He's a running back prospect who doesn't have the flashy counting stats to demand a high NFL Draft slot, but he's an explosive play waiting to happen. Selecting him at 4.09 might be my best choice in this draft. Which probably ultimately means we watch him become the 2021 version of Bo Scarbrough.
4.10 -
Shi Smith

, WR, South Carolina

Justin: "As a developmental slot receiver, Shi Smith is someone you would want to be keeping on your taxi squad for a year or two, without a ton of roads that lead to immediate fantasy production. With some work, Smith's ceiling could be something attuned to a Cole Beasley."

Shi Smith is another undersized but fast wide receiver prospect destined for duties in the slot. He needs the right landing spot to have fantasy relevancy.
4.11 -
Demetric Felton

, RB, UCLA

Pat: "Is he a running back or a wide receiver? The positional ambiguity could cause him to slip in rookie dynasty drafts. Felton's skill set is a bit like Ty Montgomery's. He can operate out of the backfield or out of the slot, and he'll be a nightmare for linebackers to try to handle in space."

Demetric Felton has the ability to excel as a receiver out of the backfield and in slot receiving formations. He's a worthy target here. Honestly, if Pat drafted him, you should probably put him higher on your sleeper radar and thank me later for identifying people smarter than me.
4.12 -
Nico Collins

, WR, Michigan

Matt: "I am shocked to see Collins fall to me with the last pick of this mock draft. He is a big-bodied wideout with great athleticism and field-stretching ability. He has nice upside as a future red zone monster and sure enough hands to demand volume in the right system."

Nico Collins is in the Sage Surratt class of later-round dart throws who have ample room to improve. At 6-foot-4, 222 pounds, Collins is absolutely worth a bullet at the end of the fourth round.
---
Related Articles