2021 Two-Round Dynasty Rookie Mock Draft 2.0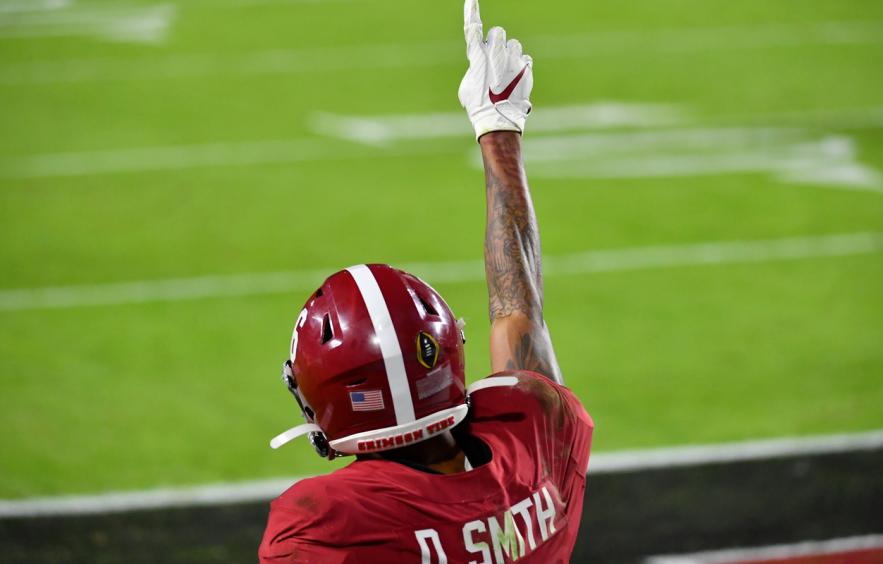 Alika Jenner/Getty Images
Much like Alabama winning a College Football National Championship, hyping up a rookie class for dynasty fantasy football purposes is pretty much an annual event. Last year was an exceptional instance as it had been building for several seasons, and despite the exorbitant amount of hype, the class largely lived up to the billing. Multiple running backs look like foundational pieces for fantasy teams with several others still possessing additional upside and a pathway to more production. The wide receiver class was even more impactful early on with Chase Claypool, Justin Jefferson, Brandon Aiyuk and CeeDee Lamb already flirting with annual top-24 value—and that was without a pair of first-rounders in Jerry Jeudy and Henry Ruggs showing any level of consistency in year one.
While this year's class is similarly exciting, expectations are perhaps inflated by the aforementioned success of the 2020 rookies. There will be a heightened belief in immediate production from the group with a lower level of patience exhibited for development or potential roadblocks. A few players have been hampered due to injury, including Journey Brown leaving football altogether, while the challenges of the 2020 season changed the growth trajectory for prospects as well, causing some shifts in player value just since July's rookie mock draft. All that said, just be excited about another talent infusion at the skill positions into the NFL.
While the NFL Draft, and even the NFL Combine, is still a ways out, trading rookie picks and thinking about your dynasty roster construction are year-round events. The Early Entry deadline hasn't occurred yet so a few of these players have yet to declare for the NFL Draft. We will assume all players who are eligible are entering the player pool.
Now, let's get to my one-man mock draft:
Round 1
1.01 -
Ja'Marr Chase

, WR, LSU (WR1)

Previous - Ja'Marr Chase, WR, LSU

Chase remains my top pick despite the ascension of several other players, but that merely closed the gap rather than displace him. He did not play in 2020, but that may have helped with a post-Joe Burrow LSU offensive environment reminiscent of an abandoned Bennigan's. The NFL Combine will be important to see how Chase has used that time. For now, he holds the top spot here and should be a top-10 NFL Draft pick.

In Superflex leagues, Clemson quarterback Trevor Lawrence would be my choice above Chase and fellow signal-callers Justin Fields (Ohio State) and Zach Wilson (BYU).
1.02 -
Najee Harris

, RB, Alabama (RB1)

Previous - Rondale Moore, WR, Purdue

Just yesterday, I still had Harris ranked second among running backs but it's hard to deny his progression the last two seasons after seeing sporadic playing time early on. He is an example of what an extra year in school can do, showing off improved receiving skills and drawing early comparisons to Matt Forte and Steven Jackson. Fit shouldn't be much of a concern for Harris as he has a well-rounded skill set—he just needs an opportunity. A possible first-round NFL Draft pick, Harris could be a top-10 fantasy running back within his first two years.

For Superflex formats, Fields would be my pick over Chase and Harris, with Zach Wilson also a reasonable option.
1.03 -
Travis Etienne

, RB, Clemson (RB2)

Previous - Travis Etienne, RB, Clemson

Unlike Harris, I'm not sure Etienne benefitted from a return to school rather than entering the 2020 NFL Draft. The big plays, normally a staple, were fewer and farther between, and his progression in pass protection didn't materialize. The latter point will likely hurt him less but could scare a few NFL teams who see their running back as an extra blocker on key pass plays. Still, Etienne is a threat in all facets and like Harris, isn't going to be scheme dependent. He will be a top-60 NFL Draft pick with a chance to enter the first round, especially if he delivers on a sub-4.4 40-yard dash.

The third pick will be a tough one in Superflex leagues. There's an argument to go three straight quarterbacks but Chase and the two running backs will be tempting at this point.
1.04 -
DeVonta Smith

, WR, Alabama (WR2)

Previous - Rashod Bateman, WR, Minnesota

If anyone benefited from 2020, it's Smith. Not only did he have a chance to lead the offense without Jerry Jeudy and Henry Ruggs, but the emergence of Mac Jones and injury to Jaylen Waddle suddenly created a bountiful vacuum of passing targets. All it did was lead to a Heisman Trophy, consistent dominance against high-level opponents, and a showcase of his technical and playmaking skills. Size is going to be the eternal question. He weighs 174 pounds according to the team, but he has some time before the NFL Combine to build his play strength without losing speed. Smith will be an early-to-mid-first-round NFL Draft pick with early comparisons to Marvin Harrison buoying the hype even more.
1.05 -
Jaylen Waddle

, WR, Alabama (WR3)

Previous - Jaylen Waddle, WR, Alabama

It's unfortunate Waddle did not get a full season to work in the Alabama offense with Mac Jones and DeVonta Smith. Even in a handful of games, though, Waddle showed off the explosive skills that have him threatening WR1 status in this class. He has elite skills after the catch, evidenced by his three returns for touchdowns, and we saw what Brandon Aiyuk did with a similar profile. Waddle is actually 10 pounds heavier than his teammate Smith and has drawn parallels to speedsters like Santonio Holmes, Santana Moss and Steve L Smith. He will be a first-round NFL Draft pick and could provide immediate value for fantasy players in 2021.

There is a clear line drawn here between these top five prospects and the rest of the draft class. Any of these players could be the 1.01 by the time the NFL Draft concludes, while anyone below this could enter this tier but not ascend to the top.
1.06 -
Rondale Moore

, WR, Purdue (WR4)

Previous - Najee Harris, RB, Alabama

Moore falls a bit here with another shortened season due to injuries and lingering questions about his size (5-foot-9, 180 pounds) that need to be answered at the NFL Combine to risk teams not passing on him early in the draft. Moore's been a dynamo when healthy, averaging nine catches per game for his career and showing the quick-twitch athleticism that will pair well in the modern NFL offense. If he clears the NFL Combine without medical concerns, he's a shoo-in as a top-60 pick with a chance to crack Round 1. Like Curtis Samuel, it will take the right NFL team and offensive creativity to unlock his potential. That alone makes him a risky rookie pick without knowing the results of the NFL Draft.
1.07 -
Rashod Bateman

, WR, Minnesota (WR5)

Previous - Chuba Hubbard, RB, Oklahoma State

Unlike Smith and Moore, Bateman is not going to have size questions (6-foot-2, 210 pounds) plaguing him heading into the NFL Combine. He originally opted out of the 2020 season but opted back in long enough to play five games of good football. Bateman's overall profile shows one of advanced route running and technique coupled with good, but not special, athletic ability. Comparisons have ranged from Michael Thomas to Allen Robinson to Marvin Jones—not bad company to keep. Bateman has first-round potential that will be tethered to a good combine showing and is one of the safest picks in rookie drafts after the top three are off the board.
1.08 -
Kyle Pitts

, TE, Florida (TE1)

Previous - DeVonta Smith, WR, Alabama

In other drafts, a tight end this early would be an indictment but in this case, this represents how special Pitts is as a prospect. Converted full-time to tight end after a high school career splitting time as a defensive end, Pitts's value comes as a moveable chess piece who can play in-line, the slot or outside as a primary receiver. He's extremely athletic and uses his 6-foot-6 frame well in jump-ball situations and has an innate ability as a route runner despite just two years as a starter. Comparisons to Darren Waller are appropriate and he will be a top-10 to top-15 NFL Draft pick. Given the dearth of tight end production and talent in the NFL currently, Pitts is a difference-maker for fantasy teams.

A small tier break occurs here for me as the three above represent the most likely risers into the top group.
1.09 -
Amon-Ra St. Brown

, WR, USC (WR6)

Previous - Seth Williams, WR, Auburn

The younger brother of Equanimeous St. Brown should be seen as a reliable option both for NFL and fantasy teams. He embodies the competitiveness and toughness NFL tropes are made of—fighting for the ball and extra yards after the catch. His nuance as a route runner combined with good body control and consistent hands will make him an immediate NFL producer. St. Brown could sneak into the first round but is more likely a Day 2 player with comparisons to fellow Trojan Robert Woods or California resident Keenan Allen that represent the steadiness and reliability he could provide an NFL offense.
1.10 -
Terrace Marshall

Jr., WR, LSU (WR7)

Previous - Tamorrion Terry, WR, Florida State

The first player who didn't go in the two-round iteration back in July, Marshall benefitted from the departure of Justin Jefferson and opt-out of Chase to be the de facto top option at LSU. The shortened season saw him average over 100 receiving yards per game (in seven games), moving all over the field and attacking all depths as well. There are few holes in his game as Marshall's technique is refined, although he can suffer from some drop issues, but that's a minor concern. He should be a top-60 pick with potential for the first round if a team gets enamored and sees him as a top receiver—something that should entice fantasy teams as well.
1.11 -
Chris Olave

, WR, Ohio State (WR8)

Previous - Max Borghi, RB, Washington State

The fourth player in this mock draft to have played in the National Championship this week, Olave is another technician who excels at creating separation and running crisp routes. Unlike the previous wide receivers on this list, Olave has the look of a No. 2 receiver on an NFL offense, but that's not a knock given today's NFL and the production teams can get out of the passing game. He won't wow as a next-level athlete, but his quarterback will find him quite often and that's enough to put him in the first-round fantasy rookie conversation. I see some similarities to Brandon Lloyd, but it would be nice if Olave exceeds the 4.62 40-yard dash Lloyd put up at the NFL Combine.

Note: Since this article was published, Chris Olave has elected to remain at Ohio State for 2021. He will enter the 2022 draft class and should compete for a spot among the top five wide receivers.
1.12 -
Javonte Williams

, RB, North Carolina (RB3)

Previous - Amon-Ra St. Brown, WR, USC

There is an obvious drop-off at running back after the top two options but Williams shouldn't be discounted and could rise up boards between now and the NFL Draft. He's a solidly built running back (5-foot-10, 220 pounds) who breaks tackles effortlessly with his physicality but also shows surprising agility and elusiveness. However, he also is a solid receiver out of the backfield and will gain trust as a pass-protector. While the North Carolina scheme and talent helped create large running lanes, the talent isn't a question. Williams is likely a Day 2 pick in the NFL Draft but should fit into any offense as he possesses a hint of Le'Veon Bell in his game.

This feels like another talent drop at the end of the first round. I feel less confident that the next tier will be able to be more than a role player for fantasy teams.
Round 2
2.01 -
Trevor Lawrence

, QB, Clemson (QB1)

Previous - Tylan Wallace, WR, Oklahoma State

I wasn't quite able to put Lawrence into the first round but I suspect some drafters in traditional, start-one quarterback fantasy leagues will have the guts. We saw that same value with Kyler Murray, due to a weaker class and his running ability, but Lawrence is more a result of his generational talent. He can throw accurately to all parts of the field and has the athleticism to extend plays or take off and run. He will likely be joining the Jaguars and has enough talent surrounding him to be a top-12 fantasy quarterback as early as 2021.
2.02 -
Elijah Moore

, WR, Mississippi (WR9)

Previous - Journey Brown, RB, Penn State

Another player likely to shoot up draft boards, where he hasn't already, Moore could end up being the steal of rookie drafts that occur early this offseason. Some might peg him as a slot receiver due to his size (5-foot-9, 185 pounds) but it's more likely he moves all over the field as he gains separation easily and can create after a short catch or play the deep ball. Moore is a Day 2 prospect who will draw similar NFL comparisons as Jaylen Waddle.
2.03 -
Kadarius Toney

, WR, Florida (WR10)

Previous - Zamir White, RB, Georgia

This is a tough one as Toney is garnering some first-round NFL Draft buzz but doesn't profile as a target hog that benefits fantasy players. His ascension is due to elite athleticism as he's electric with the ball in his hands. There are limitations as Toney has only played wide receiver exclusively for two years—he was a quarterback in high school—so his route running and technique are still developing. The upside is huge here for the NFL and fantasy communities but a team would need to be creative to make Toney more than a gadget player or decoy.
2.04 -
Dyami Brown

, WR, North Carolina (WR11)

Previous - Trevor Lawrence, QB, Clemson

A home run hitter who isn't scared to play the middle of the field, Brown has back-to-back 1,000-yard seasons at North Carolina despite never recording more than 55 receptions during his college career. He's still learning the position with room to grow as a route runner, but there's a clear role for him in the NFL. Similar to Robby Anderson, he could take a few years to develop but become a solid NFL wide receiver, although he will be a Day 2 draft pick rather than an undrafted prospect.
2.05 -
Seth Williams

, WR, Auburn (WR12)

Previous - Chris Olave, WR, Ohio State

Williams cut around 15 pounds before this season in an effort to improve his agility and ability to separate. It seemed to help some as his frame (6-foot-2, 211 pounds) remains an asset in those contested situations and his play strength remains exceptional. NFL teams will like his sure hands but be wary of his limitations as a route runner. He will need a strong NFL Combine performance to lock in a Day 2 draft slot, otherwise, he could tumble down boards.
2.06 -
Justin Fields

, QB, Ohio State (QB2)

Previous - Kyle Pitts, TE, Florida

While Fields was unable to overtake Trevor Lawrence as the top quarterback in this draft class, a tall order, he could be similarly valuable as a fantasy contributor. Fields is ideally suited in today's NFL with a big arm, athleticism to pick up yards on the ground, and the type of accuracy and confidence that makes every throw possible. Whether he ends up on the Jets or not, Fields will have to work on releasing the ball quicker and avoiding the big hits that showed his determination in the college football playoffs. The Dak Prescott comparisons make sense and I see a little Ben Roethlisberger in his improvisational skills and toughness.
2.07 -
Tylan Wallace

, WR, Oklahoma State (WR13)

Previous - Justin Fields, QB, Ohio State

Wallace is unique in that he doesn't have the burner speed or otherworldly size (6-foot-0, 185 pounds) that usually accompany a deep threat like him. Instead, he wins with determination and an innate ability to win at the catch point, relying on timing and technique over physical ability. That could cap his ceiling to more of a secondary option in the NFL but it's hard to count him out. Injuries and a scheme that limited his route tree are going to be questions along with his measurements, likely keeping him a Day 2 pick, at best.
2.08 -
Pat Freiermuth

, TE, Penn State (TE2)

Previous - Kylin Hill, RB, Mississippi State

While I want to put Freiermuth even higher, he does have a medical history including some shoulder issues that need to be resolved first. If so, he's in play as early as the beginning of Round 2 of rookie drafts. He is an impactful receiver who can stretch the field, plays physically, and is polished as a route runner. Freiermuth isn't quite the athlete Kyle Pitts is, few are, but he has more sustained success and is a mismatch in his own right. NFL teams could be looking at him in the late-first or early-second of the NFL Draft. He has been called "Baby Gronk" but I think Todd Heap is a good comparison for the young tight end.
2.09 -
Michael Carter

, RB, North Carolina (RB4)

Previous - Kenneth Gainwell, RB, Memphis

Yes, two running backs from North Carolina are draft-eligible and looking like Day 2 NFL Draft prospects. Carter was the smaller, more slippery option in the backfield with the receiving ability that kept him on the field on every down. Despite playing with Williams, Carter had consecutive 1,000-yard rushing seasons and three straight years with 20+ receptions. NFL teams are likely to view him as a complement to another running back but he has the skill set to be a bigger part of an offense with the right team.
2.10 -
Chuba Hubbard

, RB, Oklahoma State (RB5)

Previous - Keaontay Ingram, RB, Texas

Hubbard is the cautionary tale of returning to school after a stellar season that saw him gain nearly 2,300 yards of offense. His 2020 was lackluster with drops in yards per carry, receptions per game and big-play rates. It highlighted his passivity in the passing game, doing little when he is not the primary option on the play. He is athletic and determined as a runner with an ability to gain extra yards at his best. If he comes to the NFL Combine and shows the long speed and strength that defined his 2019, Hubbard is a clear Day 2 prospect.
2.11 -
Brevin Jordan

, TE, Miami (TE3)

Previous - Brevin Jordan, TE, Miami

Increases in receptions, yards and yards per catch each season is a simple way to show Jordan's growth in the Miami offense and as a prospect. While he's still a bit raw as a tight end, it's a difficult position to learn and his athleticism and natural ball skills have made him productive despite the learning curve. He has the look of a player who becomes a top position player in the next two-to-three years for patient dynasty players and an easy Day 2 pick for NFL teams.
2.12 -
Kenneth Gainwell

, RB, Memphis (RB6)

Previous - Dyami Brown, WR, North Carolina

Gainwell hangs on in this mock draft but has me nervous. He needed the additional game experience but opted out of 2020, which limits his college experience for his growth and our analysis. His trump card is his ability in the receiving game, often lining up in the slot and racking up over 50 catches in 2019. Despite being under 200 pounds, he packs a punch in the run game, too, being surprisingly physical. It's uncertain if that translates to the NFL, and with limited breakaway speed, it could turn him into a complementary receiving back. NFL teams are going to scrutinize Gainwell and could be anywhere from a mid-Day 2-to-late-Day 3 prospect come draft day.
Recap
Biggest Risers: Terrace Marshall Jr. and DeVonta Smith. The former was the highest drafted player to not appear in the July version while the latter made a significant jump into the top tier of rookies, perhaps even threatening 1.01 status come NFL Draft season.
Biggest Fallers: Tamorrion Terry and Max Borghi—they were the only two first-rounders who fell out completely in this update. Terry went from a 1,000-yard season to entering the transfer portal, leaving Florida State and ensuring he is a 2022 draft prospect. Borghi also decided to return to school after a back injury limited him to one game, so maybe he's in our 2022 version as well.
Newcomer to Note: Elijah Moore. His lead up to the NFL Draft will be intriguing as he could sneak into the top 32 picks with a captivating combine and a smitten NFL team. Watch his speed and agility drills along with free-agent landing spots.
Parting Player: Journey Brown. It was addressed briefly in the introduction but Brown's departure from this list wasn't due to injury or poor performance. Instead, Brown was diagnosed with a heart condition that made it possible for him to collapse and die on the field if he continued playing. Brown is still plotting out his future after retiring from football, but knowing his determination on the field, there's no doubt he will be successful.