2021 Two-Round Dynasty Rookie Mock Draft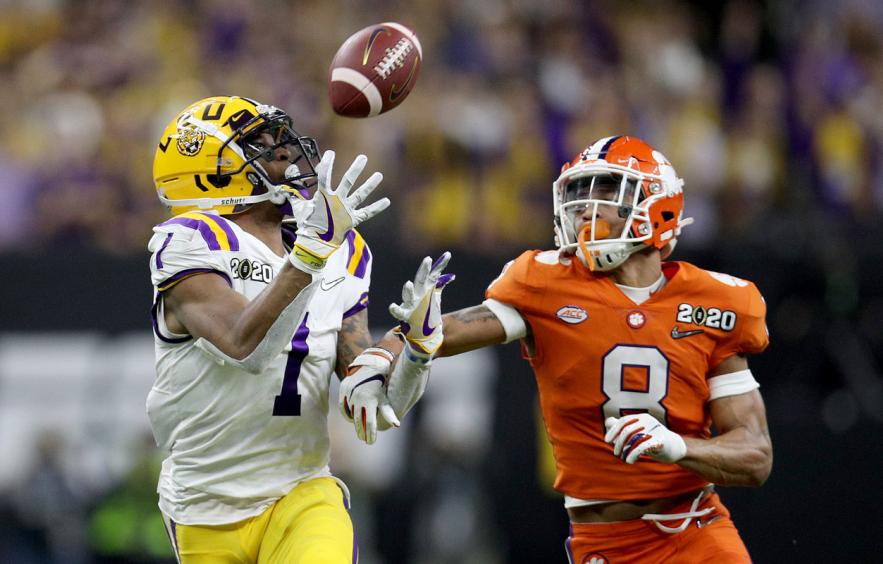 Chris Graythen/Getty Images
The term "way too early" should be viewed as a selectively positive phrase. When we're talking about the bathroom, it probably isn't a good thing. However, as it pertains to fantasy football prognostication, and especially the dynasty format, there is no such thing as "way too early". The hype and hysteria of the 2020 NFL Draft class, particularly at the top, was both warranted and invigorating for dynasty players. But, like many things, we need to keep looking forward as we build and maintain contending teams.
For 2021, dynasty players will again be spoiled. It has the look of another potentially fruitful class for teams with early picks and depth for those looking to load up on young players to complement an aging roster. The wide receiver position, more so than the others, looks to have both the franchise level talent and the depth to make this another special draft class.
Not only should this article help familiarize dynasty players with key names for the upcoming draft, but it should prepare them as they think about a key timeframe where trading draft picks can be profitable. That time is right as the NFL season begins when nearly every dynasty team has playoff and championship aspirations, viewing their roster with the rosiest glasses. Be active with acquiring those 2021 picks and leverage those veterans during that first month of the season.
Now, let's get to my one-man mock draft:
Round 1
1.01 - Ja'Marr Chase, WR, LSU
Right now, this is an auto-pick in all single quarterback formats. Chase put up a historic season averaging over 20 yards per reception (21.2) and scored 20 touchdowns, receiving passes from Joe Burrow and lining up with Justin Jefferson, Clyde Edwards-Helaire, and Thaddeus Moss. He may not repeat those gaudy numbers this season but he is a complete receiver with quickness, strength, polish, and an ability to move around the formation at 6-foot and 208 pounds. Chase is getting Anquan Boldin and Steve Smith comparisons but could surpass their NFL numbers, high praise for a college junior.
In superflex leagues, Trevor Lawrence, the quarterback from Clemson, would be my choice above Chase and fellow signal-caller Justin Fields from Ohio State.
1.02 - Rondale Moore, WR, Purdue
The more I watch Moore, the harder it is to deny his potential to be a true elite receiver. His size (5-foot-9, 175 pounds) seems to be the common point raised by detractors, but his unique build is a key reason Moore is so good with the ball in his hands. Brandon Aiyuk was praised as the YAC monster from the 2020 class but Moore is on another level. In 17 career games, Moore is averaging just under 8.5 catches per game with over 100 total offensive yards per contest. Team Breakout Age will love Moore as his true freshman season featured over 100 total catches and 14 total touchdowns. The ability to separate and take any touch to the end zone is something to behold. The NFL is moving towards prospects like him and so should dynasty players.
For superflex and two-quarterback formats, Fields would be my pick over Chase and Moore. Lawrence and Fields are a better pair of prospects than what we saw from Burrow and Tua Tagovailoa in 2020.
1.03 - Travis Etienne, RB, Clemson
Etienne disappointed by returning to school, robbing us of a truly historic running back class by talent standards. The Clemson runner has posted back-to-back 1,600 yard rushing seasons and answered a question around his receiving skills with 37 receptions for over 400 yards in 2019. Etienne is a true home run threat with great size (5-foot-10, 210 pounds) and has a chance to break 4.40 seconds in the 40-yard dash at the 2021 NFL Combine. This is a complete back who has gotten better with every college season.
1.04 - Rashod Bateman, WR, Minnesota
Remember when Tyler Johnson was the future Day 1 NFL Draft pick? Well, Bateman was part of the reason Johnson slid down draft boards, taking over as the primary offensive weapon. It also didn't help that Bateman is an athletic marvel in comparison to the more meat and potatoes Johnson. Bateman is a terror downfield, showing great hands and tremendous concentration along with his elite deep speed to average more than 20 yards per reception with 11 touchdowns in 2019. At 6-foot-2 and 210 pounds, Bateman has a similar college production profile as CeeDee Lamb with an extra 20 pounds and a lack of Heisman level quarterbacks throwing the ball.
The top four are the first tier in this class within single quarterback formats with the order remaining extremely fluid right now.
1.05 - Jaylen Waddle, WR, Alabama
This is a place where I swerve from convention with most devy rankers. Waddle is universally considered a good talent but I believe his skill set aligns well with the current NFL landscape. Similar to Rondale Moore, he is seen as undersized at 5-foot-10 and 182 pounds, but hasn't had the opportunity at Alabama to be featured like Moore at Purdue. That said, he has averaged 18 yards per catch and has 13 touchdowns on just 78 receptions. Add in his three return touchdowns over the past two years that further cements him as one of the most electric playmakers in this draft. He should be a top-60 NFL Draft pick and will inevitably draw comparisons to former teammate Henry Ruggs and current NFL stalwart Tyreek Hill.
1.06 - Najee Harris, RB, Alabama
Yeah, more Alabama populating the first round of a rookie draft. The cupboard is never bare in Tuscaloosa and Harris looks to continue the tradition of Alabama running backs making a splash in the NFL. All he has done is average over six yards per carry including over 1,200 rushing yards on just 209 attempts in 2019, while adding another 11.3 yards per reception last year on 27 catches. Harris has the look of a complete back who can carry the full workload and should find a team willing to give him that chance in 2021.
1.07 - Chuba Hubbard, RB, Oklahoma State
There was some surprise in the devy and dynasty communities when Hubbard elected to return for another season rather than enter the 2020 NFL Draft. It's not all bad as the 2021 class was lacking strong running back options. Hubbard dominated his first season as the featured guy, totaling over 2,000 rushing yards and securing over 20 receptions for the second straight year. He is a patient runner who is quick to the hole with the home-run speed to take it to the end zone on any play. If he adds some more mass to his 6-foot, 207-pound frame, Hubbard could excel at the NFL level.
I believe this represents another tier break, albeit smaller than the first one.
1.08 - Devonta Smith, WR, Alabama
A third Crimson Tide player, Smith came into last season seen as nothing more than a late Day 2 or Day 3 selection in the NFL Draft. But a stellar season where he led a ridiculously talented receiving group in yards and touchdowns, including a seven-catch, 213-yard masterpiece against the LSU Tigers has Smith sniffing around a Round 1 NFL pick. Superb hands, fluid route running, and an ability to separate quickly are all noticeable attributes but his thin frame (6-foot-1, 175 pounds) needs to mature to avoid being physically dominated by larger cornerbacks in the NFL. If he can add strength, Smith has true Pro Bowl-caliber upside.
1.09 - Seth Williams, WR, Auburn
The fourth SEC wide receiver in the first round of this mock draft, Williams has averaged more than a touchdown every seven catches through two seasons at Auburn. It makes sense considering his 6-foot-3, 225-pound frame with a vertical that could test among the highest in the class. Williams is unsurprisingly strong and uses his physicality to break through tackles, averaging over 16 yards per catch for his career. He might end up in Round 2 of the NFL Draft, but deserves consideration in the late first for dynasty rookie drafts.
1.10 - Tamorrion Terry, WR, Florida State
If Williams wasn't enough, let's talk about another large wide receiver in Tamorrion Terry. The 6-foot-4, 205-pound pass-catcher has averaged over 20 yards per catch, a testament to his deep speed and Pterodactyl-like wingspan. Early comparisons have floated the name Randy Moss, which makes sense as the Marshall product was mostly a deep threat early in his career, but Terry isn't that level of athlete. He is more polished than Moss was at the time and is capable of making an impact in the vertical game right away.
After this pick, I think there is a clear tier break that separates potential fantasy stalwarts from more speculative, but intriguing, options.
1.11 - Max Borghi, RB, Washington State
Of all the prospects in the 2021 NFL Draft, Borghi may prove to be the most divisive. On one hand, the 5-foot-10, 197-pound player typifies where the NFL has shifted with running backs. He is an insanely good receiver, totaling 139 receptions the past two seasons for just under 1,000 yards. That has elicited Christian McCaffrey comparisons from the fans of Borghi. However, he is much less proven as a runner, operating primarily in a spread offense that provided a lot of open space and has yet to eclipse 900 rushing yards in a season. His PPR upside is tremendous and the right NFL fit could firmly plant him at the end of Round 1 for dynasty rookie drafts.
1.12 - Amon-Ra St. Brown, WR, USC
St. Brown might just be the coolest person in this draft class. He speaks three languages, his father was a two time Mr. Universe champion, his two brothers are also wide receivers, and he is named after an Egyptian god. As for his football skills, St. Brown has the look of a future slot receiver with quick cuts, sure hands, and a nuanced understanding of his routes and defensive coverage. At 6-foot-1 and 195 pounds, St. Brown totaled over 1,000 receiving yards in 2019 while playing alongside Michael Pittman Jr. Now, he becomes the primary receiver and could rack up some truly impressive stats on his way to a top-60 NFL Draft pick.
Round 2
2.01 - Tylan Wallace, WR, Oklahoma State
From an athletic standpoint, Wallace isn't going to wow anyone with blazing speed, brute strength, or incredible leaping ability. He wins with determination and arguably the best hands in this year's class. At six feet and 185 pounds, Wallace can hold his own against physical cornerbacks and sells out his body to win every battle. An ACL tear scuttled any plans to enter the 2020 NFL Draft, but he should recover and potentially get better as the time off could help him improve his route running and overall technique.
2.02 - Journey Brown, RB, Penn State
I've been admittedly a bit naive with Brown, especially looking at his potential. Maybe his 700-yard rushing game in high school should've clued me in but like my 13-pound dog, I was inexplicably stubborn. Brown's 2019 doesn't look impressive (890 rushing yards, 15 catches) but he led the team and held off more heralded recruit Noah Cain, an accomplishment in its own way. The former track star certainly has work to do as an inside runner and in the passing game, but his homerun ability from the position is tantalizing. Breaking Saquon Barkley's 4.33 forty yard dash at Penn State (4.29 for Brown) is obviously impressive and the 5-foot-10, 206-pound runner should get every chance to push for a Day 1 selection. If that happens, shoot him up the board.
This is another tier break for me. Any of these players could jump up a tier with the right development and NFL Draft capital.
2.03 - Zamir White, RB, Georgia
Admittedly, this pick is a bit of a risk as White hasn't been a featured runner at Georgia and has seen just 80 total touches in his college career to this point. Partially, that is due to a pair of ACL tears since joining the team in 2018, which has limited his ability to practice or see the field. However, the six-foot, 215-pound back known as "Zeus" was seen as one of the best running back recruits of the last decade. He is blazingly fast, an absolute load to take down with the footwork to make defenders miss when White needs to flash some agility. The big question is: Do those physical traits remain after multiple serious knee injuries?
2.04 - Trevor Lawrence, QB, Clemson
Normally, I hate taking quarterbacks this early but Lawrence has the potential to be a truly special player in the NFL. He has improved his completion rate, yards per attempt, touchdown rate, and rushing output from year one to year two but there are still a few outstanding questions. Accuracy remains an issue on deep balls and he doesn't have the polish yet of someone like Andrew Luck did at Stanford. That said, his physical and mental profile is undeniable and he could surpass Deshaun Watson, another former Clemson quarterback, in terms of NFL production.
2.05 - Chris Olave, WR, Ohio State
Olave was buried in 2018, dealing with Parris Campbell, Terry McLaurin, Johnnie Dixon, and K.J. Hill. Last year, the first three were all gone and gave Olave the opportunity to prove himself alongside quarterback Justin Fields. The vertical speed was already evident but it was the evolution in route running and nuanced technique that allowed Olave to beat cornerbacks and average a touchdown every four catches in 2019 (12 on just 48 receptions). He has remarkably similar traits to former teammate McLaurin and could be a Day 2 receiver who makes an impact early.
2.06 - Kyle Pitts, TE, Florida
Normally, a prospect like Pitts would get first-round rookie draft consideration, but it's a testament to the depth that exists with this class that he is firmly in the second round. His 54 catch, 649-yard season in 2019 is actually quite impressive for a college tight end (and actually led the Gators receivers) as many teams struggle to integrate tight end into the offense. Pitts certainly has the size at 6-foot-6 and 239 pounds and pairs it with freakish athleticism that allows him to play all over the field and be a true matchup nightmare for opponents. His route running is a positive as well and could end up similar to Darren Waller as a vertical threat and weapon who breaks the traditional tight end mold.
2.07 - Justin Fields, QB, Ohio State
The "other" quarterback in the conversation to be the first overall pick in the NFL Draft, Fields was a revelation after transferring from Georgia and getting a chance to start for the Buckeyes in 2019. He was highly accurate, completing nearly 68% of his passes and his average depth of target (11.7) ranked 12th among all quarterbacks via Sports Info Solutions. He has NFL size at 6-foot-3, 228 pounds with the mobility to avoid pressure or take off if needed. There's still some polish needed with just one year as a starter, struggling with blitz pickup and consistency with his footwork, but Fields should improve in these areas and remind people of Dak Prescott or Russell Wilson.
2.08 - Kylin Hill, RB, Mississippi State
For those who like the bulkier backs, Hill has you covered at 5-foot-11 and 215 pounds. That size is evident on his frame and he used it to muscle for over 1300 rushing yards last year in the SEC, no small feat (pun intended). He will break tackles but won't break big runs as he doesn't have that gear to hit the home run play. The upside here may be lower, but the floor is fairly high for Hill.
2.09 - Kenneth Gainwell, RB, Memphis
Some have Gainwell higher on their boards and there is clear reason to be excited by him as a prospect. Much like Max Borghi, Gainwell is a versatile threat as both a runner and a receiver. He is a little smaller (5-foot-11, 191 pounds) and less compact than Borghi and lacks the power you want out of a featured runner. That said, his explosiveness and ability in the open field will make him attractive for NFL teams but can he be the primary runner in a way that past Memphis backs like Antonio Gibson and Darrell Henderson seem unlikely to become?
2.10 - Keaontay Ingram, RB, Texas
If you haven't noticed, Round 2 in rookie drafts could be littered with interesting names. Store away Ingram as another one who could break out in 2020. He has yet to be the featured back but has averaged just under 1,000 total offensive yards through two college seasons. At six feet and 220 pounds, Ingram has the size with 30 pounds of added muscle since he stepped onto campus. He has good hands with surprising agility for a man his size. Top prospect Bijan Robinson will cut into his workload but Ingram could play himself into the Day 2 NFL Draft discussion.
2.11 - Brevin Jordan, TE, Miami
Unlike most tight end prospects, Jordan has been on devy league radars since he joined Miami two seasons ago. He has great athleticism and has been a matchup nightmare for opposing defenses, averaging 14 yards per catch on 35 receptions in 2019. A little undersized at 6-foot-3 and 235 pounds, Jordan inevitably draws comparisons to Evan Engram. Jordan should be an early NFL Draft pick, potentially in Round 1, and has the polish as a receiver to be a fantasy asset earlier than most young tight ends.
2.12 - Dyami Brown, WR, North Carolina
Brown came into college a well-regarded recruit but had a very quiet freshman season, totaling just 17 receptions. That changed last year with Sam Howell entering as quarterback. Brown was one of four FBS receivers to reach 1,000 yards and 10 touchdowns while averaging over 20 yards per catch. Brown has exceptional speed, he led the ACC with 10 catches of 40-plus yards on just 51 receptions, and has length at 6-foot-1 and 195 pounds to win jump balls. He may get limited to slot receiver duties in the NFL due to his lack of strength and ability to separate from press coverage, but that hasn't hurt recent NFL Draftees like Justin Jefferson in terms of draft stock or future potential.