2021 NFL Mock Draft 5.0 (FINAL)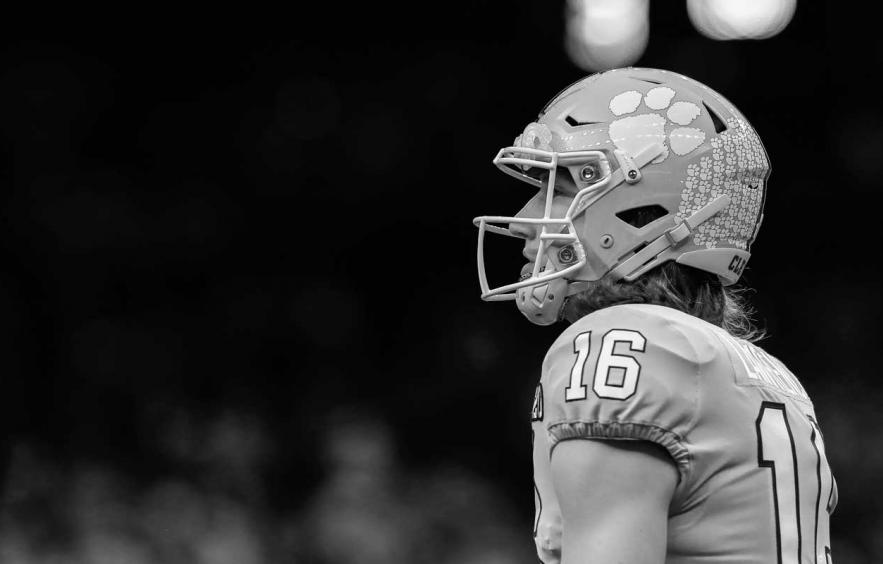 Don Juan Moore/Getty Images
Ladies and Gentleman, the NFL Draft is finally here. It has been a crazy lead-up to the draft, with multiple trades already completed, and even crazier rumors spreading through the media circuit. Teams are finally ready to turn in their draft cards and make their picks in Cleveland, with all the Roger Goodell-loving splendor that comes along with the draft. The final version of this NFL Mock Draft features a number of Draft Day trades and the latest news on the "street". Without further ado, let's find out what your team is liable to do come Draft Day...
Also, 4for4 will be live on YouTube for the first two days of the draft, breaking down every pick from a fantasy football perspective. Subscribe to our YouTube channel so you don't miss it!
---
2021 NFL Draft and Time
Date: Thursday, April 29 (Round 1), Friday, April 30 (Rounds 2 and 3), Saturday, May 1 (Rounds 4-7)
Time: 8:00 p.m. ET (Round 1), 7:00 p.m. ET (Rounds 2 and 3), 12:00 p.m. ET (Rounds 4-7)
Channel(s): NFL Network and ESPN
MORE 2021 DRAFT CONTENT: Top 150 Big Board | Team Needs & Draft Capital + Dynasty Fantasy Football Rookie Rankings | Draft Prop Bets
---
2021 NFL Mock Draft
Last Updated: April 28, 2021
1. Jacksonville Jaguars:
Trevor Lawrence

, QB, Clemson

The Jaguars will select Trevor Lawrence, who is the best quarterback prospect to enter the draft since Andrew Luck. While Lawrence is a prospect among the best at his position in the last decade or so, finding a stylistic comp for him is difficult. A 6-foot-6 quarterback with mobility and the arm strength to make all the throws in the book while also having accuracy and touch to go along with a fastball, Lawrence is as well-rounded as any quarterback to enter the draft in recent years. With Urban Meyer now on the sidelines, pairing him with Lawrence only further enhances the former Clemson Tiger's value.
2. New York Jets:
Zach Wilson

, QB, BYU

With the end of the Sam Darnold era in New York now official, the Jets have showed their hand and will be selecting a quarterback second overall. In selecting Zach Wilson, the Jets are able to start clean with a new regime. Wilson is considered to be a mobile quarterback with deep-ball accuracy second to none. Wilson can throw from all platforms and his ability to escape in the pocket is among the best in this draft class. Wilson's ability to push the ball down the field is coveted in league circles, while his experience in big football games and against stout defenses while at BYU still leaves some questions as Wilson heads to Broadway. Wilson seems pretty locked into this pick after receiving a text from Adam Schefter that basically said, "Welcome to New York".
3. San Francisco 49ers:
Mac Jones

, QB, Alabama

*Trade: The 49ers acquired pick #3 from the Miami Dolphins for pick #12, a 2022 first-rounder, a 2022 third-rounder and a 2023 first-rounder.

Listen here, nerds, this is not what I want to happen, nor is it the player who I think should be picked here, but the word is the team is conflicted about exactly who to pick as of this last weekend—they are deferring the decision to Kyle Shanahan from the sounds of it. The quarterback archetype Shanahan has had the most success with looks like Mac Jones of Alabama (Matt Ryan and Kirk Cousins). With those in the know saying Jones was 100% the pick a few weeks ago when they made the trade, I just can't move off this pick. Jones, who took over as the Alabama quarterback full-time this season, lit the world on fire completing over 77% of his passes for 4,500 yards and 41 touchdowns to just four interceptions, setting a number of SEC passing records along the way,

While the 49ers tab Michael McCorkle "Mac" Jones with this pick, they can still roll out Jimmy Garoppolo to start the season, unless they are overwhelmed with an enticing trade offer (particularly a middle-round pick from the Patriots). A quarterback room with Jones and Garoppolo provides intrigue for the next season in the short term, and while Jones may look ready to play immediately, having a quarterback who has been through the ups and downs of an NFL season is better for the team in the long term.
4. Atlanta Falcons:
Kyle Pitts

, TE, Florida

Barring a big surprise, it looks like the Falcons will keep this pick and they don't seem like a team interested in moving out of the top 10—and other teams don't seem to be willing to pay an equal price to what the 49ers paid to move up to the number three pick. At this point, a trade back by the Falcons with the most quarterback-hungry team is looking less likely, leaving the Falcons with a choice of three blue-chip players in OT Penei Sewell, WR Ja'Marr Chase and TE Kyle Pitts.

Tight end is the only position the Falcons haven't poured significant assets into, and new head coach Arthur Smith, a former tight ends coach, seems to be fond of the position. Adding Pitts would give the Falcons a trio of impossible-to-guard pass-catchers. Pitts is the best offensive weapon left on the board. He is a long and limber athlete at 6-foot-6 and 240 pounds with athleticism to boot. Pitts is a chess piece—someone who can play tight, H-back, or receiver. A tight end who averaged 17.9 yards per catch and scored 12 touchdowns last season playing an SEC schedule? Sign me up.
5. Cincinnati Bengals:
Ja'Marr Chase

, WR, LSU

The word from insiders has turned from Penei Sewell to Ja'Marr Chase with this pick. It makes sense if you look at the depth of the offensive line class, especially in the second round, compared to the wide receivers who will likely still be around. In Chase, the Bengals gain a 6-foot-1, 207-pound receiver who would have worn #7 would he have played in 2020, an honor only given to the best players at LSU. After the dominant season of teammate Justin Jefferson in the NFL, Chase should be an impact player for the Bengals his rookie season and give former teammate Joe Burrow a target who can win with separation as well as with his yards-after-the-catch skills, a skill set that differs from the other receivers currently on Cincinnati's roster. This move allows for a dynamic pairing that hopefully has as much success as Andy Dalton and A.J. Green had together during their time together in Cincinnati. There are also rumors that Bengals owner Mike Brown is making the pick and siding with Joe Burrow over the front office who is said to prefer Sewell.
6. Miami Dolphins:
Jaylen Waddle

, WR, Alabama

*Trade: The Dolphins acquired pick #6 and pick #156 from the Philadelphia Eagles for pick #12, a 2022 first-rounder, and pick #123.

When the second Dolphins trade happened, I originally thought it was because they had elite grades on three non-quarterbacks, but it seems like they believe they have a chance at either Kyle Pitts or Ja'Marr Chase, and Penei Sewell was an afterthought. The Dolphins did make an offensive line move when they traded away Ereck Flowers that makes Sewell more in play here. At this point, though, it feels like the Dolphins are looking to add a playmaker, even if they have to slightly overpay for Jaylen Waddle.

Waddle possesses elite speed and instantly joins the lineup as a field-stretcher who can potentially grow into the team's No. 1 receiver. Waddle can play on the outside or in the slot and create matchup problems everywhere on the field. Let's not forget that when Waddle and DeVonta Smith were both healthy, Waddle was the one who led Alabama in yards per route run. His ability to rack up yards after the catch will be a boost for Tua Tagovailoa, who currently doesn't have a receiver on the roster who excels in that area of the game.
7. New England Patriots:
Justin Fields

, QB, Ohio State

*Projected Trade: The Patriots acquire pick #7 from Detroit for picks #15 and #46, plus a 2022 second-round pick and a 2022 fourth-round selection.

The Patriots can't roll into a season with just Cam Newton and Jarrett Stidham at quarterback again. With the 49ers trading up to possibly select their preferred quarterback target, drafting Justin Fields as a consolation prize provides them with a signal-caller who has even more untapped potential. The Patriots have their choice between Justin Fields and Trey Lance here, and they go with the one who has been rated as high as the QB1-B in this class.

Drafting Fields means the Patriots gain a highly versatile quarterback whose athleticism can get them out of some sticky situations. Fields possesses elite traits and huge upside but his ability to make throws to all areas of the field makes him an attractive option for the Patriots and their multiple offensive sets. His athleticism also provides a quarterback run element to the offense, something Josh McDaniels schemed up last season for Cam Newton. Adding Fields would make the Patriots more multi-dimensional on offense, which is something they have loved being able to do on defense for years.
8. Carolina Panthers:
Trey Lance

, QB, North Dakota State

While the Panthers may not be the one making this pick, I am fairly certain a quarterback is going to come off the board at pick eight or pick nine. With Sam Darnold now calling the shots and Teddy Bridgewater dealt to the Broncos, the Panthers' quarterback room isn't as proven as it was last year. Trey Lance is an unfinished product after a redshirt freshman season in 2019, in which he won the Walter Payton Award and Jerry Rice Award. He was also named the Most Outstanding Player of the 2020 NCAA Division I Football Championship Game. Let's just not mention he played in only one game in 2020, completing just 50% of his passes. Lance is a mobile quarterback with top-tier arm talent that has been all the rage over the last few years of the NFL Draft. However, his lack of game experience with only one full season as a starter and competition level on the FCS stage leaves doubters in the room. In adding Lance, the Panthers would add a quarterback with immense upside should Darnold falter, or give them a major trade chip down the line.
9. Denver Broncos: Penei Sewell, OT, Oregon
While all the top quarterbacks are off the board, the top offensive lineman remains, providing the Broncos with an opportunity to command a nice haul in a trade back should they wish. In this case, though, they take the best lineman available—and one of the few blue-chip prospects left in Penei Sewell. Sewell was the first sophomore to win the Outland Trophy and was a unanimous All-American in 2019. The Oregon tackle allowed just one sack over 1,376 snaps in his first two seasons as a starter. Getting Sewell, who many consider a top-three draft prospect, at nine is a huge boost for the Broncos' offensive line. Sewell could step in at right tackle or left tackle, or even move inside, giving the Broncos' offensive line a mean streak.
10. Dallas Cowboys: Patrick Surtain II, CB, Alabama
If you are reading this you probably remember using Patrick Surtain in NFL Street, where he was a flat-out God. Patrick Surtain II is his father's son and played like the best College Football defensive back in 2020. While the interception numbers aren't going to jump out at you (4 in 40 career games), Surtain II is a pro's pro. According to Pro Football Focus, he allowed 12 completions and forced 13 incompletions in single coverage in 2020. Surtain II is a lanky cover corner who can team with Trevon Diggs and form a tandem for the future as the rest of Dallas' corners departed in free agency. If Surtain II is still available when Dallas comes up to pick, this seems like a match made in heaven. This pick has been pretty much locked in for months, although media members are saying South Carolina cornerback Jaycee Horn is also in play here.
11. New York Giants: Azeez Ojulari, EDGE, Georgia
Honestly, this is the pick I have wavered the most on, flipping back and forth between offensive line, wide receiver, linebacker, and even edge rusher. Azeez Ojulari might be the size of a linebacker, but he gets after the quarterback better than pretty much everyone in this class. While his size might take away from being an every-down edge player at just 250 pounds, his speed and agility make him a chess piece coming off the edge for the Giants. Ojulari posted 9.5 sacks in just 10 games last season but left a cherry on top in the Peach Bowl against Cincinnati, posting three more sacks. While Giants GM Dave Gettleman might be reaching here, it is basically a given for a guy who all but refuses to trade back. To be honest, this is a great spot to trade back in the draft—too bad that isn't something Gettleman has shown a willingness to do in his career. With a lack of care for positional value, the Giants could also take a guard here.
12. Philadelphia Eagles:
DeVonta Smith

, WR, Alabama

With the trade of Carson Wentz and the jump down from six to 12, the Eagles have increased their options for this pick. Do they add a weapon for Jalen Hurts? Do they draft another quarterback? Do they fix a wretched pass defense? They also increased future season firepower as they could now possess three picks in the first round in 2022. Their first order of business, though, is selecting DeVonta Smith. With all this talk about weight and 40-time, it turns out we know no more about Smith now than we did after the National Championship game. He only weighed in at medical re-checks, tipping the scales at just 166 pounds. He never ran a random yardage race and never really worked out for scouts. The Heisman Trophy winner has been compared to Marvin Harrison and possesses elite ball skills and a diverse skill set to create space. Drafting Smith gives Hurts a true number one target and one he has familiarity with from their Alabama days
13. Los Angeles Chargers: Rashawn Slater, OT, Northwestern
The Los Angeles Chargers can use some reinforcements along the offensive line, especially on the edges as they focused on the interior in free agency. With this pick, the Chargers add an impact player, no matter where Rashawn Slater ends up playing on the offensive line. In grabbing Slater, who is rising into maybe the top offensive lineman in this draft, the Chargers work to protect Justin Herbert, who faced way too much pressure in his rookie season. Slater will be an impact player on the exterior or interior and road grade for a running game that averaged the third-fewest yards per carry in the entire NFL last season. Slater would likely slot in at left tackle for the Chargers. Despite not having the desired arm length, many believe he will be successful no matter the spot he is put in as he is a technician. His film against Chase Young is among the best in this offensive line class.
14. Minnesota Vikings: Christian Darrisaw, OT, Virginia Tech
The Vikings are seemingly always looking for help along the offensive line. Christian Darrisaw came to Virginia Tech and was a true freshman starter. He would have a chance to do similar in Minnesota with the need for upgrades at the left tackle spot. Darrisaw checks all the size, length and agility boxes to be an impact left tackle from the start. With Kirk Cousins's best play coming when protected, adding an impact left tackle prospect is a smart move for both the short- and long-term future of the franchise. The Vikings always seem to be a trade-back candidate as well and could do so again here, especially when they lack second-round picks in this draft.
15. Detroit Lions: Micah Parsons, LB, Penn State
After moving back in the draft, the Lions draft the first player to stick to their new identity, which apparently involves some cannibalism. In Micah Parsons, the Lions add a player with tons of 2019 hardware who chose to sit out the 2020 season. Parsons was an All-American in 2019 and became the first sophomore in Big Ten history to win the Butkus-Fitzgerald Linebacker of the Year award. The middle linebacker's size and speed allow him to roam sideline-to-sideline as well as create havoc in the backfield. One of Bruce Feldman's biggest freaks, who ran a 4.39 at his Pro Day, Parsons can cover and would be an instant difference-maker for the Lions. Parsons's biggest knock is maturity issues, with some teams even rumored to have removed him from their draft boards due to fights and hazing allegations while at Penn State.
16. Arizona Cardinals: Jaycee Horn, CB, South Carolina
Remember that one occasion Joe Horn picked up the phone to make a call after scoring a touchdown? Well, what you might not know is that he was trying to call his son Jaycee. Horn has experience playing both in the slot and out wide but has the size to stand up outside on an every-down basis. Horn has played three years in the SEC and ran various coverages, making him a fit for pretty much any defense in the league. His ability to play press coverage coupled with a pass rush anchored by J.J. Watt and Chandler Jones should give worries to offense. Horn is another big corner who also ran a 4.39 forty at his Pro Day. His ability to match up with receivers in the NFC West will be important in future seasons.
17. Las Vegas Raiders: Teven Jenkins, OT, Oklahoma State
After basically letting their entire starting offensive line depart via free agency and trading their starting right tackle, Trent Brown, to the Patriots, the Raiders have a major hole at right tackle. Teven Jenkins is a behemoth of an offensive tackle who can move defenders off the line and keep his quarterback upright. Jenkins is another offensive lineman who has played many positions, giving the team versatility. Jenkins is a mauler in both the run and pass games and showed the ability to erase defenders in the passing game as they tried to get after the quarterback. The Raiders can begin to rebuild their offensive line with this pick and spend the rest of the draft focused on fixing their defensive issues.
18. Miami Dolphins: Zaven Collins, LB, Tulsa
Miami's defense was much improved as a unit last year and thrived in taking the ball away, forcing a turnover in every single game last season. This pick would bolster their defensive strengths. Zaven Collins was a consensus All-American in 2020 after being named a freshman All-American in 2018. Collins has push-rush ability but also the skill set to drop back in coverage that may remind Miami's staff of former linebacker Kyle Van Noy, whom they released this offseason. Miami can add Collins to their pass-rush mix on blitzes and allow him to use his instincts to make plays as a stacked backer. A defense that loves to play matchups and that considers themselves multiple will love Collins's wide-ranging skill set.
19. Washington Football Team: Jeremiah Owusu-Koramoah, LB, Notre Dame
Jeremiah Owusu-Koramoah is a linebacker built for today's NFL as a playmaking linebacker who can play any of the spots in a 4-3 alignment or on the inside of a 3-4. The Washington Football Team and Ron Rivera love players who can move sideline to sideline and adding this Golden Domer gives them a defensive piece for years to come. Owusu-Koramoah is a linebacker in a safety's body, but his athleticism also allows him to stay on the field for third downs. He was also a member of Bruce Feldman's Freak list, where his explosiveness was noted by his 20.4 MPH GPS tracking speed and 39-inch vertical jump at 220 pounds. Adding Owusu-Koramoah behind Washington's defensive line will allow him to use his speed and instincts to make plays happen in the backfield.
20. Chicago Bears: Alijah Vera-Tucker, OL, USC
Alijah Vera-Tucker played left tackle last season for the Trojans but he may fit better on the inside projecting forward. With long-term questions at both tackle spots, Vera-Tucker gives the Bears options with their lineup. He has exceptional athleticism for an offensive lineman and can move defenders off the ball but his ability as a mover in the run game might be his greatest asset, outside of protecting his quarterback. The Bears could give Vera-Tucker a shot to win the right tackle job next season as his only competition is Germain Ifedi. Bears upper ownership has given the front office carte blanche in order to move up for a quarterback, but if they can't, adding an option to compete at right tackle needs to be in the team's draft plans. The Bears' best option here, however, might be moving down and gaining additional picks.
21. Indianapolis Colts: Kwity Paye, EDGE, Michigan
The Colts lost 7.5 sacks from Denico Autry in free agency and Justin Houston's eight sacks remain unsigned, making edge defender a major need for this team. In Kwity Paye, the Raiders get a hand-in-the-dirt edge rusher who can add a pass-rush dimension from the edge. Paye isn't your prototypical 6-foot-5 edge rusher, but he packs a punch in his 6-foot-2 frame and is among the most explosive edge players in this year's class. Paye was Bruce Feldman's biggest Freak in 2020 with a reported freakish time in the 3-cone drill. Paye is a player impossible to root against, and his drive for success makes him a great addition. This pick seems like another trade-down spot as Colts GM Chris Ballard knows the importance of having more picks.
22. Tennessee Titans:
Elijah Moore

, WR, Ole Miss

The Titans have a ton of vacated targets up for grabs after losing Corey Davis and Jonnu Smith in free agency. Enter Elijah Moore, a freak slot athlete, who just so happens to have a pretty good vouch in former teammate A.J. Brown. The 5-foot-9, 178-pound Moore is a speedster who spent a ton of time in the slot in 2020. In just eight games, he recorded 86 catches for 1,193 yards and eight touchdowns—and he put a hurting on SEC defenders along the way. Moore is a fast, yet sudden athlete who can create separation in the blink of an eye. Just get the ball in his hands and good things will happen. The main question with Moore is whether he can survive on the outside in the NFL, but many teams are reported to view him as the No. 4 WR in this draft class, making this the range he could come off the board.
23. New York Jets: Jaelan Phillips, EDGE, Miami (Fla.)
The Jets lacked a pass-rush last season with only Quinnen Williams exceeding 3.5 sacks. They did add Carl Lawson in free agency, but the Jets still need more pass-rushing help. Jaelan Phillips was a five-star Rivals recruit, who ended up at UCLA. His first two seasons were marred by injuries, entering the transfer portal, and a near-retirement from medical issues stemming from concussions. Phillips is a long athletic edge player perfect for a team needing an infusion of pass-rushing talent. The Jets could also add an offensive lineman to protect their new quarterback, but no one really stands out here as a value pick. They could also select a cornerback, but if you look at Robert Saleh's defense in San Fran, it was built front to back.
24. Pittsburgh Steelers:
Najee Harris

, RB, Alabama

The Steelers need someone who can give their offense an identity and who can pass protect and catch passes. Najee Harris is a big back at 6-foot-2, 229 pounds but he grew to be so much more than that in 2020. Harris can really do it all and his 50 total touchdowns over the last two seasons will be a gigantic upgrade over the committee of backs the Steelers used last season. Harris would immediately step in as the bell-cow back and add a completely new dimension to an offense that lost its way after starting the season 11-0 last season. While an offensive lineman would be the more prudent selection here, the lack of top-end runners in this year's draft forces the Steelers' hand.
25. Jacksonville Jaguars: Trevon Moehrig, S, TCU
The Jacksonville Jaguars have tons of holes to fill, but after finding a new leader of their offense, they also find one for their defense. Enter Trevon Moehrig, who is widely regarded as the best safety in the draft. The Jim Thorpe Award winner was TCU's defensive leader in 2020. He is someone who can excel in a single-high safety role in the NFL, allowing him to use his instincts and cover up the mistakes of others. Moehrig's leadership and smarts allow him to step in from Day 1 and grow into the face of the defense. The Jaguars can then use their second-round picks to add some more offensive weaponry around Trevor Lawrence.
26. Cleveland Browns: Christian Barmore, DL, Alabama
With a thin defensive line class, the Browns have to strike early and take the best defensive lineman in the class—and one who can contribute immediately as he did as a freshman at Alabama. Christian Barmore is a young and explosive 3-technique who posted eight sacks in 2020, despite lacking some strength and bull-rush technique, commonly letting lineman get his hands on his chest. Adding interior pressure is something every team can do, and adding Barmore is a gamble that could pay off big. After releasing Sheldon Richardson in order to bring in Jadeveon Clowney, adding Barmore could help the Browns take the next step in the playoffs.
27. Baltimore Ravens:
Rashod Bateman

, WR, Minnesota

Getting Rashod Bateman here is big deal for the Ravens, who could really use a featured figure in their passing game. Bateman has the ability to handle big target numbers in both the short and intermediate passing game, as well as vertically down the field. Bateman was timed running a sub-4.4 40-yard dash, adding even more intrigue to his profile. The former Golden Gopher shined against some of the Big Ten's best defenses the last two years. His physicality at the catch point could bring something to a Ravens offense they've been missing with Lamar Jackson under center. With two picks at the end of the first round, the Ravens can address both their edge and wide receiver needs, but with the Saints and Packers looming and potentially looking at the receiver position, the Ravens attack wide receiver first.
28. New Orleans Saints: Greg Newsome II, CB, Northwestern
The Saints add one of the top corners in the draft and one who might be the most scheme versatile in the entire class in Greg Newsome II. While he doesn't stack up in terms of the top corners in this class in terms of weight, his ability to play multiple coverages makes him a fit for a Saints defense that saw Janoris Jenkins leave in free agency. Newsome II ran a sub-4.4 forty at his Pro Day and displayed an elite vertical, jumping 40 inches. Newsome II can play press or off coverage, and also showcases shadow ability in zone technique. Getting Newsome II would be a huge upgrade for a Saints secondary Sean Payton mentioned needing to be shored up.
29. Green Bay Packers:
Kadarius Toney

, WR, Florida

Listen, you can only stir the pot with Aaron Rodgers so many times before having to give in to 2020's Most Valuable Player. Adding Kadarius Toney gives the Packers a multi-faceted weapon they haven't had since a young Randall Cobb. Swiss army knife Toney is a former quarterback who will be able to line up all over the field for the Packers. A wide receiver with track speed, Toney's versatility in the short passing game will be Rodgers's best friend and give Davante Adams a much-needed running mate different from the other receivers on the roster.
30. Buffalo Bills:
Travis Etienne

, RB, Clemson

Travis Etienne returned for his senior season, but he didn't set the world on fire as he did in his sophomore and junior endeavors. In his career, Etienne rushed for nearly 5,000 yards and added over 1,000 yards as a receiver. Etienne possesses elite play speed and accelerates like he was shot out of a canon. He can also add early value as a kick returner despite some having questions about his short-area quickness and wiggle. At his Pro Day, Etienne tipped the scales at 215 pounds and ran a 4.41 40-yard dash, giving him a similar profile to recent second-round draftees D'Andre Swift and Miles Sanders. Bills running backs scored the fourth-fewest fantasy points last season and Bills GM Brandon Beane recently mentioned wanting to get a home-run threat at the running back position—enter Travis Etienne.
31. Baltimore Ravens: Joe Tryon, EDGE, Washington
After trading away Orlando Brown Jr., the Ravens do have a need at offensive tackle. They also have to address defense, though, after a mass exodus at the edge position this offseason. Joe Tryon is a 6-foot-5, 259-pounder who can use his speed or his length to get around offensive tackles. Tryon opted out of the 2020 season but produced 12.5 tackles for loss in his redshirt sophomore season. He's a physical specimen with high upside who can make an immediate impact as a situational pass-rusher early in his career. Tryon will need to work on developing his pass-rushing plan, but Wink Martindale has helped develop a strong number of edge rushers in Baltimore.
32. Tampa Bay Buccaneers: Gregory Rousseau, EDGE, Miami (Fla.)
The Bucs are returning more players from their Super Bowl run than any team in NFL history, meaning this pick can be purely based on future value. Gregory Rousseau is an edge rusher dripping with upside, but he is far from a finished product. Rousseau is a giant at 6-foot-7, who played wide receiver up until his senior year of high school. After not playing in 2020, some have forgotten how dominant he was in 2019. He tallied 15.5 sacks and showed an ability to rush the passer from all over the defensive line. Rousseau didn't light up his Pro Day, but his size and ability to take linemen on inside moves make him an attractive pick for the Bucs. Many have compared Rousseau to Jason Pierre-Paul, so who better to tutor the 21-year-old rookie than the 32-year-old Pierre-Paul?
---
Related Articles