2021 Dynasty Superflex/TE-Premium Rookie Mock Draft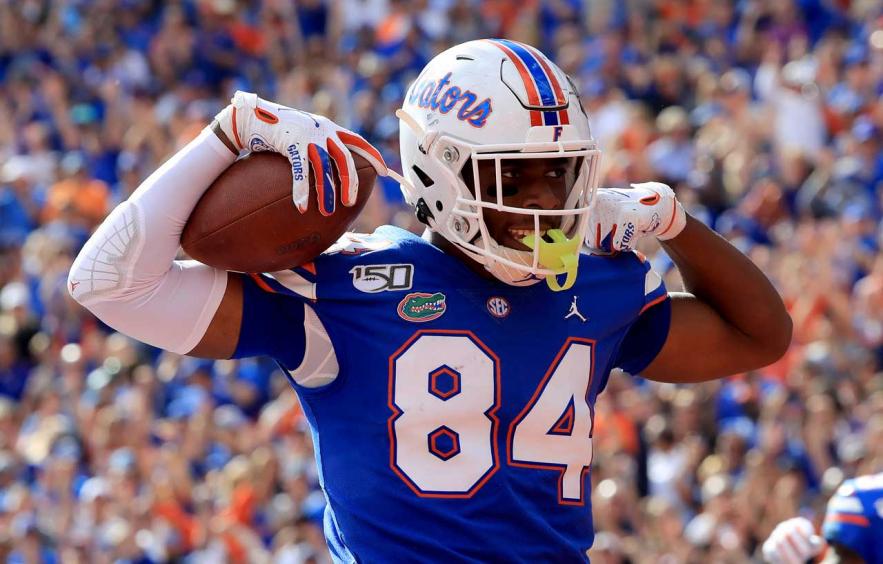 Sam Greenwood/Getty Images
I recently had the pleasure of hosting a Superflex/TE-Premium (1.5 PPR points for TEs, 1 PPR for WRs and RBs) rookie mock draft with some of the 4for4 dynasty staff members and friends from around the fantasy industry. Why a rookie draft that was both Superflex and TE-Premium? The selfish answer: To see how high Kyle Pitts would be selected. The incoming tight end rookie prospect is being dubbed by some as a generational talent at the tight end position. In a non-TE-Premium Superflex rookie draft, the signal-callers are going to occupy the early spots. In a non-Superflex TE-Premium rookie draft, Pitts is an early-first-round pick. What happens when you combine the two, though, and throw in 11 extremely sharp fantasy minds (plus me) into the fantasy ring? Well, you're about to find out. Rather than provide pick-by-pick analysis, I asked the draft participants specific player selection/strategy questions to shed some light on their drafting philosophy in this specific rookie draft format. I find roster construction and strategy analysis to be more useful as a research tool than straight-up pick-by-pick dissection. Without further ado, let's get into it…
---
More 2021 Dynasty Mock Drafts: 1QB Startup | 1QB Rookie | Superflex Rookie
2021 Dynasty Rankings: Rookie Ranks | Top 200 Overall Superflex Ranks
2021 NFL Draft Resources: NFL Mock Draft | Top 150 Big Board | Team Needs & Draft Capital
---
2021 Dynasty Superflex/TE-Premium Rookie Mock Draft
Participants in Draft Order
Full Draft Results
Anthony Amico Q+A
Q: Where do you stand on the Trevor Lawrence vs. Justin Fields 1.01 debate in Superflex rookie drafts? Your selection of Lawrence answers it on the surface, but did you have any interest in drafting Fields instead?
A: At this juncture of the offseason, Lawrence is my top quarterback. We know he is going to be the first pick and play for the Jaguars to start his career. His floor is high, and it is reasonable to expect Lawrence to have some rushing upside as well. Skill-wise, I believe Fields is in the same tier as Lawrence, but we do not know his landing spot right now. If he were to end up with the 49ers or Broncos—the two top quarterback landing spots, in my opinion—Fields would definitely warrant more consideration as the 1.01.
Q: Receivers such as Jaylen Waddle, Rashod Bateman and Rondale Moore tend to get grouped together in these drafts, as they did here, going WR3, WR4 and WR5. What is it about Bateman that made you take him with the 2.01 pick?
A: Bateman is someone who profiles as the No. 1 WR in most classes. He is young, broke out early, and played only three collegiate seasons. Though he came in a little light at his Pro Day, we know Bateman has played the majority of his college career over 200 pounds. All of this puts him above Waddle and Moore for me.
Q: What was your favorite pick of the draft (that you didn't make)?
A: Seth Williams.
Justin Edwards Q+A
Q: Pat Freiermuth and Brevin Jordan are viewed as the second tier of tight ends after Kyle Pitts stands alone in a tier of his own. You grabbed him at 2.02—what is it about him you like over Jordan?
A: It's not to say that Jordan isn't an athletic freak in his own right but I think Freiermuth is dynamic enough to force himself onto an NFL field as an offensive weapon quicker than Jordan will. Freiermuth almost has the upper hand because he's such a poor blocker that he will rarely be asked to stay in-line when he's on the field.
Q: You were one of three managers to select a tight end in a TE-Premium rookie draft. What's your general strategy in such a format, be it Superflex or 1-QB?
A: It depends on roster sizes more often than not for me. Tight ends can turn into roster-cloggers pretty quickly but if I have a deep bench and the patience to wait a couple of years for production, I like teaming a veteran tight end with a few rookie/sophomore/junior tight ends.
Q: You don't normally see Chuba Hubbard fall to the third round of rookie drafts. Albeit this draft is Superflex and TE-Premium. Still, though, has the Chuba Hubbard hate gone too far?
A: Everyone in this draft was throwing Canadian shade on Hubbard, and I couldn't watch him slide any further. In all seriousness, if Hubbard gets drafted by the 49ers, Patriots, or really anyone in the fourth-round or earlier, I'd assume he never makes it out of the second round of rookie drafts from then on out.
Q: What was your favorite pick of the draft (that you didn't make)?
A: Either Pooka Williams because Brandon is contractually obligated to select him in every draft or John's pick of Kylin Hill in the fourth round.
John Michael Q+A
Q: Trevor Lawrence and Justin Fields have solidified themselves as the 1A and 1B of this rookie quarterback class. Unfortunately, you drew the 1.03 pick in this Superflex/TE-Premium draft and walked away with Trey Lance. Why Lance over Zach Wilson?
A: Trey Lance has serious talent, with top-notch arm strength. That kind of cannon, accompanied by *chef's kiss* deep accuracy, produces my favorite deep ball in the class. In a clean pocket, I've yet to see anyone throw a cleaner deep ball. While Zach Wilson is able to produce as a runner, Lance is a legitimate weapon on the ground who offers the strength to win at the goal line, as well as the frame (almost 6-foot-4 and 225 pounds) to hold up to the physical nature of his play style. These elements of Lance's game give him the edge as my QB3 in this class.
Q: Was Lance always going to be your pick at 1.03? Did you consider Kyle Pitts at all in a TE-Premium format?
A: Lance was certainly my primary target at 1.03. Mission accomplished. The TE-Premium boost would have to be two PPR points (rather than 1.5) for me to take Pitts ahead of the signal-callers. With Superflex being the soup du jour, I will keep my focus on the quarterbacks early. That said, Pitts is an absurd talent and quite possibly a player ready to take a fantasy team to the next level. But at 1.03, that's a steep price to pay at the top of rookie drafts.
Q: What was your favorite pick of the draft (that you didn't make)?
A: Elijah Moore.
Andrew Fleischer Q+A
Q: This draft started with three straight signal-callers in Trevor Lawrence, Justin Fields and Trey Lance. Why'd you stop the quarterback run with your selection of Najee Harris fourth overall? And why didn't you draft Kyle Pitts in a draft that's also TE-Premium?
A: After Lawrence, Fields and Lance were off the board, I was off of quarterback, even in a QB-premium league. If Wilson had gone 1.03, I would have taken Lance at 1.04. As much as we'd like to think the 2021 quarterback class is, in my mind, legitimately five deep, there's a dropoff after Lawrence/Lance/Fields. It's not that Wilson can't possibly match the early-career projections of those three, but I think Lance's rushing upside places him far enough ahead of Wilson as the QB3 that I'd rather pivot to the guy I consider to be the safer No. 1 at his position in running back Najee Harris. I think Kyle Pitts has to be in consideration in the late first, but 1.04 is too early to pass on a top QB/RB/WR prospect, even for a no-doubt tight end prospect like Pitts in a TE-premium league. There are too many tight ends entering their third or fourth year available to be taken at reasonable ADPs in a startup to justify spending early-round rookie draft capital on the position.
Q: What was it about quarterback Sam Ehlinger that made you take a late-round flier on him as your fourth-round selection?
A: I prefer Jamie Newman to Sam Ehlinger as the QB6 (slightly over Kellen Mond, who I'd also prefer over Ehlinger), and I was hoping Newman would fall to me at the 4.04. I was strongly considering eschewing quarterback altogether after Newman was taken, and was close to taking Jaelon Darden at 4.04, but ultimately I think Ehlinger is worth a flier at that point in Superflex. He scored 33 rushing touchdowns in his four-year college career, and in the fantasy crapshoot that is the rookie fourth-round, I like a quarterback with Konami-Code rushing upside.
Q: What was your favorite pick of the draft (that you didn't make)?
A: It's a tough call between Anthony's pick of Rashod Bateman at the 2.01 (who I think has a decent shot to be the WR1 from this class) and Rich's pick of Elijah Moore at the 2.06. I'll go with Rich's selection by a hair, since I was back-and-forth between Terrace Marshall Jr. and Moore at the 2.04, and went with Marshall almost purely because he's taller and slightly younger. Elijah Moore could be an absolute steal in the mid-second round. (For more on Moore, read Matt Gajewski's profile on the incoming rookie receiver).
Brandon Niles Q+A
Q: What was your strategy with the 1.05 pick in a Superflex/TE-Premium rookie draft? The top three signal-callers (Trevor Lawrence, Justin Fields, Trey Lance) were all off the board, yet Kyle Pitts was still available when you were on the clock. However, you took Zach Wilson. Why?
A: I love Pitts as much as the next person, but in Superflex, I'm also very interested in elite quarterback prospects. To me, Lawrence is the No. 1 signal-caller, followed by Fields and Wilson as the 2A and 2B, respectively. I would've taken Pitts over Lance, but I think with rumors of Wilson being the No. 2 pick to the Jets, his potential for early snaps and a long leash look promising. The history of highly drafted tight ends isn't exactly positive, and the best tight ends in the league over the past couple of decades have not been highly drafted and took time to develop. Those factors gave Wilson the edge for me.
Q: You're probably Kellen Mond's number one fan in the dynasty community, and you drafted him in the third round (3.05, QB7). What is it about Mond you find so appealing? Is there any landing spot that would sour you at all on him?
A: Mond may not amount to anything, but he has a great combination of tantalizing upside and demonstrated experience. Mond has good size, a great arm, excellent touch, and is dynamic running the ball. He had a ton of experience at the college level and got better every year for a legit program. He and Kyle Trask going back and forth in a shootout win for Mond showed a lot as far as leadership and playmaking. To me, Mond has as much upside as anyone in this draft. I'll sour on him if he lands somewhere behind a young, legit star (Cardinals, Chiefs, Ravens, Bills, Bengals for example), but in most cases, I think he's worth the gamble where he's being drafted. I'm even adding him in 1-QB leagues if I have a taxi squad. I'm not saying Mond is Jalen Hurts, but if there's a Jalen Hurts in this draft, it's Kellen Mond.
Q: What was your favorite pick of the draft (that you didn't make)?
A: I almost took Brevin Jordan in the second round, but couldn't pass up on Kenneth Gainwell. I think getting him in a TE-Premium draft at the end of the second round is a coup. Tight ends are kind of a crapshoot, but Jordan looks like a legit receiving talent who might find himself in the slot more than in-line at the NFL level. That makes him worth the pick in this format that late, making him my favorite value pick.
Rich Hribar Q+A
Q: You took the first pass-catcher of this draft in Ja'Marr Chase. What's your general impression of him as a prospect?
A: Chase is head and shoulders the best receiver in this class and I have a wide gap from him and my number two receiver, if we were talking traditional tiers. Chase sat out the 2020 season due to COVID-19 concerns. While we would have liked to have seen Chase play outside of the 2019 juggernaut that was the LSU offense, his physicality and production have him as the top wideout on the board. In 2019, Chase had 24 catches on throws over 20 yards downfield while also being a bully after the catch, breaking 22 tackles, per Pro Football Focus. Showing up for big games, Chase posted 6-140-1 against Alabama and then 9-221-2 in the Championship Game versus Clemson that season. Oh, and he did all of this playing alongside a wide receiver that just had the most receiving yardage for a player in his first season in the NFL since 1960 in Justin Jefferson. We have a limited sample on Chase, but that sample was dominant. At his Pro Day, Chase did nothing but cement his status as the No. 1 wide receiver by checking out in the 91st percentile at his position athletically.
Q: Did you give any thought to taking Kyle Pitts in this TE-Premium draft?
A: Oh, yeah. Definitely. Pitts is arguably the Calvin Johnson of tight end prospects. At least the best objective profile since Vernon Davis, and I have him higher. Among all tight end prospects since 2000, Pitts ranks first in touchdowns per game (1.5), second in receiving yards per game (96.3) and 15th in receptions per game (5.4) in their final collegiate season. His 17.9 yards per catch is the highest among all of those prospects who caught 40+ passes and his 27.9% touchdown rate on those grabs is second among the same group. In my personal prospect model, which goes back to 2000, Pitts enters the NFL with the highest production score in a final collegiate season since 2000, bypassing Rob Gronkowski. It was splitting hairs, but I do still slightly side with Chase since tight end has been so finicky for fantasy production, even though I view Pitts as a potential unicorn.
Q: What was your favorite pick of the draft (that you didn't make)?
A: Travis Etienne at 1.11 makes me want to acquire as many late firsts as possible in Superflex leagues this year. The strength of this quarterback class really aids this draft class in having much more value in those formats.
Pete Davidson Q+A
Q: One of the main purposes of hosting a Superflex/TE-Premium draft was to see when Kyle Pitts would be selected. I had my eyes on him at the 1.08 pick, but sadly you sniped him from me at 1.07. What made you decide to go with Kyle Pitts?
A: I was hoping to grab one of my top four quarterbacks, but Pitts was my Plan B all the way. I don't see him as the "X" receiver some are projecting, but I see a stud at the tight end position and he has a great chance to be a catch-first guy. I'm willing to take a chance that he has a typical tight end development curve. I think he gets there fast, but you never know, because different teams develop guys in different ways–see the New York Giants and Evan Engram.
Q: Kellen Mond and Kyle Trask are two players you routinely see touted as the QB6 in this year's draft class. You selected Trask with the 2.07 pick, making him this draft's QB6. What is it about Trask you like?
A: Trask is a quarterback who I project to succeed. The pick wasn't more complex than that. Trask keeps his offense on schedule. His reads are consistent. His mechanics, while not sexy, are very consistent and repeatable, which leads me to believe his results will also be consistent and repeatable. I see him as a less sexy but far more consistent version of Blake Bortles.
Q: What was your favorite pick of the draft (that you didn't make)?
A: I loved Trey Sermon at the start of the third round—Anthony Amico got a steal there. I almost took him over Kyle Trask in the middle of round two.
Salvatore Stefanile Q+A
Q: What's the appeal of selecting Amari Rodgers at the end of rookie drafts?
A: I've never hidden my love of Antonio Gibson, and as soon as rumors swirled that Rodgers might convert from receiver to running back, ala Gibson, my ears perked up. It's something Danny Kelly discussed on an episode of The 4-Minute Drill. All the relevant quarterbacks and tight ends were gone by the time I was on the clock in the fourth round, and none of the remaining running backs were appealing, so I decided to take a flier on someone who caught 181 receptions for 2,144 yards and 15 touchdowns over a four-year span at Clemson. A receiver with stats like that who might convert to running back could find himself with an immediate pass-catching role, and the PPR points that go with it.
Q: What was your favorite pick of the draft (that you didn't make)?
A: Kyle Pitts at 1.07 is my immediate answer. I had him at the top of my queue at pick eight—I was extremely disappointed when Pete sniped him from me. After that, Nathan's selection of Jamie Newman (who rushed for 825 yards and 10 touchdowns in his last two collegiate seasons) stands out as a fantastic value pick in a Superflex rookie draft.
Amr Gabr Q+A
Q: You lamented in the group chat I sniped Dyami Brown in the second round from you. What is it about Brown you like and why do you have him ahead of the likes of Tylan Wallace (who you drafted) and Kadarius Toney?
A: There are multiple reasons why I'm high on Dyami Brown. The biggest reason is that after only posting 173 receiving yards as a true freshman, Brown followed that up with two back-to-back seasons of more than 1,000 yards, while also posting back-to-back seasons of a 30-plus percent dominator rating. As RotoViz has shown, we want to chase players who are young while also posting a high dominator rating. According to Curtis Patrick, Since 2000, a Power-5 Underclassman receiver has recorded 50+ receptions and 20+ yards per receptions 11 times. Dyami Brown did it twice.
I also like Brown more than say a Tylan Wallace or Kadarius Toney because he showed us that he broke out sooner than these players while also posting a higher dominator rating than both. Also, Wallace is coming off an ACL injury, so we don't know how that'll impact his draft stock.
Q: Any regrets at being one of four teams in this Superflex/TE-Premium draft not to come away with a quarterback or tight end?
A: I don't have any regrets in not rostering a tight end or quarterback, specifically a tight end, because even when tight end receptions are worth 1.5 points, a tight end is only valuable if he is a target hog such as Darren Waller or Travis Kelce. Otherwise, we won't see that much of a return on investment in Year 1. Also, after Kyle Pitts, I don't see this class returning much value in Year 1 at all. The same holds true for the quarterback position. Trevor Lawrence and Justin Fields are a class above the rest, so once they went off the board, I focused my strategy on players who could contribute in Year 1 quickly or players whose value could increase should they receive a good landing spot.
Q: What was your favorite pick of the draft (that you didn't make)?
A: My favorite pick was Pete selecting Kyle Pitts at 1.07. I sincerely think Pitts is a top-three player in this class. Pitts falling to 1.07 in a TE-Premium league provides immense value.
John Daigle Q+A
Q: Mac Jones fell to you at the 1.10 pick. In a non-TE-Premium Superflex format, he most likely would have gone earlier. Did you think the Mac Jones hate went too far in this draft?
A: I had Kyle Pitts (1.07) and Jones queued up, thinking I had a legit shot at either. I was actually surprised to see DeVonta Smith (1.08) and Javonte Williams (1.09) fall to Sal and Amr, respectively, in a Superflex draft if only because Jones is the last of the 'Big Four' that, in my opinion, should be penciled in for a handful of starts in his rookie year—especially if his potential draft capital at the No. 3 overall pick comes to fruition. I admittedly would've nabbed Travis Etienne (1.11) if it were a 1QB league, but was happy with the outcome.
Q: Why Davis Mills over Jamie Newman with your third-round pick?
A: Given how underwhelming the running back and tight end classes are this year, I was already locked into targeting a second quarterback. With every other strong option (Kellen Mond included) off the board, though, it boiled down to who the league would envision as a Day 2 option, and I'm assuming that's Mills (6-foot-4/225 pounds) over Newman (6-foot-4/230 pounds) if only for the former's athleticism at his size as opposed to the latter, who didn't even appear to be an NFL quarterback in times he lost Wake Forest's No. 1 wideout Sage Surratt.
Q: What was your favorite pick of the draft (that you didn't make)?
A: Even if it's not a Superflex league, Justin Fields at No. 2 overall is the choice everyone in dynasty leagues should be making.
Nathan Powell Q+A
Q: What was your strategy with the 11th pick in a Superflex/TE-Premium rookie draft? By this point, the top quarterbacks and Kyle Pitts were gone. Why Travis Etienne over a receiver such as Jaylen Waddle or Rondale Moore (who were the very next two picks)?
A: Etienne is in my second tier of players in Superflex. After Lawrence is off the board, I'd gladly take any of Chase, Etienne, Harris or Pitts. I like Rondale Moore a lot as well, but the short-term upside is much higher with a back like Etienne
Q: What is it about Jamie Newman that made you pull the trigger on him with your third-round pick?
A: There was not much left on the board when I took Newman. In superflex, I'll gladly take a stab at a guy who I think could be a Day Two NFL Draft pick. The floor may be zero, but the ceiling is worth it at that point.
Q: What was your favorite pick of the draft (that you didn't make)?
A: Best values of the draft were Ja'Marr Chase at 1.06 and Rondale Moore at 2.03.
George Kritikos Q+A
Q: Three tight ends were selected in this format that awards bonus points for tight ends (1.5 PPR compared to 1 PPR for the other positions). You were one of three managers to draft a tight end in Brevin Jordan at the end of the second round. Why do you think only three tight ends were taken?
A: There is definitely a big tier break between the top-three tight ends that most agree on in some order, and the next group that is less obvious. This is going to change by the NFL Draft but there isn't a straight forward next option and this class boasts good receiver depth and more intriguing gambles at running back and quarterback.
Q: Who is one tight end worthy of late-round consideration in TE-Premium rookie drafts?
A: I think the next option is likely Hunter Long, who has the frame and soft hands to be a good NFL target. He's not the athlete that others in this class are, though, and that's his downfall. Tommy Tremble from Notre Dame could rise given his explosiveness but he's a blocker first. For fantasy, John Bates from Boise State might be a late-round gamble worth taking. He gained 30 pounds in college (up to 260 pounds) and is a well-rounded option who can catch and block with enough improvement during his college career to suggest he's not done growing yet.
Q: What was your favorite pick of the draft (that you didn't make)?
A: Amon-Ra St. Brown at 2.11. I just missed out on him and applaud Nathan for finally making a good choice.
Bottom Line
This mock was used as a case study to determine how early Kyle Pitts would go in a rookie draft that's both Superflex and TE-Premium. We found our answer: seventh overall. We also saw that Pitts could not dethrone the upper echelon of the quarterback class, with four of the first five picks being signal-callers. The two other non-quarterbacks selected ahead of Pitts were the consensus top options at their respective positions in Najee Harris at running back and Ja'Marr Chase at wide receiver. This gives us a pretty clear tier break when it comes to Pitts in any sort of TE-Premium scoring format and helps us determine what his value is when the tight end position gets a scoring/roster setting boost.
Roster construction, scoring settings, dynasty philosophy and team needs will of course play a factor in whether or not you want to spend an early first-round pick on a tight end, even one with elite traits such as Pitts. Your value of the incoming rookie class will also play a large factor. Breaking it down, Trevor Lawrence, Justin Fields, Trey Lance and Zach Wilson tend to be grouped together. Najee Harris and Ja'Marr Chase are viewed as elite players you don't want to pass up. So we're now at six players you most likely wouldn't take ahead of Pitts, leaving you with a pretty good gauge of his value in this particular format. Remove Superflex from the equation (I'd put Pitts ahead of Lance and Wilson), and you're looking at a top-five pick in TE-Premium drafts. On the flip side, if you're someone who will never draft a tight end, regardless of it's TE-Premium or not, and you have a later-round rookie pick, you're in a prime spot to grab a top-two or top-three option at RB/WR at a spot in the draft you normally wouldn't be able to do so. See Travis Etienne (1.11) and Jaylen Waddle (1.12) in this draft for examples of that.
---
Related Articles