2021 Dynasty 1QB Rookie Mock Draft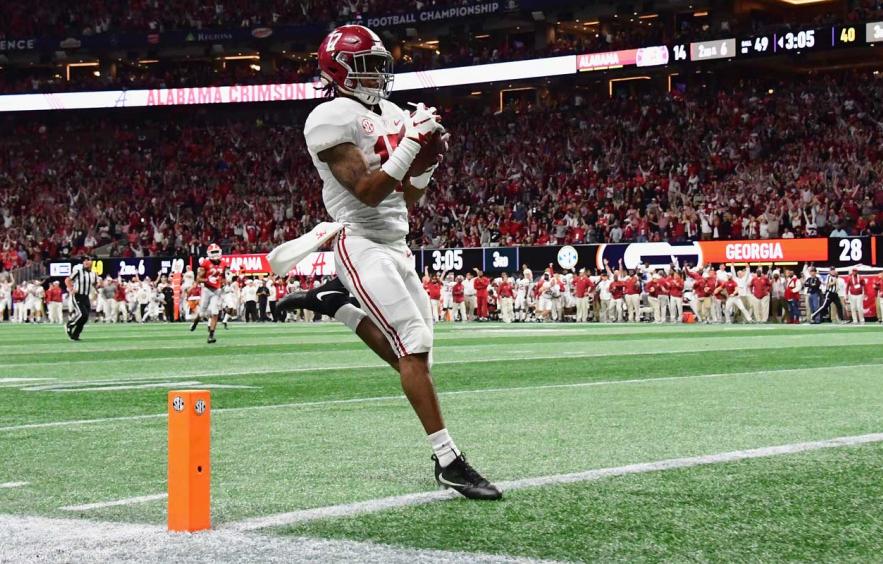 Scott Cunningham/Getty Images
As we inch closer to the NFL Draft, it becomes increasingly important to inform ourselves of the incoming rookie class that will soon alter the dynasty landscape. As such, I and 11 fellow dynasty players recently took part in a rookie mock draft to have a better understanding of how your rookie drafts may unfurl.
---
MORE 2021 DYNASTY CONTENT: Player Profiles & Strategy | Rookie Rankings | Top 200 Overall Rankings: Superflex + Non-Superflex | NFL Mock Draft | NFL Draft Big Board | Rookie Mock Draft
---
Thoughts on player values, strategies, and general player evaluation will follow each pick, either from your humble author, the person who made the pick, or, mostly, both of us. This three-round mock rookie draft assumes a one-quarterback league with PPR scoring, but no tight end premium scoring.
Round 1 (Picks 1-6)
Round 1, Picks 1-6

| Pick | Drafter | Player | Position | College Team | Age | Height | Weight |
| --- | --- | --- | --- | --- | --- | --- | --- |
| 1.01 | Tyler Strong | Najee Harris | RB | Alabama | 23 | 6'2" | 230 |
| 1.02 | Justin Edwards | Ja'Marr Chase | WR | LSU | 21 | 6'1" | 208 |
| 1.03 | Brandon Niles | Travis Etienne | RB | Clemson | 22 | 5'10" | 210 |
| 1.04 | George Kritikos | DeVonta Smith | WR | Alabama | 22 | 6'1" | 175 |
| 1.05 | Eric Lindberg | Kyle Pitts | TE | Florida | 20 | 6'5" | 239 |
| 1.06 | Michael Lucarta | Rashod Bateman | WR | Minnesota | 21 | 6'1" | 210 |
1.01 -
Najee Harris

, RB, Alabama

Tyler (@TylerStrong95) - "I see Harris as the most pro-ready back in the class, especially after he flexed his receiving chops in 2020 with 43 receptions, more than his previous three seasons combined. Ideal cornerstone pick in 1-QB drafts this year."

Hard to argue with Tyler, here. Najee Harris will be the premiere back in almost any situation, especially if he's a Top-20 pick—where he is currently projected by most scouts. I have seen him tied to the Bills, which would be the worst-case scenario for his year one fantasy output, sharing snaps with both Devin Singletary and Zack Moss.
1.02 -
Ja'Marr Chase

, WR, LSU

Ja'Marr Chase has been the consensus first wide receiver off the board for the last year or so, despite not playing a single snap in 2020. The Heisman Trophy winner in 2019, there's a chance he meets up with his former quarterback if he were to get selected by the Cincinnati Bengals. Even if that's not the case, he is a well-rounded player who will slide directly in as his new NFL team's first receiving option.
1.03 -
Travis Etienne

, RB, Clemson

Brandon (@2guysbrandon) - "With the depth at receiver in this draft, I feel comfortable passing on DeVonta Smith, Jaylen Waddle and Rashod Bateman here, and going with a bit of a risky running back here. Travis Etienne may not be a bell-cow back at the next level, but he's explosive enough to make 10-15 touches super impactful, and his ceiling is in the Alvin Kamara range, as far as talent and skill set go."

The ACC's all-time leading rusher, Travis Etienne is an explosive back who can threaten defenses with burst and long speed comparable to 2020 rookie J.K. Dobbins. The Kamara comp is also apt here, as Etienne's shiftiness doesn't necessarily mean he's constantly trying to find the perimeter or afraid of pounding the ball between the tackles. There is a wide berth between this and the next tier of running backs.
1.04 -
DeVonta Smith

, WR, Alabama

Time will tell, but DeVonta Smith's talent should far outweigh his size when it comes to projecting him at the next level. The 2020 Heisman Trophy winner's 174-pound frame can only turn into a problem if the defense can catch him. He is a twitch route-runner with a fleshed-out route tree. His 23 touchdowns during his senior year should help to exhibit what he can do in the red zone.
1.05 -
Kyle Pitts

, TE, Florida

It is exceedingly rare a tight end will go this high in a rookie draft —even if this were a TE-premium league— but it just goes to show you how special Kyle Pitts is. At 6-foot-5, 239-pounds, Pitts is built like an in-line blocking tight end, yet he can be deployed all over the field, even as a perimeter "X" receiver. That's terrifying. As a fantasy investment, there is a non-zero chance Pitts could be the most valuable commodity in rookie drafts.
1.06 -
Rashod Bateman

, WR, Minnesota

Michael (@Mhockey1505) - "Speed to spare. Have some concern with possible draft stock sliding, but seems locked into the first or early-second, and a more translatable skill set than former teammate Tyler Johnson. Jaylen Waddle was my other consideration, but Bateman seems like a safer pick."

There are more athletic options in this year's group of receivers, but Rashod Bateman offers a little bit of everything, including some polished route running—one of the most easily-transferable traits from college to the pros. Landing spot will be important here, as his talents could fail to see its true ceiling ala Allen Robinson if the draft gods don't smile upon us.
Round 1 (Picks 7-12)
1.07 -
Jaylen Waddle

, WR, Alabama

Andrew (@afleischer) - "I loved getting Jaylen Waddle at the 1.07. While he doesn't have the size of Ja'Marr Chase and Rashod Bateman, Waddle is expected to be one of the fastest WRs in this class, has superb YAC skills, and experience all over the formation. Sign me up."

There are going to be a large number of "slot" receivers in this draft class, but when we consider the ever-growing number of three-receiver sets, it doesn't carry quite the negative connotation as it once did. Jaylen Waddle will be the cream of that crop, with the ability to line up anywhere on the field, especially when he grows a couple more branches on his route tree. He is nothing short of dynamic once the ball is in his hands, as over 60% of his yards have come after the catch over the last two seasons.
1.08 -
Javonte Williams

, RB, North Carolina

Jeff (@JeffHaseley) - "I am thrilled to get a three-down capable back like Javonte Williams at 1.08. He has the skills, talent, and makeup to be a team's go-to back right out of the draft. If a team like Miami, Atlanta, Buffalo, San Francisco or the New York Jets winds up with Williams, he'll have a chance to be a strong fantasy producer in year one."

Williams added to his game in all three seasons of his college career, culminating in a junior year in which he averaged 7.3 yards per attempt and 25 receptions for 22 total touchdowns. A lower center of gravity and power to boot, the North Carolina product is no fun for defenders to take on one-on-one. I do believe his new NFL team will want to pair his thunder with a "lightning" back, but split backfields are the norm nowadays and shouldn't take away from his value as a back-end first-round selection.
1.09 -
Rondale Moore

, WR, Purdue

Jeff (@_Jeff_Hicks_) - "I went with the best player available. Injuries are a concern but he was dominant at Purdue when healthy."

Rondale Moore put up some serious numbers as a true freshman; racking up over 1,400 scrimmage yards and even added 600+ more yards on 33 kick returns. That was in 2018, and he has since played in only seven games due to injuries. At 5-foot-9 and 175 pounds, it would be difficult to not find a correlation between size and durability but there's no question he can light up the field with the ball in his hands. I'm not sure he will get enough touches to be fantasy-relevant right out of the gate.
1.10 -
Trevor Lawrence

, QB, Clemson

Tyler (@TylerBuecher) - "Tier divide here for me with the top-5 WRs, top-3 RBs, and Kyle Pitts off the board. Instead of jumping down to the next tiers at each position, I opted for the generational talent in Trevor Lawrence—a gunslinger who can drop absolute dimes all over the yard. Likely to only gain value a year from now, even in single-QB leagues."

There isn't much player analysis to do here, it's all about how you value your quarterbacks and what your specific team needs are. As Tyler said, Trevor Lawrence's value is only going to grow—from the moment he gets selected by an NFL team—so the end of the first round is a perfectly fine price to pay, even if you don't need the quarterback help.
1.11 -
Kenneth Gainwell

, RB, Memphis

Another year, another exciting Memphis running back. There's something in the water at U of M. Like other Memphis backs before him, Kenneth Gainwell is well versed in passing-game usage, catching a whopping 51 balls en route to a 2,000+ all-purpose yardage 2019 season. A bit of a lanky frame and a mostly inexperienced running back (one true year of usage in college, was a quarterback in high school), he could slip down real NFL Draft boards—our own Anthony Staggs has Gainwell at 66 overall in his Top 150 Draft Big Board). That said, Antonio Gibson came into the league last season with hardly any usage as a running back in college and all he did was tear the league up as a rookie.
1.12 -
Amon-Ra St. Brown

, WR, USC

Salvatore Stefanile (@SalPal2) - "A versatile receiver who has played both on the outside and in the slot who finished his collegiate career with 178 receptions, 2,270 yards, and 16 touchdowns in 30 games. With that skill set, he could see himself becoming a useful part of an offense early in his career. At the end of the round one, you're basically choosing from a few receivers, and St. Brown topped the list for me."

As Sal said, the line is blurred between Amon-Ra St. Brown and a couple of receivers who are sure to come either directly before or directly after him. St. Brown is the son of a former Mr. Universe and Mr. World bodybuilder who doesn't believe in stretching (no, really), and uses his competitive toughness to win at the catch point and over the middle of the field. It will be interesting to see where he lands but I don't see a lot of roads for him to become a team's alpha number one receiving threat.
Round 2 (Picks 1-6)
Round 2, Picks 1-6

| Pick | Drafter | Player | Position | College Team | Age | Height | Weight |
| --- | --- | --- | --- | --- | --- | --- | --- |
| 2.01 | Tyler Strong | Dyami Brown | WR | North Carolina | 21 | 6'1" | 195 |
| 2.02 | Justin Edwards | Terrace Marshall Jr. | WR | LSU | 20 | 6'3" | 200 |
| 2.03 | Brandon Niles | Justin Fields | QB | Ohio State | 22 | 6'3" | 223 |
| 2.04 | George Kritikos | Elijah Moore | WR | Ole Miss | 20 | 5'9" | 184 |
| 2.05 | Eric Lindberg | Kadarius Toney | WR | Florida | 22 | 5'11" | 189 |
| 2.06 | Michael Lucarta | Tylan Wallace | WR | Oklahoma State | 21 | 5'11" | 193 |
2.01 -
Dyami Brown

, WR, North Carolina

A true "one-side-of-the-field" "X" receiver, Dyami Brown lined up outside on the left of the formation on 94% of his wide receiver snaps in 2020. He's a deep threat (20.1 yards per reception over the last two seasons) with good speed and a decent foundation to grow into a reliable number two option.
2.02 -
Terrace Marshall

Jr., WR, LSU

With Ja'Marr Chase and Justin Jefferson (and even Joe Burrow) out of the way, it was Terrace Marshall's turn to flash as the go-to option in LSU's offense. In a shortened seven-game season, Marshall turned 48 receptions into 731 yards and 10 touchdowns. I see Marshall as the most complete package in this grouping of receivers and he is still a spring chicken at 20 years old. I like this pick a lot (I'm the one who made it), and probably have him ranked in a place that wouldn't let him slip past me in the 1.10-ish range.
2.03 -
Justin Fields

, QB, Ohio State

Brandon - "At this point in the draft, with my favorite receivers off the board, Fields's immense upside is worth the risk, even in a 1-QB league. He has dual-threat ability and will likely have the draft capital to encourage teams to give him an early opportunity at starting. He has a better pedigree and a more diverse skill set than any other Ohio State quarterback I've looked at, so that makes me think he could buck the trend."

Completely on board with this pick. We've seen how important it is for a quarterback to provide at least some of his fantasy production with his feet, and Justin Fields seems like he can give us the same type of fantasy floor NFL stalwarts like Kyler Murray, Josh Allen and Deshaun Watson offer up when they tuck it and run.
2.04 -
Elijah Moore

, WR, Ole Miss

This is about as early as I've seen Elijah Moore go, but there's nothing wrong with getting your guy. Another nearly-pure slot receiver, Moore lined up in the slot on 491-of-599 receiver snaps and received 61-of-86 receptions from the inside in 2020. He actually showed growth with his route tree after only lining up wide a lowly 1.9% in 2019. He could in all likelihood be a late second-day pick in the NFL Draft and begin his professional career splitting time on special teams.
2.05 -
Kadarius Toney

, WR, Florida

What's that? You wanted to talk about another slot receiver in a draft class loaded with them? You are in luck, as Kadarius Toney is another player who lined up in the slot over 85% of the time during his final year of college. Toney also exhibited some field-stretching deep-play ability, catching 78% of his targets traveling 20+ yards, second only to Alabama's Jaylen Waddle. If he finds himself going in the first round of the NFL Draft, there is absolutely no chance he ever falls this far in a dynasty rookie draft again. With Green Bay a possible landing spot, Toney could skyrocket up this board quickly.
2.06 -
Tylan Wallace

, WR, Oklahoma State

Michael - "Happy to chase upside with Tylan Wallace here. Looks like he's back and just as good as ever from the torn ACL in 2019. Not a fan of the backs left (or this year in general)."

Because of the RPO/Air Raid tendencies of Oklahoma State, Tylan Wallace wasn't required to run a full litany of routes, not to mention he was (very) rarely asked to move away from his home along the right side of the formation. Wallace has shown he can manipulate defenders and he apparently ran a quite surprising 4.39 40-yard dash at his Pro Day.
Round 2 (Picks 7-12)
2.07 -
Michael Carter

, RB, North Carolina

Andrew - "I was strongly considering Javonte Williams at the 1.07, but happy with this Waddle/Carter combo. Carter may not have the size to be a three-down starter, but his skills as a receiver out of the backfield combined with his elite balance as a runner should make him an immediate fantasy asset."

I made nearly this same exact pick for the same exact reasons during our Superflex mock. Here were my thoughts; "Michael Carter is unlikely to ever find a "bell-cow" role at the professional level but depending on landing spot, his receiving skills and elusiveness could be exploited for very useful fantasy outputs."
2.08 -
Zach Wilson

, QB, BYU

Jeff Haseley - "Zach Wilson will most likely be selected by the New York Jets. He has the tools to be a mainstay in the league for several years provided he stays healthy. I'd most like to see him flex his deep-ball accuracy in an offense that allows him to be a downfield passer. With Mike LaFleur running the show in New York, we may see that. Expect a fast-paced, innovative offense with plenty of wrinkles."

Who could argue with Jeff's assessment here? The rumors of Justin Fields ending up in New York have all but vanished as far as I've seen and Wilson has been the man mocked to the Jets for the better part of a month. The offensive line is improving—and will continue to need to improve—but they need to get a better supporting cast before we're sliding a Jets quarterback into our starting lineups in a single-quarterback dynasty league.
2.09 -
Kylin Hill

, RB, Mississippi State

Jeff Hicks - "Fell in love with him at the Senior Bowl and has a legitimate chance to be a two-down back from day one with three-down upside."

This is probably earlier than necessary but there are no trades in a mock draft for Jeff to trade down, so I respect his inclination to grab his man. With an ever-growing pool of receivers to choose from, running backs are also the most valuable commodities in a rookie draft. Kylin Hill's lack of explosiveness could see him dip in the NFL Draft but there is use for a north-south runner with exceptional ball security skills.
2.10 -
Pat Freiermuth

, TE, Penn State

Tyler Buecher - "Prototypical in-line tight end who does a great job high-pointing the ball. Broke the PSU touchdown record (Mike Gesicki) in 16 fewer games. Likely a Day Two pick in this year's draft."

As it stands, there are two tiers of rookie tight ends. Tier One is Kyle Pitts, and after a large gap, Tier Two consists of Pat Freiermuth and Brevin Jordan, who we will talk about shortly. With Freiermuth's size, he can easily slide into a red-zone role right off the bat, but I would be thoroughly surprised if he is a volume receiver in his first couple of years at the professional level. At the end of the second round, it's worth the price for dynasty teams that already have guys they can plug-and-play at the position to give some time for Freiermuth's growth.
2.11 -
Jermar Jefferson

, WR, Oregon State

Jermar Jefferson is likely a Day Three pick in the NFL Draft and is all but guaranteed to be in a change-of-pace role at the next level. That said, Jefferson can make things happen with the ball in his hand in the open field. Curiously, Oregon State used him sparingly in the passing game over his last two years (17 receptions in 15 combined games) after featuring him extensively in his freshman year (25 receptions in 12 games).
2.12 -
Seth Williams

, WR, Auburn

While everybody clamored for slot guys towards the beginning of the second round, big-bodied 6-foo-2, 224-pound Seth Williams is teetering on the edge of the third round. Williams hasn't shown the speed or separation ability to blow by corners, but his catch radius and ability with 50/50 balls could sneak him into the third round of the NFL Draft.
Round 3 (Picks 1-6)
Round 3, Picks 1-6

| Pick | Drafter | Player | Position | College Team | Age | Height | Weight |
| --- | --- | --- | --- | --- | --- | --- | --- |
| 3.01 | Tyler Strong | Chuba Hubbard | RB | Oklahoma State | 21 | 6'0" | 207 |
| 3.02 | Justin Edwards | D'Wayne Eskridge | WR | Western Michigan | 24 | 5'9" | 189 |
| 3.03 | Brandon Niles | Tutu Atwell | WR | Louisville | 21 | 5'9" | 165 |
| 3.04 | George Kritikos | Brevin Jordan | TE | Miami | 20 | 6'3" | 245 |
| 3.05 | Eric Lindberg | Trey Lance | QB | North Dakota State | 20 | 6'3" | 224 |
| 3.06 | Michael Lucarta | Amari Rodgers | WR | Clemson | 21 | 5'9" | 211 |
3.01 -
Chuba Hubbard

, RB, Oklahoma State

This is the steal of the draft, in my humble opinion. Hubbard eclipsed 2,000 yards rushing in 2019. Drafters will conveniently remember that if he heads to any number of advantageous spots at the next level (Seahawks, Rams, 49ers, or Cardinals for instance). I know I just named an entire division, but my point here is that as soon as Hubbard gets an NFL jersey he will no longer be sniffing the third round.
3.02 -
D'Wayne Eskridge

, WR, Western Michigan

I talked about Eskridge during 4for4's February Dynasty Round Table and I'm happy to take him right here with the 3.02 pick. D'Wayne Eskridge didn't accrue a ton of raw stats during his five seasons at Western Michigan, but a big reason for that was his time split being a standout special teams player and his heavy usage as a cornerback as recently as 2019. A fleshed-out route tree and 23.3 yards per reception in 2020, he will be well worth the investment for owners who can afford to put a stake in and wait a year or two for a return.
3.03 -
Tutu Atwell

, WR, Louisville

Brandon - "It wouldn't be draft time if I didn't fall in love with a shifty slot receiver. Atwell is my top third-round target in rookie drafts right now because of his potential to fit any scheme."

Tutu Atwell is a shifty, explosive prospect who will be a lot of fun to watch with the ball in his hands. The questions here are: how often will a team manufacture touches for him and, oh my goodness, does he really weigh 165 pounds?
3.04 -
Brevin Jordan

, TE, Miami

Brevin Jordan exhibited the rare college tight end trait in that he was used consistently throughout his three years with Miami, ending in 2020, where he was the in-line tight end on only 18% of his snaps. Jordan was all over the formation and was a pain in the neck to get to the ground after the catch—his 9.3 yards after the catch per reception ranked second among 94 qualifying collegiate tight ends. He is likely going to need to improve his blocking in order to see the field consistently but his positional ceiling is worth a third-rounder.
3.05 -
Trey Lance

, QB, North Dakota State

Trey Lance has the same type of abilities as we referenced with Justin Fields, but the levels of competition are universes apart. If the rumors are true that he could be calling the Panthers or 49ers his new team, none of that is going to matter. With only one full year of playing time at North Dakota State, it's almost a lock he will be on the sideline for his rookie season, but if you have deep rosters (or taxi squads), the upside here is practically free.
3.06 -
Amari Rodgers

, WR, Clemson

Michael - "Interesting slot weapon. Takes a lot of the sting out of getting sniped on Trey Lance and Brevin Jordan."

Interesting is the right word and it remains to be seen how much of Amari Rodgers's production was his alone, and how much of it was because of having Trevor Lawrence as a quarterback. Either way, you can't knock a man for having a good quarterback and if the NFL Draft sees him come off the board as a third-round pick, he'll get an opportunity as a physical slot receiver at the next level.
Round 3 (Picks 7-12)
3.07 -
Tamorrion Terry

, WR, Florida State

Andrew - "6-foot-4, 203 lbs. Likely sub-4.5 speed—at 6-foot-4. Sure, he doesn't have much of a route tree, and he definitely needs to put on some mass, but in the late-third of a rookie draft? His upside is hard to ignore."

Tamorrion Terry is going to need some help with draft stock if we're going to see his size/speed profile help our fantasy teams.
3.08 -
Trey Sermon

, RB, Ohio State

Jeff Haseley - "I was hoping Chuba Hubbard would make it back to me, but that wasn't the case. With options dwindling, I decided to pull the trigger on Trey Sermon, who flashed his capabilities in the 2020 playoffs, particularly against Clemson. Sermon is more of an early-down back and less of a pass-catching all-purpose back. Can he latch on in the right system? Yes, but he probably won't see much fantasy relevance without injuries ahead of him on the depth chart."

This late in the draft and so far ahead of offseason programs, I'm a big fan of just taking stabs at running backs. Trey Sermon rushed for 193 yards in that Clemson game and two weeks before that he ran for a ridiculous 331 yards against Northwestern.
3.09 -
Demetric Felton

, RB, UCLA

Jeff Hicks - "I do not know how he will be used heading into the season, but his talent is overflowing. Wish he was still RB-eligible for dual position flexibility since he will be used all over the field."

Demetric Felton feels like a guy who will be just prevalent enough to take away production from the beloved RB1s of the world. Still, as long as he can make and stay on a roster, he's worth keeping in the back of our minds (and the third round of rookie drafts).
3.10 -
Jaret Patterson

, RB, Buffalo

Tyler Buecher - "Absurd 2020 performance at Buffalo. Versatile skillset. Checks a lot of "good" boxes but few "great". He's an ideal dart throw in the late third hoping he latches on as part of a committee."
3.11 -
Sage Surratt

, WR, Wake Forest

Wake Forest's big-play specialist before opting out of the 2020 season, Sage Surratt could operate as a "big slot" in the NFL by using physical releases and route running to his advantage.
3.12 -
Nico Collins

, WR, Michigan

Big-bodied receiver and another 2020 opt-out, Nico Collins could shine during the early years of his career as a 6-foot-4 deep threat with moderate speed. The more I read and watch of him, the more I think he could really find a niche and improve while working on his short and intermediate game. As with so many of these prospects, his draft stock will go a long way in determining how much on-field action his new team will allow him.
---
Related Articles