2021 NFL Draft Top 150 Big Board (Final)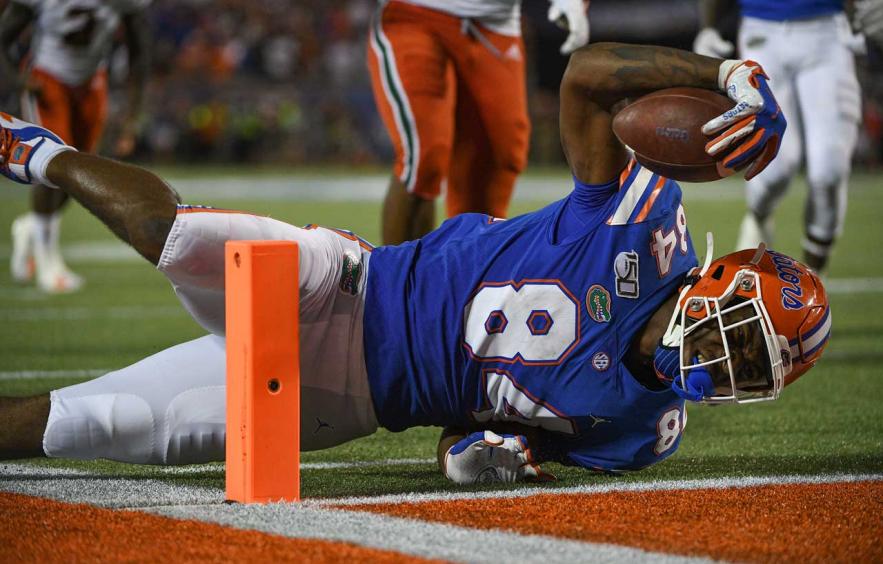 Mark Brown/Getty Images
With just a few days until the NFL Draft kicks off, I have put the final touches on my Big Board. Below you will find all 150 players who make up my Big Board, with short scouting reports for the Top-100 offensive skill players and some players outside of the Top 100 who intrigue me.
You can also check out my 2021 NFL Mock Draft to see how I envision round one of the draft playing out, plus I also have a resource breaking down each team's biggest needs and draft capital. Also, 4for4 will be live on YouTube for the first two days of the draft, breaking down every pick from a fantasy football perspective. Subscribe to our YouTube channel so you don't miss it!
---
2021 NFL Draft and Time
Date: Thursday, April 29 (Round 1), Friday, April 30 (Rounds 2 and 3), Saturday, May 1 (Rounds 4-7)
Time: 8:00 p.m. ET (Round 1), 7:00 p.m. ET (Rounds 2 and 3), 12:00 p.m. ET (Rounds 4-7)
Channel(s): NFL Network and ESPN
MORE 2021 DYNASTY CONTENT: Mock Drafts & Strategies | Rookie Rankings | Top 200 Overall Rankings: Superflex + Non-Superflex
---
2021 NFL Draft Big Board (Top 150)
*Last Updated: April 25, 2021
1.
Trevor Lawrence

, QB, Clemson

Trevor Lawrence is the best quarterback prospect to enter the draft since Andrew Luck. While Lawrence is a prospect among the best at this position in the last decade or so, finding a stylistic comp for him is difficult. A 6-foot-6 quarterback with mobility and the arm strength to make all the throws in the book while also having accuracy and touch to go along with a fastball, Lawrence is as well-rounded as any quarterback to enter the draft in recent years. Lawrence checks all the boxes and his athleticism allows him to make plays both inside and outside of the pocket with relative ease.
2. Penei Sewell, OT, Oregon
3.
Kyle Pitts

, TE, Florida

Kyle Pitts is a long and limber athlete at 6-foot-6 and 245 pounds—with athleticism to boot. Pitts is a chess piece—someone who can play tight, H-back, or receiver. A tight end who averaged 17.9 yards per catch and 12 touchdowns last season playing an SEC schedule is a rare breed. Pitts's advanced metrics are also up amongst the best in this draft class with a 92nd college dominator rating and a 95th percentile breakout age. At his Pro Day, Pitts smashed, to the tune of a 97th percentile broad jump and a 4.44 40-yard dash, giving him an athletic profile only rivaled by Vernon Davis.
4.
Justin Fields

, QB, Ohio State

Dripping with athleticism that can help him get out of some sticky situations, Justin Fields is a highly versatile quarterback. Fields possesses elite traits and huge upside, plus a big arm that allows him to make throws all over the field. Fields have elite accuracy in the quick passing game, but he was also deadly accurate in the downfield and intermediate passing games. Fields's main issue seems to be an identity crisis on whether he is an elite athlete or an elite pocket passer. Add in a 4.44 40-yard dash and the now patented roll to the left and 65-yard heave for a touchdown against air at his Pro Day, and Fields is a complete prospect despite the media questioning his work ethic.
5.
Ja'Marr Chase

, WR, LSU

Ja'Marr Chase was the 2019 Biletnikoff Award winner and a unanimous First Team All-America selection who set SEC records for touchdown receptions with 20 and receiving yards with 1,780. The 6-foot-1, 207-pound receiver would have worn #7 would he have played in 2020, an honor only given to the best players at LSU. Chase dominates at the catch point, but he is also difficult to bring down after the catch and can take any reception to the house from all areas of the field. Chase jumped out of the gym with a 41-inch vertical and an 11-foot broad while running a blistering 4.38 40-yard dash.
6.
Zach Wilson

, QB, BYU

Zach Wilson is considered to be a mobile quarterback with deep ball accuracy second to none. Wilson can throw from all platforms and his ability to escape in the pocket is among the best in this draft class. Wilson's biggest skeptics center on the outside zone play-action heavy scheme that saw wide receivers running open for a big portion of the 2020 season. Wilson's ability to escape pressure and make throws with defenders in his face gives NFL teams a lot of hope, but the projection to certain schemes is larger for Wilson than others. Wilson's Pro Day featured below-average height and weight measurements, and no athletic tests. He did show off plenty of throws, however, especially ones that showcased his deep ball while on the move with only a flick of the wrist.
7. Rashawn Slater, OT, Northwestern
8. Jaycee Horn, CB, South Carolina
9. Patrick Surtain II, CB, Alabama
10.
Trey Lance

, QB, North Dakota State

Trey Lance is a splash player after a redshirt freshman season in 2019, in which Lance won the Walter Payton Award and Jerry Rice Award. He was also named the Most Outstanding Player of the 2020 NCAA Division I Football Championship Game. Lance is a mobile quarterback with top-tier arm talent that has been all the rage over the last few years of the NFL Draft. However, his lack of game experience with only one full season as a starter and competition level on the FCS stage leave doubters in the room. Lance's Pro Day featured a small hands discussion and plenty of downfield throws showing off his arm strength.
11.
Jaylen Waddle

, WR, Alabama

Jaylen Waddle possesses elite speed and instantly joins any lineup as a field-stretcher who can potentially grow into a team's No. 1 receiver. Waddle can play on the outside or in the slot and create matchup problems everywhere on the field. Let's not forget that when Waddle and DeVonta Smith were both healthy this season, Waddle was the one who led Alabama in yards per route run. His skills as a punt returner can also add value to a team's special teams unit. Waddle did not record any Pro Day numbers, but anyone who knows anything knows Waddle would have touched 4.2 in the 40, especially with these hot stopwatches this offseason.
12. Micah Parsons, LB, Penn State
13. Jaelan Phillips, EDGE, Miami
14.
DeVonta Smith

, WR, Alabama

DeVonta Smith told reporters that he currently weighed 170 pounds, but he did not measure or record any times during the Pro Day circuit, making his projection to the NFL an even larger projection. We really only know about Smith's on-field production and nothing about his athletic traits and size that are a piece of the puzzle, whether those who grind the film will admit it or not. Smith does possess an elite ability to create separation, and when he can't, he also plays bigger than his 6-foot-1 frame making contested catches whenever Mac Jones gave him the opportunity.
15. Christian Darrisaw, OT, Virginia Tech
16. Kwity Paye, EDGE, Michigan
17. Jeremiah Owusu-Koramoah, LB, Notre Dame
18. Caleb Farley, CB, Virginia Tech
19. Teven Jenkins, OT, Oklahoma State
20. Alijah Vera-Tucker, OL, USC
21.
Rashod Bateman

, WR, Minnesota

Rashod Bateman has the ability to handle big target numbers in both the short and intermediate passing game, as well as vertically down the field. The former Golden Gopher shined against some of the Big Ten's best defenses the last two years. His physicality at the catch point is among the best in the draft. Bateman can win quickly in the short area and his ability to move around the formation makes him attractive to a lot of NFL teams. At his Pro Day, Bateman measured shorter (6003) and lighter (190 pounds) than expected but he did blaze a 4.39 40-yard dash.
22.
Mac Jones

, QB, Alabama

Michael McCorkle "Mac" Jones, who took over as the Alabama quarterback full-time this season, lit the world on fire completing over 77% of his passes for 4,500 yards and 41 touchdowns to just four interceptions, setting a number of SEC passing records along the way. Jones doesn't have the biggest arm and isn't the nimblest of pocket passers, but his short-game accuracy in 2020 was top-notch. At his Pro Day, Jones ran an above-average 4.68 40-yard dash and threw some passes for NFL evaluators. He also showed off some of his versatility, catching a few passes on trick plays. Now we just have to wait to see what team calls his name, hopefully including the McCorkle.
23. Azeez Ojulari, EDGE, Georgia
24. Trevon Moehrig-Woodard, S, TCU
25. Christian Barmore, DL, Alabama
26. Jayson Oweh, EDGE, Penn State
27.
Terrace Marshall

Jr., WR, LSU

Terrace Marshall Jr. had a stellar college career, but he hasn't spent extensive time as a team's top dog. He had 48 catches for 783 yards and 10 touchdowns in his junior year (in just 7 games before opting out) and 46 catches for 671 yards and 13 touchdowns in his 2019 sophomore season sharing the field with Ja'Marr Chase and Justin Jefferson. Marshall is a lanky receiver who can play inside and outside—someone who will excel in the short passing game and he can use his size to pluck the ball away from defenders. At his Pro Day, Marshall added more intrigue to his profile, measuring at 6-foot-3 and 205 pounds, and running a 4.38 40-yard dash with impressive explosiveness in his jumps as well. He likely cemented his status as a first-round prospect at his Pro Day.
28. Gregory Rousseau, EDGE, Miami
29. Greg Newsome II, CB, Northwestern
30. Joseph Ossai, EDGE, Texas
31. Zaven Collins, LB, Tulsa
32.
Rondale Moore

, WR, Purdue

Rondale Moore can change a game whenever he touches the football—just get the ball in his hands and let his juice shine through. Speed isn't the only thing Moore possesses, though, with a reported max squat of over 600 pounds. He also has the ability to add value on special teams. Moore does have durability questions after playing in just seven games over the last two seasons, but his explosiveness would add a dimension to any offense around the league, and his sharpness as a route runner has grown over the last two seasons. At his Pro Day, Moore measured in at just 5-foot-7 but did post a 42.5-inch vertical (99th percentile) and a 4.29 40-yard dash, along with a 92nd percentile time on his three-cone drill.
33.
Najee Harris

, RB, Alabama

Najee Harris is a big back at 6-foot-2, 230 pounds, but grew to be so much more than that in 2020. Harris can really do it all and his 50 total touchdowns over the last two seasons tops the class. Harris could immediately step in as a bell-cow back and add a completely new dimension to any offense in the league. Harris's pass-catching skills were on display last season, rounding out any questions that remained in his game. Harris did not record any Pro Day times, keeping his draft stock intact.
34.
Travis Etienne

, RB, Clemson

Travis Etienne returned for his senior season, but he didn't set the world on fire as he did in his sophomore and junior endeavors. In his career, Etienne rushed for nearly 5,000 yards and added over 1,000 yards as a receiver. Etienne possesses elite play speed and accelerates like he was shot out of a canon. He can also add early value as a kick returner despite some having questions about his short-area quickness and wiggle. At his Pro Day, Etienne tipped the scales at 215 pounds and ran a 4.41 40-yard dash, giving him a similar profile to recent second-round draftees D'Andre Swift and Miles Sanders.
35.
Kadarius Toney

, WR, Florida

Swiss army knife Kadarius Toney is a former quarterback who will be able to line up all over the field. A wide receiver with track speed, Toney spent most of his collegiate career playing in the slot. He can create space with a sudden change of directions or blow by defenders with straight-line speed. Toney could struggle if asked to play a ton on the outside as his play strength needs some growth, but as a slot weapon, there are few on his level. Toney ran a 4.4 40-yard dash at his Pro Day and posted big numbers in the jumping department—40-inch vertical and an 11-foot-4-inch broad jump, showing off his explosiveness. He posted middling agility scores, however, to round out his profile.
36. Samuel Cosmi, OT, Texas
37. Liam Eichenberg, OT, Notre Dame
38. Alex Leatherwood, OL, Alabama
39. Asante Samuel Jr., CB, Florida State
40. Creed Humphrey, OL, Oklahoma
41. Jamin Davis, LB, Kentucky
42. Carlos Basham Jr., EDGE, Wake Forest
43. Joe Tryon, EDGE, Washington
44.
Pat Freiermuth

, TE, Penn State

Pat Freiermuth is a tight end who always seems to find a way to separate at the top of his route from defenders. Freiermuth caught 16 career touchdowns in 29 games. He can play in-line and is one of the top edge blockers in the class, but he can also excel in the red zone. Freiermuth didn't test at his Pro Day due to previous injuries, but he did weigh in at 251 pounds on his 6-foot-5 frame.
45. Landon Dickerson, OL, Alabama
46. Richie Grant, S, UCF
47. Wyatt Davis, OL, Ohio State
48. Daviyon Nixon, DT, Iowa
49.
Elijah Moore

, WR, Ole Miss

The 5-foot-9, 178-pound Elijah Moore is a speedster who spent a ton of time in the slot in 2020. In just eight games, he had 86 catches for 1,193 yards and eight touchdowns, who put a hurting on SEC defenders along the way. Moore is a fast, yet sudden athlete who can create separation in the blink of an eye. Just get the ball in his hands and good things will happen. The main question with Moore is whether he can survive on the outside in the NFL, especially in regards to beating press coverage. Moore's Pro Day ended exactly like you would have expected, on the smaller side for a receiver, but he does possess elite speed (4.35) and quicks (4.00 short shuttle and 6.66 3-cone) to go along with middle of the road explosive numbers.
50. Tyson Campbell, CB, Georgia
51. Jalen Mayfield, OL, Michigan
52. Nick Bolton, LB, Missouri
53.
Javonte Williams

, RB, North Carolina

Javonte Williams is a stocky 5-foot-10, 212-pound running back whose juice shows up immediately when you turn on the film. According to PFF, Williams broke a tackle on 48 percent of his runs. Williams can run routes from out wide and find his way into the end zone, making him an attractive target on Day Two of the draft. Williams's ability to carry the load will be questioned, but adding him to a tandem should produce immediate results. At his Pro Day, Williams was clocked in at 4.55 on the 40-yard dash and he posted an impressive short shuttle time of 4.09 seconds. The rest of his numbers were just slightly above average.
54. Eric Stokes, CB, Georgia
55. Ifeatu Melifonwu, CB/S, Syracuse
56. Jamar Johnson, S, Indiana
57. Levi Onwuzurike, DT, Washington
58. Dillon Radunz, OT, North Dakota State
59. Kelvin Joseph, CB, Kentucky
60.
Dyami Brown

, WR, North Carolina

Dyami Brown is a dynamic wide receiver who can play both inside and outside. Brown can win vertically and averaged over 20 yards per catch in each of his last two seasons, while also notching over 1,000 receiving yards in each season. His route tree was limited, focused mostly on getting him vertical, but there is room to grow. Brown ran a 4.4 40-yard dash and recorded explosive jumps to go along with above-average arm length and hand size at his Pro Day, pushing him ahead of a few other receivers who were previously in this range.

Editor's Note: To see where other offensive skill players like Dyami Brown are ranked for dynasty fantasy football, check out George Kritikos's rookie ranks.
61. Jay Tufele, DT, USC
62. Jabril Cox, LB, LSU
63. Payton Turner, EDGE, Houston
64. Dylan Moses, LB, Alabama
65. Elijah Molden, CB, Washington
66. Jevon Holland, S, Oregon
67. Jaylen Twyman, DT, Pittsburgh
68. Ronnie Perkins, EDGE, Oklahoma
69. Jackson Carman, OL, Clemson
70. Quinn Meinerz, OL, Wisconsin-Whitewater
71. Deonte Brown, OL, Alabama
72.
Amon-Ra St. Brown

, WR, USC

Amon-Ra St. Brown is a wide receiver with a major athletic pedigree—his brother (Equanimeous St. Brown) currently plays in the NFL and he has another brother (Osiris St. Brown) at Stanford, while his bodybuilder father, John Brown, won three Mr. World and two Mr. Universe titles. St. Brown is a stout receiver who uses shiftiness to get open in the short area and can use his strength to bully defensive backs after the catch. St. Brown posted big jump numbers and a strong three-cone drill, but his 40-yard dash time of 4.59 leaves something to be desired.
73. Milton Williams, DL, Louisiana Tech
74. Chazz Surratt, LB, North Carolina
75.
Nico Collins

, WR, Michigan

Nico Collins opted out of the 2020 season in order to train for the draft. He is a long and limber athlete who excelled at getting vertically down the field in 2019. Collins can track the ball deep and also attacks the football in 50/50 contested-catch situations. Collins will also run defenders off the line on run plays or put his facemask in there and move defenders if need be. His ability to run routes and separate from defenders on breaks is still questionable, and he must prove the ability to separate from defenders in the short and intermediate areas to take the next step. Collins measured in at 6-foot-4 and 215 pounds and posted one of the more impressive Pro Days for mid-round receivers with 75th percentile jumps, to go along with a 4.42 40-yard dash time.
76. Baron Browning, LB, Ohio State
77. Patrick Jones II, EDGE, Pittsburgh
78. Aaron Robinson, CB, UCF
79.
Amari Rodgers

, WR, Clemson

With the injury to Justyn Ross, Amari Rodgers was moved up in the pecking order and responded by posting the first 1,000-yard season of his career. Rodgers spent most of his time in the slot but he is well built at over 210 pounds, playing like a running back for many corners to bring down in the open field. Since he was targeted on many Run-Pass Option (RPO) plays and other manufactured looks, Rodgers has question marks that surround his route running and ability to push defenders vertically down the field. Rodgers weighed in at a thick 212 pounds but his jumps, 40 time and agility times were all below-average. Rodgers did put up a massive 24 reps on the bench press, though.
80. Rashad Weaver, EDGE, Pittsburgh
81. Walker Little, OT, Stanford
82. Aaron Banks, OL, Notre Dame
83. Pete Werner, LB, Ohio State
84. Quincy Roche, EDGE, Miami
85. Stone Forsythe, OT, Florida
86. Trey Smith, OL, Tennessee
87.
Kellen Mond

, QB, Texas A & M

Kellen Mond is an athletic quarterback who had to do it all for the Aggies on offense in order for them to win. Mond is a mobile quarterback who can make throws inside and outside the structure of an offense, and he improved every season in his career. Mond has a fastball who can zing it in the short-to-intermediate areas of the field but will never be described as a guy who throws a beautiful deep ball. Mond would sometimes miss some gimme plays but trusts his guys around him to make plays for him. Mond will be questioned for his lack of experience in a pro-style offense and playing under center, but the traits are there, despite likely taking a little longer to uncover than others in this class. At his Pro Day, Mond posted a sub-4.6 40-yard dash and threw the ball 60 yards in gym shorts, to the delight of real-life scouts and those that play one on Twitter.
88.
Browns

1" class="player_name_link">Spencer Brown, OT, Northern Iowa
89.
Trey Sermon

, RB, Ohio State
90.
Davis Mills

, QB, Stanford
91.
Kenneth Gainwell

, RB, Memphis

Kenneth Gainwell is a smaller back who tipped the scales at 201 pounds, but his ability as a pass-catcher will make him attractive to many teams in the NFL. He caught 51-of-61 passes in 2019, while also averaging over 10 yards a catch and six yards a rush. Gainwell shows an ability to press the hole and explode, but his size and play in a spread system give some guys at the NFL level pause. Gainwell added a 4.42 40-time and average jumps. He didn't participate in agility drills but likely would have excelled in them based on his film.
92. Brady Christensen, OT, BYU
93.
Anthony Schwartz

, WR, Auburn

Anthony Schwartz came from a football power in Florida before attending Auburn. He was a nationally-ranked track athlete and his speed can translate onto the field. At his Pro Day, Schwartz ran a 4.25 40-yard dash—he will always likely have a niche due to his speed. Schwartz is very much a limited route tree type of player, and even with that, he hasn't perfected the go route yet, as he sometimes struggles with tracking the football. Schwartz can provide a complementary piece to a receiver room, but his lack of use on special teams leaves something to be desired.
94.
Tylan Wallace

, WR, Oklahoma State

While Tylan Wallace will never be the biggest or the fastest wide receiver in the draft, he is among the most adept at stretching the field vertically. Wallace finished as the fourth-most prolific pass catcher in OSU history and was a dominant force since his sophomore season. Wallace possesses strong hands and an ability to motor past defensive backs, but it is unlikely many would put him amongst the best route runners in this class due to showing a limited route tree in college. Wallace didn't post any above-average times or jumps at his Pro Day, outside of a 4.48 forty time.
95. Josh Myers, OL, Ohio State
96. Dayo Odeyingbo, EDGE, Vanderbilt
97. Andre Cisco, S, Syracuse
98.
Hunter Long

, TE, Boston College

Hunter Long is a prototypical tight end in the height, weight, and speed categories after stopping the watches at 4.63 at his Pro Day. The second-team All-American-led Power 5 school tight ends in receptions in 2020. He can also get it done as a point of attack blocker. Long's route-running prowess and short-area quickness leave a little bit to be desired, but his catch radius and size in shielding away defenders were evident on film.
99. Marvin Wilson, DT, Florida State
100. Tommy Togiai, DT, Ohio State
101. Alim McNeill, DT, N.C. State
102. Divine Deablo, S, Virginia Tech
103.
Tommy Tremble

, TE, Notre Dame
104.
Kyle Trask

, QB, Florida
105. Elerson Smith, EDGE, Northern Iowa
106. Paulson Adebo, CB, Stanford
107.
D'Wayne Eskridge

, WR, Western Michigan

D'Wayne Eskridge is a player who moved around between offense and defense in his career at Western Michigan. He finally settled in at wide receiver as a fifth-year senior, catching 33 passes for 768 yards and eight touchdowns, and he wound up averaging over 18 yards per catch in his career. Eskridge's offensive and defensive versatility allows him to fit on every depth chart as a special teamer that an offense can also design a few looks for during the season. At his Pro Day, Eskridge measured in at just 5-foot-9, but had solid bulk, weighing in at 190 pounds. He blazed a 40-yard dash time of 4.38.
108. Hamsah Nasirildeen, S, Florida State
109.
Chuba Hubbard

, RB, Oklahoma State

Chuba Hubbard is a prolific runner, featuring a 2,094-rushing yard season in 2019. Hubbard gets north and south quickly and can burst through to the line of scrimmage and break arm tackles. Hubbard can excel in a zone-based scheme that focuses on getting upfield. Hubbard does seem to be brought down far too often in one-on-one situations and rarely seems to be dragging defenders forward with him when he falls. Hubbard will also likely be relegated to a two-down back as he failed to make a huge impact as a pass-catcher in his collegiate career. Hubbard had a good Pro Day showing, weighing in at 210 pounds and moving to the tune of 4.48 in the 40-yard dash. He posted average explosiveness and agility scores.
110. Kary Vincent Jr., CB, LSU
111.
Michael Carter

, RB, North Carolina

Michael Carter is a lighter back at 5-foot-8, 184 pounds, who can break arm tackles as he presses the hole and attacks the second level. Despite averaging 8.0 yards a carry in 2020, Carter has some issues in the breakout speed department, but he did run a 4.36 40-yard dash at his Pro Day, giving him a confusing profile. The former Tar Heel shows excellent patience and contact balance, and he has been used in the receiving game—mostly from the backfield. His overall lack of bulk will likely leave him to be a smaller piece of a committee in the NFL.
112. Tyler Shelvin, DT, LSU
113.
Brevin Jordan

, TE, Miami

Brevin Jordan is an impact weapon who saw his role continually increase in college, culminating with a final eight-game season stat line of 38 catches, 576 yards and seven touchdowns. The Miami product was moved all over the field and should slot in as a move tight end at the NFL level. Jordan possesses functional strength at the point of attack and is a load to bring down after the catch. His main detractors seem to be before the catch as he ran a limited number of routes and separation seemed to be an issue at times. Jordan measured in at just 6-foot-3 (13th percentile for a tight end) and 247 pounds. He produced a below-average vertical jump, giving credence to some concerns about his ability to play above the rim.
114. Ben Cleveland, OL, Georgia
115. Hamilcar Rashed Jr., EDGE, Oregon State
116.
Seth Williams

, WR, Auburn

Seth Williams has the prototypical size of an X receiver at the NFL level. Williams excels at using his size to shield defenders from the ball and can create quick separation in the short passing game on slants and outs. Williams can win in contested catch situations but isn't a burner who can stretch the field vertically. He may also struggle with press coverage in certain situations. Williams put on a strong showing at his Pro Day, measuring in at 6-foot-3 and tipping the scales at 211 pounds. He produced strong vertical and broad jumps and turned in a 4.50 40-time.
117. Shaun Wade, CB, Ohio State
118. Marlon Tuipulotu, DT, USC
119. D'Ante Smith, OT, East Carolina
120. DJ Daniel, CB, Georgia
121. Osa Odighizuwa, DT, UCLA
122.
Jaelon Darden

, WR, North Texas
123. Shakur Brown, CB, Michigan State
124. James Hudson, OT, Cincinnati
125. Cameron McGrone, LB, Michigan
126. Rodarius Williams, CB, Oklahoma State
127. Darius Stills, DT, West Virginia
128. Benjamin St-Juste, CB, Minnesota
129.
Sage Surratt

, WR, Wake Forest
130. Ar'Darius Washington, S, TCU
131. Caden Sterns, S, Texas
132. Chris Rumph II, EDGE, Duke
133. Brenden Jaimes, OL, Nebraska
134.
Marquez Stevenson

, WR, Houston
135. Richard LeCounte, S, Georgia
136. Israel Mukuamu, CB, South Carolina
137.
Tamorrion Terry

, WR, Florida State
138. Shaka Toney, EDGE, Penn State
139. Talanoa Hufanga, S, USC
140. Trill Williams, CB, Syracuse
141. Victor Dimukeje, EDGE, Duke
142.
Tutu Atwell

, WR, Louisville

Tutu Atwell is a burner who can take the top off a defense, while also being a terror when he gets the ball in his hands. In a vertical passing game, Atwell can be a depth wide receiver who excels at getting deep downfield with his speed. Atwell will also be a weapon in the jet motion packages that are becoming more and more popular at the NFL level. Atwell's main questions will come from his overall lack of size, in particular, his weight, as he may tip the scales as one of the lighter prospects in recent memory. Atwell officially weighed in at 155 pounds at his Pro Day, becoming an almost unparalleled athlete entering the NFL since 2000.
143.
Shi Smith

, WR, South Carolina
144. Derrick Barnes, LB, Purdue
145.
Dazz Newsome

, WR, North Carolina
146. Jamien Sherwood, S, Auburn
147. Trey Hill, OL, Georgia
148. Deommodore Lenoir, CB, Oregon
149.
Kenny Yeboah

, TE, Ole Miss
150.
Kylin Hill

, RB, Mississippi State
New Entries (Previously Unranked)
85. Stone Forsythe, OT, Florida
102. Divine Deablo, S, Virginia Tech
132. Chris Rumph, EDGE, Duke
133. Brenden Jaimes, OL, Nebraska
Biggest Risers
Payton Turner, EDGE, Houston (+64)
Aaron Banks, OL, Notre Dame (+62)
Richie Grant, S, UCF (+49)
Tommy Tremble, TE, Notre Dame (+39)
Elerson Smith, EDGE, Northern Iowa (+34)
Biggest Fallers
Joshua Kaindoh, EDGE, Florida State (-37)
Michael Carter, RB, North Carolina (-30)
Deommodore Lenoir, CB, Oregon (-30)
Tylan Wallace, WR, Oklahoma State (-29)
Demetric Felton, RB/WR, UCLA (-24)
---
Related Articles