Dynasty Free Agency Winners & Losers (2021)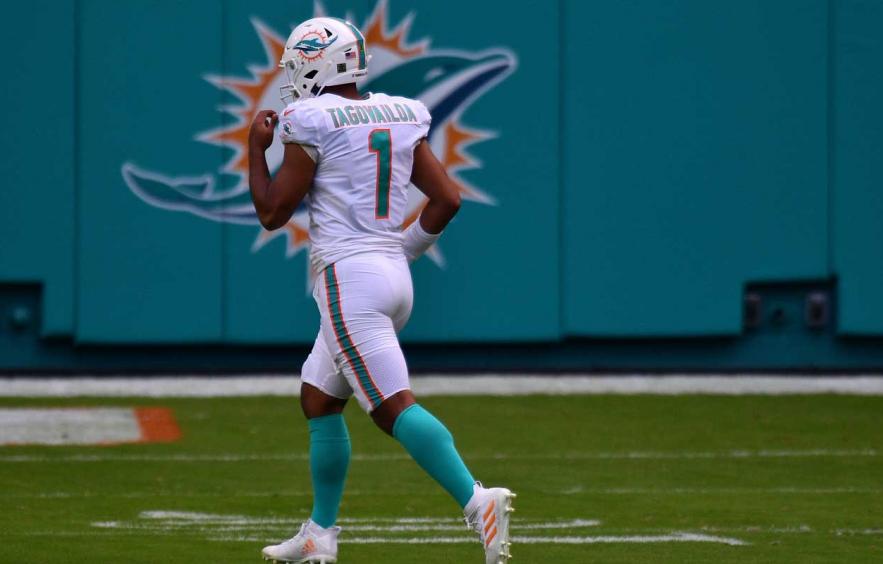 Photo by Mark Brown/Getty Images
We try really hard to be forward-thinking in dynasty. We analyze contracts, we look at schemes, play-calling history, future free agency, career aging, future and present draft capital and any statistic we can grasp a hold of to give us an edge. Then, out of nowhere, a rookie quarterback busts, someone gets hurt, another player shines and we have to start over from scratch. Free agency is a big unknown in dynasty. We can project which backups might get shots elsewhere—Gerald Everett—and which quarterbacks might retain some value as journeyman starters—Ryan Fitzpatrick—but we never really know when our stud wide receiver is going to bolt a city and plant themselves in an entirely new situation and either live up to our lofty investment or crash and burn. There was quite a bit of movement among fantasy-relevant players this year, and I'll do my best to sort out the most impactful dynasty moves.
---
MORE 2021 DYNASTY CONTENT: Player Profiles & Strategy | Rookie Rankings | Top 200 Overall Rankings: Superflex + Non-Superflex | NFL Mock Draft | NFL Draft Big Board | Rookie Mock Draft
---
I won't try to recap the phenomenal work John Paulsen did tracking all the free agency moves, or his redraft-centric recap article. Instead, this article is about the dynasty fallout from free agency.
Winners
Biggest Winner:
Tua Tagovailoa
Added: Will Fuller, Malcolm Brown, Jacoby Brissett, new offensive coordinators Eric Studesville (run game) and George Godsey (passing game)
It was an uneven rookie season for Tua Tagovailoa, coming off a hip injury and starting the season as the backup on a team with limited weapons, and even more limited expectations. He threw for a modest 1,814 yards, 11 touchdowns and five interceptions in nine starts, and added 109 yards and three touchdowns on the ground.
Tua was pretty conservative as a passer his rookie year. He averaged just 6.3 yards per pass attempt and was 35th in the league in air yards per pass attempt (minimum 100 attempts). He often looked hesitant in the pocket and regularly relied on check-downs—68.7% of his attempts traveled less than nine yards. However, Chan Gailey was also the offensive coordinator. Gailey's history since returning to the NFL in 2008 after a stint at the college level:
*Minimum 14 attempts per game to qualify.
A few things stand out. First off, four teams, and Ryan Fitzpatrick was the main guy on three of them. That makes me want New England to go get Fitzpatrick and Gailey next year, just to complete the FitzGailey tour of the AFC East. Second, Fitzpatrick's magic didn't come by way of as many big plays until recently in Miami. In fact, as a side note, Fitzpatrick had modest yards-per-attempt numbers for much of his career until he led the league with 9.6 in 2018 under Bruce Arians in Tampa Bay. He was then above his career average with 7.0 and 7.8, respectively, the last two years in Miami. Is it possible Fitzpatrick learned something from Arians? His previous career-high before Arians was 8.0 with the Houston Texans in 2014—where new co-offensive coordinator and passing game coordinator George Godsey was on staff.
It's very possible Tagovailoa will continue to play conservative, ball-control football, but there's significant evidence this type of play was by design under Gailey. Additionally, the Dolphins added Will Fuller, who boasts a career 14.9 yards-per-reception mark. And that's not just because of Deshaun Watson airing it out all the time. Fuller averaged 13.5 yards per reception his rookie year with Brock Osweiler throwing him the ball and 17.4 yards per reception during his three years at Notre Dame. Fuller is a deep threat who brings a whole new element to the Dolphins' passing game. Couple that with whoever the Dolphins draft—Anthony Staggs has them taking LSU receiver, Ja'Marr Chase, with the sixth pick—and Tua should be looking at a new offense, full of improved weapons, while coming off a full and healthy offseason getting starters reps.
Furthering the case, the Dolphins brought in Jacoby Brissett to backup Tagovailoa, leaving no competition and no FitzMagic breathing down his neck. His dynasty value may be suppressed right now, and if you can get him for a reasonable price, now is the time to do so.
Daniel Jones
Added: Kenny Golladay, Kyle Rudolph, Devontae Booker, John Ross
Lost: Kevin Zeitler
While Tagovailoa definitely got a huge boon to his long-term value based on the direction the Dolphins took in free agency, Daniel Jones perhaps received just as much help from his front office. Coming off a disappointing season where he ranked just 27th among quarterbacks in average fantasy points per game, Jones should have a lot more firepower to help him out heading into his third season. He's shown flashes before, particularly with ground production: 581 rushing yards over his first two seasons—including an 80-yard run against the Eagles last year.
This may be the make-or-break year for him, though. If Saquon Barkley returns from injury, as expected, he'll have the best group of weapons he's had in his young career. The addition of Devontae Booker and Kyle Rudolph helps the depth and pass protection—PFF ranked Booker and Rudolph 48th and 28th compared, respectively, compared to 72nd and 85th for Wayne Gallman and Kaden Smith among their position groups, respectively. Booker and Rudolph are also accomplished receivers in their own right, and if Barkley or Evan Engram get hurt again, both should be more than capable of producing at a better clip than the reserve units from a year ago. Adding speedster John Ross also gives Jones another downfield target in large packages.
Most importantly, and forgive me for burying the lead, the addition of Kenny Golladay gives Jones the best receiver he's had at either the pro or college level. Golladay may or may not produce the way he did as a Lion with a new team, but he will unequivocally help Jones. As TJ Hernandez wrote, Golladay's game is quality over quantity. His efficiency and ability to make plays downfield set him apart from the rest of the pass-catchers in New York. Not only will Golladay help Jones by being a legit No. 1 receiver, but he'll also help by shifting Sterling Shepard to his more comfortable slot role—a role vacated by Golden Tate. Golladay shifting everyone down a peg on the target hierarchy takes a group of pass-catchers from suspect to strength, and Jones will benefit. Jones was 16th in fantasy points per game as a rookie, and this group of weapons is better than what he had that year. A jump into QB1 territory wouldn't be shocking.
Some may point to the loss of Kevin Zeitler at starting guard and think Jones's protection got worse, but the return of Nate Solder from an opt-out year and the fact PFF ranked Zeitler just 36th among guards last year in pass-blocking should make that a wash. The Giants should be able to replace the average production Zeitler provided last year with someone in the draft or some internal progression. Solder's return should either be an improvement at right tackle or allow last year's first-rounder Andrew Thomas to slide to that side while he develops. From a protection perspective, I don't think the Zeitler loss is significant. Buy Daniel Jones if anyone is selling below-market.
Josh Reynolds

and

Anthony Firkser

The Titans chose to invest their free agency money on the defensive side of the ball—Bud Dupree—rather than on replacing the departed Corey Davis and Jonnu Smith. That leaves the newly acquired Josh Reynolds, who signed for a one-year deal after four seasons buried on the depth chart with the Rams, and holdover Anthony Firkser to pick up the slack.

This is huge for the dynasty value of Reynolds, who at 26 years old, was a fringe roster player before the change in uniforms. As long as the Titans don't invest a high draft pick in the position, Reynolds should be considered the favorite to land the starting job opposite A.J. Brown and become the prime beneficiary for Corey Davis's 92 vacated targets. Reynolds showed some ability to make big plays, averaging 15.5 yards per reception in 2019, leading all Rams wideouts. Ryan Tannehill was actually second in the league in air yards per pass attempt last season, so Reynolds has upside in a downfield passing attack. Reynolds has risk associated with him, but he might be available on waivers in a lot of leagues, and if so, fantasy owners should grab him now in case he really does assume Davis's role. Free-Agent wide receivers often struggle unless they move on to better quarterback play and more targets. Tannehill is an improvement over Jared Goff, and it would be shocking if Reynolds didn't see more targets as the No. 2 option in Tennessee.

Firkser had some good games a year ago while Jonnu Smith was in and out of the lineup, and the Titans didn't sign any of the top Free-Agent tight end options. Firkser is entering his fourth year in the league and should have the first crack at Smith's 65 vacated targets from last season. If he can sniff 80% of the 126 targets that went to the tight end position in Tennessee in 2020, then he'll have a shot at top-10 fantasy tight ends status. Firkser will be a hotter name when all the offseason dust settles, so grab him now while he's still undervalued. He's only 26 years old and will get an audition this year for long-term starter status.
Gerald Everett
If anyone needed a change of scenery, it's Gerald Everett. Trapped in a crowded room of receiving options with the Rams, Everett will get a chance to be the starting tight end the Seahawks have been looking for throughout Russell Wilson's entire career. Everett is coming off a down year, but he was on his way to earning the starting job in 2019 before getting hurt and watching Tyler Higbee finish the season strong. Everett and Wilson also pair up nicely from an efficiency perspective. Pro Football Focus has Wilson as efficient all over the field, but his most efficient third of the field is between the numbers. Likewise, Everett's most efficient third is between the numbers.
Plus, history suggests Wilson will use the tight end when given a quality option. As Sal Stefanile pointed out in his profile of Everett, "From 2015 to 2017, Jimmy Graham was second on the team in targets." If Everett clears the Will Dissly hurdle, as I would expect him to, he could be a fantastic long-term dynasty target at the position. He'll be just 27 years old when next season starts, a time when many tight ends hit their prime.
Quick-Hit Winners:
Potential Winners – Draft Pending
There are definitely some potential dynasty winners, but hold off on investing heavily until after the draft.
Bargain Shopping
These players all benefitted from changes to the depth chart ahead of them, and dynasty owners should see if they're available on waivers: Royce Freeman, Isaiah Coulter/Keke Coutee, Van Jefferson
Losers
Biggest Losers:
Jonnu Smith

and

Hunter Henry

Nothing was more disappointing for fantasy owners in free agency than when news broke of Hunter Henry signing in New England shortly after Jonnu Smith had already joined the Patriots. The Patriots re-signed Cam Newton, and assuming he's the best-case scenario at quarterback for these two tight ends, then we're looking at a pair of quality players splitting the 31st-ranked targets to the tight end position last year. Cam Newton looked pretty washed the last couple of seasons. While it's possible he'll be healthy this year, and that his COVID-19 battle was to blame for his struggles in 2020, it's worth noting he ranked 37th in the league last year in On Target % (percentage of pass attempts that were deemed "on target" by Sports Info Solutions, minimum 100 attempts). He was in good company, coming in behind Sam Darnold, and just ahead of Mike Glennon. The Patriots could still add another quarterback, including in the draft, but there doesn't seem to be a clear path to a significant upgrade at the position.

That being said, there's a good argument to be made that Smith and Henry are so much better than last year's leading Patriots tight end Ryan Izzo, that we should throw last year out the window when evaluating tight end usage and quarterback efficiency. Fine. I don't have a problem with that. How about New England ranking second-to-last in team pass attempts last year, though? Only the Ravens attempted fewer passes. This wasn't an ideal situation for any new pass-catcher to enter into.

Most importantly, these two may cancel each other out. Even moderate improvements to Newton's efficiency or to the Patriots' pass attempts could mean significant fantasy production for either of these players, but good luck picking which one, particularly on a week-to-week basis. Throw in Newton's 8-to-12 passing-to-rushing touchdowns ratio from last season and the opportunity doesn't look great for these two to both finish the season as fantasy studs. With a long rebuild on the way after a huge splurge in free agency and a shaky long-term outlook at the quarterback position, Smith and Henry are both dynasty sells.
Josh Jacobs
Josh Jacobs's value may be too low to get an adequate return for him, but the Raiders did his fantasy value no favors when they signed Kenyan Drake. First off, it makes it extremely unlikely Jacobs's role is going to increase after Devontae Booker and Jalen Richard combined for 151 touches last season. With Booker off to New York, expect Drake to immediately cut into that.
Second, and most importantly for Jacobs owners, the addition of Drake means Jacobs is unlikely to see 45 targets again. Already mostly a rushing threat with only 53 receptions his first two years in the league, Jacobs may even see a reduction in work in the passing game with the arrival of Drake. The Cardinals only targeted Drake 31 times last year, but he had 222 targets in a part-time role for three-and-a-half seasons in Miami before arriving in Arizona. Drake is versatile enough to eat into Jacobs's workload on the ground, while destroying his potential in the passing game, making it hard to bank on Jacobs as a late-first rounder—where he was going last year in startups—heading into his third season.
Oh, and Drake doesn't exactly increase in value either.
David Johnson
What little value David Johnson had got a lot murkier when the Texans signed both Mark Ingram and Phillip Lindsay in free agency. Johnson is suddenly 29 years old but quietly had 1,005 yards from scrimmage last season, in addition to scoring eight touchdowns. He also averaged 4.7 yards per carry and caught 33 balls, making him a quality RB2 option for much of the season. Adding Ingram wasn't concerning, but also adding Lindsay to the mix could spell disaster for Johnson.
The most likely scenario sees the three backs split time, making none of them are valuable, with each having a spattering of good games. Another very realistic scenario is the 27-year-old (in July) Lindsay takes over the job and never looks back. As a runner, Pro Football Focus ranked Lindsay 29th among running backs last season, with Johnson all the way down at 52nd. Lindsay is eager to show he's a lead back after getting pushed aside by Melvin Gordon last year in Denver. He boasts two 1,000+ yard seasons in the last three years, as well as a career 4.8 yards per carry average. Johnson is more than two years old than Lindsay and has a lot more tread on his tires—928 to 534 career rushing attempts. Johnson's days of fantasy relevance may be numbered and dynasty players should try to offload him for anything they can before he's out of a job.
N'Keal Harry
Now is probably the time to cut bait with N'Keal Harry. On the one side, the Patriots added Nelson Agholor and Kendrick Bourne instead of JuJu Smith-Schuster and Kenny Golladay, so it's still possible Harry outplays them and takes that giant leap we all expected out of the former first-rounder. On the other side, the further muddying of the depth chart makes it seem highly unlikely Harry will continue to see a significant number of snaps. As I mentioned above, only the Ravens threw fewer attempts than the Patriots last year, and now there are two talented tight ends on the roster and more faces in the wide receiver room. That doesn't even account for a potential Julian Edelman return.
Harry was outplayed by Jakobi Meyers and Damiere Byrd last season and looks terrible running routes. His feet look slow, and he hasn't had the after-catch impact expected. Sports Info Solutions had him with just one broken tackle and 46 yards after contact, despite his 6-foot-4, 213-pound frame. Harry is probably still worth rostering in the deepest of dynasty formats, but if he doesn't fight his way to the top of the depth chart, he'll lose even the small amount of throw-in value he currently has.
Quick-Hit Losers:
---
Related Articles