Prepare to Climb Mount Everett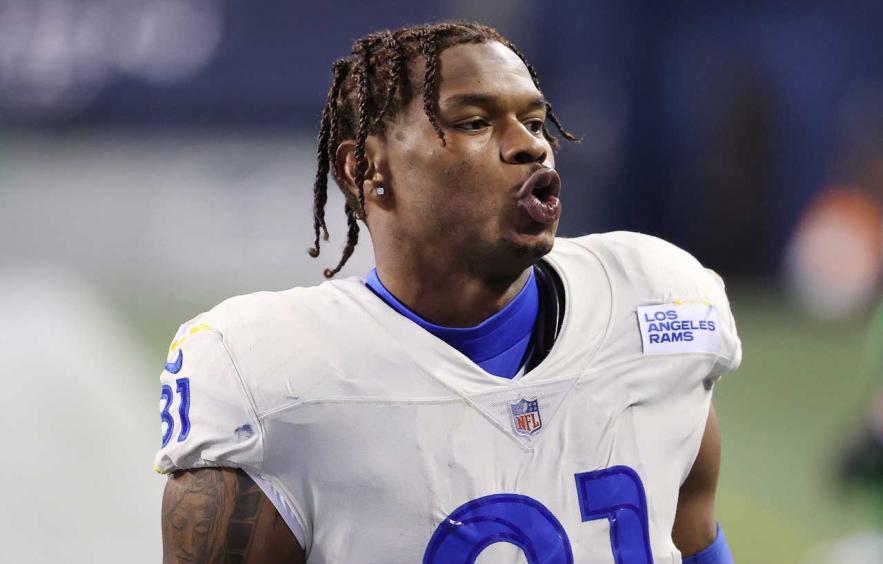 Abbie Parr/Getty Images
If we're being honest with ourselves, free agency has been kind of a dud this offseason, if you're looking at it from a big-name-goes-to-a-new-team perspective. Outside of Kenny Golladay leaving the Motor City and taking his talents to the Big Apple, not a whole lot has happened to move the fantasy needle. Even the Patriots ruined any excitement we had when they signed Jonnu Smith by immediately doubling down on the move and also adding Hunter Henry via free agency—TJ Hernandez recapped the spending spree New England went on and its fantasy impact.
What we have seen, though, are some unheralded signings that have the potential to be impactful on a small scale in fantasy. Sometimes, those baby steps are all we need. Case in point, the Seattle Seahawks adding to their tight end room in the form of signing Gerald Everett to a one-year deal is a move fantasy managers should pay attention to that could pay dividends when it's time to draft.
---
Editor's Note: Read more free agent player profiles from the rest of the 4for4 staff.
---
New Menu Items in Seattle
There's an opportunity for Everett to make an immediate impact in Seattle. Last season's tight end room in Seattle was led by the less-than-imposing trio of Jacob Hollister, Greg Olsen and Will Dissly. That triumvirate combined for 73 receptions, 699 yards and six touchdowns on 106 targets. Hollister is now a member of the Buffalo Bills and Olsen has finally made a full-time commitment to the commentator's booth, leaving behind 77 targets in their departure. As for Dissly, we are now heading into year four of what has annually become the 'This is the season Will Dissly breaks out' campaign offseason. With over 72% of the tight end targets up for grabs, and not much competition for them, Everett's primed for a large role in the Seattle passing game.
Yes, Seattle + "passing game" might seem like a joke to some, but at some point, it's time for a revamped menu in the Emerald City. Regarding the menu changes in Seattle, the Seahawks will enter the 2021 season with a new offensive coordinator—Shane Waldron. The team's new play-caller just so happens to be the passing game coordinator of the, wait for it, Los Angeles Rams—Everett's former team. He was also Everett's position coach in his rookie season. Familiarity with whatever offensive philosophy and playbook Waldron plans to implement should give Everett a leg up on the competition.
Back to Everett's opportunity. In addition to the losses of Olsen and Hollister, Seattle's receiving corps also took a hit with receiver David Moore agreeing to terms with the Carolina Panthers. As sad as this may sound, Moore saw the fourth-most in the Seattle passing game last season with a whopping 47 targets. Yes, DK Metcalf and Tyler Lockett are going to be the 1A and 1B options for Russell Wilson, but there's a screaming need for a reliable third pass-catcher—and Everett could swoop right into the role starting in Week 1 of the 2021 NFL season.
Mount Everett's Peaks
What do we know about Gerald Everett, and what is there to like? If you've been following John Paulsen's free agency tracker blog, you already know he was intrigued by the signing, citing that Everett ranked 14th and 20th in yards per route run the last two seasons, respectively, according to Pro Football Focus. Which, according to John, he believes this means Everett is prepared to take on a bigger role—something we've hoped for in past timeshares with Tyler Higbee in Los Angeles, and which could conceivably happen now in Seattle.
Even as the Rams' "number two tight end", Everett still led Rams tight ends in targets with 62, and his 41 receptions and 417 receiving yards would have bested any Seahawk tight end last season. Even in a timeshare, Everett's 92.9 PPR points in 2020 was more than any Seahawk tight end. In his sole game as the team's top tight end last season in Week 7 when Tyler Higbee was inactive, Everett finished as the fantasy TE8 (12.8 PPR points). No Seahawks tight end hit that mark in any week last season.
The Next
Jimmy Graham
Gerald Everett is most likely not the next Jimmy Graham, but perhaps the Seahawks would like to replicate Graham's past role with an athletic Everett. Many jokes have been made about Graham's basketball history in fantasy circles but that athleticism served him well on the football field. I bring it up because Everett is also known for his athleticism—a 4.62 40-yard dash, a 37-inch vertical jump, and a 3-cone drill of 6.99 seconds at 6-foot-3 and 240 pounds is nothing to sneeze at. This athleticism showed on the field last season, as Everett averaged 5.9 yards after the catch—a number higher than DK Metcalf (4.6) and Tyler Lockett (3.4); Graham averaged 4.5 yards after the catch in his three-season Seahawks career. Seahawks offensive coordinator Waldron specifically mentioned Everett's yards-after-the-catch skills in an interview:
"He's got aggressive hands, and he can seem to always find a way to get open versus tight man-to-man coverage. Then his ability once the ball's in his hand to make the first guy miss or break that first tackle has been something he's consistently been able to put on display since college and right on through at the NFL level. So it's a big asset as far as his ability to aggressively go attack the ball and then make something happen with it once it's in his hands."
I've harped on the not-so-desirable depth in the passing game behind Lockett and Metcalf, and how uninspiring the production from their tight ends was last season, but once upon a time tight end was king in Seattle. From 2015 to 2017, Jimmy Graham was second on the team in targets each of those three seasons and his 264 targets during that span were the second-most by a Seahawk behind only Doug Baldwin (341). They were also the seventh-most combined targets by any tight in that three-year window.
Graham routinely put up stats and fantasy points in his Seattle tenure, finishing as the fantasy TE10, TE8 and TE7, respectively, on a PPR points/game basis in those three seasons (minimum 50 targets). Gerald Everett does not equal Jimmy Graham, but unless the Seahawks add a pass-catcher of note during the rest of the free agency period or the NFL Draft, he's the default number three option in the passing game. Having already bypassed any big names in free agency and with only three total draft picks in 2021 (a second-round pick, a fourth-round pick, and a seventh-round pick), Everett is primed for a big role and could bring relevancy back to the position in Seattle as we witnessed during the Jimmy Graham era.
Bottom Line
When it comes to the tight end position in fantasy, it's a three-way race between drafting Travis Kelce, George Kittle, or Darren Waller early, and then waiting until the later-rounds to grab a value tight end. Everett could become that value tight end and this year's late-round fantasy tight end darling if he seizes the opportunity and those vacant targets we've mentioned go his way.
Three of the top-four non-Tyler Lockett/DK Metcalf target leaders from Seattle's 2020 offense have all moved on (David Moore, Jacob Hollister, and Greg Olsen combined for 124 targets). Outside of Gerald Everett, no other pass-catcher of note has been acquired by Seattle, providing Everett with a massive opportunity to contribute immediately in Seattle and for your fantasy teams.