Last Chance to Board the Irv Smith Jr. Dynasty Train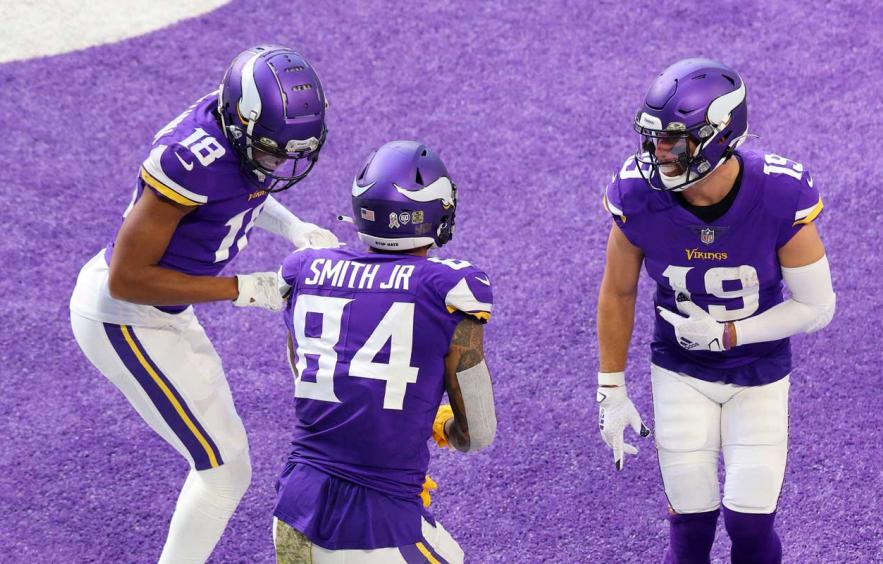 Adam Bettcher/Getty Images
Navigating the barren wasteland of the fantasy tight end position is a daunting task. The annual tradition of hyping a breakout tight end, only to watch the same boring 3-35 stat lines continue through the fantasy playoffs is almost as sure as Josh Moore hating kickers. Still, we analysts do our best to weave through the usual hype-o-sphere and identify players entering a new stratosphere, without succumbing to the usual post-season regret-o-sphere. This season, like every season, there are plenty of players to choose from, including a number of familiar faces in new places. Gerald Everett donning new digs in Seattle will surely have dynasty players salivating, for example. So, how do we pinpoint a tight end worth investing draft or trade capital in? I offer a simple formula for dynasty tight end success:
Experience + Talent + Opportunity = Success!
---
MORE 2021 DYNASTY CONTENT: Player Profiles & Strategy | Rookie Rankings | Top 200 Overall Rankings: Superflex + Non-Superflex | NFL Mock Draft | NFL Draft Big Board | Rookie Mock Draft
---
Experience
According to this study by TJ Hernandez, tight ends rarely produce in their rookie campaigns. Rob Gronkowski—who you could argue didn't really break out until his second season—and Evan Engram finishing among the leaders as rookies is far more the exception than the rule. This is even true for the most highly touted at the position. Check out this history of first-round tight ends:
Okay, this was pretty subjective, and "ish" indicates they broke out as in, became somewhat fantasy relevant. Looking at the list, most of the tight ends drafted in the first round weren't regular elite players either (will Kyle Pitts break the trend?). Where are Travis Kelce, Jimmy Graham, Rob Gronkowski and Darren Waller? Oh yeah, not first-rounders. See what a horrible, despicable, no-good, low-down position tight end can be in fantasy?
Subjectivity aside, only a couple of even the highest-drafted tight ends produced immediately. If we take a different approach and just look at the breakout seasons of the very best fantasy tight ends, you get a similar picture:
*Note: Tony Gonzalez and Shannon Sharpe's totals include years prior to 2000.
It looks like only Jeremy Shockey hit the top three as a rookie. On average, players took 3.96 seasons to nab a top-three finish. Removing the outliers who only achieved that status once, the average only goes down to 3.07 years. It sure looks like tight ends going into their third year seem to be the sweet spot for the experience part of the equation.
Enter Irv Smith Jr., who along with T.J. Hockenson and Noah Fant, enters his third season in the league—prime breakout time.
Talent
Irv Smith Jr. definitely has the talent. He's struggled to get regular work with Kyle Rudolph in the lineup the last two seasons—Rudolph led Smith Jr. in snaps, 72% to 64% last season—but we caught a huge glimpse of the potential Smith Jr. has during the last four games of 2020. With Rudolph out of the lineup, Smith Jr. averaged 3.75 receptions, 5.0 targets, 45.75 yards and 0.75 touchdowns. Extrapolated over the course of a season, that's 60 catches, 732 yards and 12 touchdowns, which would've landed him third among tight ends in fantasy points—right in the middle of Darren Waller and Robert Tonyan. Obviously, it's a small sample size to work with, but Smith Jr. started to assert himself early on last season, helping the team phase-out Rudolph, who will play for the New York Giants in 2021. Smith Jr. was also targeted more than Rudolph last season, 43 to 37, and was fourth on the team in targets.
Smith Jr. profiles as a receiving talent, though the Vikings have used him more in-line than expected. He lined up in the slot or out wide on 27.5% of his offensive snaps last year. However, Pro Football Focus ranked him seventh among tight ends on deep passes of 20+ yards, showing the skill-set he exemplified at Alabama. In fact, he was expected to be mostly a receiving threat coming out of college. Here's what I had to say about him two years ago pre-draft:
Smith Jr. caught 44 balls for Alabama last year and scored seven touchdowns. He was a nice safety valve for quarterback Tua Tagovailoa, and his 4.63-second 40-yard-dash at the combine was the third-fastest at his position this year. Smith Jr. is an above-average blocker who will only improve as he gets stronger in an NFL weight training program. His route-running is advanced, and he demonstrates excellent body control against defenders, allowing him to win matchups against defensive backs. Smith Jr. is a versatile weapon who can line up anywhere on offense and his ability to make plays in the passing game while contributing as a blocker should earn him extended playing time as a rookie.
Thus far, we've seen flashes of all those traits at the professional level—and year three looks like the perfect time for it all to come together.
Opportunity
With Rudolph and his 37 targets from last season heading to New York, the path is cleared for Smith Jr. to take most or all of those targets, not to mention to continue the pace he started over the final quarter of the 2020 season. It is possible the Vikings add another tight end to the roster, so that's something we need to be on the lookout for.
Say what you will about Kirk Cousins, but he knows how to use the tight end position. According to Sports Info Solutions, Cousins was fourth in the league in attempts to the tight end last year, and he was second only to Tom Brady in air yards thrown to that position. Remember the chart from above with the top-three finishes? Who do you think was throwing the ball to Jordan Reed in his breakout 2015 season? Yup. Kirk Daniel Cousins, that's who.
The Vikings should throw the ball more in 2021. Klint Kubiak is taking over as offensive coordinator this season, and his dad always had a prolific passing attack during his years in Houston and Denver. Cousins was 15th in pass attempts last season, and fourth in 2018. A return to his 2019 form, where he ranked 24th in pass attempts, under run-heavy Kevin Stefanski seems unlikely under the spawn of Gary Kubiak.
Even if the Vikings add someone or decide to continue giving significant targets and snaps to Tyler Conklin, this job and the targets likely to go with it, look like they belong to Smith Jr. He has the experience and talent to take hold of this opportunity. In a recent dynasty mock startup draft, he went as the 11th tight end, lasting until the end of the eighth round. I believe he has top-five potential this season with a huge increase in opportunity, and he's a bargain at his current availability. Grab him now, before he starts getting mentioned in the same breath as George Kittle and Darren Waller.
Bottom Line
Tight ends break out around year three.
Irv Smith Jr. has the perfect blend of experience, talent and opportunity for a huge leap.
This may be the last chance to get him in dynasty at a value.
---
Related Articles