4for4 Dynasty Round Table: February 2021 Edition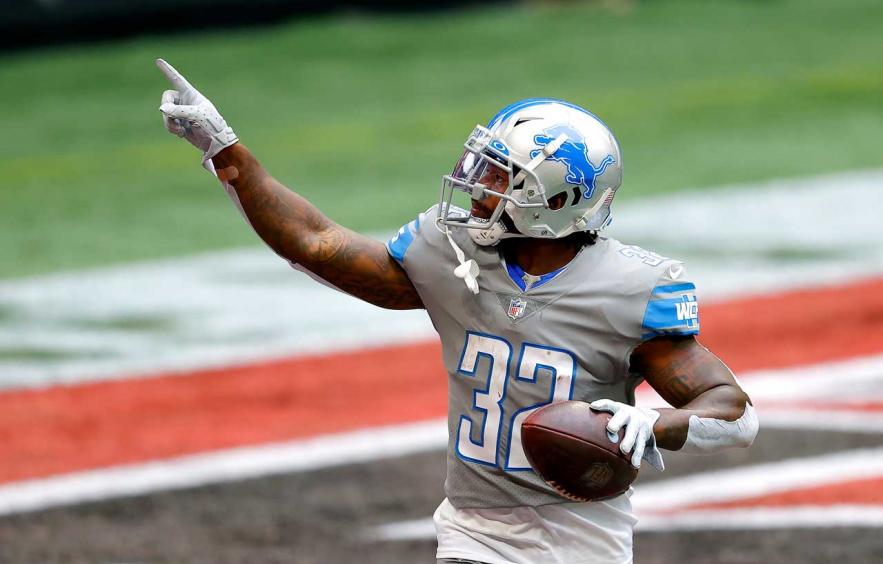 Kevin C. Cox/Getty Images
A lot has happened since our last dynasty round table. Matthew Stafford was traded for Jared Goff. Carson Wentz is now the starting quarterback of the Indianapolis Colts. Our friends over at Dynasty League Football updated their Superflex Startup Dynasty ADP, where Trevor Lawrence found his way into the first round. We also published our first set of Rookie Ranks from George Kritikos and welcomed Anthony Staggs and his NFL Mock Drafts to the team.
---
MORE 2021 DYNASTY CONTENT: Player Profiles & Strategy | Rookie Rankings | Top 200 Overall Rankings: Superflex + Non-Superflex | NFL Mock Draft | Rookie Mock Draft
---
These dynasty round tables are going to be a monthly feature, and in addition to participation from our in-house dynasty staff, this month's special guest is Ben Gretch, who publishes the must-read fantasy football newsletter Stealing Signals.
February 2021 Dynasty Round Table Q+A
Who's one player coming off a disappointing 2020 season you expect to have a bounce-back 2021 campaign?
Andrew Fleischer: I think Tyler Boyd should have a bounce-back season in 2021, and will almost certainly be a value at his average draft position (ADP). Boyd's production fell off a cliff after Joe Burrow went down with a torn ACL and MCL in Week 10. He averaged seven receptions and 71 receiving yards per game before Burrow's injury, but only two receptions and 26 receiving yards after. Boyd finished as 2020's PPR WR29 after WR16 and WR18 seasons in 2018/2019. With A.J. Green likely to sign elsewhere as a free agent, Boyd's a good bet to see 130-150 targets in 2021.
Brandon Niles: I really expect D.J. Chark to rebound with better quarterback play and a more friendly offensive system in general. While injuries obviously played a role last season in Jacksonville, the additions of Trevor Lawrence and Urban Meyer should equate to more targets in that offense. I also still believe Chark is the most talented player they have in that receiving corps.
Chris Allen: I'm betting on Odell Beckham Jr. to make a comeback in 2021. I never quite bought into the narrative that 'the offense was performing better when Beckham wasn't on the field'. In Weeks 1-6 (when Beckham was healthy), Cleveland had a 48.3% neutral passing rate, Baker Mayfield was 25th in Expected Points Added (EPA) per Play and 22nd in deep-ball attempts. From Weeks 11-16, the Browns had a neutral passing rate of 59.6% with Mayfield second in EPA per play and fifth in deep-ball attempts. It was a completely different offense. If Rashard Higgins can be relied upon as a fantasy contributor in that offense, Beckham has a sure shot to bounce back in 2021.
George Kritikos: While there are several running backs seeking a return to form after injury-shortened campaigns, I will point to the veteran discount Julio Jones is likely to receive. If not for injury, he was on pace for over 90 receptions and nearly 1,400 yards and plays on an offense that can support multiple top-12 receivers. In dynasty leagues, he has been going for a 2021 second-round pick in some cases, although a late-first-round pick is not a bad price to pay for a weekly starting wide receiver.
Justin Edwards: After playing Week 1 with Tyrod Taylor and spending eight weeks on I.R., Austin Ekeler finished the season averaging eight targets a game through the final six weeks of the season. A full season with Justin Herbert and new offensive coordinator Joe Lombardi mentioning his ambitions for an up-tempo offense should combine to catapult Ekeler into top-five running back considerations.
Kevin Zatloukal: I would bet on Lamar Jackson (and his targets like Mark Andrews and Marquise Brown) to bounce back. Jackson disappointed in 2020, but he's still an electric player who was the league's MVP in 2019. More importantly, the Ravens are a quality organization that will put him in a position to be successful next season. I think he returns to being a top-three quarterback in 2021.
Pete Davidson: D.J. Moore is a good bet to improve on his 2020 numbers. In fact, if he catches a few breaks, he could move into the WR1 tier. The two key things to watch with Moore are who his quarterback is in 2021 and the status of Curtis Samuel. If the Panthers upgrade from current starter Teddy Bridgewater, it will give Moore a big bump. Not only is Bridgewater an ordinary talent, but he's also a poor style fit for Moore, who would benefit greatly from a more aggressive and trusting passer. Samuel may leave via free agency, and if he does, it should lead to a significant opportunity bump for Moore. Depending on how all of this shakes out, I see anywhere from incremental growth to a breakout season. Either way, I think he's a good player to have or to target in a deal.
Ben Gretch: The best place to start for this type of player is one who failed to meet fantasy football expectations specifically, but was still good at actual football in ways we should be optimistic about. A great example is D.J. Moore. Recapping an early offseason draft for my newsletter last month, I compared him to where Stefon Diggs was last offseason, which is to say for both we have a pretty good idea they are high-end wide receivers and their deployment has held them back. A certain type of analyst will look at Moore's 2020 and use it to question his true ceiling, but I see a guy whose prospect profile was elite, and who has now found success at the NFL level in a variety of ways—early in his career, it was through generating yardage with the ball in his hands both after the catch and via some rushing opportunities, while his 2020 season featured uncreative usage that typecast him into a deep threat role which limited his yards after catch (YAC) ability and was a poor pairing with quarterback Teddy Bridgewater. But Moore was still productive in that role, averaging over 10 yards per target. Like Diggs, we now have a good feel for his ability to produce at all depths and in a variety of ways.
We didn't get the monster 23-year-old, third-year breakout Moore's ADP suggested we were expecting, but Moore's 2020 was something close to what I'd call a floor outcome from a role perspective, and it only furthered my belief in his long-term talent. If the pieces fit together better in the future—similar to how they did for Diggs in Buffalo—I still expect big seasons from Moore as he approaches his prime.
Name one deep rookie sleeper—someone you would target in rounds three/four of a rookie draft—we should keep tabs on.
Andrew Fleischer: Sage Surratt is someone to keep an eye on as a deep rookie sleeper. Surratt opted out of Wake Forest's 2020 season to prepare for the 2021 NFL draft, but he put up 1,001 receiving yards and 11 touchdowns in just nine games, as a shoulder injury cost him the final three games of the 2019 season. Surratt is 6-foot-3, 215 pounds, and he has the agility and body control to go along with his size to draw red-zone attention wherever he is drafted. His 40-time likely won't impress at his Pro Day, and creating separation isn't one of his calling cards. That's partially why he may not be drafted in the first few rounds of the NFL Draft, which would slide him into the later rounds of most rookie drafts. Surratt does have the physicality to win against press corners on the line of scrimmage, and 4for4's own Jeff Hicks mentioned him as a Senior Bowl standout. Surratt is exactly the kind of high-upside rookie to target later in rookie drafts.
Brandon Niles: Depending on the landing spot, I love quarterback Kellen Mond out of Texas A&M, who has all the tools you need to be a starter. He improved each season and was pretty efficient last year. He's also an excellent dual-threat option, so if he can find his way to a starting role, he could be instantly effective for fantasy owners. I'm not saying he's Jalen Hurts, but if there is a Jalen Hurts in this draft, it's Kellen Mond.
George Kritikos: There are a pair of big-bodied receivers who might be suffering from post-hype syndrome. In round three, Tamorrion Terry previously had some round-one speculation after a stellar 2019 season that saw him accumulate over 1,100 receiving yards. He couldn't replicate it in 2020 with a shortened season due to injuries and the global pandemic. In round four, a similar-sized wide receiver in Nico Collins had a 2019 breakout but didn't even play in 2020. A stellar Senior Bowl week helped Collins remind evaluators of his potential and put him back on the radar. Either of these 6-foot-4 receivers could make a mark with NFL teams and elevate to Day 2 prospects and play into an X receiver role for an offense as soon as their rookie seasons.
Justin Edwards: D'Wayne Eskridge is a wide receiver I would imagine is going to slip off a lot of people's radar and into the third or fourth round of rookie drafts. Eskridge didn't accrue a ton of raw stats during his five seasons at Western Michigan, but a big reason for that was his time split being a standout special teams player and his heavy usage as a cornerback as recently as 2019. A fleshed-out route tree and 23.3 yards per reception in 2020, he will be well worth the investment for owners who can afford to put a stake in and wait a year or two for a return.
Pete Davidson: One rookie who seems a bit under the radar is running back Khalil Herbert. He spent the bulk of his college career trying to get on the field for the Kansas Jayhawks before transferring to Virginia Tech in 2020. What we saw in that single season was a significantly improved back. I have heard scant chatter on Herbert outside of some praise from Matt Waldman, so he could be a value in the later stages of rookie drafts. He has a ton of ability in the run game. Speed and vision are his calling cards and he shows some big-play ability in the passing game as well. I'd like to see him finish runs a bit stronger but I like a lot of what I see. Herbert will be on my buy list as long as the price is right. My current sleeper at wide receiver is Ihmir Smith-Marsette out of Iowa, though I have a feeling he will be less of a sleeper after the draft.
Ben Gretch: At this stage of the offseason, I've started to develop more thoughts on the wide receiver position than others. One of the things you'll find with most attempts to model future prospect success is that wide receiver is perhaps the most "solved" position, one where a few important factors always seem to make their way into the discussion. One later-round name I keep seeing a lot of and am intrigued by is Terrace Marshall.
Marshall was an early declare and only a three-year collegian—an important trait for predicting future success. He wasn't as productive early in his career as I'd perhaps like to see from a breakout age perspective, but before 2020 he was playing alongside Justin Jefferson and 2021's top wide receiver Ja'Marr Chase at LSU. Marshall was still solid in that environment. Then this past season, after Jefferson was in the NFL and Chase had opted out, Marshall was wildly productive when adjusting for team context. His statistical profile isn't without flaws, but if you control for how strong his competition for targets was—Jefferson and Chase both look on a trajectory to be among the best wide receivers in the NFL in five years—it's hard not to wonder whether Marshall will be a nice later-round find in a good receiver class.
Is there one player you have had difficulty selling in dynasty? If so, who? And what advice would you give dynasty players in a similar situation frustrated at their inability to trade a potentially depreciating asset?
Andrew Fleischer: Chris Carson. I think he's perceived as older than he is (26), and of course, his future with the Seahawks is uncertain with free agency looming. Aaron Jones is clearly the most desirable free agent at the position, but Carson could be the next target on the list for several running back-needy teams. Carson is a risky hold in that another injury could torpedo his dynasty value, as he has yet to play an NFL season without missing a game due to injury. This also projects to be a strange year in NFL free agency with a reduced salary cap, and the potential of a one-year deal isn't ideal for his long-term prospects. That being said, Carson has also established his capability as a receiver over the past two seasons, and he was the fantasy RB12 in 2019 before his RB19 finish in an injury-shortened 2020, but it's difficult to get back value that reflects his upside.
Brandon Niles: Adam Thielen is at that crossroads of current value and fear of falling off a cliff. It doesn't help he was nicked up a lot last year and touchdown-dependent. I feel like selling him to a contender for a late-first makes sense, but the most I could get in offers were late-seconds, with me having to give back a third. That means he's going to end up being a hold for me since his value is still too strong to give him away for so little.
Chris Allen: I've had Dalvin Cook on the block in a couple of leagues for almost a full year. I've been through a couple of negotiations, but never landed on an offer that was mutually beneficial. One thing I've done is use my other leagues as ways to test the market. They're made of different people with different perspectives on value, but that's what you need to adjust your expectations. In doing so, it's helped me realize how much perceived risk is associated with Cook I wasn't seeing. I've since mitigated that risk with more palatable packages like current players and later picks instead of trying to target youth. Nothing yet, but the trade offers and negotiations have been more satisfactory.
George Kritikos: Right now, many impending free agents are going to be tough to sell until we know their NFL team for 2021 (and beyond?). The quarterback position, in particular, players like Cam Newton and Jameis Winston, who are not just looking for an NFL team but a possible starting role, are going to be next to impossible to sell right now. It's either going to be a game of patience and hoping for a starting spot (and dynasty bump in value) or sell cheaply now to someone more willing to speculate. In Superflex leagues, most will be rostering these players as third or fourth quarterbacks, so sitting for the next two months is the best bet for the time being.
Kevin Zatloukal: I've had trouble selling Kenyan Drake, both last season and this season. Older running backs are not a hot commodity. I think the best bet is to package them up with some younger players in a trade that has both teams getting a mix of younger and older players.
Pete Davidson: I have a league where I would like to move Adam Thielen, but I think all of the Justin Jefferson hype has hurt his perceived value. I love Jefferson as much as the next fantasy player, but Thielen produced with Stefon Diggs there. I think he still has a few valuable seasons left playing alongside Jefferson. My squad is a legit contender, so I may end up having use for Thielen, but a team in transition should think about how to best unload him. I project Thielen to have enough strong weeks in 2021 where you can wait for the right time to market him. I'd rather do that than sell where he is right now.
Ben Gretch: I don't have a great player example, but I do have some advice. Cognitive biases are the biggest detriment to making deals. The endowment effect might be the most obviously applicable one here, which is the tendency in life to overvalue things you possess. Any dynasty trade can feel like a potential mistake that will bite you for years down the road, but the reality is you can't have every player and do everything you want on every roster. You have to make choices, and we're more used to making those choices in a draft situation where we don't yet have any of the potential options on our roster, so what I try to do is think about trades in that context—if I were in a draft at the time of the potential offer, which side would I prefer? How would I want to be building my roster if it were from scratch?
This can also help with other ways our dumb brains limit our ability to act, including an unwillingness to accept a player we have has lost value. We "anchor" to that past value, but values change, and past values are gone. It's like thinking, "I could have invested in Bitcoin in 2011." It's tough to admit a "mistake," but if you have a depreciating player and know you personally wouldn't take that player at a certain level in a new draft, it's hard to expect your league mates to still value them at their previous higher levels. At that point, you have to make a determination—do you think his value will rebound (at which point you probably shouldn't be selling him low), or are you so concerned you're willing to accept a lower value than what you would prefer? The current market is ultimately a market, and the return you're getting at a given point is what it is. It's entirely possible a lesser value than you'd like is still more than your current value on the player, and the best thing you can do is accept the reality and make those judgments sooner rather than later.
Travis Kelce

is coming off a season in which he completely dominated—105 catches, 1,416 receiving yards, 11 TDs, 20.9 PPR points/game. He's also turning 32 in October. Would you feel comfortable selecting Kelce in the first round of a non-TE-Premium startup draft? Are you looking to buy or sell him in dynasty and what would be a reasonable return?

Andrew Fleischer: I think Kelce is worth targeting in a startup in the (late) first round, despite entering his age-32 season in 2021. As long as he remains healthy and Patrick Mahomes is throwing to him, there's no reason to think he doesn't have at least a few seasons left with TE1 overall potential. With tight end such a notoriously slow position to develop, it's also a much slower position to build via rookie drafts. Drafting one of the top veteran producers allows you to dominate the position in the short term and focus on less-heralded prospects later in rookie drafts whose potential probably won't be realized for a couple of seasons. I have him in one of my dynasty leagues, and it would take an RB1 or a high-to-mid 2021 first to pry him from me.

Brandon Niles: Not in the first round in a non-TE-Premium. But I'm not far off. I think I'm probably looking at him in the third round, which in some cases, I've been able to get him there. I think he can remain productive for three more years, which gives him just enough value for me to jump on him at a discounted price. In TE-Premium, I'd take him in the mid-second, and definitely over any other tight end. I think the gap between Kelce and the next tier is large enough to make it worth giving up long-term upside for short-term dominance.

Chris Allen: I'd feel comfortable selecting him in the late first round of a startup in order to capture some value in the early second. Otherwise, I'd probably pass. A selection like that has to come with a plan for either future picks or your entire roster. With how few years Kelce has left, you'd need a roster ready to win now in order to properly harness his value. Core starters at multiple positions would be needed to elevate the entire roster to make a push to the playoffs. Youth (early draft picks for the 2020 class) may be sacrificed in favor of current veterans to ensure production as soon as Week 1. I wouldn't advocate for fully fading one of the tight ends in NFL history, but a draft selection like that has to come with a plan.

George Kritikos: I'm going to be the contrarian here and say that the end of the first round is a reasonable place to consider Kelce in redraft this season. Tony Gonzalez's only season with 1,000+ yards and 10+ touchdowns was in his age-32 season, while Antonio Gates had one of his best seasons at age 34, so it's possible to keep up elite tight end numbers this late into a Hall of Fame career. In dynasty, Kelce remains a top-five option and will cost around a mid-first round pick in rookie drafts. If I have a short-term option, making that trade and drafting Kyle Pitts could be a way to bridge into the next dominant young tight end.

Justin Edwards: That would be too early for me. Simply because of his age, I would probably consider him more of a third-round guy, though, at the same I don't see his decline to come sharply in 2021 considering how great he looked this past year. Considering the context of your team, I think you could either buy him if you're a contending team or sell him if you don't see yourself competing for a title in the next year or two.

Kevin Zatloukal: I would pass on him in the first round. Kelce benefited from off-years from both George Kittle and Mark Andrews. Even though I still expect him to be the TE1 next year, it is likely the points gap will be much smaller, and suddenly the risk of taking a 32-year-old tight end will loom larger in the minds of drafters.

Pete Davidson: No, I would not take Kelce in round one of a startup. His decline could start to show as soon as 2021, though I expect several more good seasons from him. As to whether I would be selling him, it depends on where my team is at. If I am leaning in, he probably stays. If I am looking to rebuild or am a middling team, he's a great player to move now.

Ben Gretch: I'm always looking to sell this type of player simply because I play dynasty from a perspective of wanting to get out one year early rather than one year late. Sometimes that means you get out multiple years early and you have regrets, like when I traded Kelce a couple of offseasons ago in a TE-Premium league for O.J. Howard and Calvin Ridley. Kelce has been an absolute monster in the interim, but the positive spin is I still have Ridley, who is rapidly becoming a star. Even when that type of trade doesn't go perfectly, it rarely crushes you.

Players at the stage of their careers Kelce is in can't really gain value—the best-case scenario is they keep playing like they have and maintain their value as they get one year older. The opposite is typically true of young players, where they don't even necessarily need to produce at an elite level to maintain their value because they are still young. If they blow up, their value skyrockets. Now the production itself does obviously matter, and Kelce has been and may continue to be fantastic. But you can still get high-end production from young players, and from a process standpoint, I'm trying to win my leagues while also giving myself the potential to gain value.

Even for Travis Kelce, I wouldn't take a 32-year-old tight end in the first or probably second round of even a TE-Premium startup, because the opportunity cost of the building blocks I could otherwise take there is too high. And I'd be looking to sell him for a similar deal to what I mentioned above, which is to say a couple of younger players with room to grow, which Howard and Ridley were at that time. I'll get my exposure to players like Kelce in redraft formats.
Second-year, up-and-coming backs
Cam Akers

,

D'Andre Swift

and

Antonio Gibson

are trendy names in dynasty circles these days. You either have them rostered or are trying to acquire them. Let's play out two scenarios…
1.)

You already roster one of these three young backs but are willing to part with them. What is the minimum you would accept in a trade to let them go?
2.)

You want to acquire one of the three backs. What is the maximum you would be willing to pay to add them to your dynasty squad?

Andrew Fleischer: I've got Cam Akers in my longest-running dynasty league, and he and Tony Pollard are my bridge to the future with Chris Carson, Ezekiel Elliott and Raheem Mostert as my other main backs. Akers's Rams are run-heavy, and his late-2020 explosion didn't even include much usage as a receiver. I might consider a high 2021 first-rounder and a 2022 first/second plus a mid-range starter, but not looking to sell. I would definitely be interested in acquiring Antonio Gibson with the nearly-inevitable quarterback upgrade he'll be seeing. The most I'd be willing to pay would be a 2021 first, plus either a 2022 first or a sold veteran back, mostly because I still think there's value to be had when targeting Gibson relative to Akers and Swift.

Brandon Niles: I've been a huge Cam Akers fan from the jump, so I don't think I'd be fully capable of being objective on accepting trade offers for him. I'd be willing to give up a first this year, plus something else to get him, but I'm probably not accepting anything that would be reasonable. For Swift, where I'm a little less personally biased, I would accept a first and an RB2. Anything less than that, and I'd rather just gamble on Swift becoming the main guy on a team that suddenly looks like it might go run-heavy. Swift probably ends up being a no-buy for me, since there are question marks with him in a new offense that will look wildly different than last season, and he struggled to stay healthy with a limited workload. I'm okay with acquiring him, but would probably not give up what it would take to get him. A late-first and somebody at a position of depth elsewhere—someone like Robby Anderson—would be the most I'd be willing, and that's not going to cut it.

Chris Allen: For me to part with any of Akers, Swift or Gibson, the negotiations start with a player plus a pick. The values of each vary given their situation and rookie season production, but their outlooks are all difficult to find elsewhere in the league. The combination of a mid-to-late 2021 first, along with a high-end RB2 or WR2 would be a fair spot to start negotiations. The value of the pick would determine the type of player to complete the package. A possible example would be Tyler Boyd and the 1.06 for Swift. I might need some more to complete the deal, but the conversation could start from there. I'd do the same if I was on the other end of the deal. Although, I'd expect managers to want as much as possible for someone like Akers and prorate his five-game workload to an entire season. It'd make me hesitate to overpay, but at least starting from a reasonable point (like the trade I mentioned) would help.

George Kritikos: In scenario one, Swift and Akers are going to require a top-12 asset in a single-player swap—that's been their recent ADP in startups (and fair value). Gibson is closer to the top 24 than the top 12 today. All three would require multiple first-round rookie picks if that's the direction I was going as a dynasty team. In scenario two, I'm willing to pay similar prices in rookie picks but I'm less likely to pay a top-12 dynasty asset for anyone not named Swift in this exercise. Chances are, all three of these players are going to require an overpay this offseason given the hype associated with each.

Kevin Zatloukal: Akers and Swift may already be first-round dynasty startup picks and Gibson is probably not far behind. If I'm selling, I'd hold out for one of the top young WR—Justin Jefferson, DK Metcalf, A.J. Brown—or a number of first-round rookie picks (three maybe). If I'm buying, I'd try to sell for an older player going in the second round of startups—DeAndre Hopkins, Michael Thomas, or maybe even Stefon Diggs, who is coming off a career year and potentially set up for regression next year.
Is there an NFL Draft scenario that absolutely frightens you for the immediate dynasty value of an incoming rookie you love?
Andrew Fleischer: I wouldn't be thrilled with Rashod Bateman ending up in Baltimore. He's regularly mocked in the late-first-round, and for me, he'd lose some value going to the Ravens. Baltimore's struggles in the passing game could certainly be due in part to a weak receiving corps, but their 45% passing rate was the lowest in the NFL. Lamar Jackson is a talented quarterback, but a huge part of what makes him so unique is his speed and elusiveness on the ground as a runner, something that will always be a significant part of his game. Marquise Brown led all Ravens receivers with 100 targets, and even if Baltimore were to lean more on the pass, it would be hard to see an eventuality where Bateman's target volume on that offense wouldn't reduce his early-career potential.
Brandon Niles: Not as much as I'm worried about free agents—please don't sign in Baltimore, Kenny Golladay! But I think the worst case for me would be one of the top running backs landing in a spot where the position is either already murky—Buffalo—or the position is about to become less murky—Miami, Arizona, Green Bay. I want a nice, clean, Najee Harris to the 49ers situation to clarify a spot instead of muddying it further. Also, I don't think this happens, but if the Bengals were to take a receiver in the top five, all my carefully-acquired Tee Higgins shares would raise an eyebrow.
George Kritikos: In terms of realistic scenarios, nothing scares me more than Baltimore springing for one of the top-tier wide receivers in this draft. The offense is truly run-first and there just isn't the pass volume to support two receiving options (Mark Andrews and Marquise Brown), much less a third receiver. Lamar Jackson may be an elite fantasy quarterback, but that's due to his legs, not his arm.
Justin Edwards: Alabama running back Najee Harris to the Buffalo Bills. Though I believe this would improve the Bills' offense as a whole, Harris would be sharing touches with Devin Singletary, Zack Moss and Josh Allen, severely limiting his year one ceiling. Though Singletary could be a cap casualty as soon as 2022, Harris would be part of a four-headed rushing attack and would essentially be missing out on the great rookie year production he could experience for a different team.
Pete Davidson: I'm a big fan of BYU's Zach Wilson and I am not a big fan of him going to the Jets. The Jets are already talking about letting Jamison Crowder go. They have some issues on the offensive line and with Sam Darnold on the way out, it's a good bet that they'd want Wilson starting Week 1. I'd much rather see him land with a team like Carolina or Atlanta. He'd have bridge quarterbacks in both scenarios, along with some established NFL weapons.
Ben Gretch: Not really, because I do tend to think situation is overvalued at positions like wide receiver and tight end, and my running back values won't crystallize until I have a better idea of what their situations are. The thing about the NFL is situations change. Take D.J. Moore, who I mentioned above—his situation has changed seemingly every year he's been in the NFL. Players frequently get hit too hard by what are perceived to be poor landing spots. This was true of A.J. Brown a couple of years ago, and maybe also Justin Jefferson this past year. Situation hasn't mattered for these excellent wide receivers, and if we follow that logic we can probably say that situation is given too much negative blame sometimes when rookies fail.
Value still matters, and player value is significantly impacted by early results, which are in turn impacted by situation. Brown absolutely dwarfed DK Metcalf's production when they played together at Ole Miss, and at the NFL level, he has so far succeeded in a way where I am personally far more optimistic Brown can be very good in any context. But Metcalf's been undeniably great so far, too, and many view him as more valuable than Brown—a view I don't personally share. I just think trying to thread a needle of getting good production out of a situation boost then moving on at peak value before a situation change occurs—can you imagine if Russell Wilson actually got traded? What would that do to Metcalf's value?—is a dangerous game. Put differently, rather than a draft scenario frightening me, I'm far more interested in identifying buying opportunities created by an overreaction to a perceived bad landing spot.
---
Related Articles