4for4 Dynasty Round Table: January 2021 Edition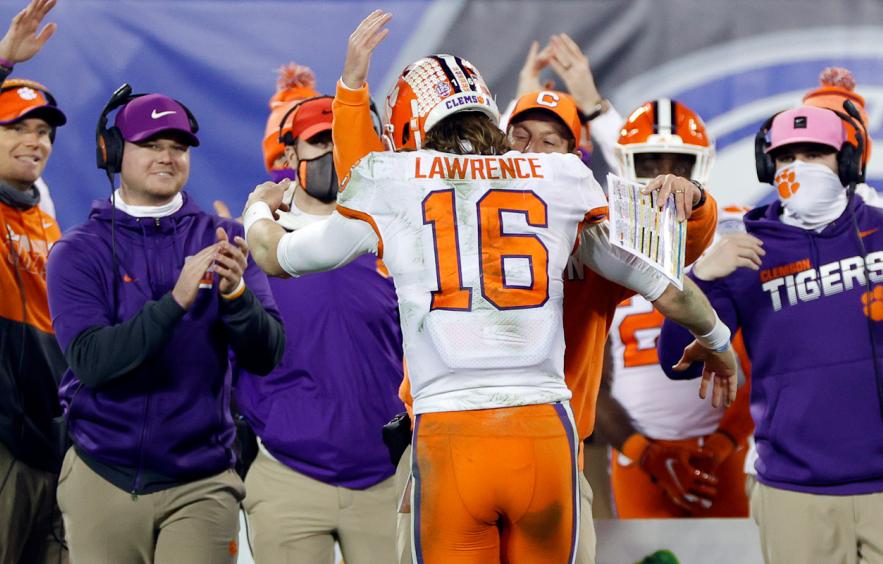 Jared C. Tilton/Getty Images
The NFL season is nearing an end, with a Super Bowl matchup between the Kansas City Chiefs and Tampa Bay Buccaneers just around the corner. The finale of the 2020 season also puts an official bow on the 2020 fantasy football season. This means we have more time to obsess over our dynasty squads. 4for4 Dynasty Lead George Kritikos officially kicked off our 2021 dynasty coverage with his updated two-round dynasty rookie mock draft, so we thought now would be a good time to get the 4for4 dynasty staff and special guest dynasty O.G. Ryan McDowell of Dynasty League Football and the Commission: Impossible Podcast together to answer some pressing dynasty questions. Let's gather around the dynasty round table…
There has been some chatter from the dynasty community on Twitter that Trevor Lawrence could possibly be a first-round pick in startup Superflex drafts. Do you think he's worthy of being selected in the first round of a startup draft without ever having played a down of NFL football? Why or why not?
Andrew Fleischer: I think both Trevor Lawrence and Justin Fields have the potential to have Andrew-Luck-level outcomes for their early-season careers. Luck was fantasy's QB8 in 2012, the QB9 for his sophomore NFL year and the QB2 in year three. If Lawrence ends up in Jacksonville as projected, he'll have the benefit of a decent offensive line that should be improved via the 2021 NFL Draft and free agency. More importantly, Lawrence should benefit from a D.J. Chark/Laviska Shenault/Keelan Cole receiver trio (also likely to be augmented in the draft), one of the better pass-catching backs in James Robinson, and one of the more generous defensive units in the NFL to help ensure heavy passing volume. In a Superflex rookie draft, he's absolutely worth a first-round target. In a dynasty startup draft that includes the rookie pool, the first round is entirely too rich for any rookie signal-caller.
Brandon Niles: I love rookies. I love them because you can get a discounted price on a potential star if you pick the right players. That doesn't work when you're paying star prices for rookies. Sure, Trevor Lawrence might become the next Patrick Mahomes of fantasy football. But I can't see drafting him over Mahomes before we know that for sure. I'll happily take Lawrence first overall in rookie Superflex drafts, but he's way down the list for me in startups, where there are plenty of young, talented quarterbacks with more proven success.
Chris Allen: I'll take at a macro version of this question. Would/should we do this for any quarterback? I'd like to think the past five seasons of valuing first-round talent has given us a decent idea of how to answer this question. Raw statistics (e.g. touchdowns and yards) and collegiate accolades only get us so far. Film has shown us how quarterbacks succeed and what concepts they excel at. Analytics quantify their success in a way we can compare across classes. Lawrence's traits are similar to some of the best prospects we've seen in some time. Pro Football Focus (PFF) has compared him to Joe Burrow using their grading system. Steven Ruiz of For The Win highlighted Lawrence's pocket presence and compared him to some of the greatest names in both college and professional football. In dynasty, these peripherals (e.g. metrics we can use to compare, on-field mechanics we can see) matter along with landing spot and the offensive philosophy of the coaching staff. But the inherent talent and tools to win make me a believer in Lawrence and I'll definitely be selecting him in the first round of Superflex drafts if given the chance.
George Kritikos: No, and that likely won't change before the season. There are nine quarterbacks currently with an argument for first-round status in Superflex leagues (Patrick Mahomes, Kyler Murray, Lamar Jackson, Deshaun Watson, Russell Wilson, Justin Herbert, Josh Allen and Joe Burrow), so that leaves little space for Lawrence to break through the ranks without playing an NFL down. Add in the running backs and wide receivers and the top of the draft is packed with talent. For comparison, Joe Burrow barely cracked the third round in post-NFL Draft Superflex startups last year, typically a high point for rookies prior to the season, and hovered around the QB8-to-QB10 range. It would take Lawrence doing better in the positional ranks, which feels more daunting than a season ago when Burrow had been selected by the Bengals. With the Jaguars still building their own offense, I'd rather take one of the more established but young-ish signal-callers I listed earlier in the first round instead.
Justin Edwards: Although I understand the excitement behind putting the consensus overall number one draft pick on my dynasty squad, but this seems a little rich. I would have questions about if he'll be leaps and bounds better than last year's rookie standouts (Joe Burrow and Justin Herbert), let alone the established presence of Patrick Mahomes, Kyler Murray, Josh Allen, Deshaun Watson, and even Dak Prescott returning from injuries. Putting him over more than a couple of those names feels like chasing after the shiny new toy.
Kevin Zatloukal: Yes, I would. Lawrence is about as close to a can't miss prospect as we get. Assuming he plays decently in his first year, he's likely a top-five pick next year. Getting him late in the first round now seems like a fair risk/reward setup.
Pete Davidson: I haven't done my deep dive study on Lawrence's film yet, but assuming I like his total game as much as I anticipate I will, he'd be in the mix for early selection. I'm not worried about whether he's played in the league or not because he has so much going for him as a fantasy prospect:
As a likely number one overall NFL Draft selection, Lawrence will own his job from the start, barring a full-blown collapse, which feels very unlikely.
He has the size to scan the field easily.
He has plus mobility and an inclination to use it.
He has an arm that opens up the entire field in terms of play design.
Assuming he's drafted by Jacksonville, Lawrence will already have some good young talent to work and grow with. Both D.J. Chark and Laviska Shenault can pad a quarterback's stats by adding yards after the catch.
The Jaguars have the cap space to improve the offensive line.
For context, I would probably take Lawrence right around a young quarterback like Justin Herbert, who I think is close to round one material in most Superflex startups.
Ryan McDowell: It wouldn't surprise me if this happened, based on what we saw a year ago. Joe Burrow's dynasty startup ADP in Superflex leagues got as high as 25 overall, according to Dynasty League Football, and the hype for Lawrence will certainly be much higher. Ultimately, I don't think Lawrence should or will be a top-12 pick in startup drafts, mainly due to the competition at the position. In other years, a player of Lawrence's skill level would enter as a top-three valued quarterback, but with so many options, and most of them still in their first three or four seasons, it is difficult to see a path for Lawrence as a top-12 overall pick.
How are you approaching startup drafts this offseason? Who are some players you are targeting and what positions do you prefer to draft early versus late?
Andrew Fleischer: I've got a thousand-yard stare fixed on the 2020 WR class entering their second seasons. RotoViz's Shawn Siegele has done extensive work on wide receiver breakouts showing that year two is a receiver's likeliest breakout timeframe, and the current rookie crop is wildly abundant. Justin Jefferson, Brandon Aiyuk, CeeDee Lamb, Jerry Jeudy, Laviska Shenault and Tee Higgins are all receivers I'm comfortable reaching for. I expect James Robinson will be undervalued at ADP until the NFL Draft and free agency are complete, especially considering he somewhat-sneakily had the 10th-most receptions of any running back in 2020. Generally speaking, I prefer to build a strong wide receiver corps at the top of the draft.
Brandon Niles: I still draft running backs early in most situations and try to get lucky at quarterback, but I may switch that up a bit after seeing my Josh Allen rosters vastly outperform my quarterback streaming rosters this past season. I think I would still target young running backs early, though, and try to take advantage of players sliding due to the impending quarterback craze. I'll pick a handful of signal-callers I like, and try to get a hold of them later in the draft—someone like Dak Prescott might slip coming off an injury.
George Kritikos: Anyone who played redraft or dynasty this season saw the limited depth at the running back position, even prior to the injuries that robbed us of players like Christian McCaffrey and Saquon Barkley for much of the year. It makes taking at least one top option a priority early on, such as my selection of Josh Jacobs in a Dynasty League Football (DLF) mock startup draft this month in Round 2. I'm still building around wide receivers with a willingness to pivot to a top tight end or quarterback (I found Lamar Jackson sitting in round six in that mock draft), but that seems like a consistent approach for me. Some of the 2020 rookie receivers remain underrated with Brandon Aiyuk, Tee Higgins and Jerry Jeudy available in the fourth round of many startups. That's an easy selection for me. Later on, running backs like Gus Edwards, Tarik Cohen, La'Mical Perine, Mike Davis and others are waiting there to build depth at the position with upside to do much more.
Justin Edwards: If I'm not getting running backs very early then I just prefer to wait it out and take veteran names later in the draft. Non-top-tier running backs can lose their jobs so easily that I find it's difficult for me to spend startup capital on anyone but "guaranteed" names or rookies. There may be added value in taking more rookies in general in startups this season considering we all have less film to go off of because of COVID-shortened seasons and opt-outs. Going heavy on rookies this off-season would be an interesting anti-fragile approach to team building.
Kevin Zatloukal: My approach is always centered on where I think I can beat the market in terms of finding value after the draft is completed. In past seasons, I've had the best luck discovering undervalued receivers either in rookie drafts or via trade. That left me with extra draft capital to use at running back. At the moment, though, I'm seeing more value with less expensive running backs like Myles Gaskin, Chase Edmonds and Rashaad Penny, so I'd be more likely to pay up a bit for younger, elite receivers like Justin Jefferson, Brandon Aiyuk and Jerry Jeudy.
Ryan McDowell: I think we'll know a lot more when we start seeing the 2021 rookies involved in startup drafts but I don't expect my overall game plan to change much. I would try to trade down, acquiring as many picks as possible in target rounds while avoiding dead rounds where I see few targets. Currently, that means moving to the second/third round and avoiding rounds five through seven. In Superflex leagues, I am always building around quarterbacks and this rookie class is only going to add to the insane wideout depth we have seen in the past couple of years. As tempting as some of the early-round wide receivers are, it makes more sense to wait.
What's one common mistake you routinely see from dynasty owners when it comes to the art of rebuilding a dynasty team?
Andrew Fleischer: I think the most common mistakes are over-valuing rookie picks and applying a youth-above-talent approach to wide receivers. The uncertainty of the NFL outcome for a high rookie pick is very real, and rebuilding teams can often pry away undervalued established players from a contending team with the lure of the shiny new thing. With wide receivers, owners will often fade elite fantasy assets on the wrong side of 30, yet players in that category often have 4+ years of high-end performance left in the tank.
Brandon Niles: I think some owners get value mixed up when they're blowing up a team, and dynasty owners, in general, don't often take into consideration what their trade partner's situation is. Player A might equal Player B in your mind, but if the other owner has no one else at that position and is contending, they might value Player B much higher. So, if you have Adam Thielen and you're not going to compete, target a team with a second-round pick, a need at wide receiver, and depth at another position. Try to get a second and a young player or two at a position of strength, along with a middling wide receiver. That kind of strategy doesn't hurt them, and can help you squeeze out a little more value out of a veteran stud who may not fit your timeline.
Chris Allen: I won't generalize this to the entire community, but I will mention one of my own pitfalls when it comes to rebuilds. I tend to focus on rookies and players still on their first contracts as critical to the rebuilding process. They are important pieces to rebuilding any roster, but not the only types of players to consider. Quarterbacks, wide receivers and tight ends can have long (and volatile) careers that can fit into any classic window for a dynasty roster (~3 years). I've had to retrain my approach to making trades and avoid focusing on just a player's age when turning over my roster. Youth is important, but finding productive players who can contribute to your roster is just as (if not more) important.
George Kritikos: Being too guarded with young, tradable assets. When you are rebuilding, every piece needs to be on the table since one player is not going to single-handedly make you a contender. They will be the most desirable trade pieces and will net the most in deals. Don't give them away, obviously, but getting back multiple strong pieces for that one elite player you might have on the roster can be a catalyst for returning to the championship circle.
Justin Edwards: I think some owners will tend to undercut the value of veteran wide receivers on their team and sell them for quarters on the dollar. Sometimes if you're looking to flip your team quickly or if you're looking to establish long term trade partners you need to take a small hit on value every once in a while but there's no telling that vet wide receiver won't pay dividends in a year or two when your team is back in contention.
Pete Davidson: Becoming too focused on youth. Don't get me wrong, I work pretty hard to keep my rosters young, but if you've committed to a rebuild, you are in value mode. Gaining ground is what matters. If I am offered a really good deal in August, for example, but the deal includes a win-now veteran I will keep the players I want for my rebuild and repackage the veteran and try to move him at a time when his value is high. This may seem obvious, but I have heard so many dynasty managers tell me no old players, or something like that. I think it's best to be open-minded when rebuilding.
Ryan McDowell: Not sticking with the plan or not even having a plan in the first place. It is exciting and always tempting to commit to a total rebuild in the offseason, making trades for future picks and young players. When the regular season begins, though, sometimes those pieces become trade fodder with a result of just sneaking into, or worse, just missing out on the playoffs. Then it starts all over.
Who is one player you are trying to acquire everywhere in dynasty leagues now before their value shoots up?
Andrew Fleischer: D'Andre Swift. I've had my eye on him since I drafted him in my first-ever college football fantasy league in 2019 (disclaimer: I do not generally watch college football). He's got top-five overall fantasy running back within his range of outcomes, and his usage in the passing game as a rookie is very encouraging, as is new Lions head coach Dan Campbell communicating his desire to line Swift up in the slot regularly in 2021. Plus, the Lions will actually be regularly removing both kneecaps of their opponents, which can only help.
Brandon Niles: Thinking low-scale, very low-cost moves here, I like Gerald Everett. He's free, heading into free agency, and unlikely to re-sign with the Rams. If he lands somewhere with a need at tight end, he could become the next Delanie Walker.
I'm also grabbing Mitch Trubisky. He's another very low-cost player who produces solid fantasy lines when he starts. He's a free agent and it wouldn't shock me to see him land in a spot where he can at least compete for snaps next year. I won't give up assets for him, but he shouldn't cost much.
George Kritikos: I mentioned some rookie wide receivers going in the fourth who seem to be going too late, but going even deeper, Jalen Reagor is a sixth- or even seventh-round pick in startups while Michael Pittman is a seventh-rounder in early startups. Those both feel like easy buys with huge upside. Some other lower-cost buys I'm looking at are Chase Edmonds, who could be the top running back in Arizona and an easy hedge bet, Preston Williams (betting on his injury dip in value), and some interesting quarterback free agents in Jameis Winston and Jacoby Brissett in Superflex leagues for potential options to fill a QB3 spot.
Justin Edwards: With another year building rapport with Joe Burrow, I want to aim for Tee Higgins before the rest of the community realize a large portion of A.J. Green's 104 vacated targets will be usurped by the sophomore wide receiver.
Kevin Zatloukal: If Cam Akers is really available at the end of the second round (as I see in his ADP), then I'd jump on that. His performance in the playoffs showed us he is the elite talent we expected him to be coming out of college. The Rams will probably still give carries to Darrell Henderson, but given how much they like to run, Akers should still be a fantasy workhorse.
On the receiver side, we're probably at the point of maximum pessimism for Eagles receivers, and I think the arrow is pointing up for that offense under a new head coach. The risk for Jalen Reagor is in guessing what impact the Eagles' forthcoming top-100 receiver draft pick will have on his workload. The option that stands out to me instead is trading for Travis Fulgham, who has been left for dead by fantasy drafters at this point. You might be able to get him for a fourth-round rookie pick during the draft. After a more normal offseason, I think he easily beats this ADP.
Pete Davidson: Both D.J. Chark and Laviska Shenault are targets of mine. A savvy dynasty manager won't give them up cheap, but I think there's enough working in my favor to make a good deal. Chark was a 2020 disappointment and Shenault never truly broke out. Trevor Lawrence or some other quarterback upgrade is on the way. I think the value of the two will rise sharply once the Lawrence hype kicks in post-NFL Draft.
Ryan McDowell: Many of the rookies from last year's class could be candidates for this answer while players on the teams we know will upgrade at quarterback, like Jacksonville, are also obvious calls. I'm kind of intrigued by Parris Campbell. He got off to a hot start in 2020 before suffering an injury and with the retirement of Philip Rivers, it appears the Colts will be upgrading their quarterback spot. T.Y. Hilton is a free agent and could be gone. The best part is Campbell's value has faded after his injury and quiet rookie season.
If Drew Brees has indeed played his final game in the NFL, who do you think will be the Saints' starting quarterback in 2021? How are you handling other veteran signal-callers like Tom Brady and Aaron Rodgers in Superflex dynasty leagues? Who's worth keeping? Who are you trying to sell?
Andrew Fleischer: I'd been thinking about this over the last month, and I can't buy that Sean Payton and the Saints organization believe Taysom Hill is the answer at quarterback. I think Hill is best utilized as a multi-position weapon in the offense. It wouldn't be crazy for New Orleans to run with Jameis Winston as the starter with Hill mixing in as he did in 2020, but they could also easily target a passer in the draft that slips to the end of the first round, or a free agent like Matthew Stafford.
I expect Tom Brady's ADP will make him a value as a fantasy QB2/QB3, as he's got at least a year left if he plays out his contract. He'll be faded because it's ridiculous he's still playing well at 43, but in a Superflex league, any starter capable of multiple fantasy QB1 weeks has value. Aaron Rodgers will likely offer less value at ADP in a startup unless he slips unexpectedly in your draft. Why pay up for Rodgers when you can get Ryan Tannehill multiple rounds later?
Brandon Niles: Right now, I don't think I'd bank on anyone specific holding down that Saints job. If it's convenient to roster Taysom Hill or Jameis Winston (in that order), then I will, but I'm not confident the Saints don't look elsewhere. I think if you can trade Hill or Winston for a solid asset before we know who's quarterbacking the Saints then that's not a bad move, but I'm in a holding pattern.
I'm holding Roethlisberger, Brady and Rodgers. Dynasty owners don't really consider them super valuable, so the offers you'd get for them don't match up with the production you could have. Wait until the season starts and there's going to be some contending team willing to give up a little more after their quarterback goes down.
Chris Allen: I'm pulling for Jameis Winston to take over for Brees. Nick Underhill had a solid piece on how the team can quickly get under the cap without completely gutting their roster, which is solid on both sides of the ball. If their offensive line and receiving group isn't significantly altered, Winston could thrive. If I have vets like Brady or Rodgers, I'm putting them on the block and seeing how the local market reacts. For either of them (I'd also include Stafford, Cousins and Roethlisberger), I'd want to gauge their trade value but otherwise hold assuming I have a younger quarterback on an upward value trajectory (e.g. Burrow, Herbert, etc.). The other vets (e.g. Jimmy Garoppolo, Jared Goff ) I'd be looking to package in deals and trade away.
George Kritikos: I think Taysom Hill is the starter with the team looking for a veteran, whether that's Jameis Winston or perhaps a lower-priced option if a team bids him up. It's easy to say I want to sell Brees, Brady, and a few others who could retire this offseason but it's hard to find a buyer. If you can, I would be selling on both, along with Ben Roethlisberger and Matt Ryan. Aaron Rodgers deserves a hold if you have him on your roster and a passive trade offer if you don't. I doubt he will be moved much after the season he showed without a true second receiver, something that would cause his fantasy value to rise even if his production in 2021 remains steady. The toughest guy might be Matthew Stafford, a younger veteran at 32 years old, who will likely be the subject of trade rumors all offseason and who could lose Kenny Golladay, among others, to free agency. He's an interesting buy candidate from anyone nervous about his future but I wouldn't be selling.
Ryan McDowell: I would expect the Saints to be aggressive, though they are also in a terrible position with the salary cap. Maybe we're looking at a Michael Thomas for Matthew Stafford trade. Regardless, I don't think Taysom Hill will be starting in 2021. As for Brady and Rodgers, the good news for dynasty players is the value of those veteran quarterbacks, and really all veterans, drops every offseason. That makes them easy and obvious trade and draft targets.
What is a dream landing spot you are salivating over? Be it a free-agent signing or NFL Draft selection.
Andrew Fleischer: I would love to see Allen Robinson end up in New England. I think one of their main offensive issues is that they lack a primary receiving weapon who can get open against man coverage without being schemed open, find holes in zone coverage and also draw the kind of defensive attention that can open up the rest of the offense. Allen Robinson would fulfill all of those needs. Of course, this dream landing spot assumes the Patriots either win the quarterback trade sweepstakes for Matthew Stafford or Deshaun Watson, or draft one of the top quarterback prospects in the 2021 NFL Draft. Justin Fields seems like a pipe dream at this point, but they could land Trey Lance or Mac Jones if the chips fall the right way. Also, I'd love to see Sage Surratt end up in Cincinnati.
Brandon Niles: Maybe not the sexiest dream here, but I would love to see Ryan Fitzpatrick land in New England. First, he would have a chance to start a game for every team in the AFC East, but most importantly, that's a pretty good offensive system for a quarterback. Fitzpatrick has produced at least fringe-QB1 numbers everywhere he's been. He could be a free quarterback in Superflex leagues and as last season proved, he can still play.
George Kritikos: Since the days of the "running back to Dallas" dream, we're always looking for a big talent to fill into the best situation. However, I like to be more realistic. I want to see a veteran wide receiver land in Arizona and be a real second option opposite DeAndre Hopkins. If either Chris Godwin or JuJu Smith-Schuster, a pair of versatile options who separate quickly, were able to sign in the desert, we could see an even higher level from Kyler Murray in terms of fantasy production. You can also put me down for a free agent running back to the Dolphins, who made Salvon Ahmed and Myles Gaskin look good last year. An upgrade like Aaron Jones would be amazing if he doesn't re-sign in Green Bay, or maybe Leonard Fournette decides to complete his tour of Florida. Count me in for a trade down by the Bengals in the NFL Draft to net extra picks and select Kyle Pitts from Florida while still looking for offensive line upgrades later on. And if Detroit loses Golladay and perhaps Marvin Jones and/or Danny Amendola, adding a player like Ja'Marr Chase or DeVonta Smith would be electric as well.
Justin Edwards: It's certainly not the most exciting scenario, but I want Matthew Stafford to sign the inevitable contract with the Indianapolis Colts. Indianapolis was sneakily a top-10 offense in 2020 and I believe Stafford presents an upgrade to what was a limited final-season Philip Rivers. At the very least, they won't have to bring in Jacoby Brissett for end-of-game Hail Marys.
Pete Davidson: Matthew Stafford or San Darnold to the 49ers would be fun. How about Aaron Jones landing with the Bills?
Ryan McDowell: This has to start with the Packers' number two wide receiver spot. Landing Allen Robinson to line up beside his 2014 draftmate Davante Adams would keep Green Bay as one of the top offenses in the league.
Best ball dynasty leagues have become popular in recent years. What are the advantages of the format and how would you recommend approaching dynasty best ball startup drafts?
Andrew Fleischer: All of my current dynasty leagues involve weekly roster management, but best ball is a great format to try for a dynasty league. In a startup draft, I would be more conscious of the roles for wide receivers and running backs outside of the early rounds. I'd want to aim for a mix of high-floor steady producers and home run threats. The Latavius Murray/John Brown types help to ensure solid starts, while the Giovani Bernard/Denzel Mims types become much more palatable to roster in best ball where benefitting from their spike games is guaranteed.
Chris Allen: It might be reductive, but I see some of the same parallels between best ball drafts and redraft leagues. Other than the basics (e.g. adhering to general roster construction rules), we can primarily focus on value. One thing you can do is add more correlation to your roster (i.e. build a stack). Cognitively, it's a bit harder in traditional leagues as there's an implicit bias against setting such a roster manually. A single stack (e.g. QB/WR, QB/TE) may be common, but additional complexity to the stack is difficult to trust on a week-to-week basis. Having the flexibility of letting the format do the start/sit work allows you to build a better roster without the limitations of (subjectively) weighing weekly matchups and rankings.
George Kritikos: At a certain point, we want to do another startup draft without adding more in-season lineup setting and waiver scouring. For me, that's the benefit of best ball, giving me all the GM responsibilities of trading, roster building and drafting, without having to be the head coach as well. However, it puts a premium on building useful and productive depth, especially if your league has shallower rosters. It also puts some hesitation into becoming too top-heavy of a roster, making one injury the difference between being a title contender and a manager watching your team lose without the benefit of the weekly waiver wire. I enjoy it for the added emphasis on trading, especially in-season, and the ability to piece together rosters that leverage highly volatile players with those who have a more consistent weekly floor.
Kevin Zatloukal: I'm actually not a fan of the format (unless the league comes with huge taxi squads). One thing about the format that may not be obvious is that, in best ball, the last few spots on your bench are actually important. Any player can score a touchdown and move themselves onto your starting squad. If you want to compete for the title, then you need to fill your roster with players who can score, and that makes it difficult to hold rookie players who aren't yet getting much playing time. My advice in these leagues would be to rotate between full rebuild and contention—forget building a balanced, "win forever" team.
Pete Davidson: I have played in this format for a few seasons now and like it a lot. The primary advantage of dynasty best ball is that you can add as many leagues as you want without increasing your in-season team management workload by much. Some leagues are set-it-and-forget-it, others incorporate trading and free-agent periods. I'm a bigger fan of the prior. My approach in a best ball startup would be similar to how I play best ball redraft. I would fade receivers as long as it's reasonable, depending on the league settings. I think the "late receiver" approach while also being heavy receiver (number of receivers on my roster) is the best way to optimize roster construction to fit best ball scoring. Wide receivers who would normally be roster-clogging dreck in a set-your-lineup format can be material assets in best ball.
Ryan McDowell: This is a personal choice and it basically comes down to what you currently enjoy and don't enjoy with traditional dynasty leagues. Many have tired of the weekly waiver moves, which is understandable. Because of that, best ball leagues and complete "draft and forget" with no transactions at all have become more popular. Personally, I don't enjoy these because I ultimately feel like I have no reason to even check in with that league on a regular basis. My preference would be a best ball weekly scoring league with no lineup submissions but trades and waivers would remain.
---
Related Articles