The Stafford-Goff Trade from a Fantasy Football Perspective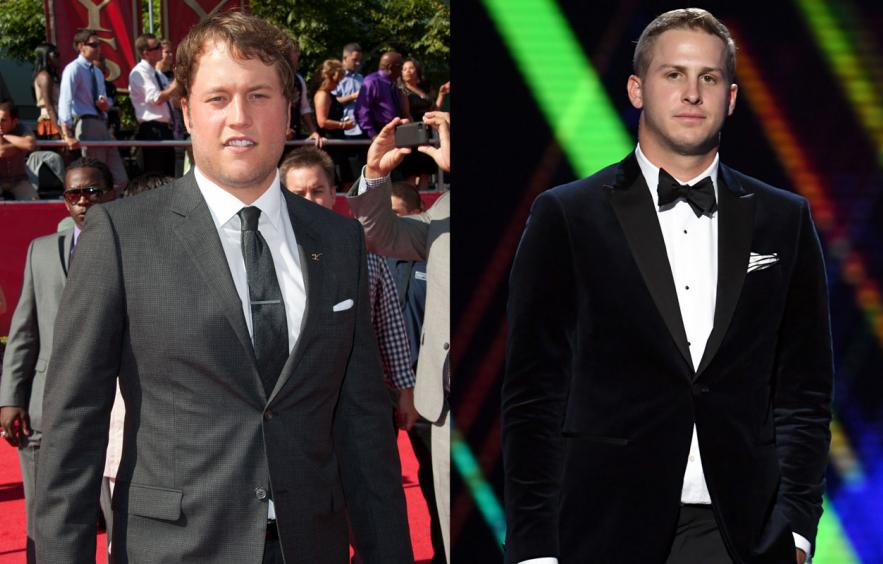 Allen Berezovsky & Kevin Winter/Getty Images
On Saturday, Adam Schefter started a Twitter storm with the jaw-dropping news that long-time Detroit Lions quarterback Matthew Stafford was being sent to the Los Angeles Rams in exchange for quarterback Jared Goff, two future first-round picks, and a third-round pick this year. It was a large haul for the most prolific passer in Detroit history, and marks the end of an era for the Rams, who have now jettisoned both Todd Gurley and Goff in subsequent off-seasons. Fantasy owners are clamoring to find out what this means, but the numbers suggest very little movement in fantasy value for most of the key players.
---
SIGNUP BEFORE THE SUPER BOWL and receive a 100% instant deposit match up to $100 from PrizePicks. PrizePicks is the simplest fantasy game on the market! Just pick 2-5 players and you can win up to 10x on any entry. Learn More →
---
Stafford in L.A.
Stafford has been making the best of his situation in Detroit for a long time, averaging 273 yards and 1.7 touchdowns per game over the course of his 12-year career. Stafford has had some great wide receivers to play with – Calvin Johnson most notably – but never had much of a running game or a legitimate defense to help him push the Lions into serious playoff contention. As such, over his time in Detroit, he twice led the league in passing attempts, and averages 37.7 attempts per game for his career.
Conversely, the Rams are coming off a season with an excellent defense and an emerging young running back in Cam Akers. However, Sean McVay has kept the Rams near the top in pass attempts in each of the past three seasons. Jared Goff led the league with 626 attempts in 2019. If Stafford continues the pass attempts he's had during his career, along with what McVay has provided during his head coaching tenure, Stafford could see improved numbers based on expected efficiency in a better situation. He'll also be surrounded by excellent weapons in Robert Woods and Cooper Kupp.
Most signs point to a similar situation and opportunity moving from Detroit to L.A. According to Pro Football Focus, the pass blocking rating for the Rams is just a hair lower than the Lions, but both were top-12 last year with limited expected turnover. Both quarterbacks are able to air it out and are allowed to under McVay. Perhaps even more so than in Detroit, as Goff posted 2,517 air yards in 2018, the 11th-most in a season since Goff took over as a starter in 2017, according to Sports Info Solutions.
The only downside for Stafford is if starting left tackle Andrew Whitworth retires. Otherwise, his situation should've either improved or stayed pretty much the same across the board. Stafford was 19th among quarterbacks in fantasy points per game last season, while Goff was 21st. Expect somewhere between the 21st ranking from Goff last year and the 10th ranking from Goff's career season in 2018.
Goff in Detroit
Goff's situation in Detroit is a little harder to evaluate. The Lions are in the midst of a massive overhaul, turning the page on the Matt Patricia era, as well as the Stafford era. They hired Dan Campbell, who hasn't been a play-caller for much of his coaching career. But we can glean a little from his time as an interim head coach in Miami in 2015, when he fired offensive coordinator Bill Lazor for not running the ball enough, according to Adam Beasley at the time. With his history as an old-school style coach and former tight end, it seems likely he'll want to shift to running the ball with D'Andre Swift. That certainly doesn't bode well for Goff's pass attempts, which have been above 550 in each of his last three seasons. On the flip side, Campbell spent the past few seasons working under Sean Payton, so it's possible he sees the value in a more modern, pass-happy approach at this juncture.
The most concerning thing for Goff is what weapons he'll have left after free agency. Kenny Golladay, Marvin Jones, Mohamed Sanu and Danny Amendola are all free agents, and none are sure to return. The Lions could be looking at a receiver room with second-year player Quintez Cephus the most accomplished of the bunch, after 20 receptions as a rookie. While I assume they'll either invest heavy-draft capital or spend in free agency to increase the weapons Goff will have to work with, we might see a season of dink-and-dunk with T.J. Hockenson and Swift seeing significant targets. The upside is there for a young quarterback in a brand new offense, however, and with former Chargers head coach Anthony Lynn brought in to run the offense, there's some positive history to look at. Lynn's offenses have always been able to run the ball to set up the pass, and Tyrod Taylor, Philip Rivers and Justin Herbert have all been viable fantasy options under his control.
Who Benefits?
Let's take a look at target share from last year, by position for our two quarterbacks:
Goff and Stafford Target Share, 2020

| Player | Team | Total Att | Slot Att | Wide Att | TE Att | RB Att | Slot % | Wide % | TE % | RB % |
| --- | --- | --- | --- | --- | --- | --- | --- | --- | --- | --- |
| Jared Goff | Rams | 552 | 280 | 106 | 115 | 98 | 51% | 19% | 21% | 18% |
| Matthew Stafford | Lions | 529 | 219 | 132 | 116 | 101 | 41% | 25% | 22% | 19% |
The Rams' offensive weapons are already pretty established fantasy producers, so a move from Goff to Stafford is unlikely to have a significant effect on them. That being said, note Goff throws significantly more to his slot receiver than Stafford. Goff was second in the league only to Lamar Jackson in percentage of attempts going to the slot, while Stafford was ranked 21st. Meanwhile, only Derek Carr threw a lower percentage of his attempts outside. That means, with Stafford in L.A., we might see a small shift in targets from Cooper Kupp - 55% of offensive snaps in the slot – to Robert Woods – 40%. Both should remain solid WR2 options in all formats. ADP will be a big factor in whether or not they're worth the cost. If fantasy owners are expecting them to improve with the addition of Stafford, that seems like a stretch.
Both quarterbacks used the running back effectively, and both teams feature two promising young backs going into their second seasons. The quarterback change shouldn't affect either in a significant way based on the percentages above, and the coaching change in Detroit is likely the biggest factor in the potential of Swift.
Tight Ends Should Thrive
T.J. Hockenson was already a hot name, and while some may cool on him with a perceived quarterback downgrade to Goff, he should be worth buying in every format. Anthony Lynn has presided over fantasy TE1 seasons from Charles Clay and Hunter Henry, neither of whom had the talent of Hockenson. Goff has also shown he can make use of Tyler Higbee and Gerald Everett, albeit at frustratingly inconsistent times. The two combined for 85 catches, 938 yards and six touchdowns last season. Goff threw to the tight end position on 20.8% of his attempts, compared to Stafford's 21.9%, so it's a virtual wash in usage. Barring injury, Hockenson should build off a 2020 season where he caught 67 balls for 723 yards and six scores. He should be considered a top-five fantasy tight end again this year, with the upside to challenge the top two.
On the other hand, with Gerald Everett a free agent, and Matthew Stafford just as adept at using the tight end position as Goff, Tyler Higbee becomes a post-hype sleeper candidate. Fantasy owners may be wary of him after failing to live up to his late-2019 finish. Assuming the Rams don't bring in anyone with significant money or draft capital, and Everett does indeed move on, Higbee could sniff top-10 TE status after finishing 16th last year.
What About Detroit's Wide Receivers?
Should Cephus be the last man standing from last year's wide receiver corps, he may not be the biggest beneficiary of Goff's arrival. Cephus spent 85% of his offensive snaps last year lined up outside. While a significant increase in snaps would certainly make him an interesting fantasy option, the arrival of Goff is more of a tempering factor than a boom. As such, keep an eye on the Lions' offseason. If they draft a slot WR high – here's looking at you, Jaylen Waddle – then we could see better-than-average rookie production, based on Goff's propensity to feature that position. Likewise, a free agent addition like JuJu Smith-Schuster – 79% of offensive snaps out of the slot last year – could be a great fit with Goff. Fantasy owners should buy whoever winds up in the slot in Detroit, especially if it's a low-cost option like bring back Danny Amendola, drafting someone lower like Tutu Atwell, or signing a lesser-known slot receiver like Curtis Samuel or Dede Westbrook.
Bottom Line
While this is a really flashy move and super exciting for Twitter, this really doesn't move the needle much for fantasy owners. The Lions are still a huge question mark offensively based on expected turnover at the receiver positions, but Goff should be fully capable of utilizing star tight end T.J. Hockenson. Fantasy owners concerned about Hock's value can rest easy.
The Rams should still air it out and Stafford has shown he can sustain multiple fantasy wide receivers on the same team. The pass attempts should stay the same, and he may get a boost in efficiency due to a stronger stable of weapons around him, as well as a better defense that should be able to keep him from forcing throws late in games. The question will remain whether that equates to fewer garbage time stats, which Stafford has feasted on for over a decade, but my guess is the talent of Woods and Kupp even that out in the end.
The end result will be Stafford getting too large of a bump in ADP, with Goff plummeting even further. I would argue this helps Goff, however, as he was on the verge of getting benched – and kind of did – at the end of the season and will now get a fresh start for a team unlikely to have much competition for him. Jeff Darlington said the Lions seem to be fired up to have him.
Just talked to Jared Goff — he has already spoken to Lions coach Dan Campbell and several other members of the Lions' staff. Based on those conversations, they very clearly view him as their starter moving forward. Physical coming soon. Sounds like they're fired up to have him.

— Jeff Darlington (@JeffDarlington) January 31, 2021
In redraft, these two remain fringe-QB1 options, as neither one provides a tremendous amount of rushing upside. Goff's ADP will likely wind up somewhere toward the end of drafts, while Stafford will probably be drafted in round eight or nine. That makes Stafford a no-go for me, and Goff a high-upside, low-risk option as a QB2 at the end of the draft.
In dynasty, Stafford's career trajectory looks pretty similar. He's entering his age-33 season and should get 35-plus attempts per game. That should make him a quality starting option for at least a few more years. This might be a good time to move him before other owners figure out his production won't increase substantially. Goff, on the other hand, may be a buy-low option. The Lions now have plenty of draft picks to re-stock and re-tool over the next couple of years. He's only 26 years old and should have every opportunity to impress the new coaching staff this season. I like Goff better now than I did a week ago in all formats, now that he's less likely to get benched mid-season.
Stay tuned for the Lions' slot wide receiver, who will be worth a gamble in all formats with Goff at the helm.