2021 Senior Bowl Risers and Fallers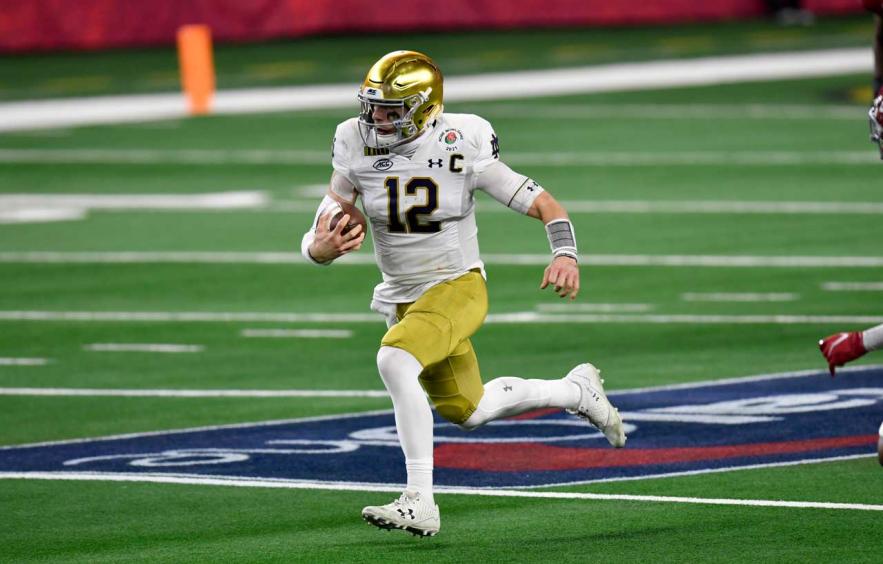 Alika Jenner/Getty Images
Before I begin talking about Senior Bowl players and their dynasty fantasy football impact, I want to give kudos to Jim Nagy and those involved with organizing the event. COVID-19 has done so much to hurt and scare citizens around the country but the staff at the Senior Bowl made it easy to feel safe.
The lack of an NFL Combine made the Senior Bowl the premier event for college football players to showcase their talents on a national level prior to the NFL Draft. I spent the week in Mobile, Alabama picking the brains of a group of scouts, watching practice and film, and networking. The insight I gleaned helped me pinpoint risers and fallers from the 2021 Senior Bowl.
SIGNUP BEFORE THE SUPER BOWL and receive a 100% instant deposit match up to $100 from PrizePicks. PrizePicks is the simplest fantasy game on the market! Just pick 2-5 players and you can win up to 10x on any entry. Learn More →
Senior Bowl Risers
Mac Jones

, QB, Alabama

Mac Jones surprised by committing to Mobile after Alabama's National Championship run. He was the best quarterback on paper heading into the week and left showing why. His pocket awareness in 11-on-11 drills was solid and he showed he didn't need top-10 prospects to target in the passing game to find success.

Jones lacks mobility and does not have the strongest arm, but his decision-making stood out compared to other signal-callers. Instead of falling back to the rest of the unknown quarterback pack, Jones pushed himself closer to second-tier players such as Kyle Wilson and Trey Lance.
Tre' McKitty, TE, Georgia
Prior to the actual Senior Bowl game, Tre' McKitty was the standout tight end of the week. He dominated one-on-one drills for the majority of practice and stood out as the most athletic tight end there. It is another weak draft class for the position and McKitty did the most to improve his draft position and consideration as someone to keep tabs on in deeper dynasty leagues.
D'Wayne Eskridge

, WR, Western Michigan

Speed, speed, speed. The first trait that stood out with D'Wayne Eskridge was his straight-line speed, and his ability to create separation with it. His route-running was clean, and he did a good job catching the football with his hands and not his body. He did not practice Thursday due to injury and did not play Saturday, which is the worst thing that happened to him during practice.
Demetric Felton

, RB/WR, UCLA

The fastest player at wide receiver after Tuesday's practice was the converted running back. Demetric Felton took reps at both positions but only saw receiving work during the game, logging two catches and a touchdown. With the right NFL head coach, Felton could be the next super-utility offensive player.
Nico Collins

, WR, Michigan

The big-bodied wideout opted to not play this past season due to COVID-19 but did not allow that to slow him down against players seeing action this past fall. Nico Collins's height and size advantage over opposing defensive backs are obvious and he saw some reps with tight ends. He did an excellent job high-pointing the football on contested catches, including against Tre Brown of Oklahoma (one of the best defensive players at the Senior Bowl). Collins is a receiver to target in the second round of rookie drafts.
Sage Surratt

, WR, Wake Forest

Like Collins, Sage Surratt used his height to his advantage prior to missing Thursday's practice and Saturday's game with an injury. A good showing at his Pro Day will keep him in the discussion as a potential top-50 pick come April.
Shi Smith

, WR, South Carolina

Shi Smith was one of the players who displayed improvement each day of practice and showed well during the game, leading the American Team in receiving yards.
Dez Fitzpatrick

, WR, Louisville

Dez Fitzpatrick started the week slow but finished extremely well with 90 yards receiving during the game. He is another second-round rookie pick that could pay dividends in 2021.
Michael Carter

, RB, North Carolina

Besides Kylin Hill at running back, I wanted to see what Michael Carter was capable of after a successful season at UNC. The speed stands out and he found and exploited gaps coming out of the backfield. His pass protection needs a lot of work, but he should be a player to add in dynasty and should make an impact on punt or kick returns.
Senior Bowl Fallers
Jamie Newman

, QB, Wake Forest/Georgia

Jamie Newman was the quarterback with the most questions heading into the Senior Bowl, and he provided some answers. His arm strength is legit, his size is obvious, but his decision making was poor, at best. Newman threw four interceptions over the last two days of practice and made a certain safety a lot of money (more on that later).
Quintin Morris

, TE, Bowling Green

Quintin Morris is not going to be confused for a blocking tight end any time soon, so his performance catching the ball was going to be key for him. He did not do well securing passes during team drills and rarely stood out. His raw athleticism will get him drafted but his floor is zero in dynasty.
Ian Book

, QB, Notre Dame

Ian Book was fine, but fine would not cut it this week in a so-so quarterback competition. He was the best quarterback on a National Team that included Sam Ehlinger and Feleipe Franks. All he had to do was walk over the bar that was set for him to be the standout and at times he tripped over it. Book is going to need a run-heavy scheme to have any success as a backup in the NFL (hello, Baltimore). He had zero pocket awareness and tucked the ball to run without always making it through his progressions.
Ben Skowronek

, WR, Notre Dame

Ben Skowronek was considered to be the best blocking receiver in the game, and maybe the draft overall. His week ended Wednesday with what may be a Jones fracture. He struggled in press coverage and had a hard time getting separation from smaller corners. He did have a couple of nice routes before his injury, but his draft stock fell because of the injury. Fingers crossed the injury is not as bad as initially thought.
IDP? Yeah, You Know Me!
Not every dynasty league is offense-only, as IDP leagues are gaining in popularity. A few players stuck out as Day One contributors and/or players who deserve long looks going forward.
Richie Grant, S, Central Florida
Teammate Aaron Robinson had more buzz heading into Mobile but the two left as arguably the best defensive backs at the Senior Bowl. Richie Grant was Jamie Newman's worst enemy, logging two picks and a pass breakup against him. Grant has a nose for the ball and could start immediately as a second-round NFL Draft pick.
Hamsah Nasirildeen, S, Florida State
Hamsah Nasirildeen already looked big on tape and in person looked every bit like a future Kam Chancellor. He looked great against receivers and tight ends and did well in run coverage as a strong/box safety. I am a fan of his going forward.
Cameron Sample, DL, Tulane
Cameron Sample was one of the most improved defensive players during the week and was disruptive during the Senior Bowl game. He should be no worse than a rotational player as a rookie.
Jabril Cox, LB, LSU
The linebacker moved so fast and fluidly in 11-on-11 drills and was a standout in 1-on-1 drills against tight ends and running backs. The move from FCS to FBS scared some away after a down year for LSU but Jabril Cox is going to be successful immediately.
Tony Fields II, LB, West Virginia
The scouting group I was with took a lot away from Tony Fields's week and mentioned him as one of their favorite overall players of the week. Fields did not look out of place in any drills and held his own against some of the best running backs.
---
Related Articles