2021 NFL Draft Rookie Profile: WR Elijah Moore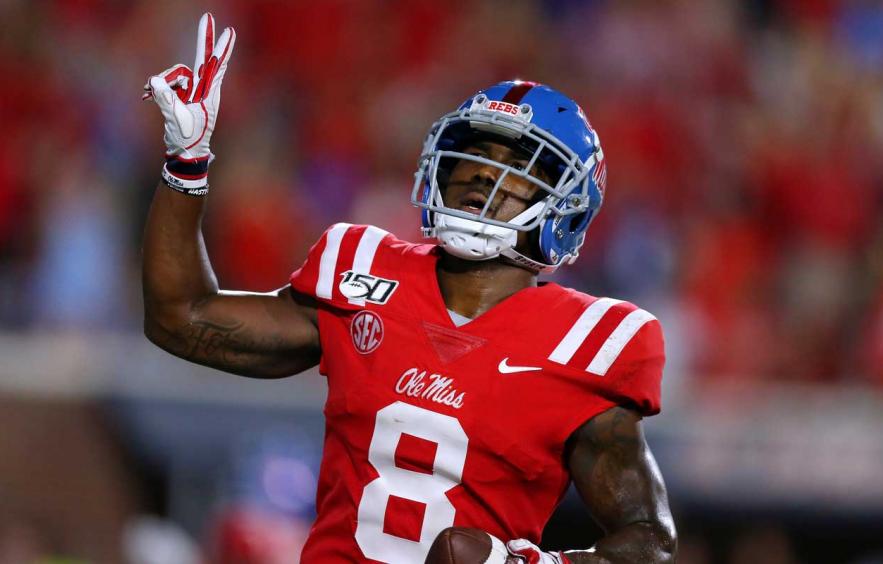 Jonathan Bachman/Getty Images
With the wide receiver position growing in importance in an increasingly pass-heavy league, finding producers at the position remains important for both NFL franchises and fantasy owners. In a particularly loaded wide receiver class, Elijah Moore has made a name for himself. Initially a four-star recruit coming out of Fort Lauderdale, Florida, Moore entered college as the 38th-ranked receiver in the 2018 recruiting class. He entertained legitimate offers from Auburn, Alabama and Georgia before ultimately choosing Ole Miss.
Moore entered a talent-rich Ole Miss receiver room that carried the likes of DK Metcalf, A.J. Brown, DaMarkus Lodge and Dawson Knox. While Moore didn't truly break out until his sophomore season, he still contributed as a true freshman, appearing in 11 games and immediately burning his redshirt season. This Moore profile will highlight his college production, how his skill set will translate to the NFL and what it might mean for fantasy.
---
2021 NFL Draft Resources: NFL Mock Draft | Top 150 Big Board | Team Needs & Draft Capital
More Rookie Profiles: Kyle Pitts | DeVonta Smith | Travis Etienne | Trevor Lawrence
---
Elijah Moore

's College Production & Profile

Moore played significantly down the stretch during his freshman season when Metcalf suffered a season-ending injury. Moore ultimately started the final four games in the slot, kicking Brown to the perimeter. In that span, Moore played on at least 85% of the Ole Miss offensive snaps, recording 24 catches for 232 yards. Even before the injury, Ole Miss used Moore on manufactured touches and special teams as they struggled to maximize their talent-rich roster.

After Metcalf, Brown and Lodge entered the 2019 NFL Draft, Moore fully emerged as the alpha in the Ole Miss offense. As a 19-year-old sophomore, Moore reeled in 67 catches for 850 yards and six scores in 12 games played. More importantly, he accounted for an elite 36.9% target share that season while playing primarily in the slot.

In his final season at Ole Miss, Moore took his production to a truly elite level. He recorded 86 receptions for 1,193 yards and eight scores—in just eight games. New head coach and playcaller Lane Kiffin also designed 14 runs for Moore, picking up 64 yards as a pure rusher. Moore played in only eight games his final season, but he notched a 40.4% target share in that span. Look at how absurd his game-by-game stat lines were in his last season:
Elijah Moore

's 2020 Game Log

| Opponent | Targets | Receptions | Yards | TD |
| --- | --- | --- | --- | --- |
| Florida | 12 | 10 | 227 | 0 |
| Kentucky | 11 | 10 | 92 | 1 |
| Alabama | 11 | 11 | 143 | 0 |
| Arkansas | 15 | 11 | 113 | 1 |
| Auburn | 9 | 5 | 16 | 1 |
| Vanderbilt | 15 | 14 | 238 | 3 |
| South Carolina | 13 | 13 | 225 | 2 |
| Mississippi State | 15 | 12 | 139 | 0 |
As far as production goes, Moore possesses the size and ability to immediately contribute in the slot at the NFL level. He stands 5-foot-9, 178-pounds, with a 4.35 40-yard dash and 36-inch vertical jump. Moore played 78% of his snaps in the slot as a junior but he also showed the ability to play across the formation. Eleven of Moore's 86 catches as a junior occurred at or beyond 20 yards downfield. Moore also created on his own with 505 yards after the catch. Sure-handed, Moore only dropped two out of 101 catchable targets in 2020.
Looking at the competition, Moore certainly faced some of the SEC's finest. Against Florida's Marco Wilson (projected Day 2 pick), Moore notched three catches for 53 yards on five targets. Against Alabama, Lane Kiffin intelligently kept Moore away from stationary corner Patrick Surtain II, allowing him to notch 11 catches for 143 yards on 11 targets. Even against Arkansas' freshman all-American Jalen Catalon, Moore erupted for 11 catches and 113 yards on 15 catches.
Player Comparison
Tried and true against the SEC's finest, Moore displayed enough ability to function in the slot immediately. However, 5-foot-9, 178-pound receivers bring a checkered level of success at the NFL level. Moore himself logged a 19.5 Breakout Age and a 45.5% College Dominator. Breakout Age refers to the age a player first accounted for at least 20% of an offense's receiving yards and touchdowns. College Dominator is the total percentage of receiving yardage and touchdowns a player accounted for in the offense. Both remain predictive for wide receivers, with younger breakout ages and higher College Dominator scores pointing to the elite of the elite—this is where we find Moore.
Looking at close comparisons, T.Y. Hilton, Steve Smith, Richie James, Braxton Berrios and Scott Miller represent the models of success. Two receivers in particular closely compare to Moore. On the elite end, T.Y. Hilton entered the NFL at 5-foot-9, 183-pounds. He ran a 4.39 40-yard dash and jumped 35.5-inches in the vertical after posting an 18.8 breakout age, 41.9% College Dominator and 30.3% target share. However, Hilton put up these numbers at Florida International, while Moore bested the elite competition of the SEC.
On the other end of the spectrum, Miller entered the NFL with a slighter build, leaving Bowling Green at 5-foot-9, 174-pounds. He ran a 4.44 40-yard dash with a 34-inch vertical, making Moore slightly heavier and more athletic. Miller posted a 41.5% College Dominator, but only a 27.4% target share, giving Moore the production edge as well. Between the two, Hilton remains the closer comparison.
Elijah Moore

vs.

T.Y. Hilton

vs.

Scott Miller

| Player | School | Height | Weight | 40-Yard Time | Vertical Jump | Breakout Age | College Dominator% | Target Share% |
| --- | --- | --- | --- | --- | --- | --- | --- | --- |
| Elijah Moore | Ole Miss | 5'9" | 178 | 4.35 | 36" | 19.5 | 45.5% | 40.4% |
| T.Y. Hilton | FIU | 5'9" | 183 | 4.39 | 35.5" | 18.8 | 41.9% | 30.3% |
| Scott Miller | Bowling Green | 5'9" | 174 | 4.44 | 34" | 19.1 | 41.5% | 27.4% |
At the very least, players like Miller, Berrios and James offer special teams appeal and spot-starter upside in the slot. However, with Moore's elite testing and production, the former Ole Miss receiver projects to play a more secure role and perhaps move in and out of the slot. Numerous teams find themselves with a need at the position, but teams looking for elite slot play should consider Moore.
Closest Player Comparison: T.Y. Hilton
Ideal Landing Spot
A number of teams need immediate help in the slot, including the Chiefs, Titans and Packers. While each of these teams makes sense to varying degrees, the Titans could offer Moore a chance to contribute immediately. The Titans lost Corey Davis, Adam Humphries, and Jonnu Smith this offseason—vacating 192 targets from those three pass-catchers alone. Tennessee already displayed clear connections to Ole Miss by drafting Moore's former teammate in A.J. Brown. Clearly valuing elite athleticism across positions, Moore's athletic testing numbers should stand out to Tennessee's front office.
Best Landing Spot: Titans
Bottom Line
Likely to come off the board sometime on Day 2 in the NFL Draft, Moore has a decent shot at immediate production. After seeing second-round receivers Tee Higgins, Michael Pittman and Laviska Shenault receive immediate opportunities in their respective offenses, NFL front offices have shown a willingness to play younger receivers earlier in their careers in recent seasons. Given his versatility, Moore could play inside or out for certain teams, making him worthy of a mid-round selection in season-long fantasy drafts (pending landing spot). As for dynasty, 4for4 Dynasty Lead George Kritikos has Moore ranked as his rookie WR8 and 104th overall in his dynasty ranks.
---
Related Articles