Henry Ruggs Has to Dig Himself Out of a Dynasty Black Hole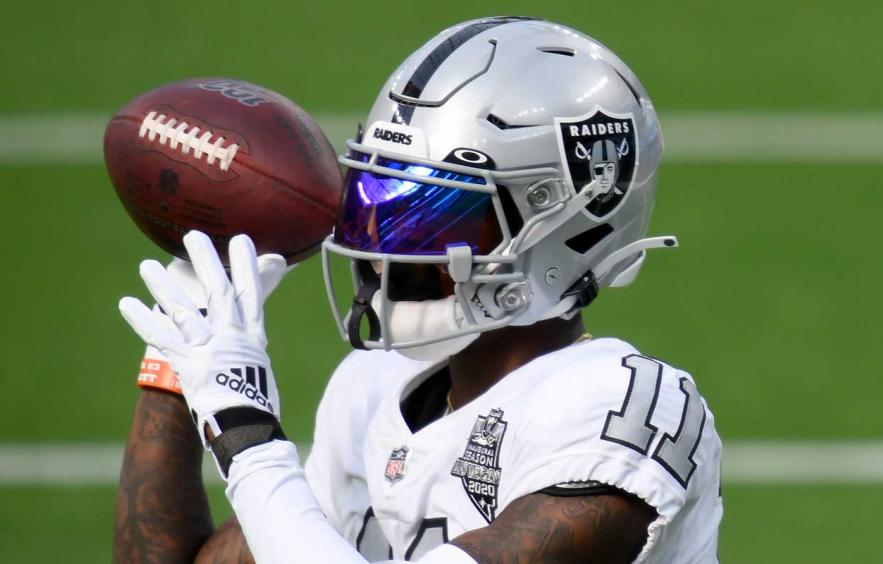 Harry How/Getty Images
It wasn't that long ago in dynasty fantasy football that you would simply expect a majority of your wide receivers to "break out" in their third year. However, after several successful recent rookie receiver seasons, that adage has been flipped on its head, and we've almost become accustomed to plug-and-play performances right from the get-go.
Oddly enough, the receiver drafted first in the 2020 NFL Draft—Henry Ruggs—may have had arguably one of the worst rookie seasons we've seen from the position in the last half-decade. That may seem hyperbolic, but you might sing a different tune after we look at some numbers in this article today. Or, just ask any dynasty player who spent a top-10 rookie pick on Ruggs and I'm sure they will have a similar recollection of the 2020 season that wasn't.
---
MORE 2021 DYNASTY CONTENT: Player Profiles & Strategy | Rookie Rankings | Top 200 Overall Rankings: Superflex + Non-Superflex | NFL Mock Draft | NFL Draft Big Board | Rookie Mock Draft
---
Is there room to grow, and are we overreacting to a down first year when it used to be customary to wait three seasons for receiver production? We'll dissect exactly that question and figure out what type of dynasty value Ruggs holds.
Henry Ruggs

's 2020 Overview

2020 Raw Stats: 13 Games, 26-452-2 on 43 targets (60.5% catch rate)

2020 Half-PPR Fantasy Finish: WR85 overall, WR94 in points per game (5.8)

Henry Ruggs came blazing out of the NFL Combine last March, knocking out a 4.27 40-yard dash that was only .05 seconds slower than John Ross's all-time combine record. His workout metrics helped us ignore his largely forgettable role in an Alabama offense that saw him fighting for usage with college teammates Jerry Jeudy and DeVonta Smith, both of whom were (Jeudy) and will likely be (Smith) first-round picks in 2020 and 2021. Because of this unique confluence, Ruggs saw workout metrics ranging from the 90th-percentile to the 100th-percentile but had a College Dominator in the 16th-percentile, on the back of a true junior season in which he finished with 40 catches for 746 yards and seven touchdowns.

That lack of college production (only 98 catches through his entire three-year career) clearly didn't deter the tandem of head coach Jon Gruden or GM Mike Mayock, who desperately needed to find a home-run hitter for their plodding offense that was set to roll out the likes of Zay Jones, Nelson Agholor and Jason Witten in 12 personnel sets. With the addition of Ruggs and Bryan Edwards through the NFL Draft, the team instantly got a boost of speed and multiplicity that—in theory—would boost quarterback Derek Carr and the offense as a whole. Though Carr had another season just north of the "Dalton Line" and the offense finished top-10 in both raw points scored and yards gained for the first time since 2016, the Raiders' passing game pieces were largely unusable in fantasy outside of stud tight end Darren Waller.

*Yards Per Route Run

Despite the perceived "home run hitting" explosiveness, Ruggs finished the season third on his own team in air yards—and by a lot at that. As might be expected from a speedster rookie receiver who had a little work to be done in the route running department, Las Vegas mostly deployed him on "go" routes, and three common routes to play off of corners who would allow him the cushion space to work because of his speed; flat, out and curl routes. Through those four routes, Ruggs received 61% of his 2020 targets, but he simply didn't receive very many targets. As is often said, you need to get open for the quarterback to get the ball to you, but Ruggs's 3.3 average yards per separation (Next Gen Stats) was firmly in the top half of the league.

Maybe it was simply a matter of growing into a sustainable role after a tumultuous COVID-19 offseason I'm sure was difficult for any rookie to adjust to. There are some numbers to back this up; after the first half of the year saw him lining up in the slot at a near 50/50 split, Ruggs was able to spread his wings on the perimeter a little more in the back half of the year, seeing something closer to a two-to-one split between outside and slot snaps. On the other hand, this resulted in a mostly negligible 0.8 uptick in targets per game, which is hardly "scheming the ball" into your playmakers' hands.
Long-Term Offensive Environment and Competition
Looking at 2021 and beyond, one sprinkling of positivity is the un-likelihood of the Raiders going after the wide receiver position in the NFL Draft before Day Three any time soon. Add to that the departures of Nelson Agholor and the mostly forgotten Tyrell Williams, and we have the makings of a mini-target purge that would need to be filled from within. But not so fast with all that rampant positivity. Let us not forget this offense runs through Darren Waller and the running game (Josh Jacobs and now Kenyan Drake). Las Vegas targeted receivers on only 237 passes, or, 45.5%—by far the lowest amount in the league (San Francisco, who ranked 31st, at least made it to the 50% mark). Buoyed by Waller's 145 targets, the Raiders conversely led the league with a 33% target share to the tight end position.
This isn't a new phenomenon and isn't likely to change up as long as Waller is still around, as the Raiders ranked 31st and 30th in wide receiver target share in the two seasons prior. Pair all of this with the recent addition of the explosive, if injury-riddled John Brown and Mike Mayock essentially calling Henry Ruggs out for needing to get better, and we have a litany of factors weighing heavily on the potential fantasy output for our sophomore subject.
None of this is a secret, though, so does that mean it's time to buy shares of Ruggs while the price is near the bottom?
Value
As everybody knows, Twitter is where you need to go to find reasonable, unbiased opinions on football, and all other walks of life. As such, I polled the Interwebz to find out what dynasty players thought a good price for acquiring a share in Henry Ruggs would be. Here are the results:
What would you pay for Henry Ruggs in Dynasty right now?

— Justin Edwards (@Justin_Redwards) March 28, 2021
It's looking like if there was a "2.04 - 2.08" option, that likely would have won by a landslide but the results here speak pretty well with what I was assuming going into this. I know it's barely over 5%, but I'm surprised there are still that many people who would package multiple second-rounders, or say the 1.11.
Is the chance there that Henry Ruggs is simply the next incredibly-fast-but-not-fantasy-relevant player? Absolutely, his career arc is hinting at the possibility he will go down as the next could-have-been such as John Ross, Marquise Goodwin, Jacoby Ford, J.J. Nelson, or Darrius Heyward-Bey (lots of former Raiders in there, huh). On the other hand, he's only one season in and there could be value in spending a late-second just 12 months after he was going for a late-first.
4for4 Dynasty Lead George Kritikos has Ruggs ranked as the 78th-most valuable dynasty asset (WR43). That puts his value somewhere around the 2.04 rookie pick.
Bottom Line
Henry Ruggs needs to further expand his route tree, but with the extended usage we saw from all over the formation towards the end of his rookie season, that looks to be in the works already.
Darren Waller and the Raiders' propensity to limit targets to their receivers is going to be a roadblock for Ruggs's ceiling for a long time to come.
If Ruggs can fight off John Brown and fellow sophomore Bryan Edwards to become the number two in the passing pecking order, he has the explosiveness to turn 85-95 targets into fantasy WR3 seasons for dynasty teams.
---
Related Articles